The best travel gifts have no season. They encourage travel, make travel easier, pamper travelers, and remind us, even when we're home, of the world all around.
In late 2021 and 2022 we broke out of the quarantine to take two trips to Spain, one to Kenya, and several within the United States. This list includes items we carried with us on all our trips.
We know what it's like to travel now. With respect to the changing conditions and safety precautions around the globe – and at home – we offer our top travel recommendations, concentrating on just a few products that will make your travel more convenient and easy.
Don't forget to gift yourself while you're at it.
Electronics Must Haves
The Universal Travel Adapter
This accessory is just something you will absolutely need if you travel outside the United States. We like this one for a couple reasons: it has retractable plugs that fit outlets for everywhere you might go, and it includes three USB standard and one USB mini ports. That's four charger blocks you don't have to carry.
Portable Power Charger
Though this is slightly larger and heavier than the usual power bank, Kris maintains the battery life and built-in cords make up for that. "Those people who forget their cords? I'm now their best friend."
Jabra Elite 85t True Wireless Bluetooth Earbuds We discovered these Jabra earbuds based on a recommendation of a Jabra headset from an audio professional friend of ours. Now we both have a pair. They work great. They sound great, and they're much cheaper than Apple earbuds. We especially love ours for listening to music or audio books while we are walking.
Bluetooth Transmitter for Wireless Headphones If you're using wireless headphones, you know you can't use them on the plane to watch a movie. This little device is the solution to that problem. You plug it into the seat back headphone jack, connect it via Bluetooth to your headphones, and you're set.
Travel Accessories
Allett Wallet (with pen)
Someone suggested this wallet to Tom after his old RFID wallet wore out, and he's now in love with it. It's super slim, and because it is, he's cut down on the number of cards he's carrying – which makes it even slimmer. It's plenty slim to carry in the front pocket, and that, too, makes it a tougher target for pickpockets. While super slim, it's still enough to carry four credit cards, driver's license and Global Entry IDs, four or five business cards, and his health insurance card. Also, there's no bill compartment, so he folds up a few bills and sticks them in the outside slot. After all, there's not that much need to carry cash these days.
First aid kit You can make up your own First Aid kit, or buy a light weight one that has the essentials. As for essentials, that's several Bandaids, a larger bandage or two, adhesive tape, tweezers for splinters, ibuprofen, alcohol wipes, sterile gloves, antibiotic cream, antihistamine ointment for bites.
Portable door lock This simple extra security device works when you're in your hotel room to be sure nobody can get in there while you're there. If you ask us, it's an essential small bit of travel hardware, especially for women traveling alone.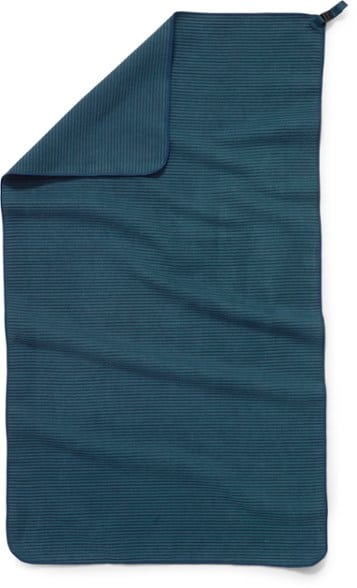 The REI quick drying travel towel The micro fiber towel is something we just don't leave home without. It folds down to take up almost no room, and while we usually stay in hotels that provide towels, this one is a backup we love to have. It's particularly useful for when you're rinsing out a few things in the sink and you want to get a head start on drying them. Simply roll up your just washed clothes in your microfiber towel, and hang them both up to dry. Your clothes will dry faster, but probably not as fast as your towel. The towel also goes into our daypacks whenever we're hiking, or city walking. A great precaution for that sudden downpour, or for drying your feet if you have to ford a stream.
Toiletry travel bottles are a must when you don't want to rely on your hotel to provide the products you prefer. Oh, and think of all those little plastic hotel bottles you'll save, too. There are four TSA-approved sized bottles in the set, so you can bring shampoo, conditioner, body wash, and lotion.
BUY THE TRAVEL BOTTLES AT AMAZON
The Lifestraw water filter If you are a little unsure of the water wherever you are, carry one of these Lifestraw water filters with you, and rest assured your water will be safe to drink. The straw not only removes bacteria and parasites, but also micro-plastics you shouldn't be ingesting either. This is especially useful if you're doing any hiking on your trip, and you might run out of the water you brought.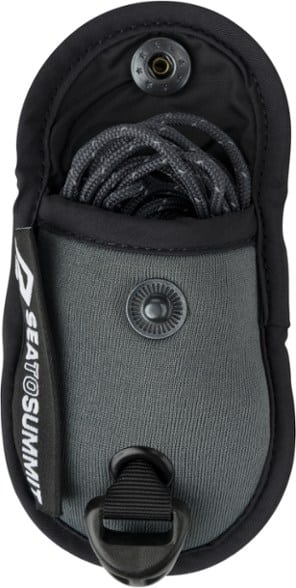 Sea to Summit travel clothesline This little item is on our permanent packing list. It weighs less than an ounce (25 g), is easy to hook up with the built in hook system, and even cooler: you don't need clothes pins. The cord includes a set of little beads that slide on the cord and hold your clothes fast while they dry. You'll find this usually hanging in our hotel shower with our Unbound Merino shirts and socks.
Travel Clothing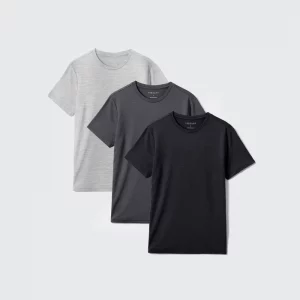 Unbound Merino Clothing
Since we discovered the Unbound Merino brand a couple of years ago, they've greatly expanded their line of available travel clothing. Now we wear not only their t-shirts, but also long sleeved shirts, warm hoodies, men's underwear, and socks. All their stuff is super comfortable, yes. But the thing that makes Unbound Merino our absolutely number one recommendation for travel clothing is that you can wear their stuff for days without washing them. That means, instead of bringing a t-shirt for every day of your journey, you can bring one shirt that will last you a week or more without odor. How it works, we don't know. We just know that it does and we love it. (When you do need a wash, btw, you can hang it in your hotel room, and it will be dry by morning. Did I mention we love it?)
Kühl Travel Pants
Kris didn't know the Kühl brand suited her until trying these
Kuhl Trekr Travel Pants
. Great fit, utilitarian pockets without screaming hiking pants, and easy transition from the trail to the city. Check out the Kühl travel pants categories for
men
and women and you'll certainly end up browsing other cool Kühl product lines, too. By the way, for long flights and yoga on the go-go, you'll usually find Kris in pants by
Athleta
.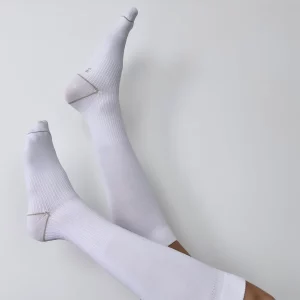 Pear compression socks. We're excited about these socks, because they are comfortable enough to wear anytime, not just for travel. (Pregnant women or older folks with swelling issues will know what I mean.) I like the knee highs for in-flight support or for long train or car rides. The crew length are great for hikes or relieving sore feet. They aren't so tight that they bind, and they are easy to get on and off. Designed in Canada and ethically made in Italy by a small family business.
BUY THE SOCKS AT PEAR COMPRESSION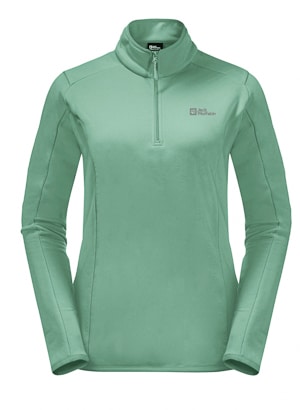 Winter wear from Jack Wolfskin
We feel like we have a secret weapon in outdoor clothing and cold weather attire. We've written about the Jack Wolfskin brand (based in Germany) before, having tested their insect and sun protection Fieldsheer shirts. The company has been around for 40 years, but only recently made inroads to the North American market. They are known for gear that holds up to extreme conditions and activity, for innovative tech features, and for eco-conscious practices. We're impressed!
Tom's getting to know the advantages of a lightweight, quilted filled jacket, great for travel and layering over or under, depending on conditions and activity. The Routeburn Pro Insulated Jacket – is stretchy, breathable, and made of recycled fabrics.
Kris is beyond testing the Baiselberg Half-Zip Fleece; she won't take it off. It's stretchy and warm but looks sleek with its fleece interior covered by a smooth exterior. It's comfortable indoors or out, but certainly the go-to item for hiking, skiing, or layering in colder months.
Travel Bags and Gear
Travel bags make all the difference staying organized while getting from point A to point B. Whether considering checked or carry-on bags or day packs, we know the layout inside and out. (TIP: pack with the same system, that is putting the same items in the same place every time, to help you from forgetting something.)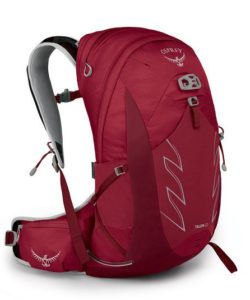 Osprey Talon 22 Day Pack
This Osprey bag IS Tom's best pick for day hiking. It's got all the features, like multiple interior and exterior pockets for separating everything you need into easy to find spots. He especially likes the pockets on the waist belt, where he keeps things he needs to get to frequently, such as bug repellent or lip balm. The
multi-tool
or
pocket knife
also goes in there. (You can read more about what goes into Tom's
hiking day pack here
.)
Fjallraven Kanken Mini
Kris's Fjallraven backpack bag gets just as much use at home as on the road. It holds enough for full days walking or biking around town, or for easy access to the essentials needed during long flights. A bonus is the foam square tucked into an interior pocket that works great as a seating pad on wet forest ground or concrete floors at the train station. For its mini size, it continues to pack a ton of stuff.
Ebags packing cubes. These are the packing cubes I use. They're reasonably priced, light, they breathe, and they're durable. I've been using mine for years and there's no sign of wear. It's the easy way to pack to save room, and to easily organize when you are literally living out of your suitcase.
Want to brush up on how to pack, from A to Z? Read our post on what to pack for your trip.
When you're thinking of traveling, your first stop should be our Travel Resources page, where we list all the essentials you need to make your travels easier, cheaper, safer, and more fun.
You can also help yourself get ready for your travels by reading our Get Started Planning Your Trip Now page.
We love traveling–with the right gear. We've gathered a lot of the stuff we use to make travel more pleasant and efficient all on one page. Shop our Travel Past 50 Amazon page to find our favorite gear. If you purchase something from the store, Travel Past 50, as an Amazon affiliate, may receive a small commission at no extra charge to you. Thanks.
We never leave home without our travel insurance. Nor should you. Search for the travel insurance from Allianz that best meets your needs, whether it be an annual plan or a single trip.
You can see (and buy prints) of most of our travel photos in one place on this page.
Note: This post and other posts on TravelPast50.com may contain paid or affiliate advertising links. As an Amazon Associate we earn from qualifying purchases.
If you liked this post, please share it.
Thanks.