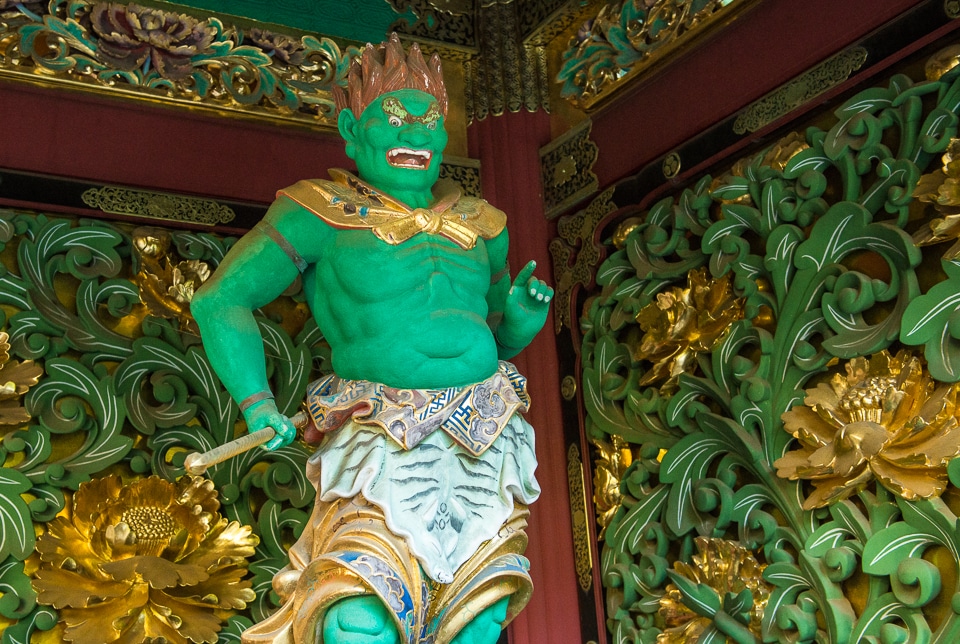 The city of Nikko, Japan is the home of some of the most ornate temples of the Edo period. The Edo period, from the early 17th to the mid 19th century, was characterized by the rule of the Shoguns of the Tokugawa Clan. These Shoguns, or military rulers, built themselves some fantastic shrines, temples and mausoleums. This fellow is one of the guards of the Taiyuin Temple, the resting place of the Shogun Iemitsu Tokugawa, the grandson of the first Shogun, Ieyasu. The area of the temples just outside of the town of Nikko is a Unesco World Heritage Site.
The main problem with this shoot was it was getting late in the day, and that the site is completely shaded by a thick forest of very tall cedars. So, I had to crank up the ISO to 2500 and shoot from a monopod. The camera is the Nikon D800E, 24-70 f/2.8 lens at 42mm, f/4.5 at 1/40 sec exposure. Just tweaked the contrast a hair in Lightroom and dodged the face about half a stop because it was in a deeper shadow than the body.
For more info on the equipment I use, see this page.