I May I Might I Must
If you will tell me why the fen
appears impassable, I then
will tell you why I think that I
can get across it if I try.
-Marianne Moore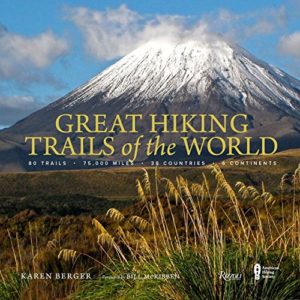 Our travels take us to a lot of places, but we're on the receiving end, too, of many travel ideas, press releases, and products. Whether it's books, footwear, recipes, or gear and gadgets, we check out what we can and find inspiration for new destinations and new ways to travel.
Stocked up on ideas, it's time to share with you. Here we focus on books and oddities related to travel. For us, 'travel' also includes paying attention to Earth, health and eating–or inner travel if you will. We hope these ideas are as good for the imagination and spirit as they are for your next trip to the airport.
Books
Great Hiking Trails of the World. By Karen Berger. (Rizzoli International Publications for American Hiking Society 2017)
This book is to drool over. I think that's known as a 'coffee table book' in the trade, but Great Hiking Trails is useful, too. Inside you'll find just what the cover promises: fantastic walks, pilgrimages, hikes and climbs all over the world, described with awe and illustrated with big beautiful photos. Perhaps the real hook for us is the idea of walking. Here we are–with a grandson just taking his first steps–newly appreciating the wonders of hiking. This book demonstrated how fascinating and intimate and expansive the world is from ground level, at a brisk walk. Plus, we happily contributed photos from our Camino de Santiago experience to "Chapter 1: The Way of the Pilgrim."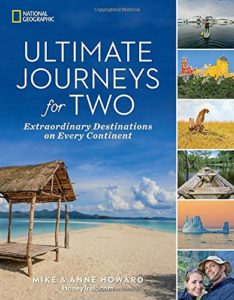 Ultimate Journeys for Two. By Mike and Anne Howard. (National Geographic Books 2017)
Whether you travel in twos, alone, or in packs, this handy new book provides a ton of good ideas for travel itineraries, sprinkled with travel hacks, romantic hints, and insider tips. And (we say with a bit of pride) we were lucky enough to contribute to the History and Architecture chapter! A dozen other bloggers have participated, too, to Mike and Anne's considerable experiences as a traveling duo. The result is a fun resource organized by types of destinations and activities: beach, mountains, safari, desert, snow, etc.
HINT: Sign up for our Travel Past 50 emails, if you haven't already, and have a chance to win a signed (by us) copy of the book. We'll draw the winner December 12, and promptly mail the winner's copy.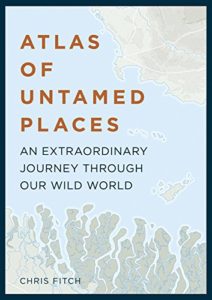 Atlas of Untamed Places. By Chris Fitch. (Aurum Press 2017)
I'm a map freak, but these publishers probably had no idea why I jumped at a chance to review this book. Atlas of Untamed Places is just the sort of book you can travel through from your easy chair, energized by the possibilities. The idea of this book, subtitled 'an extraordinary journey through our wild world,' is to explore areas untouched by, avoided by, or abandoned by humans. Forty-five places are featured with short essays, black and white (or duotone) photographs, and absorbing maps. With such disparate locations as Korea's DMZ, the Darién Gap, and Herschel Island, it's certain this will be your only chance to visit all, much less one, of these mysterious places.
This will sit alongside another dreamy travel title, Pocket Atlas of Remote Islands by Judith Shalansky (Penguin Books pocket edition 2014). It's subtitled 'Fifty Islands I Have Not Visited and Never Will.' I keep this close at hand not only for the maps, GPS coordinates and quirky timelines of human discovery, but for the rich poetic vignettes about each island. I have been to one of these: Floreana in the Galapagos.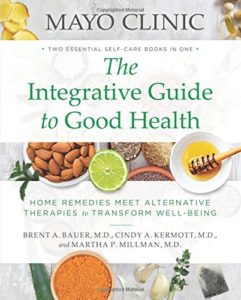 Mayo Clinic The Integrative Guide to Good Health. By Brent Bauer, Cindy Kermott, Martha Millman, M.D.s all. (Time Inc. Books for Mayo Foundation for Medical Education and Research 2017)
I traveled to Rochester, Minnesota, last year, not for medical reasons but for a bike ride and a visit to the new Healthy Living Center at Mayo Clinic. The impressive Center offers programs in exercise, relaxation, nutrition and more. (Really, I want a fast train to Rochester and a membership, that's all.) So this book caught my eye because of its emphasis on health and well-being. If you are new to integrative therapies–working at what ails you from all directions at once–you might want to read chunks of the opening section, describing everything from meditation and massage to acupuncture and aromatherapy. Otherwise, this is simply a great resource to have around. Find a compendium of herbs and supplements (should I have dished out cash for tumeric?), integrative therapies for common pain conditions, and 150 pages of home remedies for common ailments.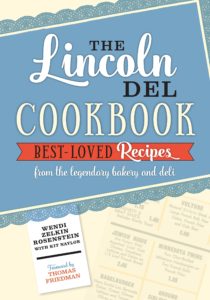 The Lincoln Del Cookbook. By Kit Naylor and Wendi Zelkin Rosenstein. (Minnesota Historical Society Press 2017)
So many travel discoveries are realized through food. Food is a great window to culture, and everyone knows culture is all about community. Well, this book sums up the community engendered by the Minneapolis institution, The Lincoln Del. It's a fun read, bringing the family itself–and their faithful fans–to the front of the house. The other reason this book makes my 2017 list? Check out the acknowledgements, she said with some pride.

NOTE: Look for more book suggestions here in a couple weeks when I write up my annual "Books and Beds" post, recounting the beds I've read in and the books I've laid, not lain, down this year.
Sensory Gems
To incorporate worldly ways into your gifts or your very own abode, consider these international tastes and tidbits:
Swedish Dream Cookies. The recipe here, from the Wall Street Journal, was provided by the friendly people of Jämtland Härjedalen, a region in the upper reaches of Sweden. I'll make these as soon as I've eaten all the Thanksgiving pies.
Ecuadorian Chocolate. Simply the best.
Argentinian Wine. Read about our wine tour here.
Canadian Jams and Syrups. I vote for anything containing blueberries or touched with maple.
Spices. Either bring them home from your travels or hit the spice store for a whiff of international cultures.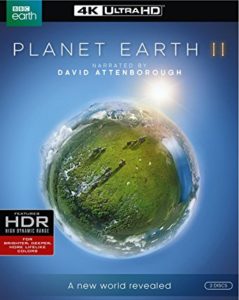 Visual: Planet Earth II. The second effort by director David Attenborough features amazing footage of animals in their habitat, up close. The tech advancements since the original series in 2006 are pretty incredible, too.
Audio: Bella Gaia. Good accompaniment for your integrated health. We had the good fortune to see and hear them this year as we watched a special presentation using Google Earth and NASA images. Sure to unlock your emotional refrigerator.
Causes
Now's the time to contribute to the people or projects around the world that want your attention. There are so many. These days we're following 2041.com and the Climate Force Challenge, and favor various conservancy projects that purchase to protect land.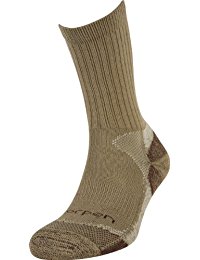 Socks
A practical gift can make the spirits soar. Really. Don't overthink things; who doesn't appreciate a new pair of socks?
Tom's favorite: Lorpen Hiking Socks. They come in all weights and colors. Pick your favorite.
Kris's favorite: These Smartwool Cable Socks are great for everyday wear, but the downhill and Nordic socks and hiking socks are also faves and long-lasting. I buy mine at REI, where I can find cool gifts for everyone on my list…and myself, too.
Enough list making. It's time to sit down for dinner with friends and family, then page through one of these books, again.
We do an annual roundup of books (and sometimes beds) every year. Here are the posts from those years.
Recommended books for 2014
Books, 2015.
Books and Beds, 2016.
Books and Beds, 2017.
Note: Some of the links here are affiliate links, providing a few pennies in return to Travel Past 50 if goods are purchased from our leads. These links don't affect what we're including in our content, because that would be silly to write about stuff without being genuinely interested in it.
Get all our travel tips delivered to your inbox
Subscribe to our email newsletter