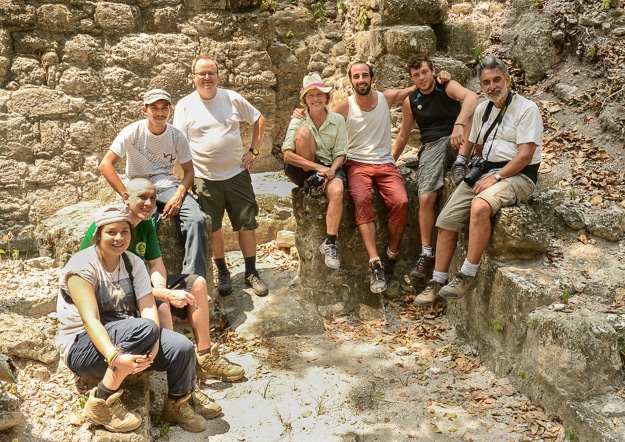 This is Chapter Ten of the El Mirador Odyssey, and since it only took Odysseus ten years to get home, this will be the last one. If you're just arriving here in Ithaca for the first time, you might want to read the previous entries. There are links to them at the bottom of this post. Thanks for playing along this far.
The gang went out again to see more things after lunch, but, since I'd already had an hour and a half hike that the others missed, I listened to my blisters and skipped it.
Honestly, I should have gone, but I was exhausted. Moreover, because of the disappointment of both morning hikes, I'd stupidly developed an attitude that could best be described as "pre-disgusted."
So, I thought I'd save myself the trouble and hang back and talk to Maria, Tono, and the mules.
But, Tono's accent was totally incomprehensible, the mules were busy eating, and Maria was cleaning up after lunch and raising an enormous cloud of dust by, believe it or not, sweeping the leaves from the area with a broom she'd made from some branches she cut.
Sweeping the fucking jungle. Now I'd seen everything.
So, I rolled a log over under a tree, got out my notepad and made some notes.
Here they are–at least some of the random ones that I didn't work into the narrative.
Maria cooked up fried Spam and eggs for breakfast our first morning in El Mirador. I told her that Spam was made in my home state of Minnesota, and I thought it was funny that I had to come to the jungle of Guatemala to eat it for the first time in my life. She couldn't believe I hadn't had Spam before. BTW, I took one look at it. I still have yet to eat Spam for the first time in my life.
Sometimes when he'd not leading tours, Eric works at El Mirador as a digger. It's one of the reasons he knows so much of what is there.
Every evening Eric and Tono would scale tall Ramon (Hackberry) trees with their machetes to cut leaves for the mules feed. Sometimes Eric used spikes strapped onto his boots to run up the trunk. Sometimes he just did it without.
The mules' names, according to Eric, were Cara Sucia (Dirty Face,) La Peruana (The Peruvian Girl,) Checha, and No Me Acuerdo (I Don't Remember.)
A shower at Mirador can be purchased for only 10 quetzales from the site workers, as opposed to 20 quetzales in Tintal. The water is closer to El Mirador and they have ATVs in addition to mules. Of course the discount could also be due to the fact that the shower enclosure (and the outhouse) had to be shared with bats.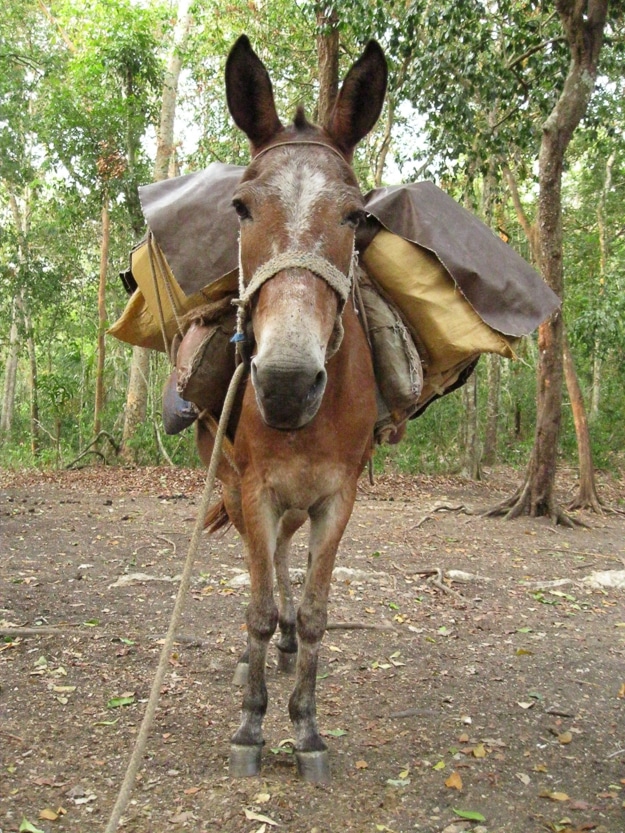 One of the bats gave Cara Sucia a hell of a bite on her neck the night before we left Mirador. Blood had run down her neck and the puncture wounds were obvious. I hoped she wouldn't turn into a vampire on the way home. I also wondered if mules are subject to rabies.
At several places along the path you can see where thieves have burrowed into Mayan walls to steal artifacts. There's no way to stop them, and some of their digs are very recent. Guatemala doesn't have the inclination or resources to stop them this far out in the jungle.
Maria is one of the founders of the cooperative at Carmelita that runs the expeditions into El Mirador and other sites in the jungle of Petán Province. Leading these tours is almost the only source of outside income for the village of Carmelita. Recently a big national tour operator, with the help of the government and army which administrate the remote and poor province of Petán, has forced its way in and threatened the people of Carmelita with, shall we say, harsh consequences if they don't turn over a large percentage of the tour fees to them. As a result, the fees to the tourists have gone up while the pay for the people of Carmelita has declined. Maria told me the tour company pays for the mule driver, the food, the water, and the equipment for the tour, so she doesn't have to organize that. In total, the seven of us tourists paid $3500, or $700 each, for the tour. Eric, who was the "guide," got paid the equivalent of $130 for five days hard work. Maria, who was the "cook," got paid $100. Tono the mule driver got less. You can do the math, but this leaves the tour operator with a gross profit of $3200 with which to buy the food. I told you what the food was like.
So, if you decide to try El Mirador in spite of all you've read, try to figure out how you can deal directly with the folks in Carmelita. That won't be easy unless you find your way out there by yourself and are willing to wait a couple of days there while your tour gets organized. This is no small undertaking, and you don't want to be out there unprepared or with people who don't know what they're doing.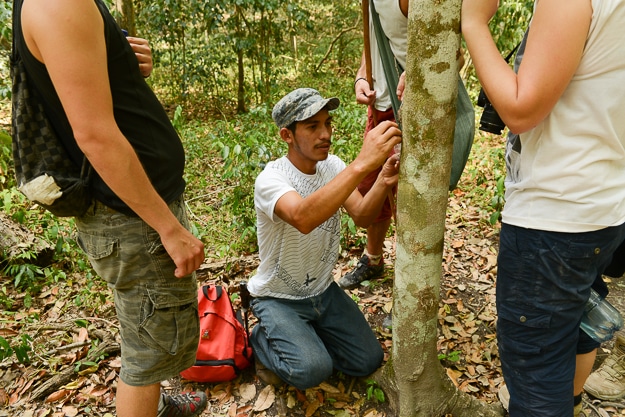 Eric and Maria both absolutely knew what they were doing. They both have a profound knowledge of the jungle and will give you a running lecture of the flora and fauna, the Mayan myths, and any other questions you might ask them. Neither of them has ever been outside of their province in their lives. In fact, they've rarely been out of Carmelita and its surrounds.
Eric's father, Maria's former husband, was murdered by his employer who owed him a sum of money. Since the banks aren't the best in Guatemala, he'd asked the employer to withhold some of his wages every month as a "savings" plan that he intended to use for Eric and his brothers. When he asked the employer for the money, she hired someone to kill him so she wouldn't have to pay him. The amount in question was less than $3000 USD. Eric told me this story on day one as we were lagging far behind the group. He didn't tell anyone else. He told me that some day he would track down this person. He had an idea where she might be.
When I asked him if the police had tried to solve his father's murder, he just laughed.
When we finally arrived back at Carmelita early afternoon of day five (we'd finally got that early start out of Tintal on the last day,) Kris and I were this time only a few minutes behind the rest of the group. As we walked into town, Maria rushed out of the hut at the end of town and welcomed us back to civilization with a warm glass of syrupy orange drink. How could I tell her that I just can't drink stuff like that? So I waited until she turned her back and dumped it on the dirt floor of the hut, behind the stump stool so she wouldn't see it.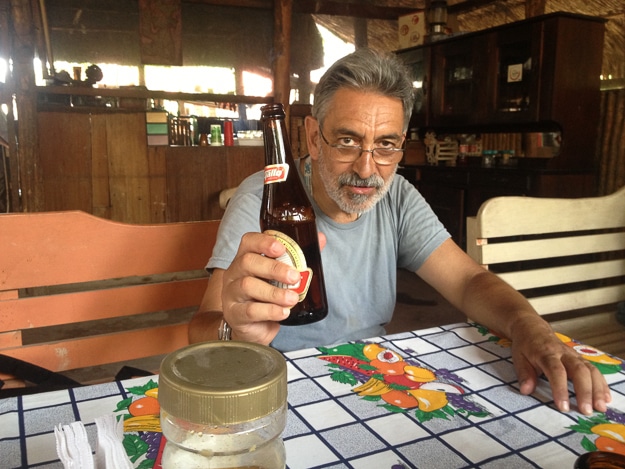 The good folk of Carmelita fed us a lunch of roast chicken and rice before we climbed back into the van for the ride back to Flores. Miraculously, the good folk were also able to produce cold beers for us all, although they charged us about 30 cents each for them. I had two. So did Kris.
The ride back to Flores was even dustier and bumpier than the ride in. There were a lot of big trucks on the road, and they were making a lot of dust clouds. We closed the van windows and held our breath as long as we could.
The night we got back to Flores. Kris and I checked into our hotel and immediately went to search for a bar. We found a great one right on the lakeside and mojitos were on special for about a buck. I think we each had 12, and that's no exaggeration. We were there for a long time.
While we were there, power to the area was cut, so the fans that provided a basic breeze on the veranda were useless. However, as we sat there from late afternoon to mid evening, the much anticipated rainy season arrived. A big breeze came up, clouds closed in over the lake, and a tropical downpour soaked the city up to everyone's ankles.
It was paradise.
Postscript: To amuse myself while walking I had written a couple haikus in my head. I dictated one of them to Kris our second night in El Mirador. I'd forgotten all about it until she pulled out her notebook and reminded me. Here it is.
El Mirador trek
Dusty forest to nowhere
Never going back.
Here's another one though. After some reflection.
Blisters are small price
for new insight and story
You should do it too.
Here are links to all the chapters of The El Mirador Saga:
Part 1
Part 2
Part 3
Part 4
Part 5
Part 6
Part 7
Part 8
Part 9
Part 10