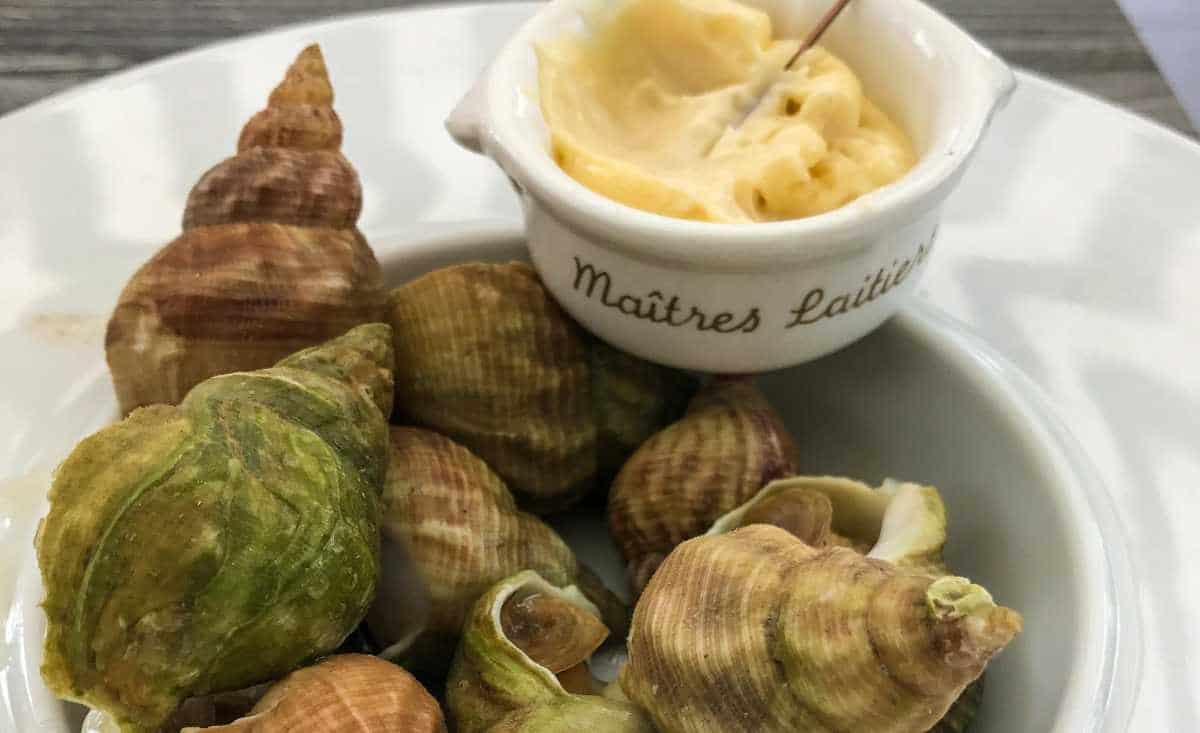 Earlier this summer, we pedaled our way around the northern part of Brittany, France, on a self-guided tour designed by Exodus Travels. The experience–a first for us–was thoroughly enjoyable, and we surprised ourselves a bit at how quickly we got into the swing of cycling across the countryside for hours on end.
We wrote about that trip here on TravelPast50, and promised to offer part two, giving you notes on our accommodations and favorite restaurants. Because as nice as Brittany is for backroads biking, it's a bright culinary center, too. We had plenty of time off our bikes to sample the fare. Here are highlights, in order of our itinerary.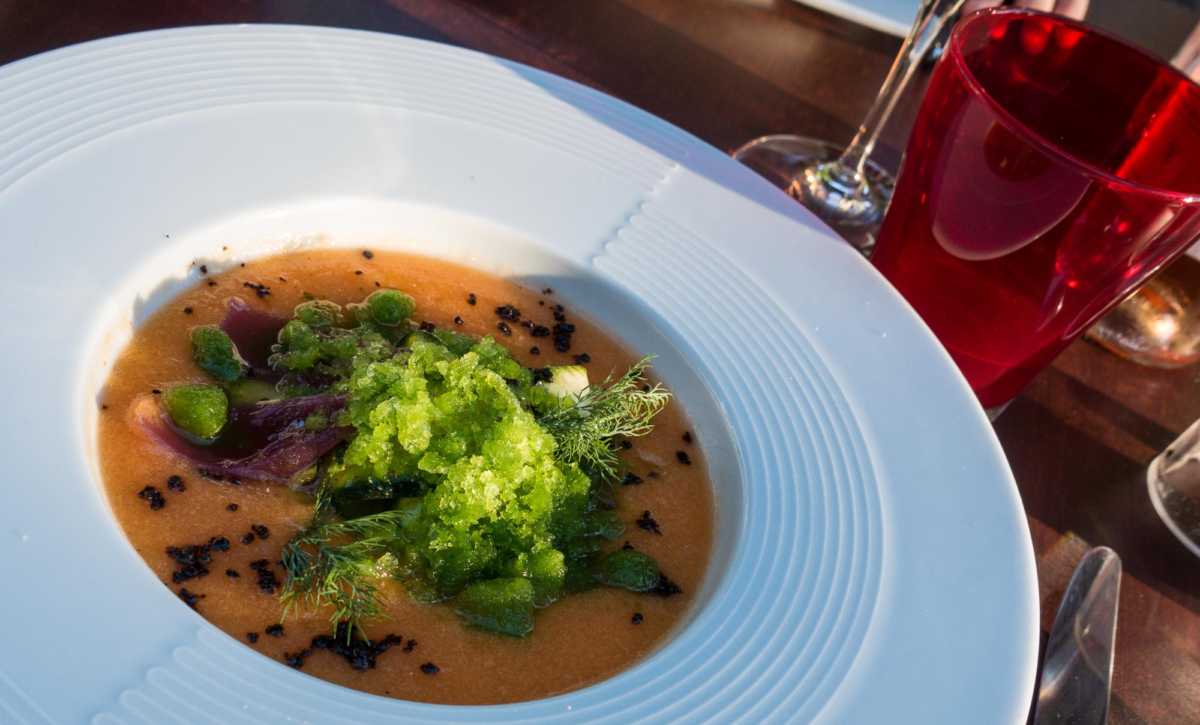 Stay and Eat in Lamballe
Le Manoir des Portes in La Poterie (outside Lamballe)
Since we began and ended our journey here, we had the good fortune to eat two dinners at Le Manoir, and two breakfasts. We slept in a couple different rooms and relaxed on the patio two afternoons. The inn is steeped in French country style: casual, pleasant, airy spaces with charming touches like fresh flowers and periwinkle blue shutters.
The food at Restaurant Porte des Saveurs, however, is totally sophisticated and worthy of an international reputation. We took both our dinners al fresco as the sun was setting over the lawn and gardens. (Breakfasts were served in the cozy dining room with a massive fireplace. Think slabs of fresh butter on fresh bread, or local yogurt with fruit.) Dinner options are created from local Brittany meats, fish and produce, of course, blending complex flavors with delicate presentation. Nothing fussy, just wonderful ingredients prepared beautifully.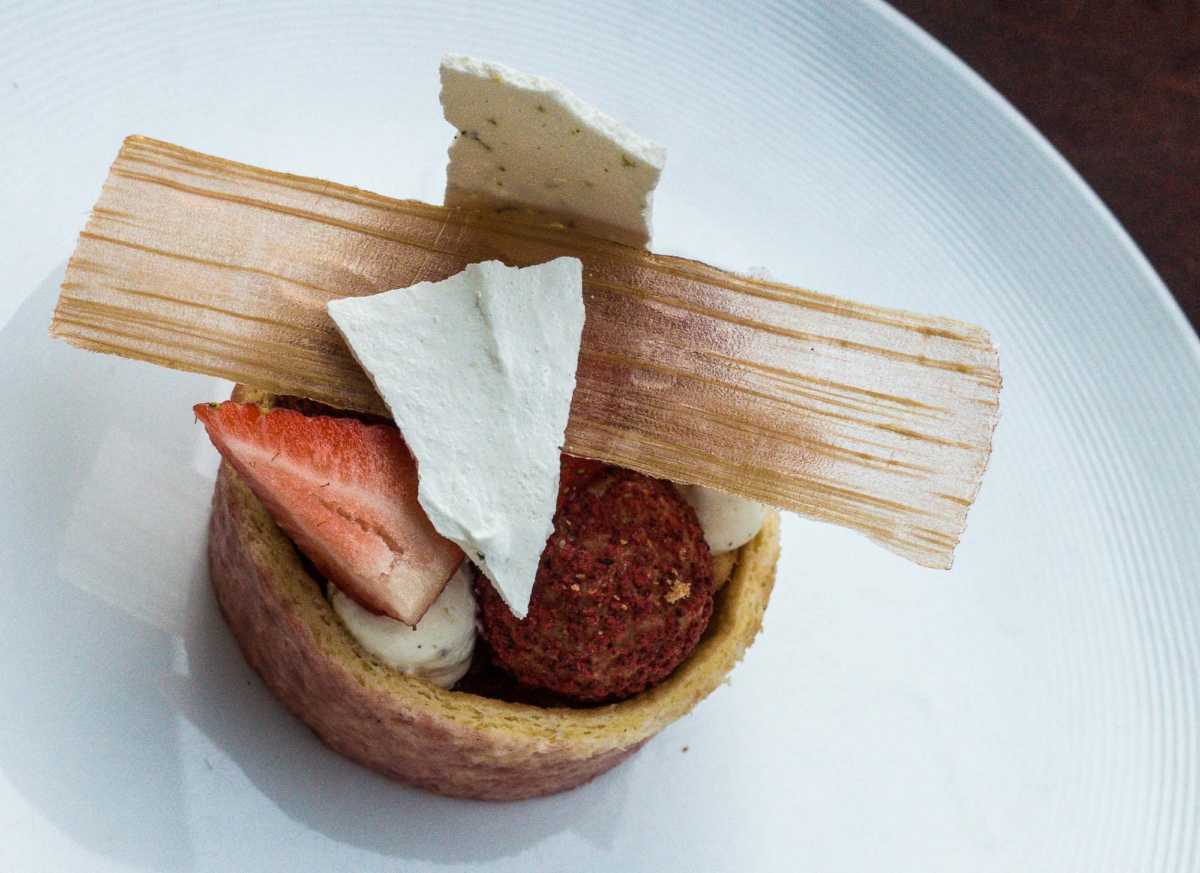 Stay and Eat in Sables d'Or Les Pins
Decades of tourism drawn to this pretty little beach town flash before our eyes at historic Hotel de Diane. Once the only game in town, it's been expanded and refurbished over time, but still retains a slightly worn ambience. Hallways are lined with historic photos, and the large breakfast room was filled with (mostly older) couples on holiday, many loading up at the buffet as if there were no tomorrow. (I thought I was back in the States.) We could have held a dance in our upgraded room in one of the turrets. As it was, we enjoyed 180 views of sky and water and the boulevard leading to the beach.
Dinners at Hotel de Diane were disappointing, especially after Lamballe. The sparse staff covered multiple duties and did their best to accommodate. (I think that was the chef who showed us to the shed to park our bikes.) One of our evening meals was much better than the previous, or we made better selections from the set menu that was part of our tour. FYI, down the street is a pizzeria with cold beer.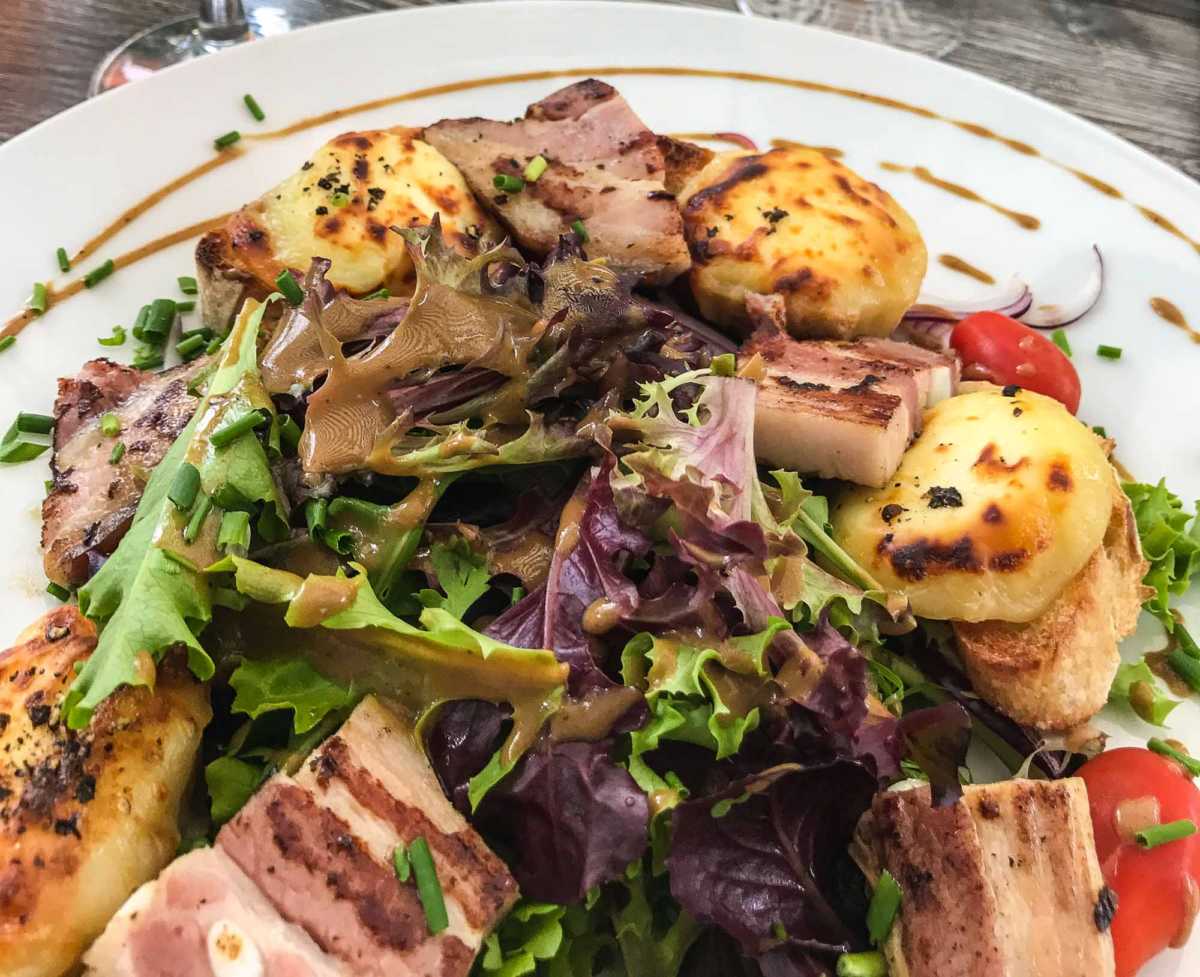 The highlight near Sables d'Or les Pins was our spontaneous stop at a roadhouse restaurant Le Bistrot des Caps. The amuse-bouche were snails simply cooked, served cold with aioli, a delightful surprise. Tom ordered an omelet with Emmanthaler. My salad with warm goat cheese on crostini and a mustardy vinaigrette hit the spot. With Rosé wine we were perfectly primed to coast back down to our hotel.
Dinard
Hotel Printania, a very cool old hotel overlooking the estuary of the River Rance, was our base in Dinard. We loved watching the extraordinary tides from our balcony, and although we couldn't quite see St. Malo from our window, the ferry stop was nearby. (Watch our :25 sec time lapse video of the tides right here!) The town center and seaside promenade are easy walks from the Printania, too. Though not glamorous or ritzy, this hotel offers reasonable rates and a good homey personality.
We ate really well in Dinard! L'abri des Flots, purveyor of fresh seafood on the town square, was a wonderful refuge from the pouring rain one evening. I finally ordered the sole fillet I'd been craving. Both it and Tom's ribs were served with a delicious ratatouille dollop on mashed potatoes.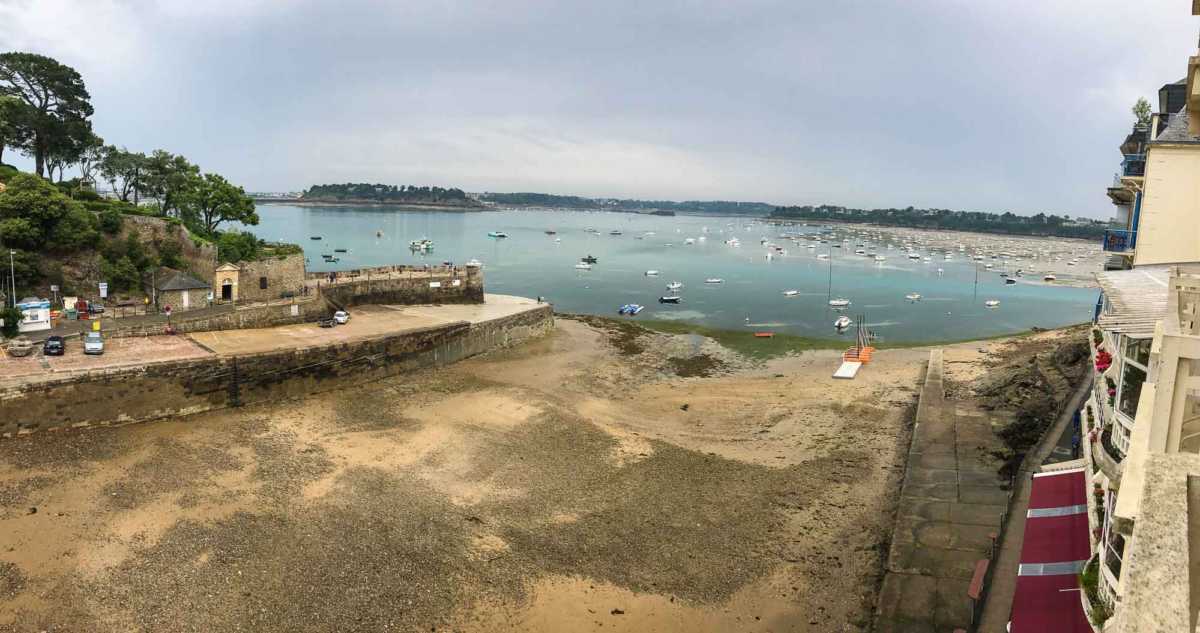 Just below our hotel, and unexpectedly open on a Monday when everything else was closed, was the seafood restaurant La Gonelle. The razor clams were great and we have fond memories of friendly conversations with our Spanish server and the travelers at a nearby table. Lucky us, they treated us to a brandy from the bottle pictured here.
Dinan
On the way to Dinan, we took a break from our bikes to enjoy Restaurant La Cale at Plouer Sur Rance. This casual restaurant at the old mill on the Rance is perched beside a small leisure port. Local business people and boaters were enjoying specials from the blackboard. We ordered crab tartare, roast chicken with sweet potato fries, and fresh greens. Lovely spot.
There was more good eating ahead in Dinan, enthusiastic servers of Breton's famous galette. This delicious flat pancake, usually made with buckwheat and served with a savory filling, is served in nearly every corner of town. We sampled at Creperie Le Connetable, right in the center of this medieval hilltop town. Tom's galette was filled with sausage and onion confit (yes!) and mine, a "complete," came with ham, cheese and egg, plus a side salad.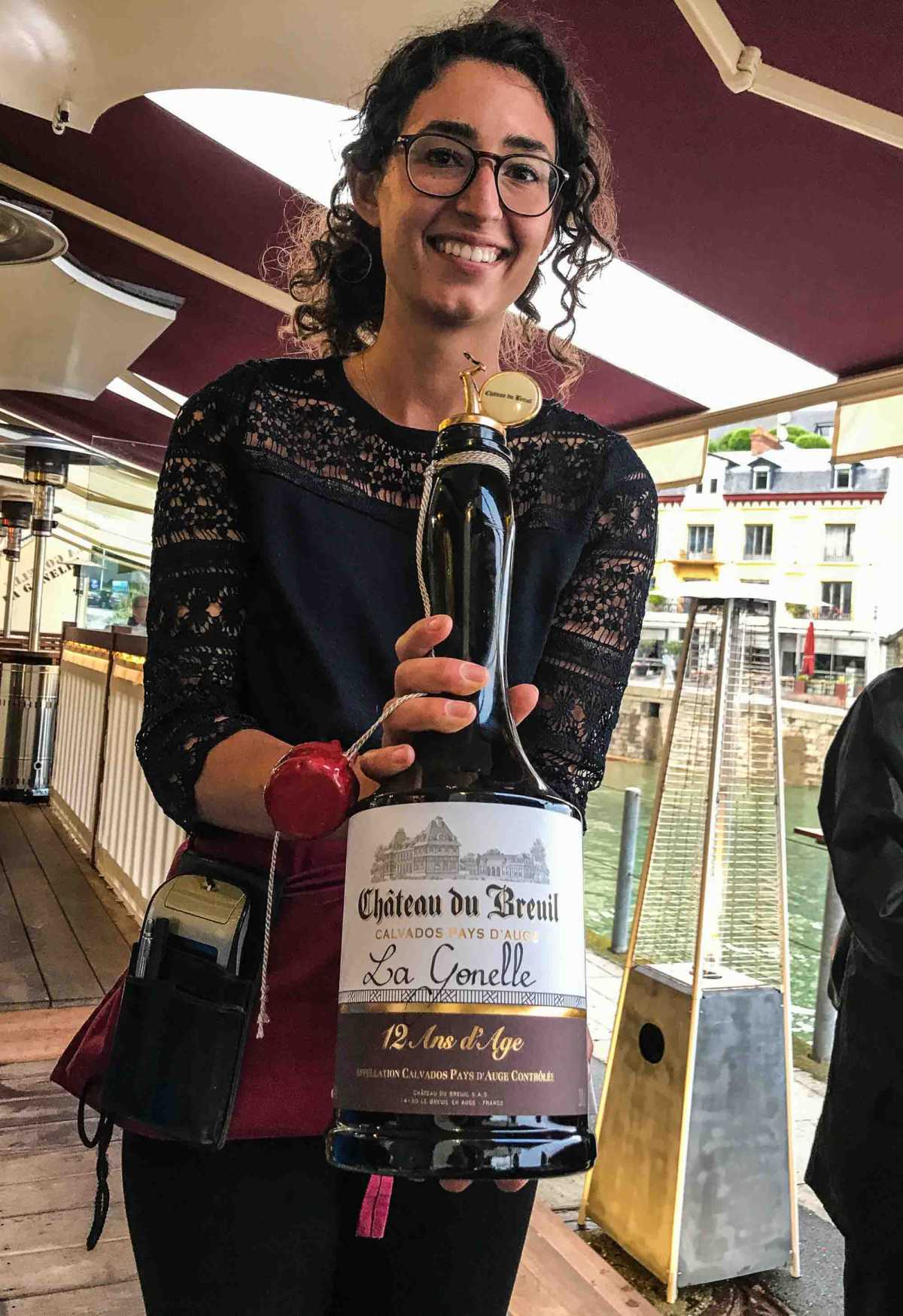 At our guide's recommendation, we went to Le Cantorbery for one of the best meals of the week. Though reservations are recommended, they often manage walk-ins in the upstairs dining room. We started off right with a red pepper mouse amuse-bouche, then moved appreciatively through courses of fish soup and oysters, followed by steak. We even went for dessert, a cake covered in chocolate and drizzled with orange sauce.
For a casual last night in Dinan we found Chez Tante Marcelle, at the base of the steep Petit Fort road heading up from the bridge. I gobbled down the Galette Nordique (filled with smoked salmon) and a salad. Let's not forget the very good local Duchesse Anne Triple beer. (We've hardly talked about beer, but Breton can be proud of its many brews, old and new.)
We slept for two nights at Hotel Mercure Dinan Port. Set alongside the river, we had no need to bike or trek uphill to check in, and lots of reasons for leisurely walks along the river. Several great bike trails make for good day trips from Dinan. The Mercure Dinan Port handles meetings, events and groups, with ample lounge and restaurant space. Our room included a patio overlooking the courtyard swimming pool.
Wishing you happy travels in Brittany and bon appetit!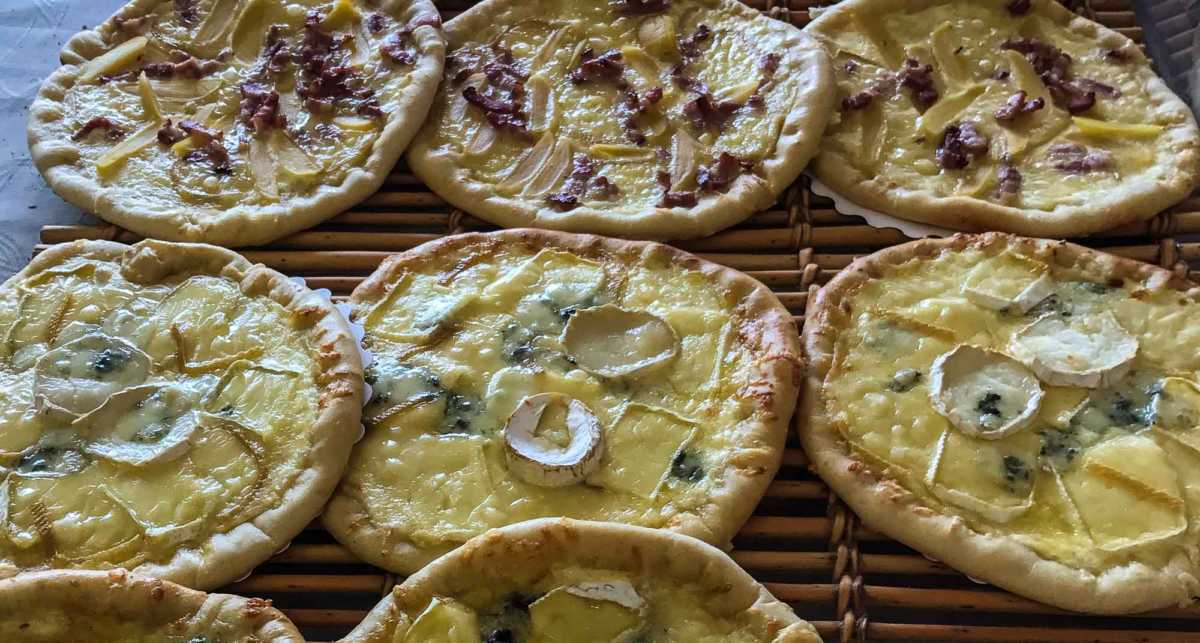 Note: We were hosted on this tour by Exodus Travels, who did a fine job of allowing us time and options to investigate the cuisine of Brittany. Opinions expressed here are the authors' alone, and have not been reviewed, approved nor edited by these Exodus or any of these venues.
You can help yourself get ready for your own travels by reading our Get Started Planning Your Trip Now page.
You can see (and buy prints) of most of our travel photos in one place on this page.
We love traveling–with the right gear. We've gathered a lot of the stuff we use to make travel more pleasant and efficient all on one page. Shop our Travel Past 50 Amazon page to find our favorite gear. If you purchase something from the store, Travel Past 50, as an Amazon affiliate, may receive a small commission at no extra charge to you. Thanks.
We never leave home without our travel insurance. Nor should you. Search for the travel insurance from Allianz that best meets your needs, whether it be an annual plan or a single trip.
Note: This post and other posts on TravelPast50.com may contain paid or affiliate advertising links.