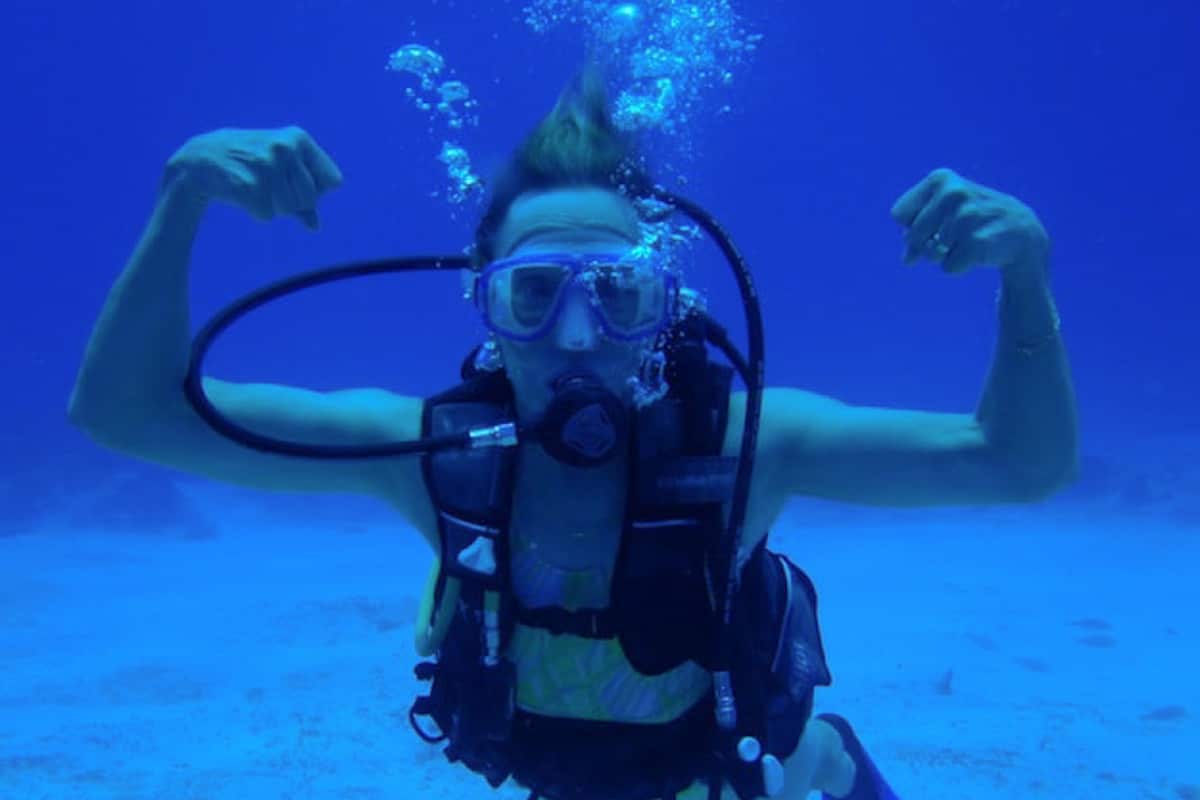 This is how a week in Cozumel turns into 12 days, and more. Because why would anyone want to leave?
While tourist usually go to Cozumel for the water sports and great scuba diving and snorkeling, we visited this island off Playa del Carmen simply to relax. What we found, through great tips from our host (details below), were some of the the friendliest places on Earth and the one of the best snorkeling and drift-diving tours we've ever had. Based in the town of San Miguel de Cozumel, we were able to walk to restaurants and shops and mingle with locals hanging out just a few blocks off the busy waterfront where cruise ship passengers stroll.
For example, the day we allowed the waiter Guadalupe (sic) to invite us in to his restaurant, Los Dorados de Villa (two-for-one Margaritas and wi-fi gets us every time), we were destined to talk to everyone in the place. José first made his presence known by talking loudly at each and every passer-by as he sat in the park across the street. His wife, Sandra, decided to sit down for a beer, José followed, and soon we knew that they were Puerto Ricans on a cruise stop in Cozumel.
Some posts on Travel Past 50 may contain affiliate links. If you buy something through one of those links, we may earn a small commission. As an Amazon associate, we earn from qualifying purchases.
José proudly announced he was a U.S. citizen and had served in Vietnam, most of which was apparent from his cap festooned with pins. He served for two years, 1967-1968, ending up at Walter Reed Hospital and, later, on full disability. For all he wanted to share about his service, the stories started and stopped abruptly, and he continued to apologize for his English. Now his concern was his son. ("He speaks perfect English.") After graduating from Coe College in Iowa, the young man couldn't find work in the states nor in Puerto Rico, so joined the U.S. Army.
The Swedish family at the next table was drawn in by the drama of these stories. Their son Isaac, about twelve years old, asked to have his picture taken with the Veteran of War. José gladly obliged, and was honored. It turns out the Swedes have family in Duluth (MN) and will visit Minnesota for a family reunion this summer.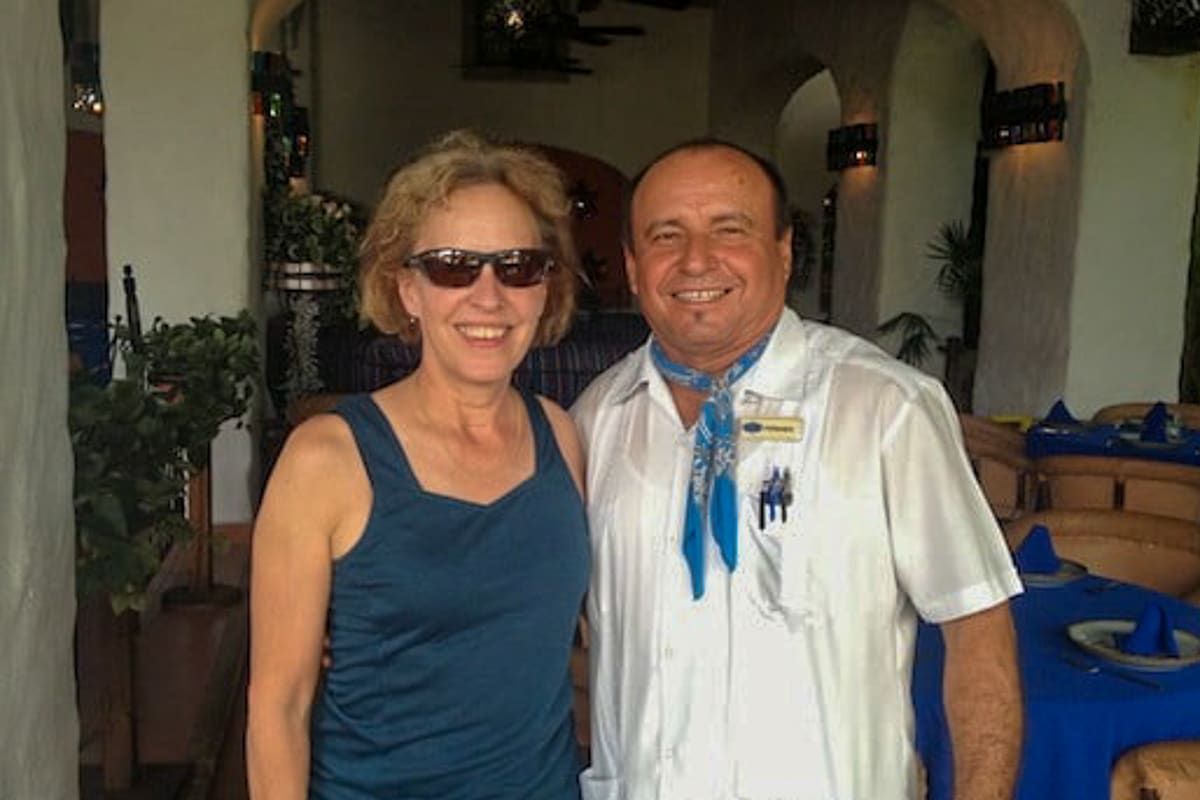 We had two nice meals at Pancho's Backyard, tucked behind the Cinco Soles artisan shop. We almost changed our minds when the first question asked of us was 'Which cruise ship?' But once we established we wanted a menu in pesos at least, if not in Spanish, our waiter Fernando became our good buddy. The food was above average, as were the prices. But the Margaritas were great, and our private lessons with Fernando in a few Maya words drew us back another day for more fish tacos. He remembered that we didn't want to deal in dollars, and suggested he would happily accept 400 Euros for the bill of 400 pesos.
Other notable refreshment stops included Wet Wendy's, where the music keeps up with the drinks, and a free shot of tequila can be had if you are good at sinking a beanbag into the target. I took dozens of pictures there one night of the two girls, Dhanna and Yaretzi, daughters of the waitress Joanna. Naturally, we met Joanna's mother, too, as she was watching the girls in their mother's workplace. Our correspondence with photo exchange carried over many months later. We met Samanta working the jewelry shop 'Bling,' positioned right next to our table, and also Robert, who peddles Cuban cigars from his corner of the patio.
The Money Bar Beachclub came highly recommended as a good place to swim or hop on day tours for any number of water sports. It's also the hot spot for sunset viewing, with a great happy hour, a really good house band, and the occasional impromptu break dancing or arm wrestling. It's all in good fun as the darkly tanned, heavily tattooed and muscled beach denizens engage in a little pecking order establishment. Lots of laughs and another round of drinks following the rowdiness.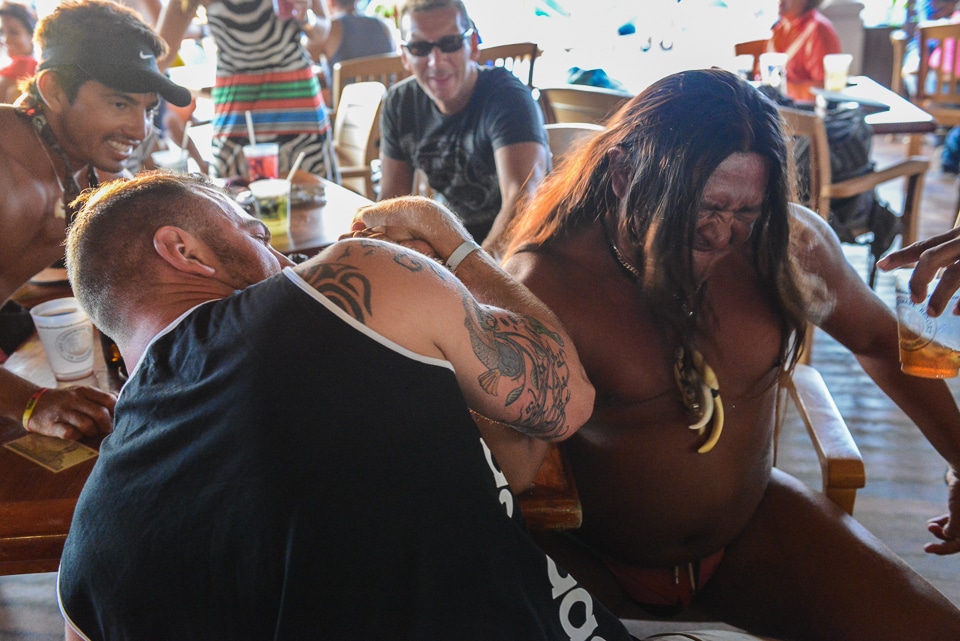 Though we don't have the vibrant stories to go with it, we had a couple very good meals at Guido's. The restaurant location on the main oceanfront street will surprise with its oasis-like courtyard in back, and a menu of Mex-Italian-Swiss cuisine. We had a lovely lunch at Guido's Delicatessen on Avenida 15 near our apartment, too, with fresh food served in a contemporary international style. Tom had fresh beets and chicken with mushrooms; I had a delicious tuna burger with broccoli slaw.
Oh, to be able to try everything one more time.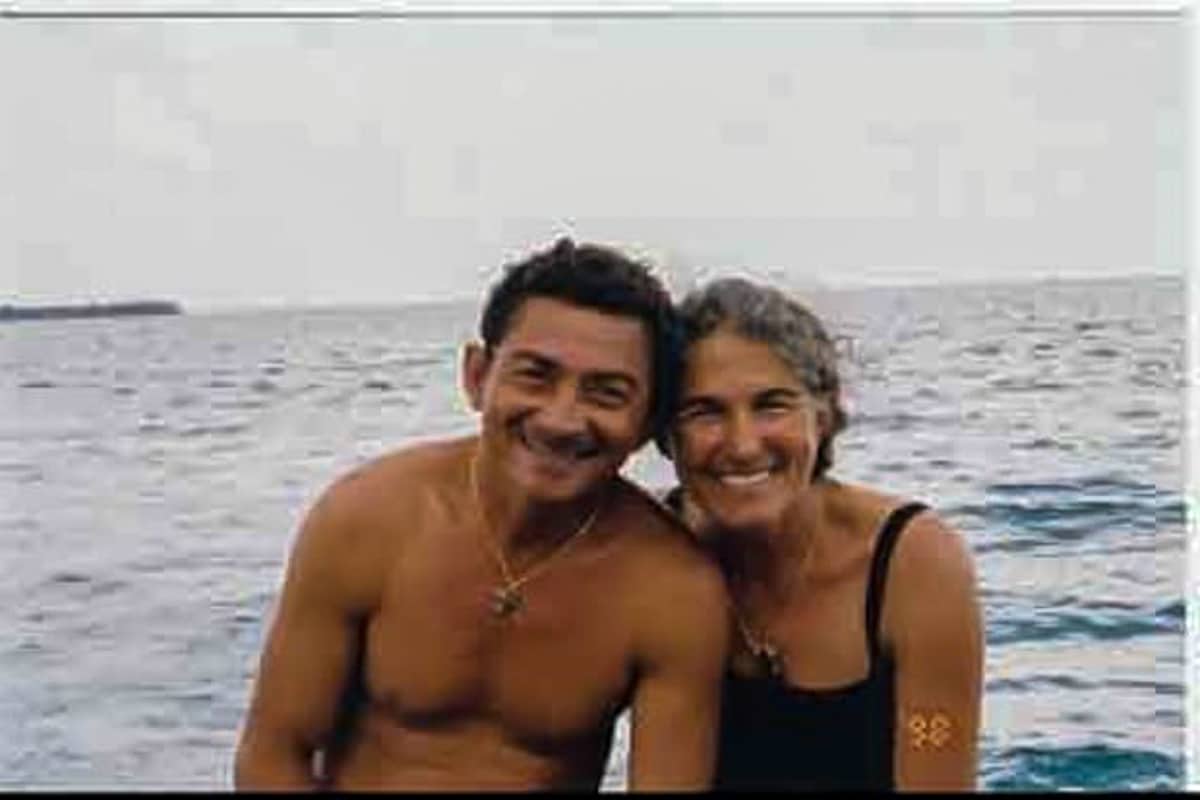 A highlight for me was our two-dive day, going out on the Nena with DivewithCristina.com. Cristina's partner Luis has been a master dive instructor for more than 25 years. The company specializes in accommodating all levels of divers. I signed on for the beginners' dive, getting instruction on the boat. For $130, we were walked through the instruction, fitted with all the equipment, escorted on two dives in the famous reefs off southwest Cozumel, and provided lunch. Luis was outstanding; I learned much more than in the one previous experience I had with on-the-spot training. After a bit of nerves, I was comfortable going to almost 50 feet. Gorgeous. Tom took in the instruction, then promptly got seasick before making the final decision whether to snorkel or dive. So it was neither for him. But by the end of the day he was suggesting we get certified right here, right now, with Luis! He must have forgotten the part about having to go out on a boat.
At any rate, Luis (born in Mérida, Yucatán, of Cuban descent) is serious about business and light-hearted at once. After the second dive he summed it up: "I love this country." I assume he meant the underwater world, everywhere.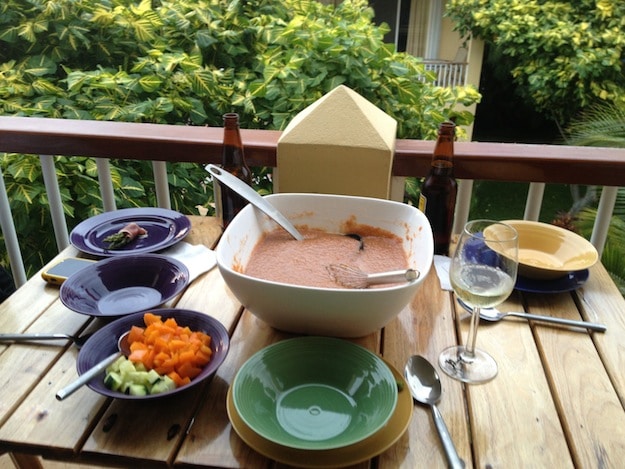 Cristina, for whom the dive company is named, is a kindred spirit from the central Mexico state of Aguascalientes. She joined us for dinner on our deck and conversation about her background and journey through architecture school, Rice University, travels in Central America, the lasting impact of Hurricane Wilma in 2005, and her private home on five acres in the middle of this island's jungle. We have the feeling that Cristina is connected with the land or water wherever she is.
So that is how our short stay grew longer. And still it was hard to leave. Did I mention our cushy pad, and the swimming pool? We are in the best of accommodations in Cozumel, thanks to our friend Cindy Darling. Her condominium is just a block from the Caribbean shore and a 10-minute walk to the center of town and the ferry. This place is about 1600 sq. ft. with 3-bedrooms, private entry, and a balcony. And even better than that, we can enjoy our friend's artwork and Catrina collection, and see why she loves her Cozumel retreat.
So while we've been here in the town of San Miguel, Cozumel, we've been living like real people and taking advantage of all the comforts of Cindy's well equipped home. For us travelers that means laundry, our own coffee and breakfast (hallelujah), some home cooked dinners, and a couple instances of watching TV (Barća losing to Bayern Munich, and a DVD of  "Zero Dark Thirty," which we are hereby gifting to future occupants).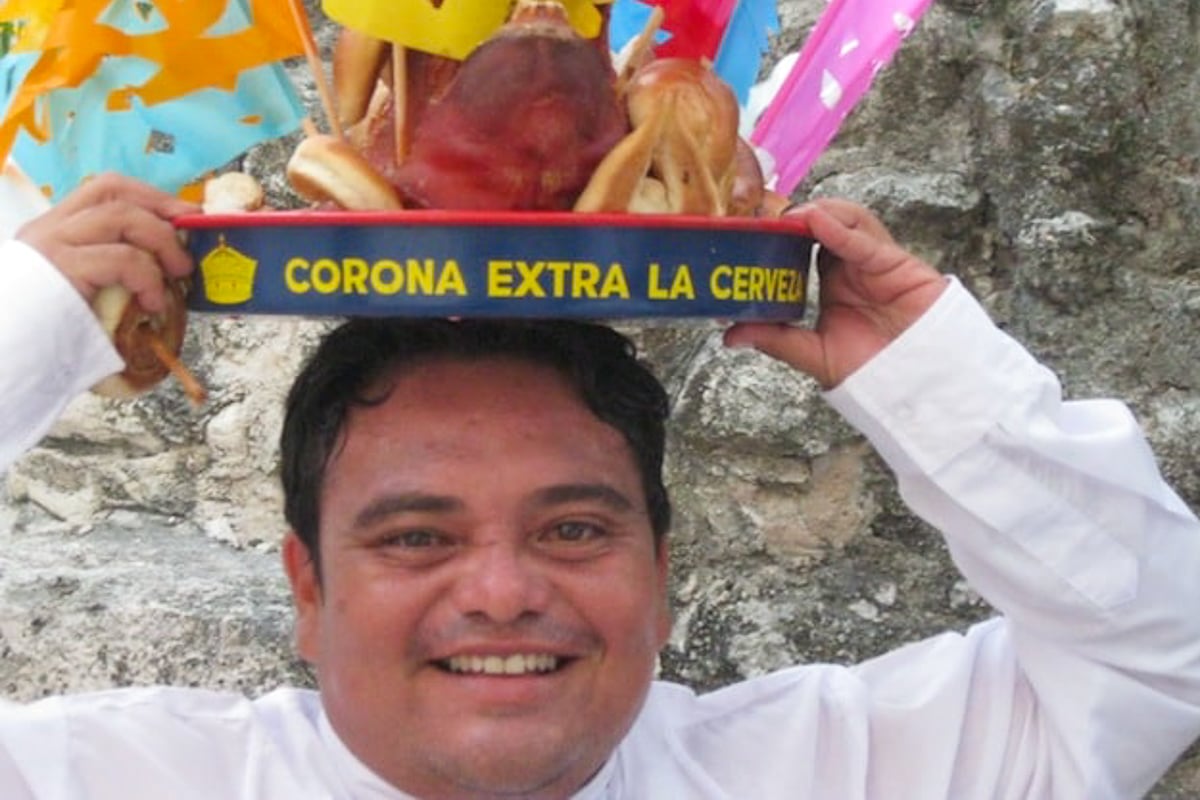 And we took as many of Cindy and Cristina's recommendations as we had time for, renting a funky VW convertible for $35 a day and visiting the festival in Cedral, and touring the other side of the island. Thanks Ms. Darling, and Cristina.
To rent this place, just email cdarling23@comcast.net and let her know you want to schedule a week, or four, before Kris and Tom book it full.
You can see some more photos from Cozumél, particularly the festival at the village of El Cedrál, in this post.
You can help yourself get ready for your own travels by reading our Get Started Planning Your Trip Now page.
We love traveling–with the right gear. You can check out a lot of the stuff we use to make all our travel much more pleasant and efficient all on one page. Click here to see it. If you purchase something from this page, Travel Past 50 may receive a small commission at no extra charge to you. Thanks.
Note: This post and other posts on TravelPast50.com may contain paid or affiliate advertising links.
Pin it!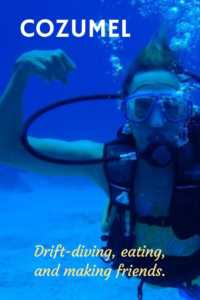 Travel Planning Resources
Looking to book your next trip? Use these resources that are tried and tested by us. Flights: Start finding the very best flight deals by subscribing to
Thrifty Traveler
. Book your Hotel: Find the best prices on hotels with
Booking.com
. Find Apartment Rentals: Find the cheapest prices on apartment rentals with
VRBO
. Travel Insurance: Don't leave home without it. We recommend
Allianz Travel Insurance
. Need more help planning your trip? Make sure to check out our
Resources Page
where we highlight all the great travel companies and products that we trust. See all of the gear and books we like in one place on our
Amazon shop
.