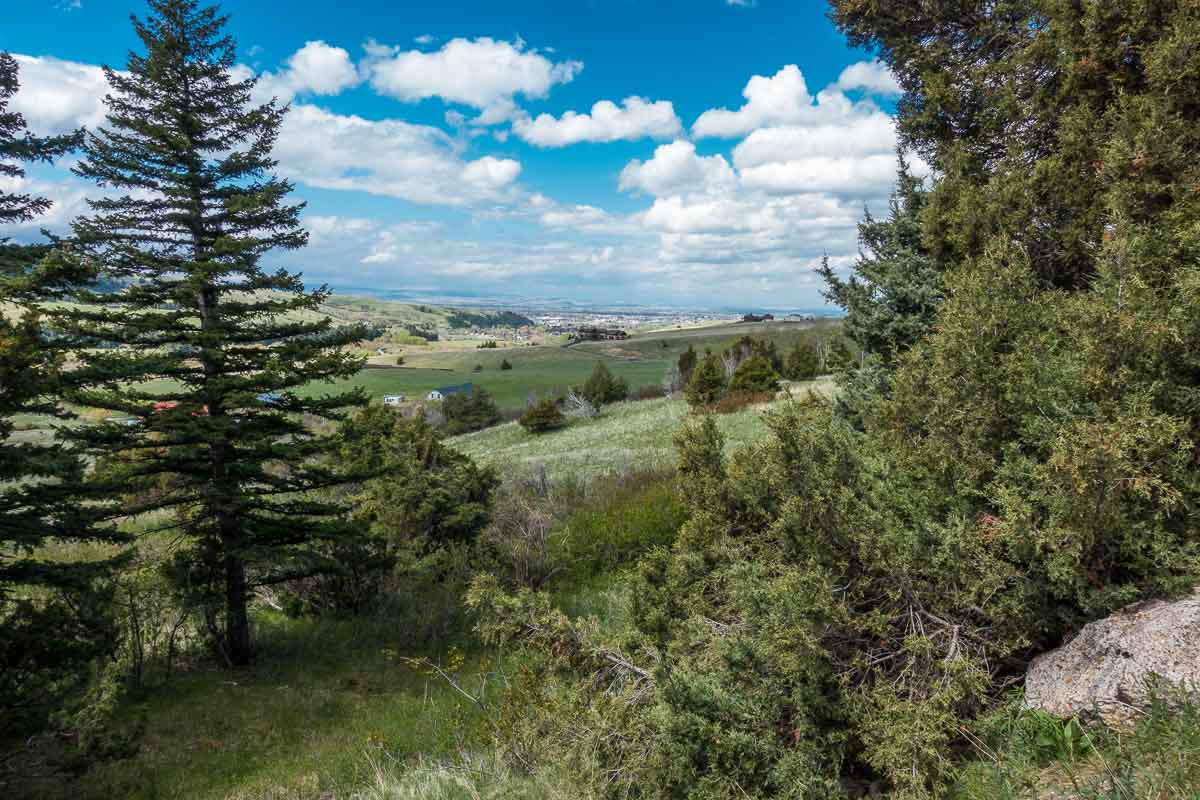 Don't tell anyone. If I followed the advice of some Bozeman, Montana, residents, I would just skip this post. Bozeman is so appealing–and so fast growing–it's not surprising visitors are advised to keep the story quiet. After all, it's only human to want to guard beautiful things. And, Bozeman is beautiful.
But on the other hand, the town is so intrinsically cool, that even rapid expansion hardly dampens the vibe–and even enhances it in some respects. The caricatures of the male-dominated, dog-friendly, eco-avid population give way to jokes about dogs outnumbering women at parties or about "Mantana," where engineering and agriculture schools traditionally attracted more men than women.
These days, according to Towncharts' 2017 population data, Bozeman (population close to 50,000) is 52% male. More telling is that it's young: median age 28. Many students simply stay on. Population growth over the past decade is over 15%, bringing the total living in the Gallatin County valley to about 100,000.
With all that change, Bozeman works because it is a community, a town that walks, works, hikes, fishes, skis, eats, drinks and eyes the local news together. It feels entrepreneurial, relaxed, and confident, with a healthy concern about how it grows. City and park planners proceed with care, working alongside historic preservationists. Meanwhile, everyone proclaims the glory of easy access to trails and streams within 30 minutes of town.
Historic Bozeman was established in 1864 on the heels of the fur trade and in the midst of the gold rush and Homestead Act. From the get-go, the town was enhanced by its proximity to Yellowstone National Park. What makes Bozeman click today is a combination of factors: Montana State University, the skiing at nearby Big Sky, and the steady interest in Yellowstone National Park. (Yellowstone, the country's first national park, was inaugurated in 1872.)
With these attractions comes a well-funded, growing airport. The Bozeman-Yellowstone International Airport (BZN) is served by Delta, United, American, Allegiant, Jet Blue, Frontier and Alaska–which means nonstop service from most major U.S. cities. Yellowstone Park tourism and the monied powers-that-be in Big Sky are sure to support future expansions.
Still, Bozeman keeps its independent spirit and unique personality. That's what makes it livable–and a great little destination for tourists, too. Here are a few ways to get a taste of Bozeman and the nearby parts of the state of Montana.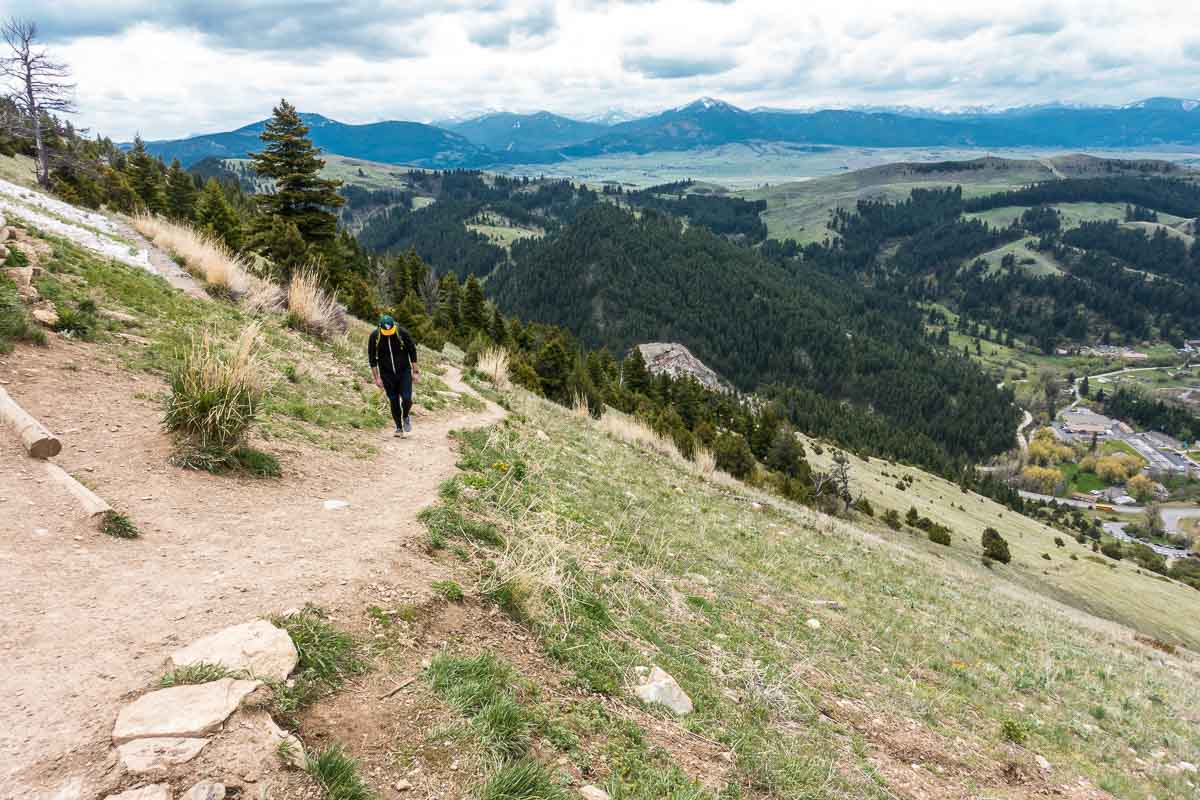 The Setting
Bozeman, elevation 4,800 feet, lies in a broad valley couched between the Gallatin and Bridger mountain ranges in southwestern Montana. Peaks circling the valley rise up to over 10,000 feet.
Where there are snow-covered mountains, there are fast-flowing rivers. The East Gallatin River slices through Bozeman itself. Fishermen and campers know all the channels nearby, including the popular Madison and Jefferson Rivers which combine with the Gallatin to form the Missouri River headwaters.
From its place of wide open beauty, Bozeman is conveniently located about 80 miles from the north entrance to Yellowstone, 50 miles to Big Sky Ski Resort, and just 30 miles to the headwaters the Missouri River.
Agriculture remains one of Bozeman's top industries, producing not only grains, fruits and vegetables, but beef, bison, lumber, and trout, from ranches, forests, and fish farms. Tourism, the university, and high tech companies are also important to the local economy. Several hundred are employed by RightNow, owned by Oracle, and Fast Company has covered the tech boom in Bozeman.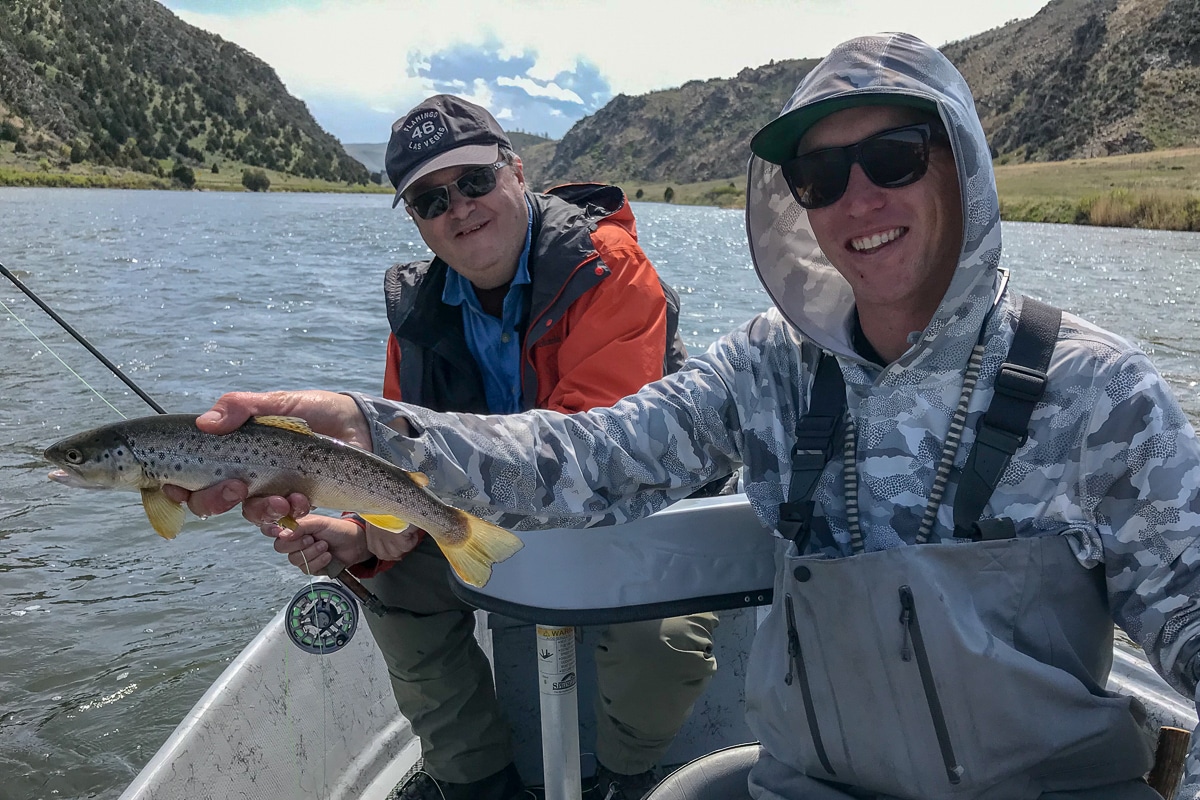 Bozeman Hiking and Fishing
Hiking
The whole point of visiting Bozeman is to get outdoors, take a hike, and breathe in the scenery and fresh air. We loved the long list of recommendations we got from everyone we asked about where to hike. It was unanimous: everyone 'hikes the M' at some point, if not regularly. And everyone has some other favorite hiking destination that is selected for waterfalls and woods, or wildlife, or distance from town, or vistas of surrounding ranges. Selecting your route might be the hardest part.
We hiked the M, up to the lower edge of the trademark letter M that shines over Bozeman and can be seen for miles around. Take the 1.5 mile switchback trail for a more leisurely hike, or the straight-up half mile trail for a heavy duty workout. This is a popular area, frequented by people and dogs, and safe to walk sans bear spray.
Other hikes we'd love to try are up Hyalite Canyon (waterfalls) or Spanish Peaks (wildlife). Many more are introduced in the handy book, Day Hikes Around Bozeman Montana, by Robert Stone. It covers 110 trails, all of which are within 90 miles drive of Bozeman.
Fly Fishing
A highlight of our visit was a day of fly fishing on the Madison River. That's right, with an outfitter and guide, even completely inexperienced fisher folk like us can enjoy a day floating the river (or wading). We had an excellent time with Will Allen, a young guide we met through Fins and Feathers outfitters in Four Corners. Without having to tie a single fly (or untangle much), we learned our hand (NO WRIST!) at casting and mending and even catching some trout. It's easy to see how one can get hooked on the sport; we want to return to the river to do better. We were pleased to hit the trifecta, catching one each of Rainbow (Kris), Brown, and Cutthroat (Tom) Trout.
(And if you happen to need more convincing about the beauty and fishing around Bozeman, Robert Redford filmed A River Runs Through It, on the rivers around Bozeman and its neighbor Livingston. If you're more of a reader, here's the book.)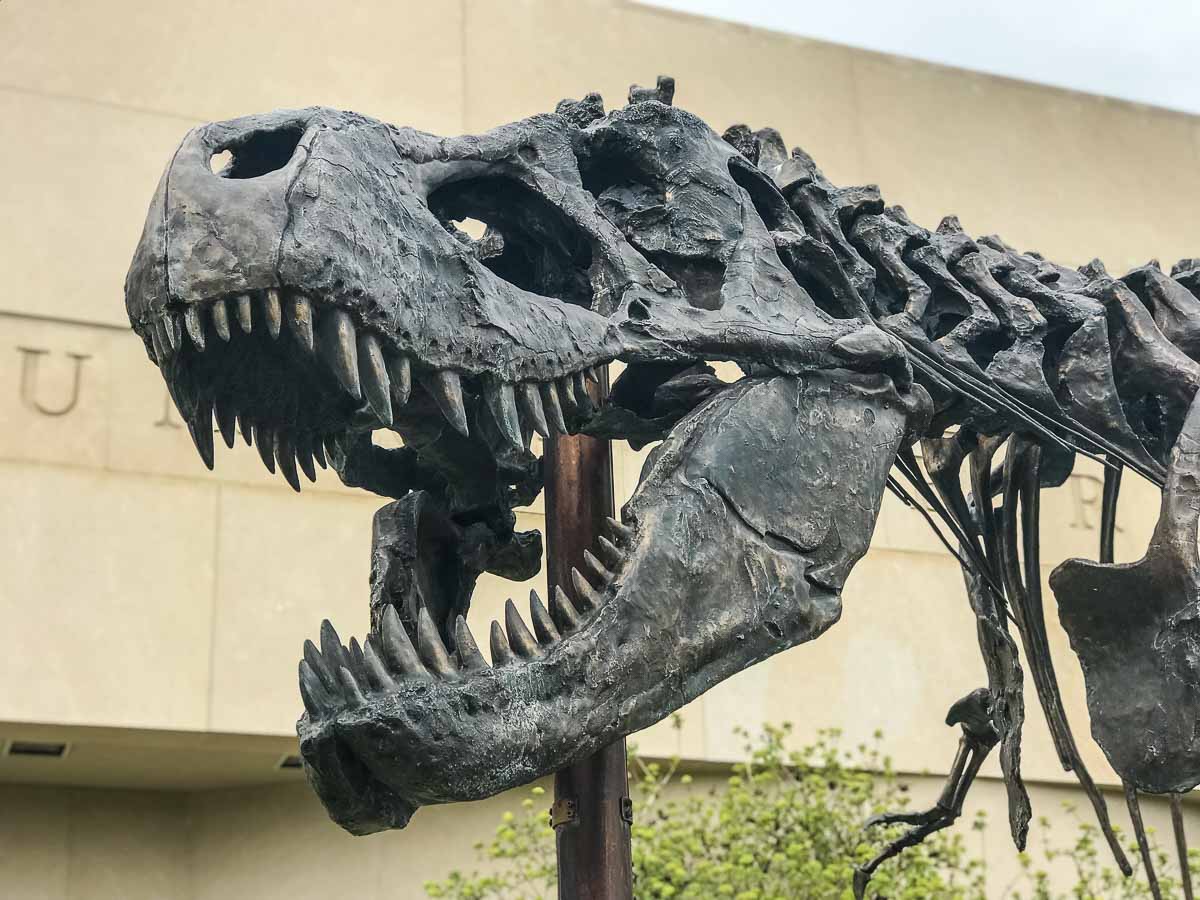 Museums
In May in Bozeman there will be rain. So it's a good time to visit Museum of the Rockies. Administered by Montana State University and now associated with the Smithsonian, too, MOR presents the world's finest collection of dinosaur remains. That's because Montana was once dino central. The huge collection of dinosaur fossils includes a full-scale T-Rex skeleton, an outstanding collection of Triceratops skulls, bones from assorted species in their juvenile to adult states, and some imagined (well-researched) displays of plumage and original coloring.
From earlier roots, the museum was established in 1965, and is still associated with Jack Horner, the former curator of paleontology who built the fossil collection and inspired Jurassic Park.
Allow plenty of time. The museum also has a planetarium and sufficient space for other temporary exhibitions. Our visit coincided with "The Real Ghengis Khan" and a survey of Yellowstone Country history and culture. The bookstore, of course, is irresistible.
We can also recommend the Gallatin History Museum to set the stage for your visit to the area. Housed in the former county jail and sheriff's quarters, this diverse collection includes documents and artifacts related to native people, Fort Ellis, the city's founding fathers, household items, and period fashion. We learned about John Bozeman (city founder who came west for gold but primarily developed wagon train and trade routes), Albert Gallatin (U.S. Secretary of State during the Lewis and Clark expedition) and Fred F. Willson (Columbia University and European educated architect who designed the jailhouse and dozens of other projects in the area). The story of the last legal hanging in Gallatin County, in 1924, of Seth Orrin Donner over mysterious murder charges is one of the highlights of the museum.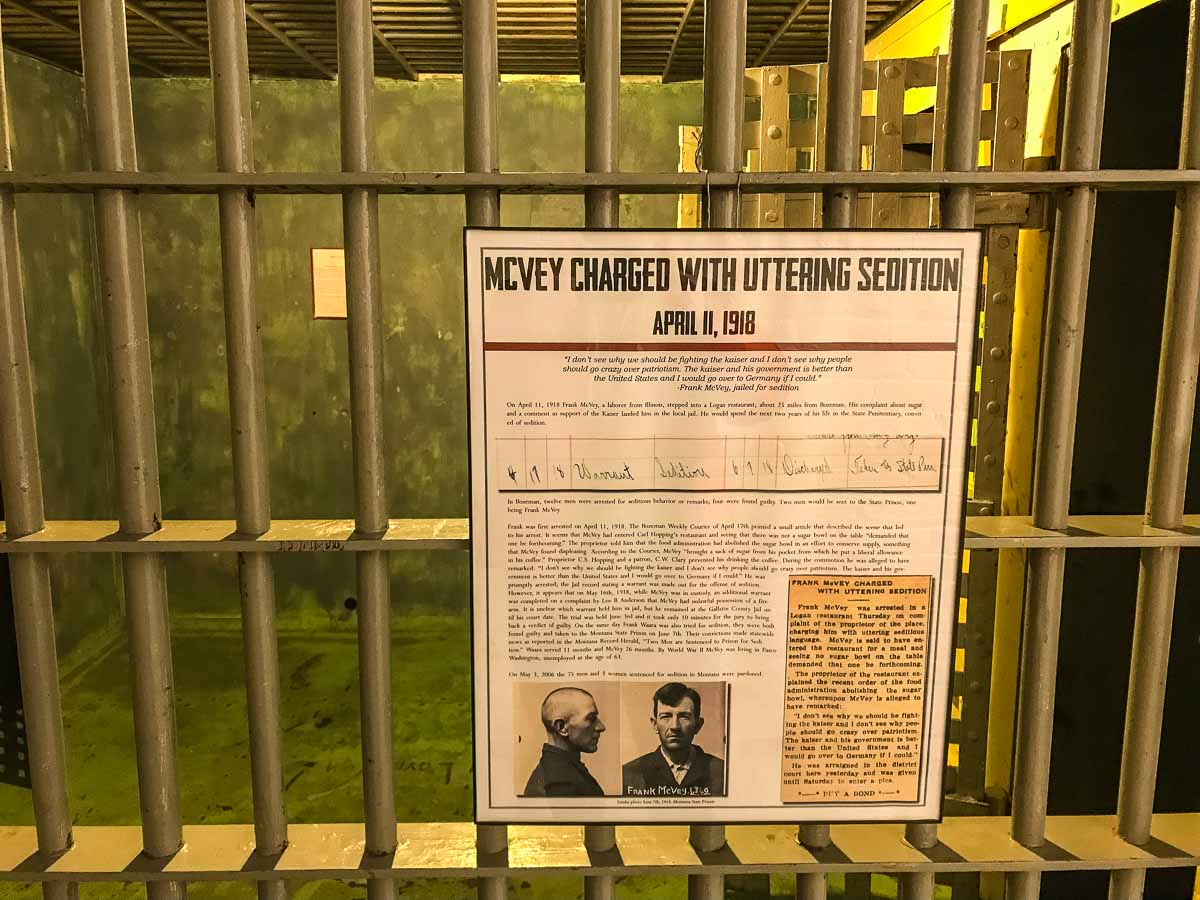 Main Street and Around Town
Bozeman's downtown Main Street might be the envy of any town. Who can dismiss the easy camaraderie of neighbors, coworkers, and parents who can stroll from home to work or walk the kids to school? Bozeman's town center is welcoming and worthwhile. It's not just for show. You can shop, eat, be entertained, and get your business done over coffee.
The architecture along Main Street combines some simple western brick buildings with a handful of muted art deco buildings design by local architect, Fred F. Willson. Shopping is easy: just walk up and down the street to find bookstores, outdoor stores, galleries, thrift and antique shops, gifts and souvenir shops, and even a hardware store and food co-op.
The town works because of its natural mix of commercial, office and residential uses on Main Street and beyond, and because of careful reuse of historic buildings for modern purposes. The old Federal Building/Post Office (designed by Willson) is now the center for a non-profit human resources council. The old county jail (also Willson designed) is now the Gallatin History Museum. An old railroad freight house has been converted to Montana Ale Works, and across the street is a classic Carnegie library next to an urban trail and park. On one side of Main Street the old Emerson School has been converted to an arts center.
It's not on the tour, but if you knock on the door of Western Justice Associates law firm one block north of Main on Mendenhall Street, maybe they'll let you see their offices, which occupy the restored home of a Bozeman lumber magnate. About a mile north, the old canneries (famous for packaging local sweet peas) now house various offices, brew pubs, and restaurants.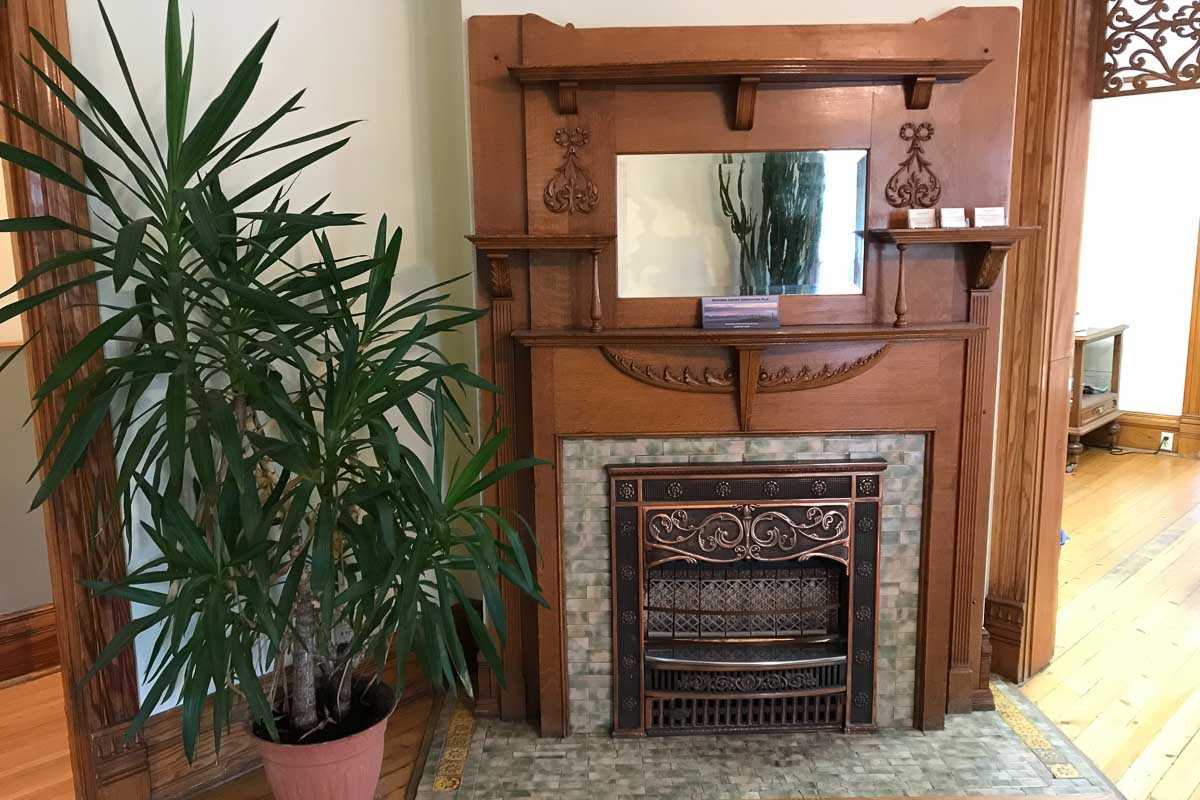 Main Street Highlights
There's plenty of shopping along Main Street, mostly leaning toward practical stores but also including gift and souvenir options. We've listed several Main Street restaurants and hotels below
Schnee's, 35 E. Main St., For boots, shoes and outdoor apparel and gear. I contributed to the local economy here.
Chalet Sports, 108 W. Main St., All season sports gear and apparel, sales and rental. Get your bear spray here.
Emerson Center for the Arts, 111 S. Grand Av. In addition to various independent galleries on Main Street, the Emerson shows contemporary art of regional interest in three galleries, plus has event space, a theater, and ongoing education programs. The Emerson is one of the venues for Bozeman's annual June film festival.
Country Bookshelf, 28 W. Main St. Lose yourself in this acclaimed indie bookstore.
Vargo's Jazz City and Books, 6 W. Main St. This is where we picked up a copy of Ivan Doig's This House of Sky: Landscapes of a Western Mind.
Genuine Ice Cream, truck at Lark Hotel 122.5 Main St. For delicious artisan ice cream–by the cone, dish or bulk. Achieve happiness by sampling the cardamom flavor.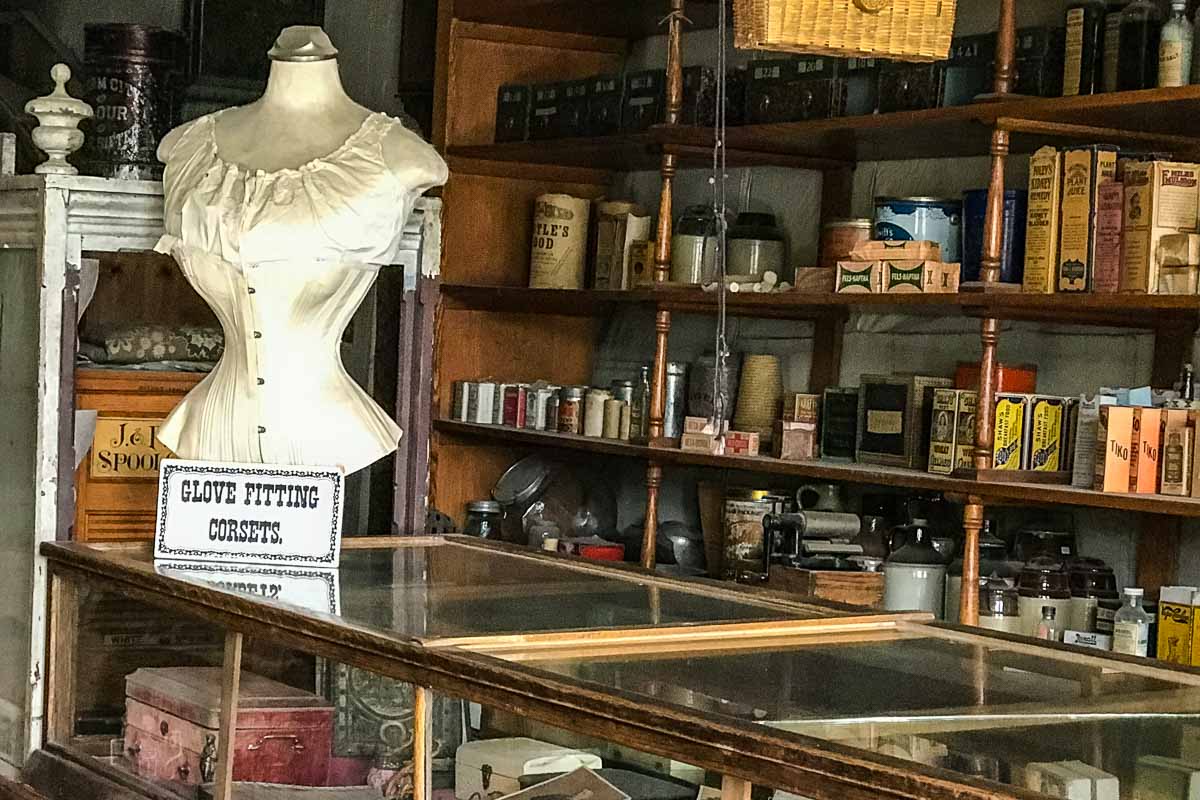 Day Trips in the Area
Driving an hour or so for side trips is no big deal around Bozeman. Points of interest are spread out, and you won't want to miss seeing the surrounding landscapes.
Virginia City, Montana
Most places in this resurrected ghost town are open to visitors in the summertime. Our preview just before Memorial Day still offered a good look into the buildings restored or moved here since the place went empty in the early 20th century. The main street of Virginia City, which thrived in the 1860s during the gold rush, and the excellent Victorian artifacts housed in shops along the street are maintained by the Montana Heritage Commission. The Pioneer Saloon is always jumping, so say hi to Joe behind the bar. We talked about Al Franken.
Preservation of the town is credited to Charlie Bovey and is wife. (Bovey, Minnesotans will be interested in hearing, was born in Minneapolis to the president of the company that would become General Mills.)
Norris Hot Springs
Locals love to detour over to Norris Hot Springs, where a dip in a hot spring pool is a great way to wind down the week. Dinner and live music can be had in the right season.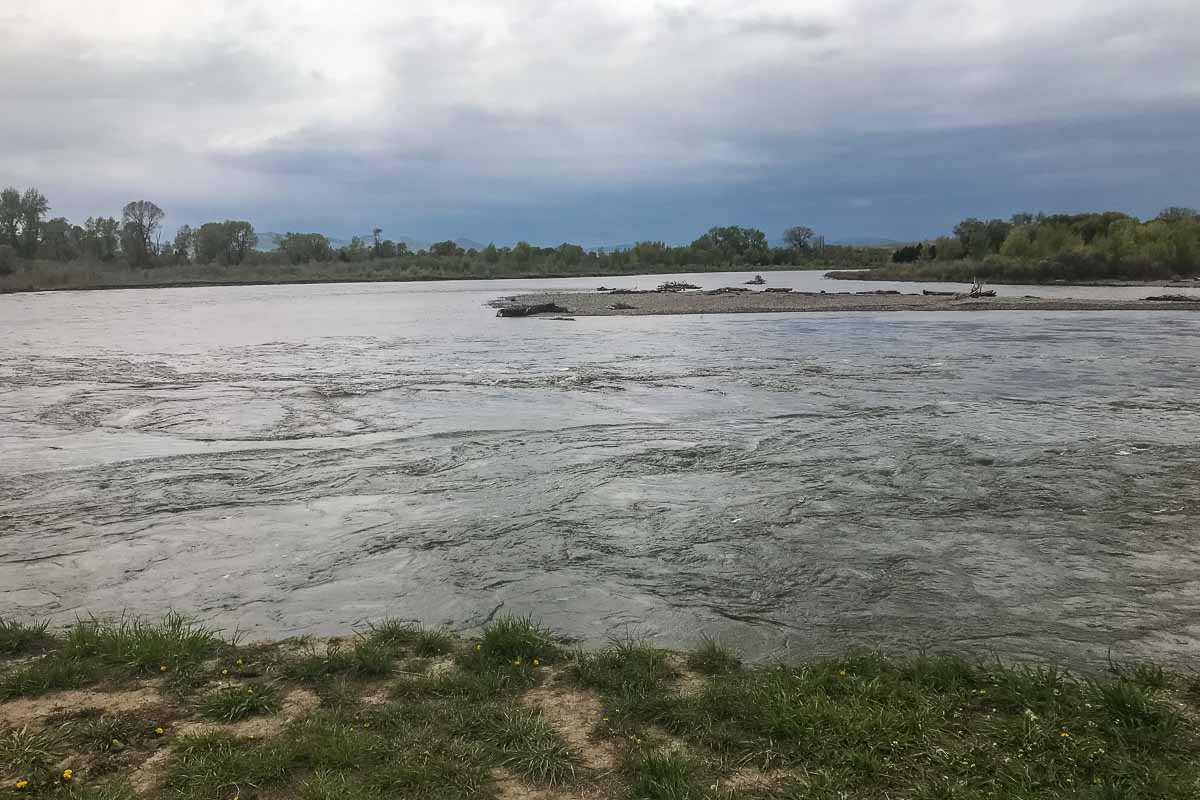 Missouri Headwaters State Park
Not at all like the Mississippi headwaters that one can step across in the summer, the Missouri is traced to the intersection of the Jefferson and Madison Rivers, with the Gallatin joining in just a mile downstream. In these parts, the Madison and Jefferson are playgrounds in their own right and flow respectively 183 and 83 miles before becoming the Missouri. Historic markers at the park relate the story of Lewis and Clark and the role of Sacagawea, who was born in this 'Three Forks' area. The rivers are edged by cliffs and meadows, so there is plenty of bird watching here, too.
Bridger Bowl Ski Area
When they don't want to deal with Big Sky's big season, Bozeman residents and students enjoy Bridger Bowl Ski area. All skill levels are accommodated. Bridger Bowl is noted for its 'cold smoke' powder snow. The area closes entirely in the summer, but an annual Raptor Fest in October marks the nation's largest migration of golden eagles.
Bozeman Restaurants
Bozeman's food scene is keeping up with, even surpassing, the town's reputation for healthy and innovative living. Naturally, beef is a big seller here, supplemented by bison and elk dishes. Mouthwatering burger menus show creativity and skill. No one will say they don't know how to make a burger or grill a steak here. But never fear: you'll also find great fresh salads, tempting bakeries, and fine coffee around town.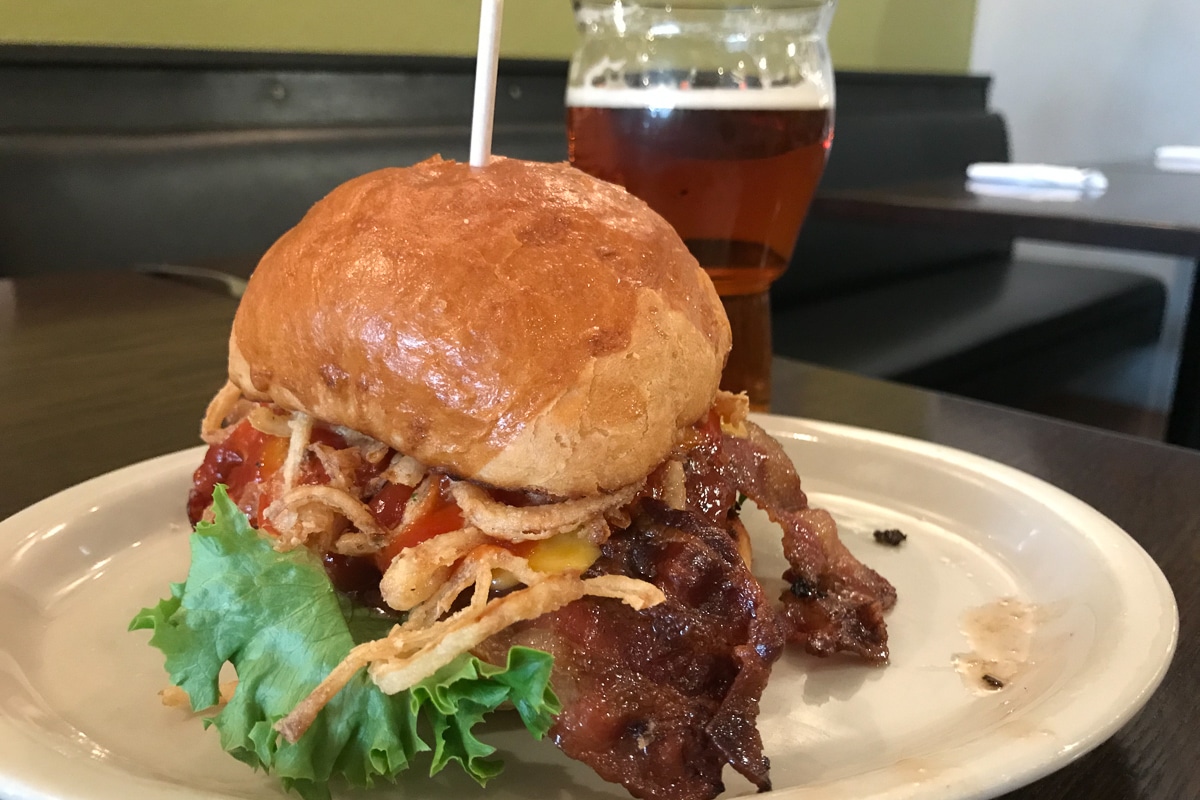 Downtown
Backcountry Burger Bar, 125 W. Main St. The first and best burger I bit into in Bozeman was Backcountry's delicious bison burger with chili verde. The focus here is locally raised and processed beef and bison, local brews, ciders, and kombucha, and assorted fresh salads.
Montana Ale Works, 611 E. Main St., seems to be the gold standard for beer selection, good food, and lively surroundings. The main attraction here is the 100% Montana pasture-raised beef and the restaurant's collection of local farm purveyors. Off the burger menu, we were equally thrilled with wagyu beef spare ribs and a gorgeous grain and beet salad.
Urban Kitchen, 5 W. Mendenhall St. Get your steak here, or for a change of pace go for the delicious maple duck breast or the bulgogi glazed salmon.
Open Range, 241 E. Main St. It's good to have friends to share some of the enormous cuts. Three of us layed into a bison chop and shared the seafood selection of the day, with Caprese salad and Brussel sprouts sides. Stay for the excellent wine selection and the classic cocktail selection.
Plonk, 29 E. Main St. Right up our alley, because this wine bar opens mid afternoon, has a lovely wine list (plus cocktails) and serves up happy hour treats (read: lunch) that carry us into the evening. We sampled the charcuterie plate and a house salad with our Spanish and Italian wines before heading down the street to the bookstore.
Bacchus Historic Pub, 105 W. Main St. in the Baxter Hotel. A good meeting place before going out to do the town. Go with the Coldsmoke brew on tap and a plate of Curry Fries to propel you on your way.
Cannery District
Seven, 113 E. Oak St. Also written with seven hash marks, this spacious sushi restaurant in the Cannery District offers up a big menu of rolls, along with sushi, nigiri, and cooked entree options.
Devil's Toboggan, 113 E. Oak St. Just upstairs from Seven, this appealing speakeasy serves up sophisticated atmosphere along with tasty cocktails.
MAP Brewing, 510 Manley Rd. For best views and brews, head out to MAP.  Here's another tale of someone wanting to bring their craft back to Bozeman.
Breakfast
Wild Crumb, 600 N. Wallace, This bakery can take you through midday with exquisite breads, pastries, cookies and a limited but perfect selection of sandwiches.
Jam!, 25 W. Main St. The most popular place in town for breakfasts all day. We know, we returned for more.
Feed, 1530 W. Main St., Comfort breakfast in a red barn sums up the 'farm-chic atmosphere' of Bozeman.
Treeline Coffee, 2 locations. We frequented the Treeline downtown attached to The Lark. The coffee is stellar, and the space, overflowing from tables to the lounge area shared with The Lark, is just right for working or catching up with friends.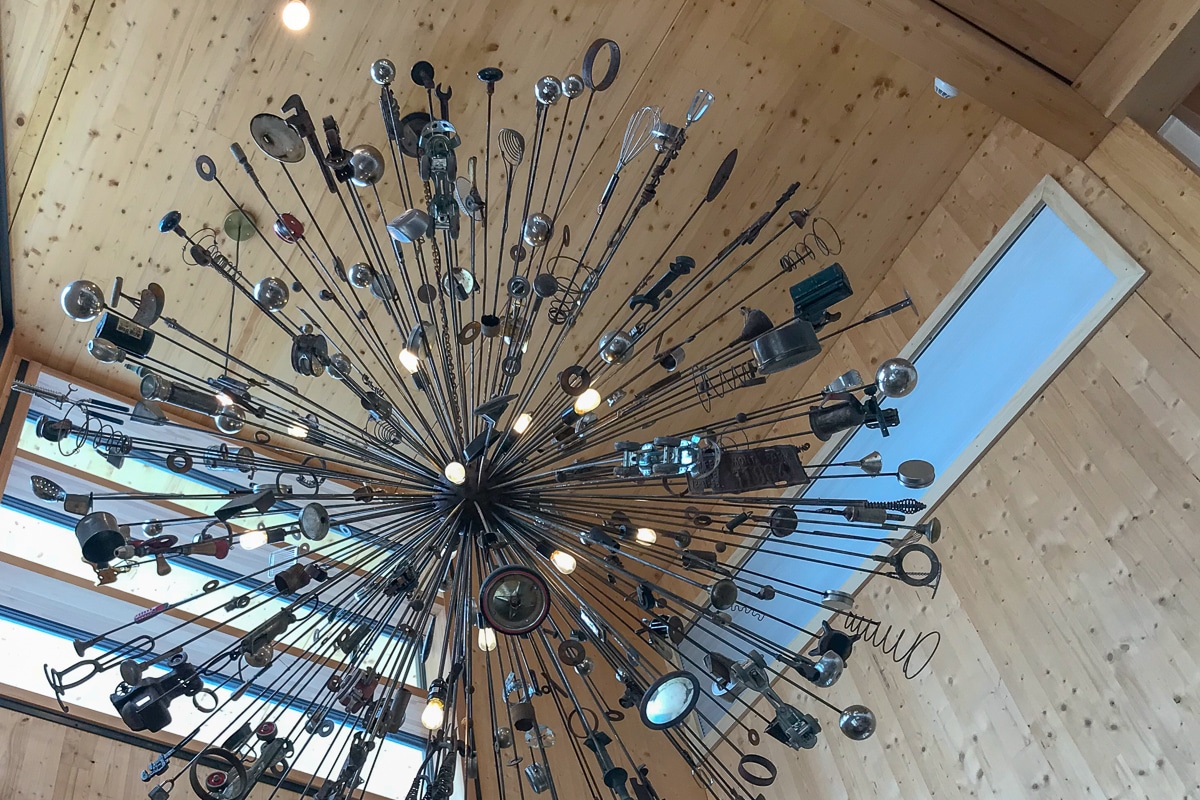 Hotels in Bozeman
The Lark, 122 W. Main St. The Lark presents a unique model of hospitality, one that welcomes you to your mod room in this totally refurbished motel (ours with a nice picture window looking down Main Street) and also invites you to get out and see the town and surrounding area. Whether you are on a road trip or basing out of Bozeman, you can relax on the Main Street patio with fire pit, or research your next move in the lobby/map room. The Lark staff are prepared to hook you up with guides or specifics, as you wish. The location on Main Street is perfect, and I'd swear, if I didn't know better, that this place was designed as a locals hang-out.
RSVP Motel, 510 N. 7th St. A boutique hotel based on a stylish remake of an old motel in Bozeman's midtown. Adjacent is the popular Farmer's Daughters Cafe and Eatery. Instagrammers love this place.
Although locals may joke that they'd prefer visitors to keep Bozeman on the hush-hush, there is appreciation, too, for the thriving economy and upbeat pace that comes with tourism. As one local confessed, when told that this story was going to be shared, "Well, that horse is already out of the barn. Now it's a matter of what we do (with the growth) going forward." Then he offered me a T-shirt which read, "I love Vail."
As part of our trip to Bozeman, we made the two-hour drive to Yellowstone National Park and then stayed in the area for another three days. Here are our photos from Yellowstone.
Here an audio episode about our stay in Bozeman, along with a variety of Travel Past 50's audio posts and interviews, here.
You can help yourself get ready for your own travels by reading our Get Started Planning Your Trip Now page.
We love traveling–with the right gear. We've gathered a lot of the stuff we use to make travel more pleasant and efficient all on one page. Shop our Travel Past 50 Amazon page to find our favorite gear. If you purchase something from the store, Travel Past 50, as an Amazon affiliate, may receive a small commission at no extra charge to you. Thanks.
We never leave home without our travel insurance. Nor should you. Search for the travel insurance from Allianz that best meets your needs, whether it be an annual plan or a single trip.
Note: This post and other posts on TravelPast50.com may contain paid or affiliate advertising links.