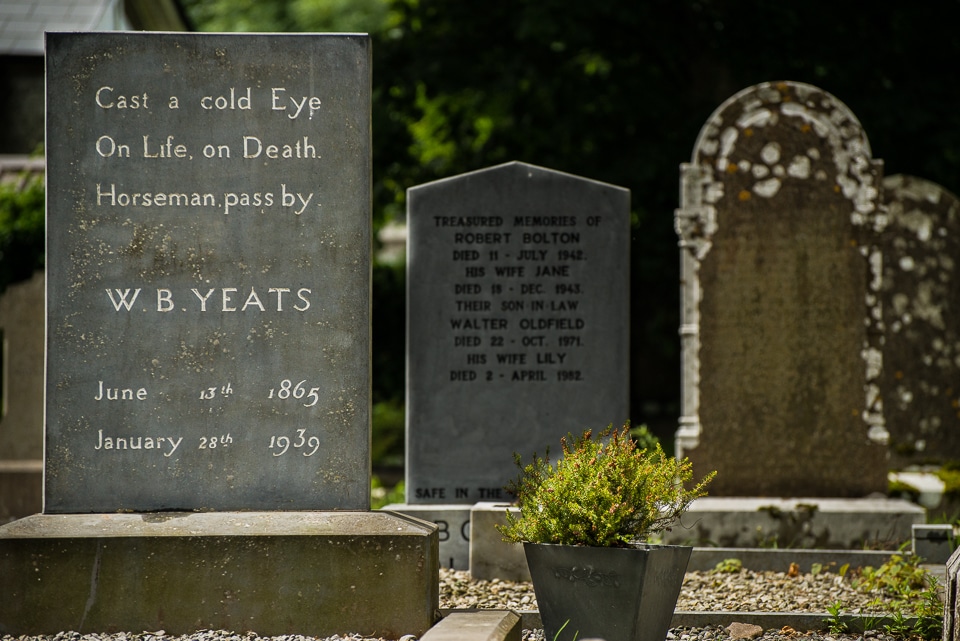 William Butler Yeats
The Irish poet William Butler Yeats lived through and poetically chronicled the flourishing of Irish culture and independence in the late 19th and early 20th Centuries.
Yeats was one of the foremost figures of 20th-century literature. A pillar of both the Irish literary and nationalist establishment, he helped to found the Abbey Theatre, the National Theatre of Ireland, and served two terms as a Senator of the Irish Free State. He was a driving force behind the Irish Literary Revival of the late 19th and early 20th Centuries.
Yeats was born in Ireland and educated there and in London. He spent childhood holidays in County Sligo and studied poetry from an early age when he became fascinated by Irish legends and the occult. These topics feature in the first phase of his work. His earliest volume of verse was published in 1889. From 1900, his poetry grew more visceral and realistic. In 1923, he was awarded the Nobel Prize in Literature.
His most famous poems include The Lake Isle of Innisfree, The Second Coming, Easter 1916, and An Irish Airman Forsees His Death.
In Under Ben Bulben, included in his last book of poems, he wrote his own famous epitaph: "Cast a cold eye on life, on death. Horseman, pass by." This is his grave in the churchyard of Saint Columba's Church in the village of Drumcliff, in the shadow of the famous table mountain.
Ben Bulben, immortalized by Yeats, is probably the most famous landmark of Ireland other than the Blarney Stone. County Sligo, with all its inspiration, has come to be called Yeats Country.
Here are some more of the stunning views of Ben Bulben, under which Yeats wanted to be buried.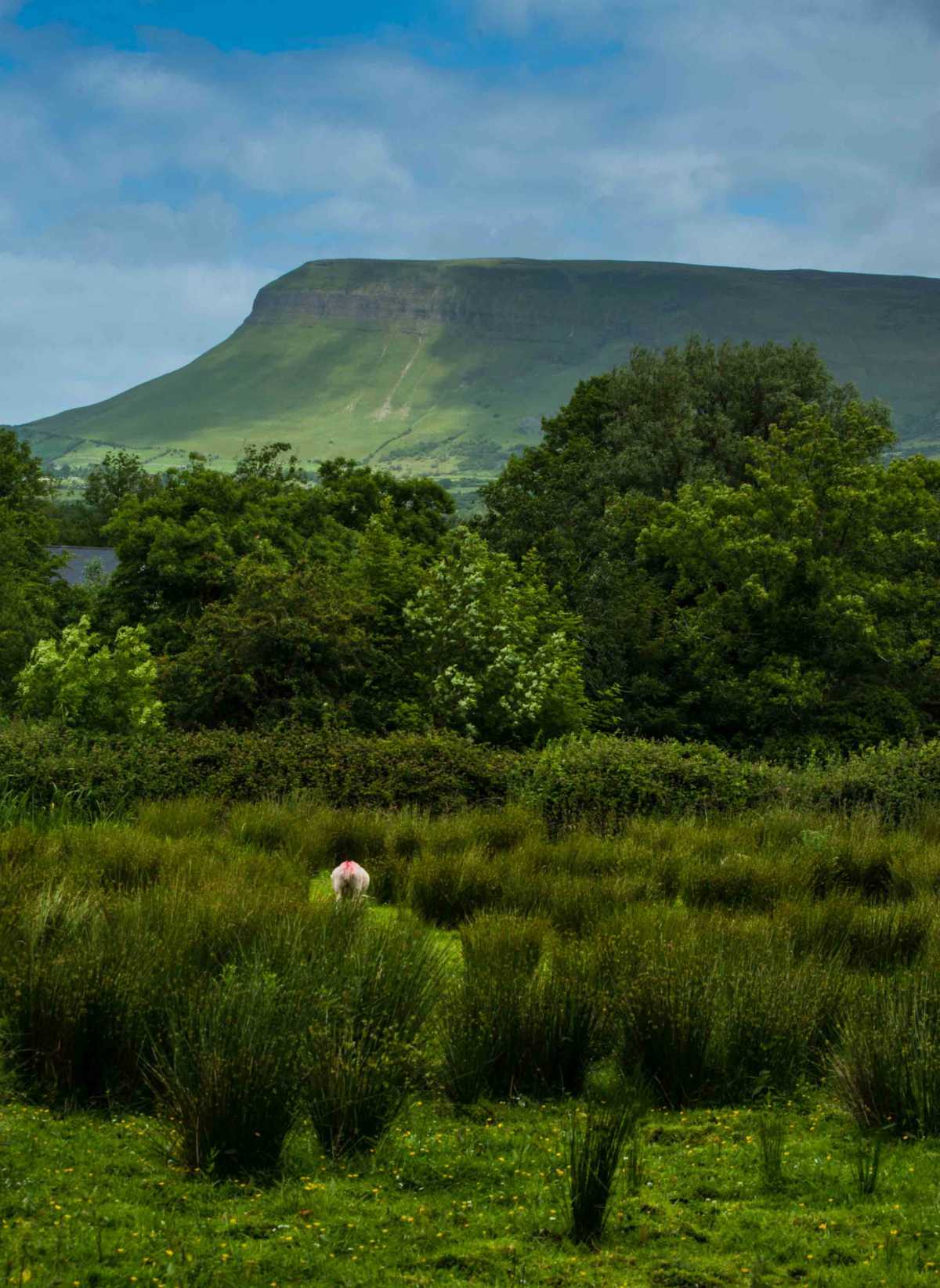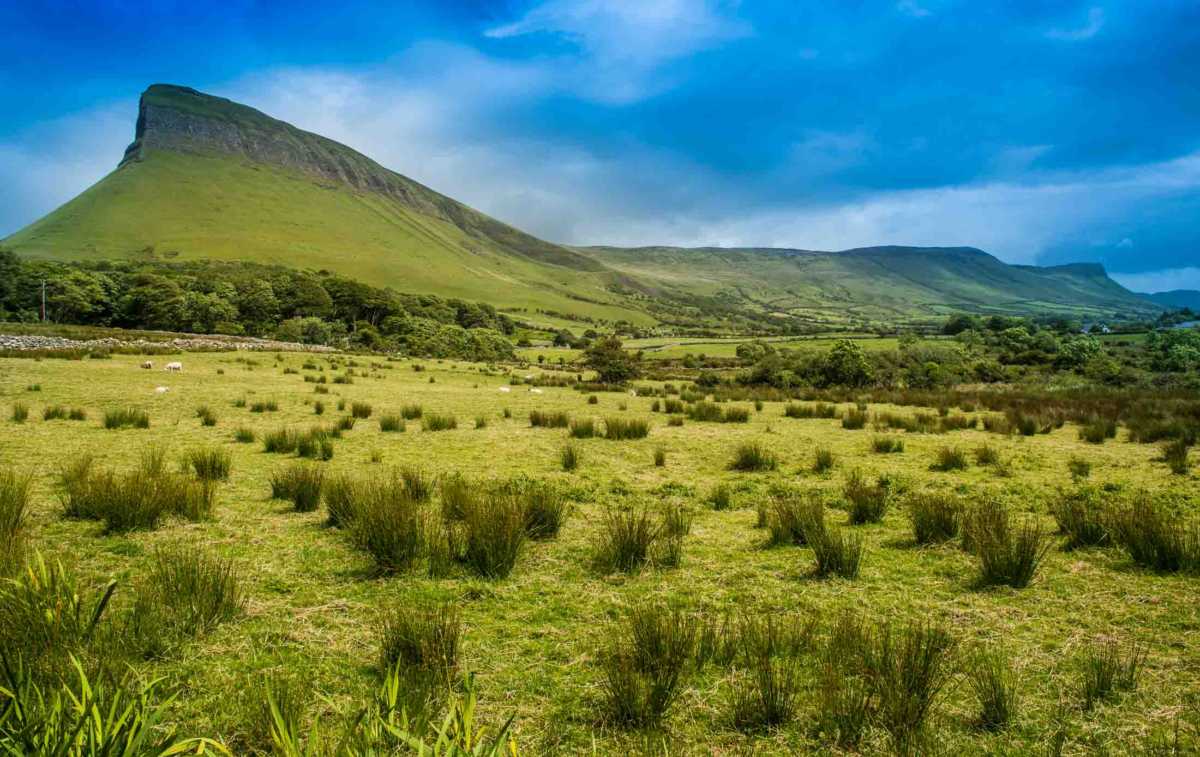 This photo was discovered by the farmer and egg producer who owns the farm depicted at the base of the mountain. He wrote and asked if he could use the image on his egg cartons. I charged him two dozen eggs to be sent to my friend in Sligo.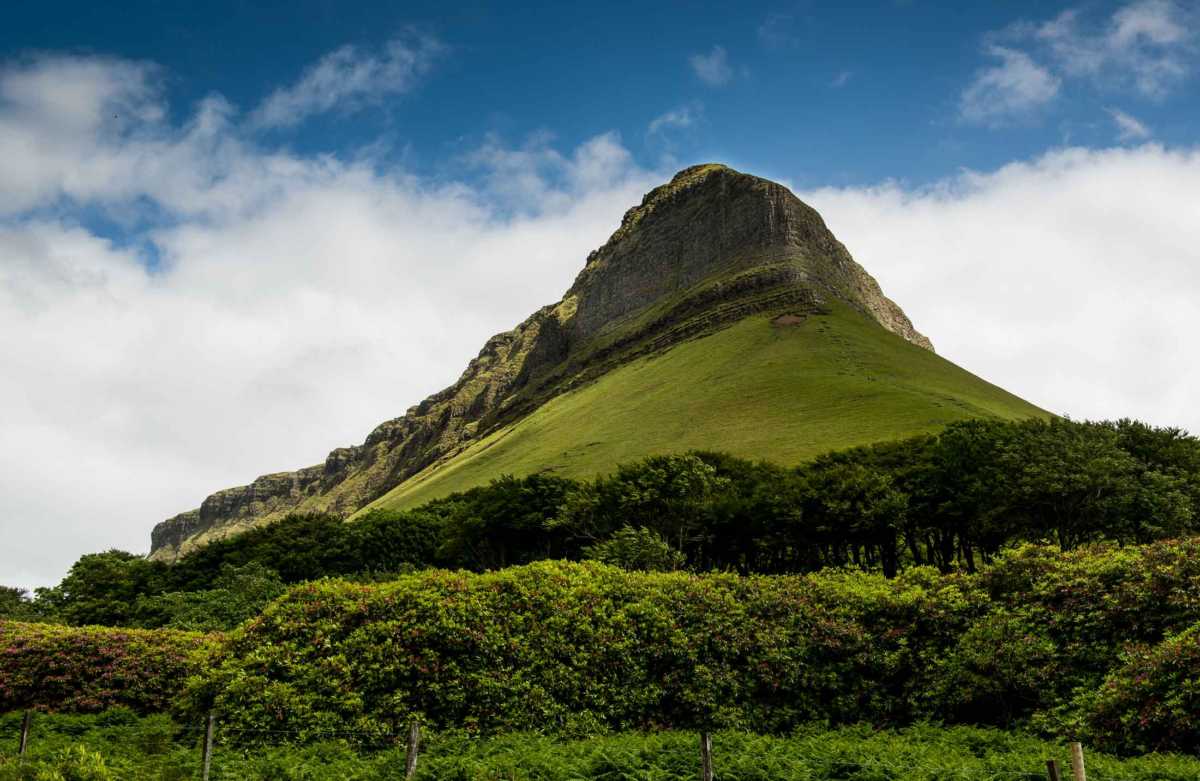 Hiking around Ben Bulben
Ben Bulben is a popular walking destination. From the south side, it is an easy walk up the gentle slope. From the summit there are views over the coastal plain of north County Sligo and the Atlantic Ocean. The land adjacent to the western edge of the ridge is private farmland and not open to the public. However, to the east near Glencar Waterfall, there is a path up the south face. If climbed by the north face, it is a hazardous climb requiring rock climbing skills. The north side bears the brunt of the high winds and storms that come in from the Atlantic.
One of the trails running alongside Ben Bulben mountain is the Gortarowey looped walk. It runs both through the forest and out in the open overlooking Benbulbin and the bay of Donegal. It is 5.5 kilometers (3 miles) in length and takes approximately 1.5 hours to walk.
The interesting geology of Ben Bulben
Ben Bulben was shaped during the ice age, when Ireland was under glaciers. Originally a large plateau, its present distinct shape is a result of the receding glaciers.
Ben Bulben is one of the Dartry Mountain range. The Dartry Mountains are composed of limestone on top of mudstone. These rocks formed in the area approximately 320 million years ago in a shallow sea. Uppermost in the limestone layer is a thicker, harder limestone called the Dartry Limestone Formation. Below this is the Glencar Limestone Formation, a thinner limestone formation. Further down, the lower slopes consist of shaly mudstone known as the Ben Bulben Shale Formation. Scree deposits are found near the base of the mountain. Sea shell fossils exist throughout the layers of the mountains. The shale layer also holds some corals.
Here's some more information about how you can educate yourself about Yeats and Sligo–and get a fantastic meal while you are at it.
Finally, here is Yeats' poem with his wishes for his final resting place.
Under Ben Bulben
By William Butler Yeats

I

Swear by what the Sages spoke
Round the Mareotic Lake
That the Witch of Atlas knew,
Spoke and set the cocks a-crow.

Swear by those horsemen, by those women,
Complexion and form prove superhuman,
That pale, long visaged company
That airs an immortality
Completeness of their passions won;
Now they ride the wintry dawn
Where Ben Bulben sets the scene.

Here's the gist of what they mean.

II

Many times man lives and dies
Between his two eternities,
That of race and that of soul,
And ancient Ireland knew it all.
Whether man dies in his bed
Or the rifle knocks him dead,
A brief parting from those dear
Is the worst man has to fear.
Though grave-diggers' toil is long,
Sharp their spades, their muscle strong,
They but thrust their buried men
Back in the human mind again.

III

You that Mitchel's prayer have heard
`Send war in our time, O Lord!'
Know that when all words are said
And a man is fighting mad,
Something drops from eyes long blind
He completes his partial mind,
For an instant stands at ease,
Laughs aloud, his heart at peace,
Even the wisest man grows tense
With some sort of violence
Before he can accomplish fate
Know his work or choose his mate.

IV

Poet and sculptor do the work
Nor let the modish painter shirk
What his great forefathers did,
Bring the soul of man to God,
Make him fill the cradles right.

Measurement began our might:
Forms a stark Egyptian thought,
Forms that gentler Phidias wrought.

Michael Angelo left a proof
On the Sistine Chapel roof,
Where but half-awakened Adam
Can disturb globe-trotting Madam
Till her bowels are in heat,
Proof that there's a purpose set
Before the secret working mind:
Profane perfection of mankind.

Quattrocento put in paint,
On backgrounds for a God or Saint,
Gardens where a soul's at ease;
Where everything that meets the eye
Flowers and grass and cloudless sky
Resemble forms that are, or seem
When sleepers wake and yet still dream,
And when it's vanished still declare,
With only bed and bedstead there,
That Heavens had opened.

Gyres run on;
When that greater dream had gone
Calvert and Wilson, Blake and Claude
Prepared a rest for the people of God,
Palmer's phrase, but after that
Confusion fell upon our thought.

V

Irish poets learn your trade
Sing whatever is well made,
Scorn the sort now growing up
All out of shape from toe to top,
Their unremembering hearts and heads
Base-born products of base beds.
Sing the peasantry, and then
Hard-riding country gentlemen,
The holiness of monks, and after
Porter-drinkers' randy laughter;
Sing the lords and ladies gay
That were beaten into the clay
Through seven heroic centuries;
Cast your mind on other days
That we in coming days may be
Still the indomitable Irishry.

VI

Under bare Ben Bulben's head
In Drumcliff churchyard Yeats is laid,
An ancestor was rector there
Long years ago; a church stands near,
By the road an ancient Cross.
No marble, no conventional phrase,
On limestone quarried near the spot
By his command these words are cut:

Cast a cold eye
On life, on death.
Horseman, pass by!
Here's an image of another famous inspiration of Yeats' poetry, The Lake Isle of Innisfree.
If you're interested in Yeats, here's a collection of Yeats' poems.
And, if you are considering visiting Sligo, check out hotels in Sligo.
This is an update to a post originally published in 2013.
When you're thinking of traveling, your first stop should be our Travel Resources page, where we list all the essentials you need to make your travels easier, cheaper, safer, and more fun.
You can also help yourself get ready for your travels by reading our Get Started Planning Your Trip Now page.
We love traveling–with the right gear. We've gathered a lot of the stuff we use to make travel more pleasant and efficient all on one page. Shop our Travel Past 50 Amazon page to find our favorite gear. If you purchase something from the store, Travel Past 50, as an Amazon affiliate, may receive a small commission at no extra charge to you. Thanks.
We never leave home without our travel insurance. Nor should you. Search for the travel insurance from Allianz that best meets your needs, whether it be an annual plan or a single trip.
You can see (and buy prints) of most of our travel photos in one place on this page.
Note: This post and other posts on TravelPast50.com may contain paid or affiliate advertising links. As an Amazon Associate we earn from qualifying purchases.