If you landed on this page to see what time it is in Minneapolis, Click this link.
If you want to see the photos from my exhibit, scroll down
What is below is a catalog of my travel photography exhibit, called Time Zones, at Icebox Gallery in Minneapolis, that showed from March 25-July 29, 2017.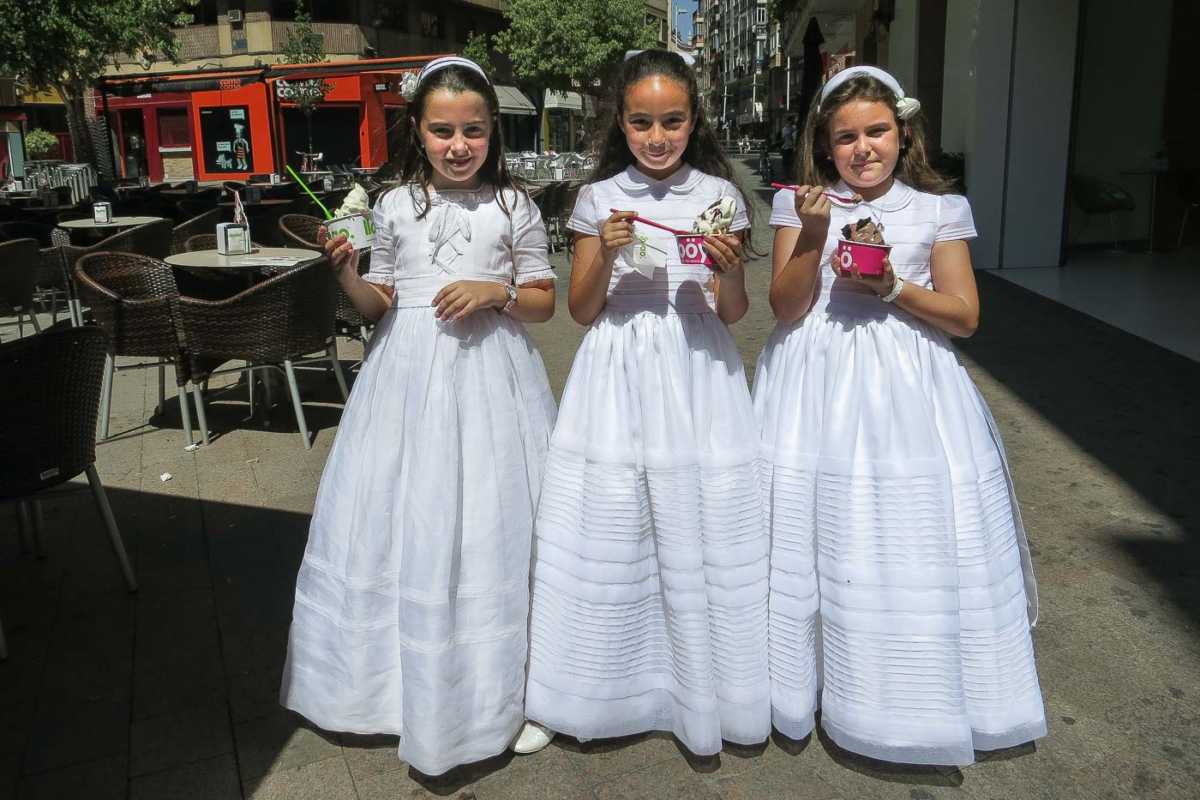 1. Three Girls, Corpus Christi Sunday Sundaes, Murcia, Spain
The tradition in Spain is that young girls dress all in white on the feast of Corpus Christi and march in a parade through the city. These three were just coming from the ice cream shop and were enjoying a little post parade refreshment. There's already a tiny spot of chocolate on the girl on the right's dress.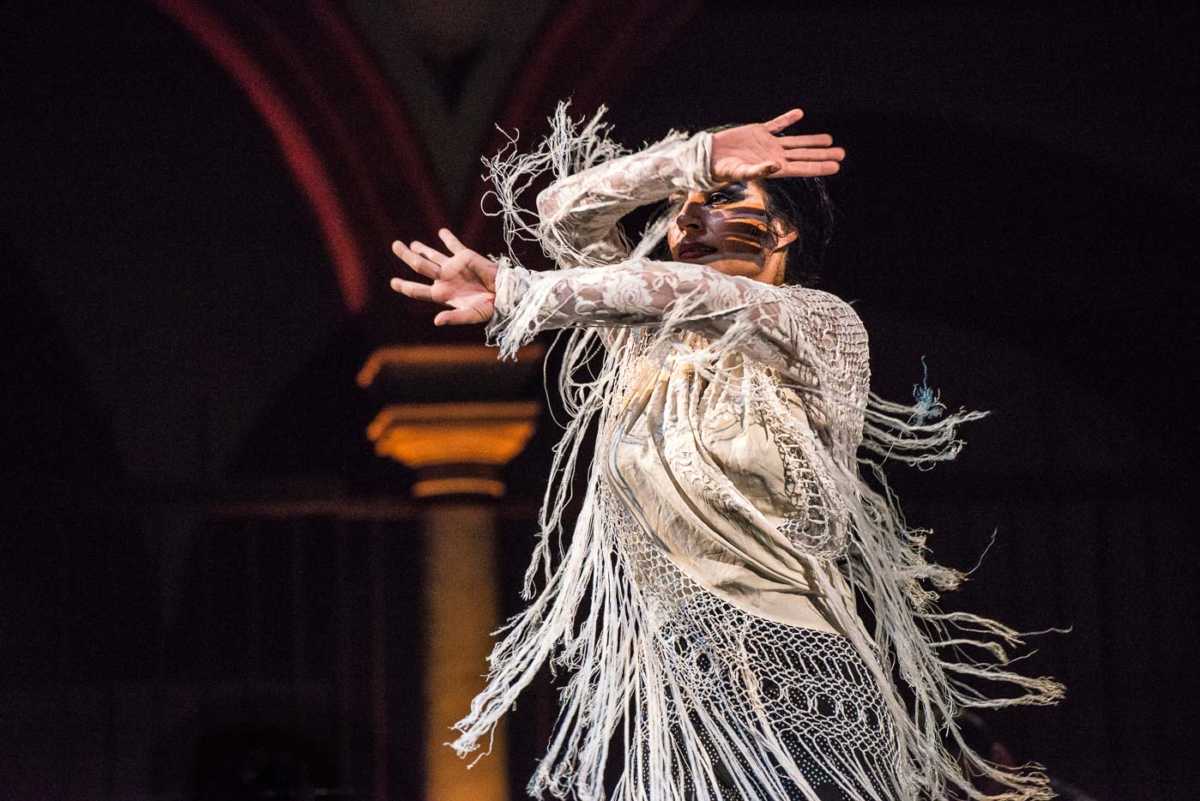 2. Flamenco Dancer, Noche Blanca Fiesta, Córdoba, Spain
We've visited Córdoba several times. Córdoba is known as one of the homes of Flamenco, and this visit luckily coincided with the annual Noche Blanca (White Night) Fiesta, which features Flamenco concerts at various city venues throughout the entire night until dawn. We stayed up late to catch this group.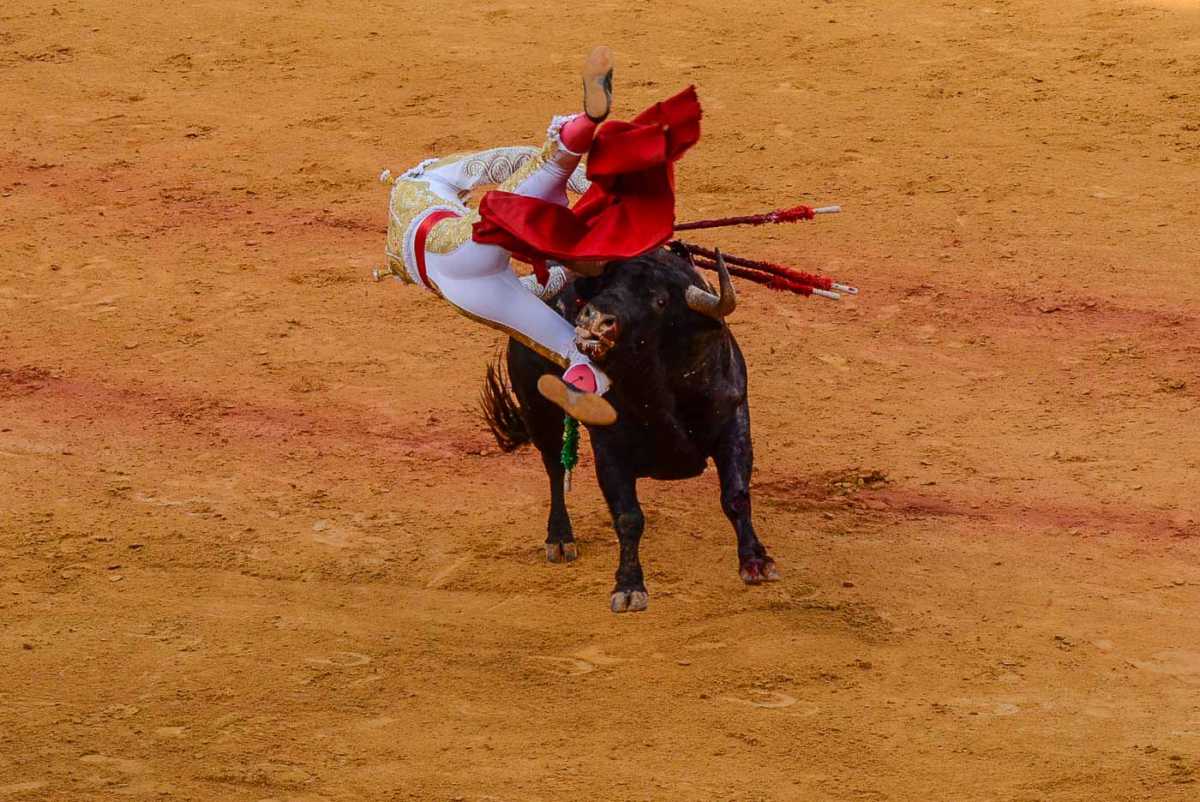 3. Bullfighter Gored by a Bull, Feria de Abril, Sevilla, Spain
The Feria de Abril, the April Fair, in Sevilla, is considered the opening of the bullfighting season in Spain. Although bullfighting is certainly in decline, there are certain traditions that will never change. This torero was in his first corrida in a major venue and he showed great courage in working very close to the bull. Until he got too close.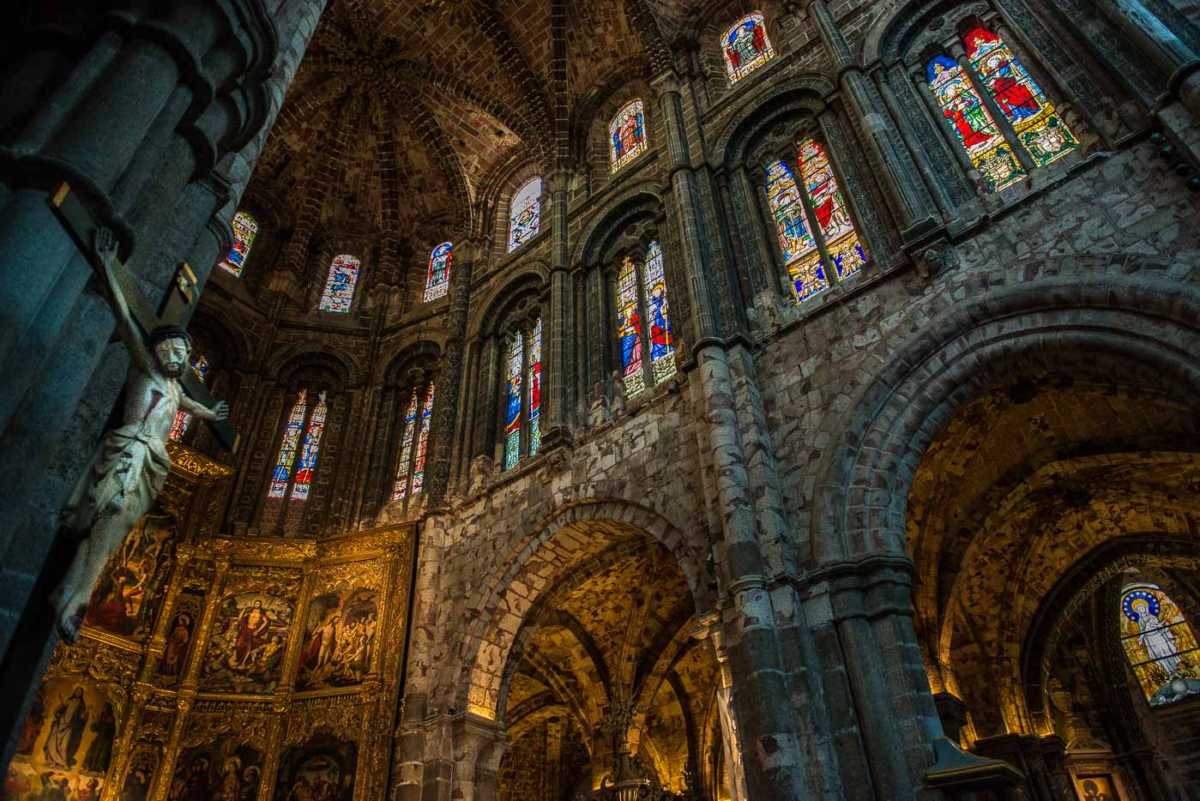 4. Cathedral of Ávila, Spain
The Cathedral of Ávila is one of Spain's oldest, and, to me, most beautiful. It's made from the local red colored limestone and, in that color, is unlike any other church in Spain we've been in. It's also got marvelous windows. And little niches throughout which display marvelous statues in glorious isolation.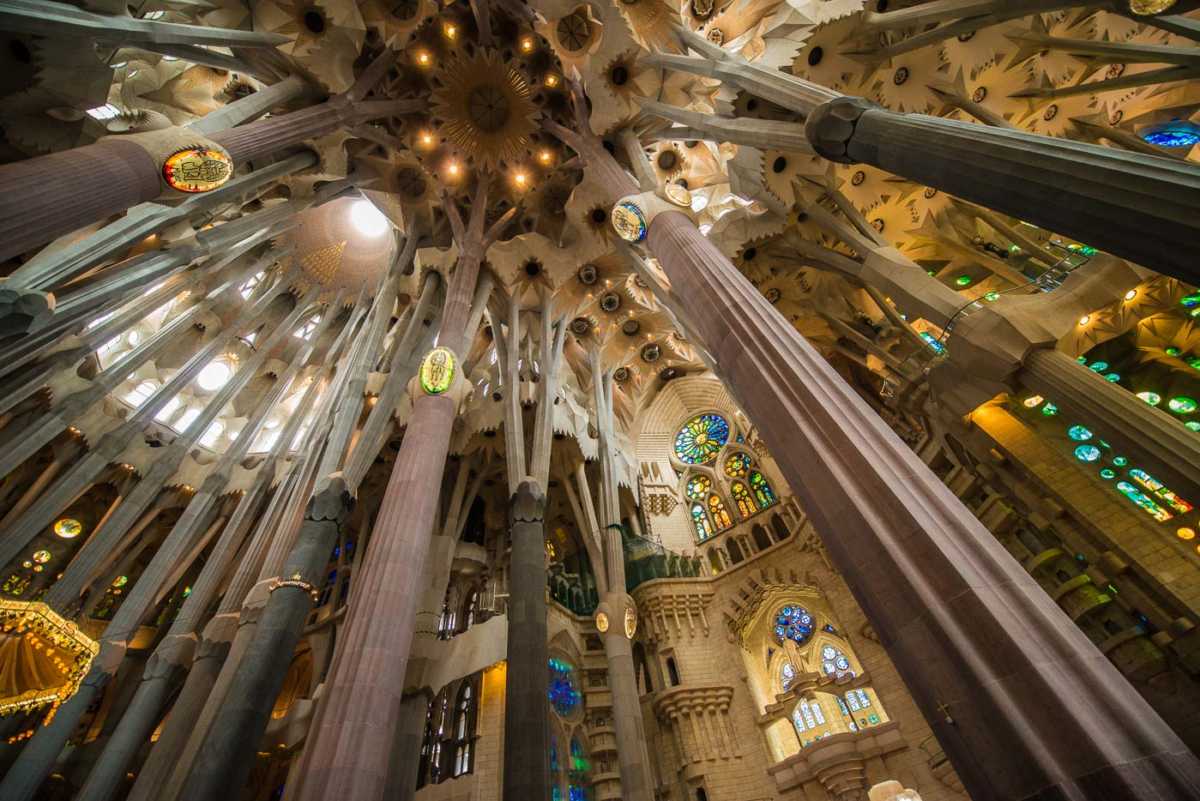 5. The Basilica of the Sagrada Familia, Barcelona, Spain
It's hard to know what to say about the Sagrada Familia, other than it's without doubt the most fantastic (in the literal sense) architecture in the world. Designed originally by Antoni Gaudí, it's been underway for more than 100 years. We first saw it in 1975, when it had no roof and looked more like ruins than a construction site. It's come a long way since then. It's scheduled to complete in 2026.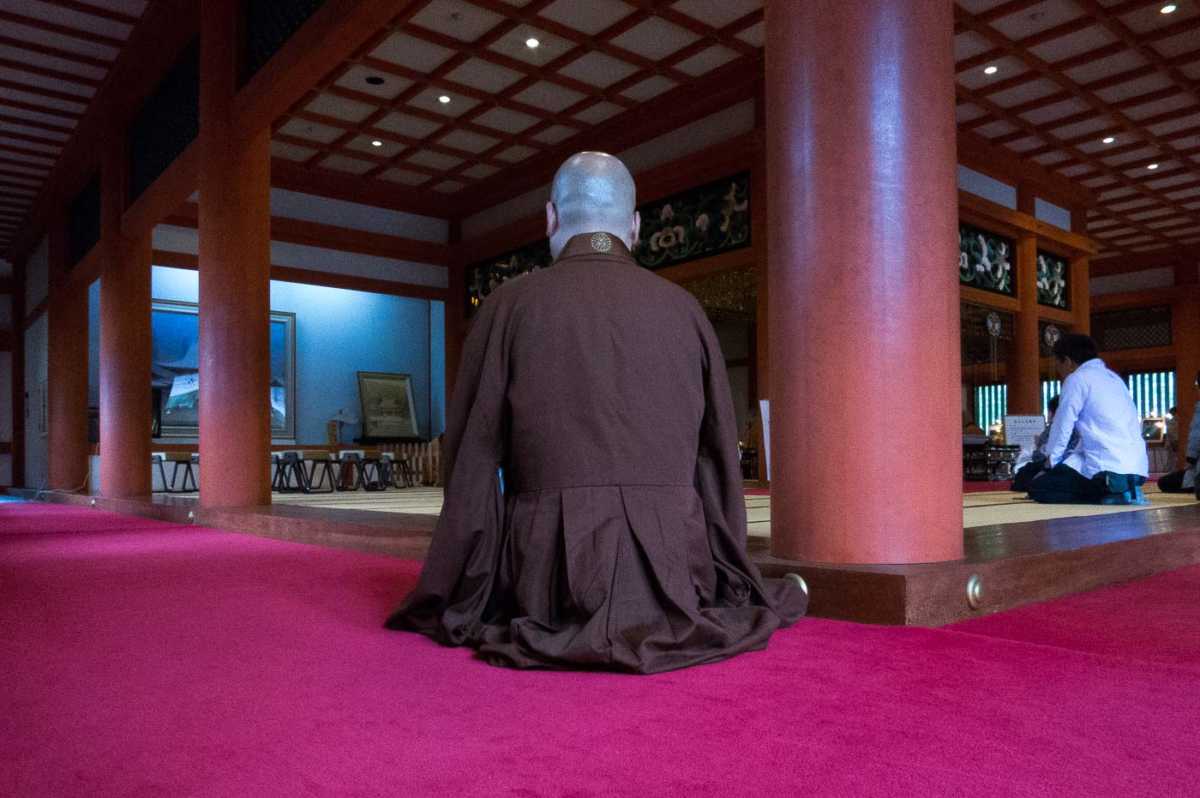 6. Buddhist Monk, Hiraizumi, Japan
It's frowned upon to photograph during services in the Buddhist Temples, so I wasn't carrying my big Nikon. I did have my pocket sized Canon, though, and as we were leaving the temple, this monk came in right in front of us, knelt, and began to chant with the others who were on the other side of the altar. I took out the camera and quickly made one exposure. This is it.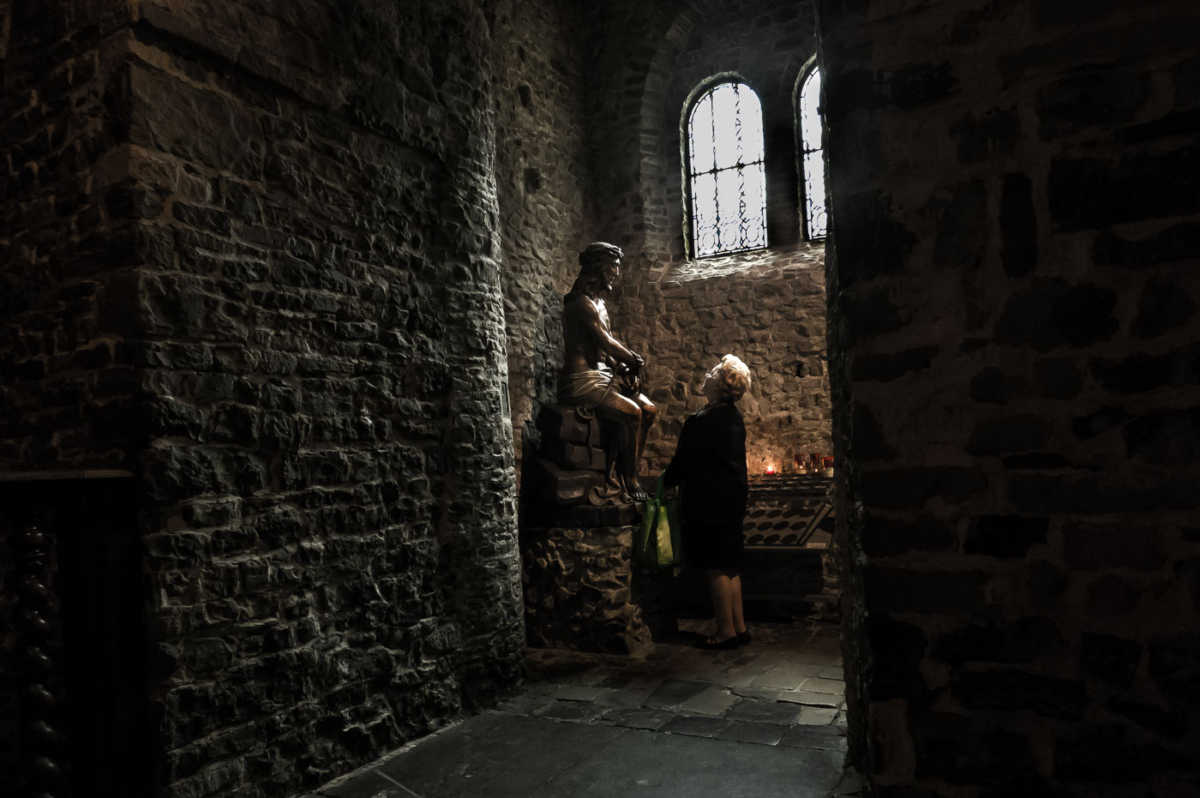 7. Church of the Holy Blood, Bruges, Belgium
This church is a must see in Bruges, because of the attendant legend of the liquifying blood of Jesus. There is a vial of dried blood, which you can line up to see, which supposedly liquifies on one day per year. Of course, like any Catholic church, people also come to pray in front of their favorite statue.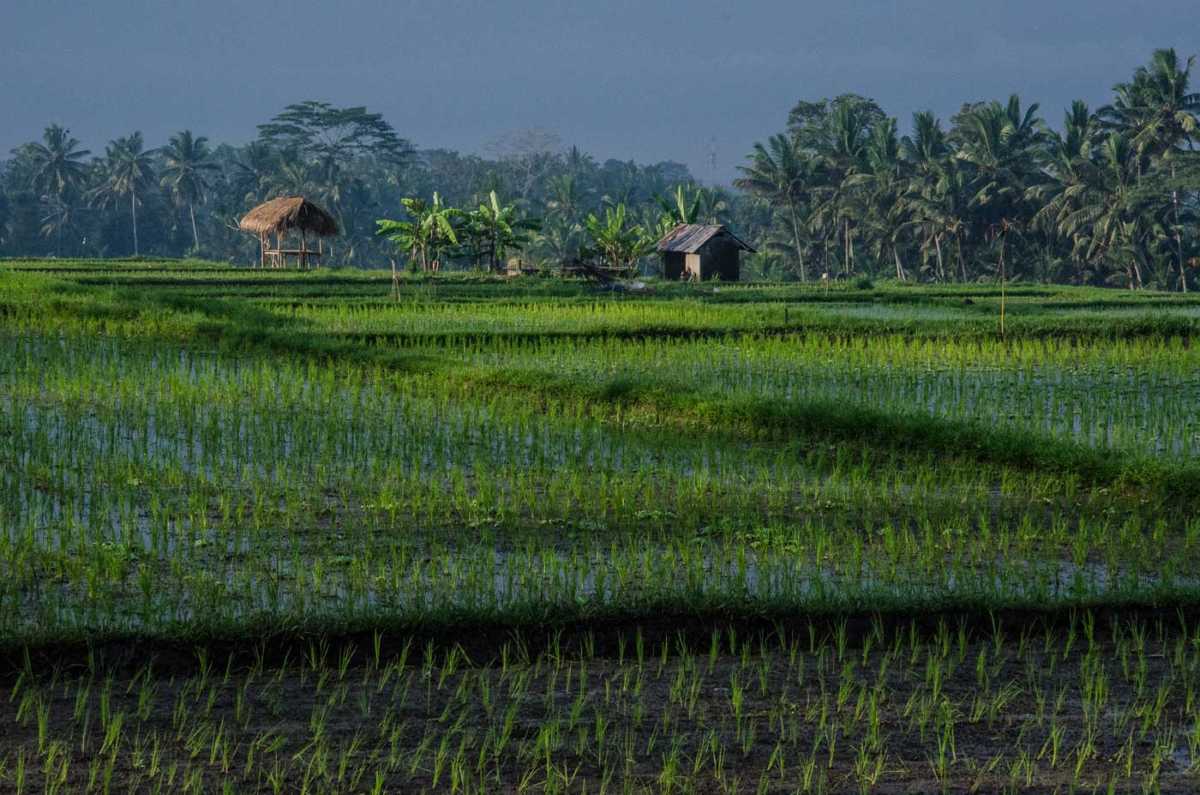 8. Rice Paddies at Dawn, Ubud, Bali
Bali is pretty much covered in rice paddies. Their system of farming hasn't changed much through the centuries, and the system of water conservation and sharing is recognized as a Unesco World Heritage cultural phenomenon. We got up long before dawn one day to see the sunrise over the paddies.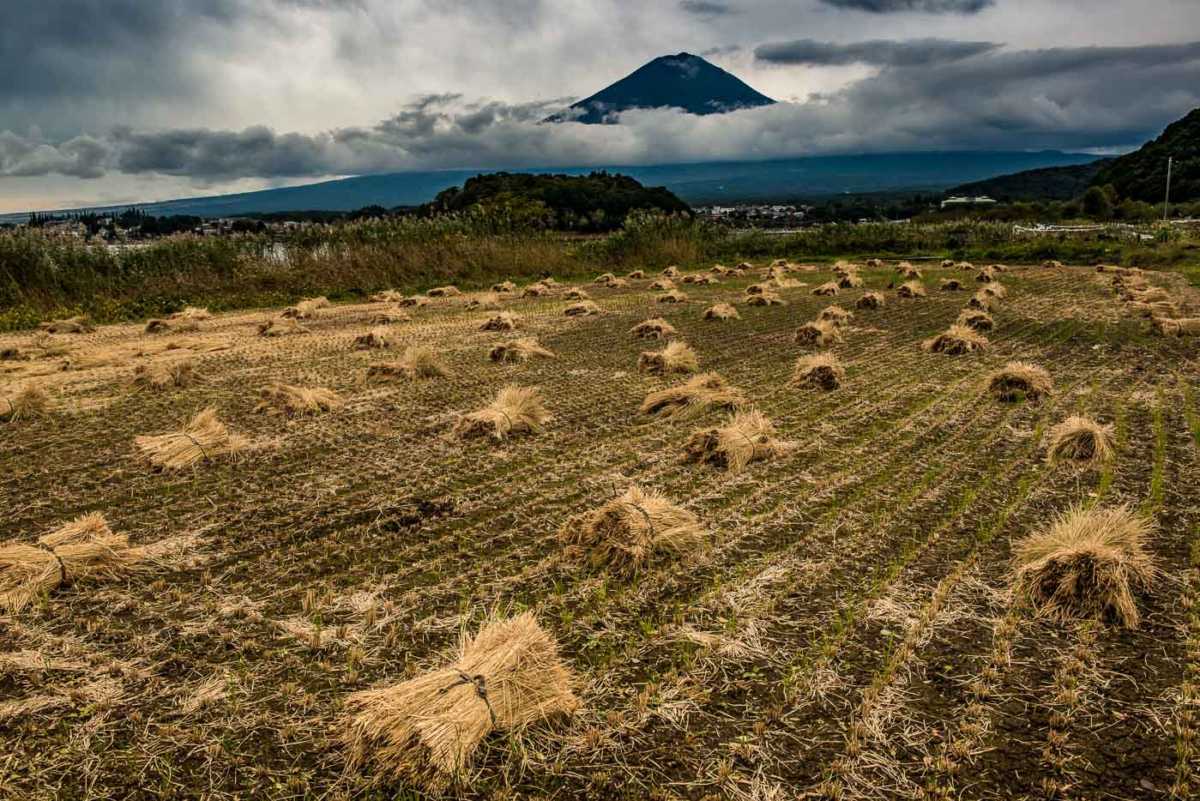 9. Rice Harvest, Mount Fuji, Japan
Photographing Mount Fuji is, literally, a hit and miss, project. More often than not, the mountain is obscured by clouds. We stayed there for three days, and Fujisan only peeked out for a total of about two hours. I got lucky to get this one from the other side of a rice field.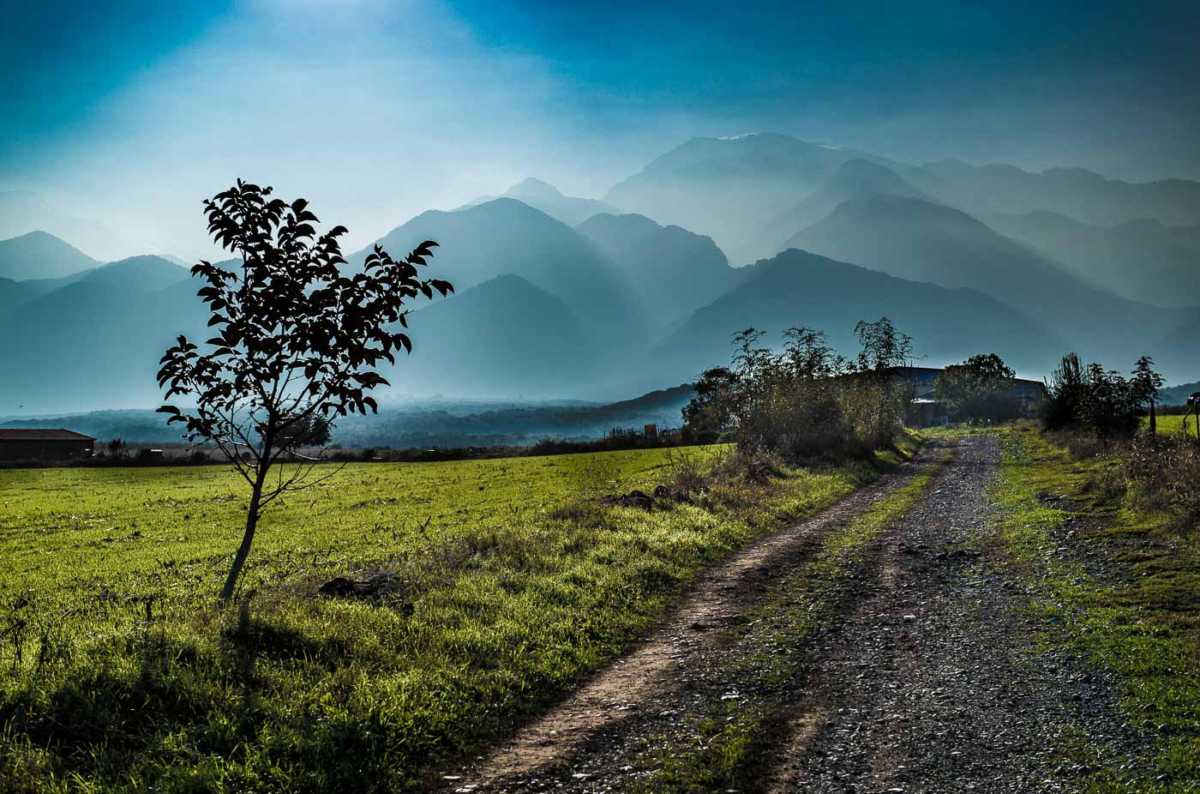 10. Mount Olympus, Greece
Like Fuji in Japan, Mount Olympus is almost always fogged in by the warm breezes off the adjacent Adriatic Sea. That's why the gods live there, I figure. They don't like us mortals knowing what they're up to. As we were driving along the coast road, the mountainous deities showed themselves barely. I slammed on the brakes, turned quickly up the road, and got this.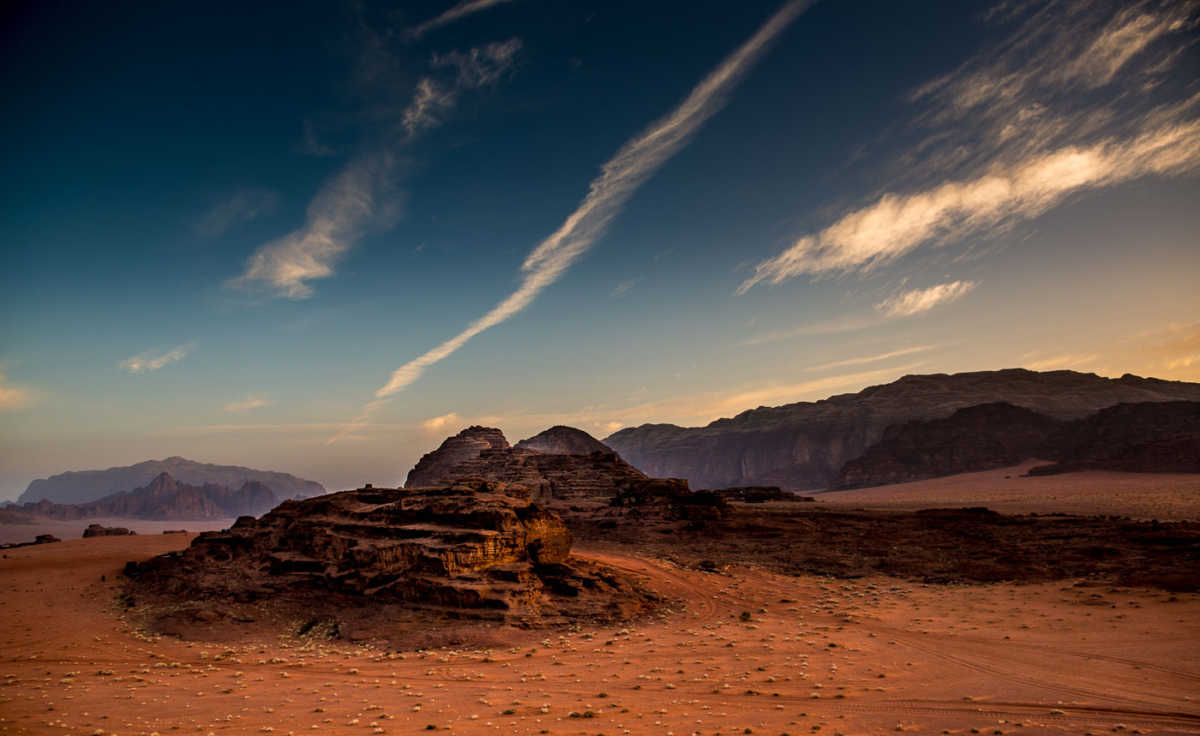 11. Dawn, Wadi Rum, Jordan
The Wadi Rum desert of Jordan is like no other place we've been. For one thing, it really is this red. Only the Bedouin people are permitted to live there, and they will offer you a meal and a tent in the remote desert for a small price. Then, you can set your alarm and get up before dawn, climb up some rocks, and watch the rosy fingered dawn stretch over the sands.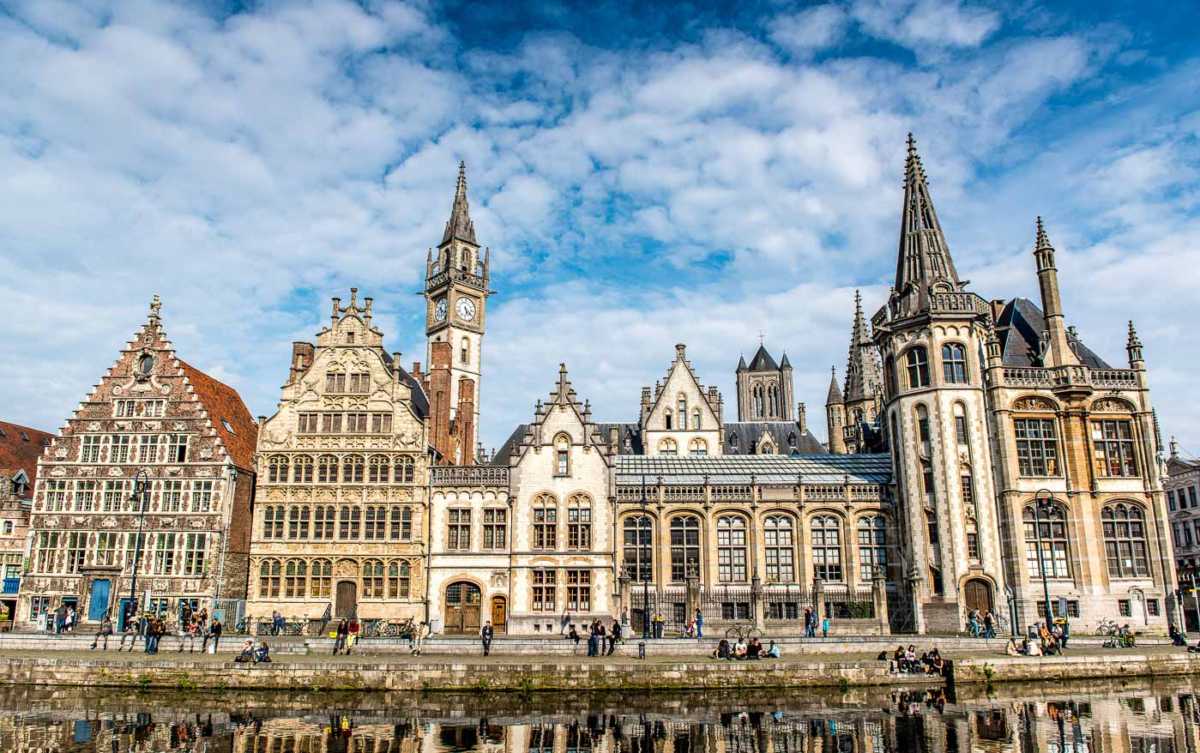 12. Along the Lys River, Ghent, Belgium
Of course, Bruges and Brussels get all the tourists, but Ghent is a less discovered treasure of art and architecture where you can see stuff like this, drink beer, eat mussels and fries, and thank god for the sun breaking through for just a minute and setting off the colors.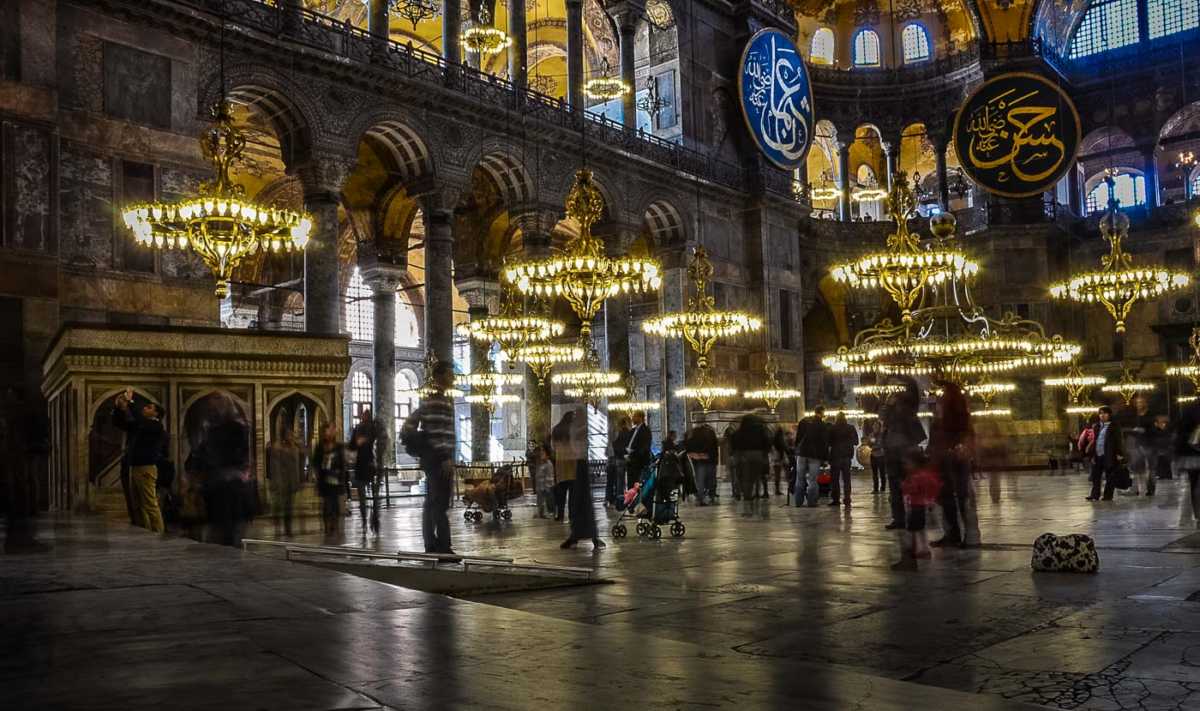 13. The Hagia Sophia, Istanbul, Turkey
One of the oldest churches in the world, it started off as a Christian church, was a mosque for a while, and is now more or less a museum. It's impossible to photograph around the constant parade of visitors, so I just set the camera on the floor, selected a long shutter speed, and made the people the composition.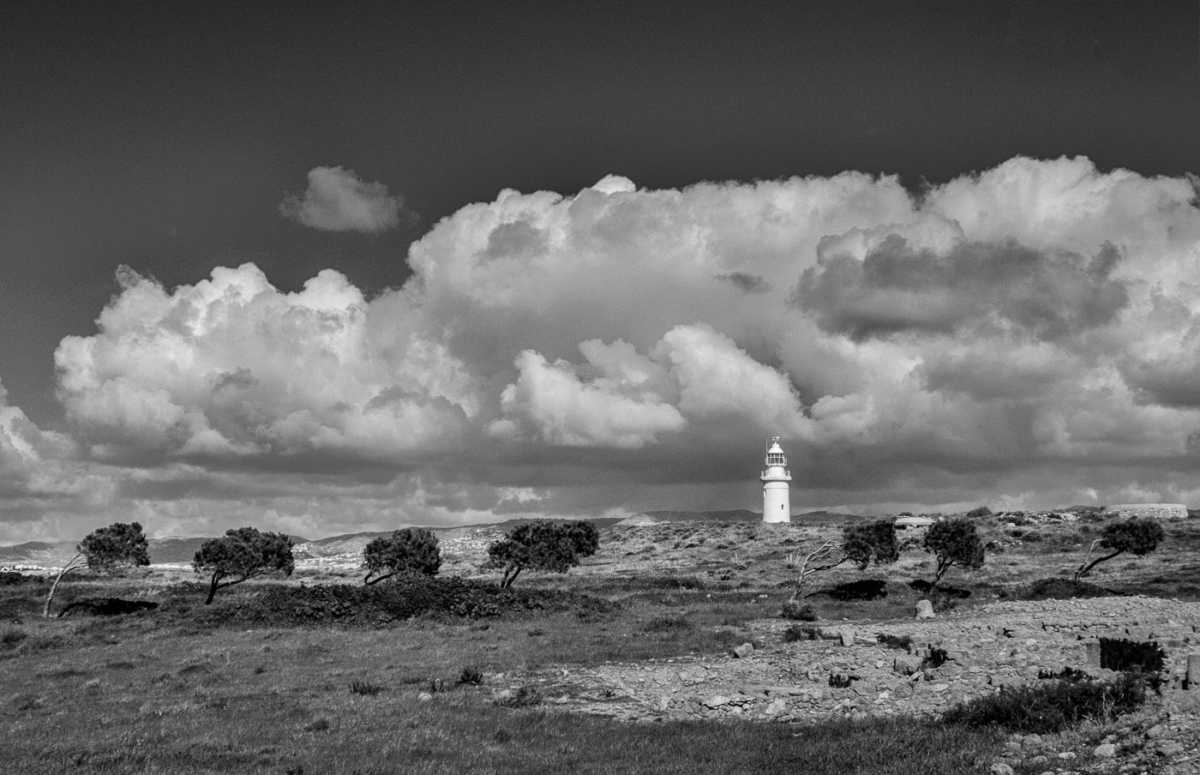 14. Trees Bent by the Wind, Paphos, Cyprus
Cyprus is one of the most interesting archeological sites we've visited. We were leaving a huge site of an old city full of two-millennia-old mosaics when I saw this row of trees bent by the constant wind blowing off the nearby sea. It takes a hearty people to live in a spot so constantly buffered. The excellent white wine made here helps, too.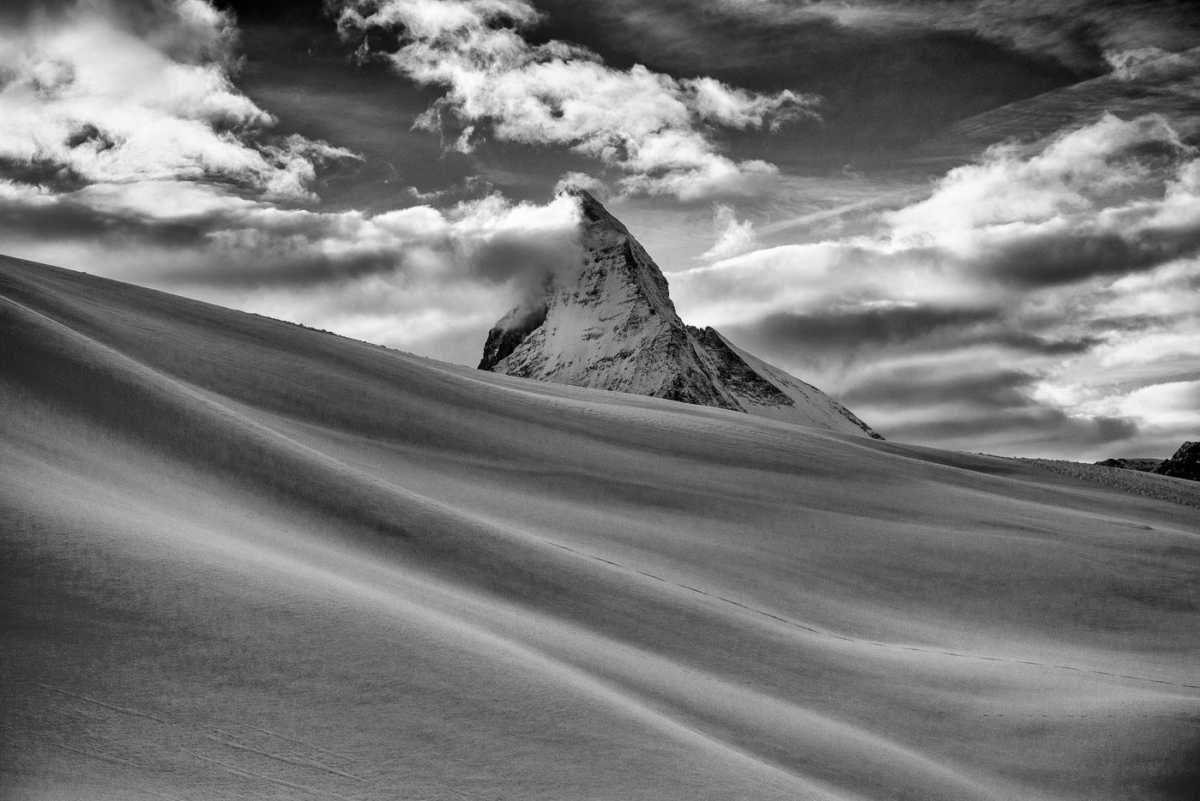 15. The Matterhorn, Zermatt, Switzerland
We visited Zermatt in early November, just after the first significant snow fall. The only way to get up to the Matterhorn, other than walking or skiing, is on a cog train. The train has a toothed gear which runs along a corresponding toothed rail and inches the train up the mountainside to the Matterhorn vista. As you lean out the window, the mountain shows himself over the newly fallen snow.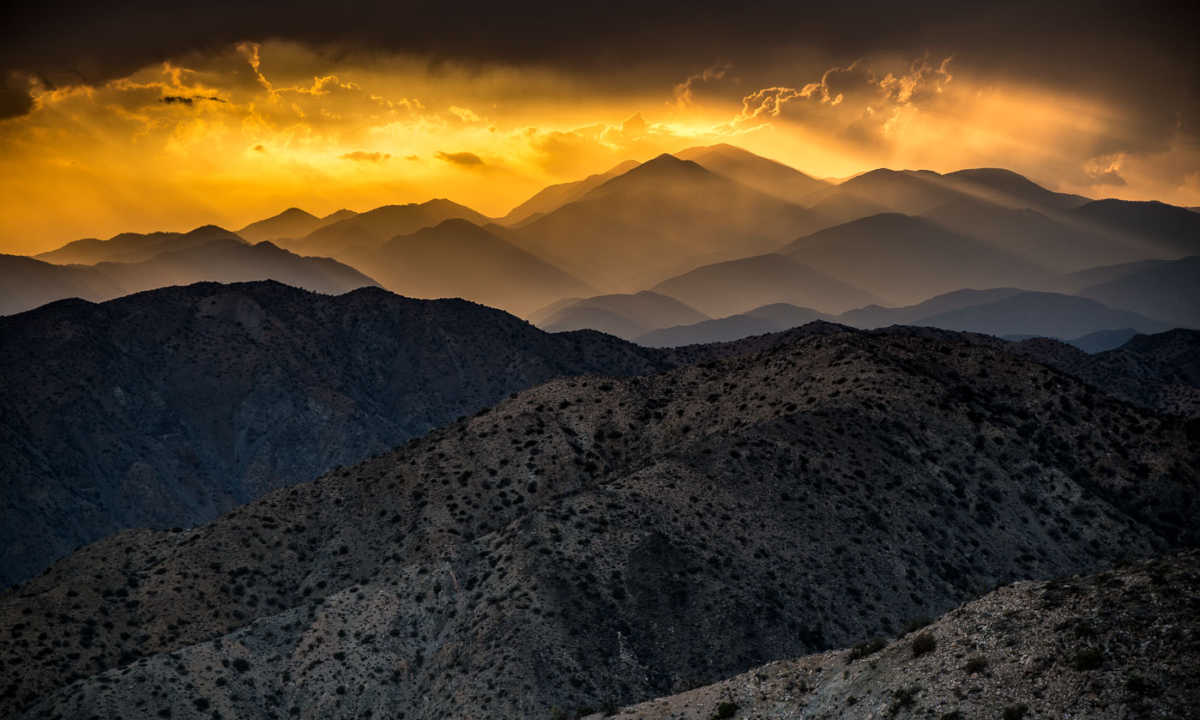 16. Sunset, Keys View, Joshua Tree National Park
We'd been driving around Joshua Tree all day, including stopping in early afternoon at Keys View, which overlooks the San Andreas Fault to the west. I thought that we needed to return at sundown, and so we did, and were rewarded with the setting sun filtering through the onrushing clouds. Add a polarizing filter to cut through the haze, and this is what you see.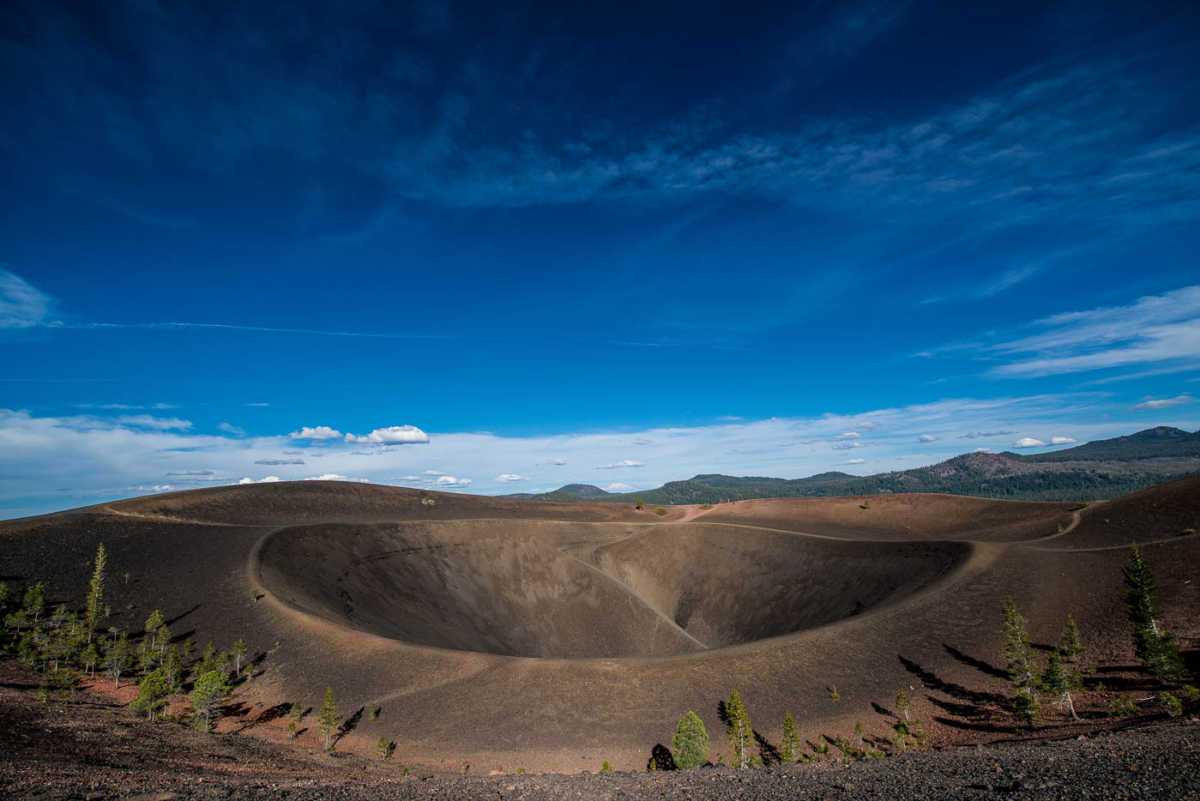 17. Cinder Cone Crater, Lassen Volcanic National Park
To get this view, you have to be willing to walk a few miles into the volcano blasted landscape and then hike straight up a path that's ankle deep in pumice stone. It's your daily workout, and then some. But seeing the crater–which is only a couple hundred years old–and the reluctant colonizing trees that have barely begun to spring up, is a nice reward for your efforts.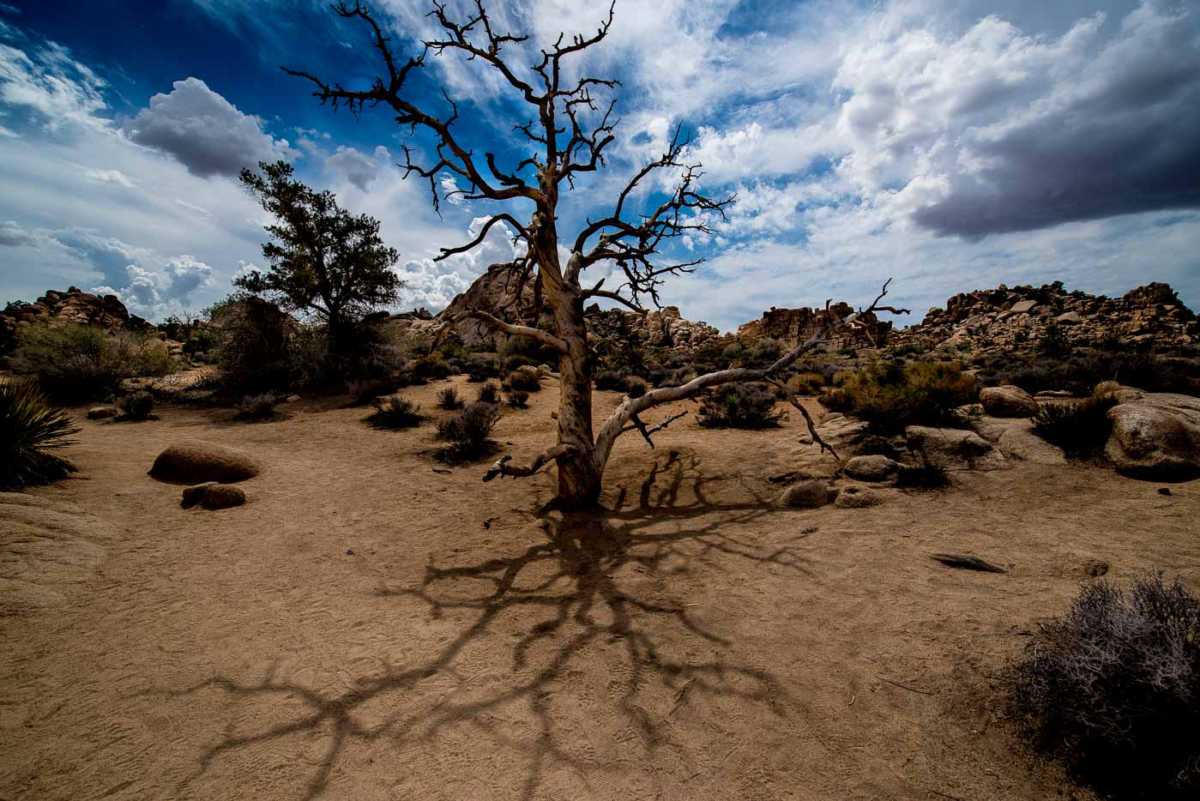 18. Hidden Canyon, Joshua Tree National Park
There's a box canyon at Joshua Tree National Park which only has one easy entrance. And since a couple recent rock falls, it's not that easy any more. But it's fun to see it because the vegetation of this micro climate is completely different from the rest of the desert park. And, the clouds are spectacular.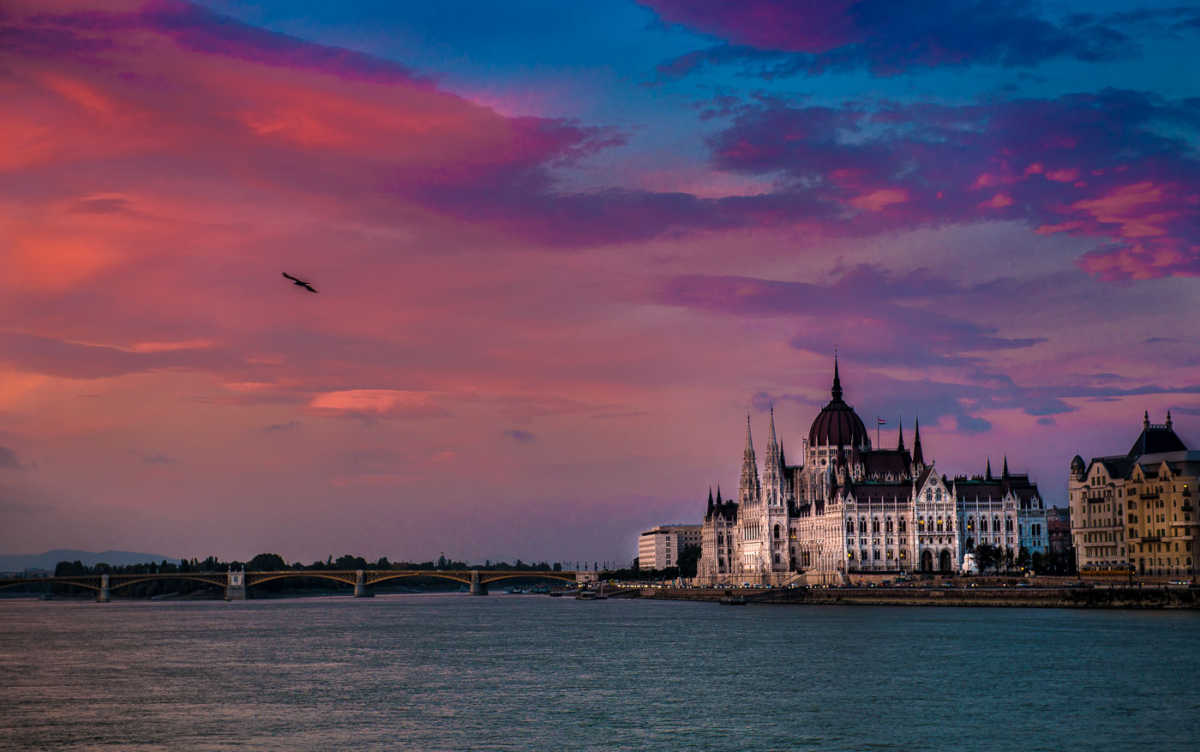 19. Parliament Building on the Danube River, Budapest, Hungary
The Danube waterfront of Budapest is a Unesco World Heritage site, just because of the conglomeration of beautiful architecture that lines the river. Budapest was severely damaged during World War II, but has been rebuilt and today is very proud of its restored beauty.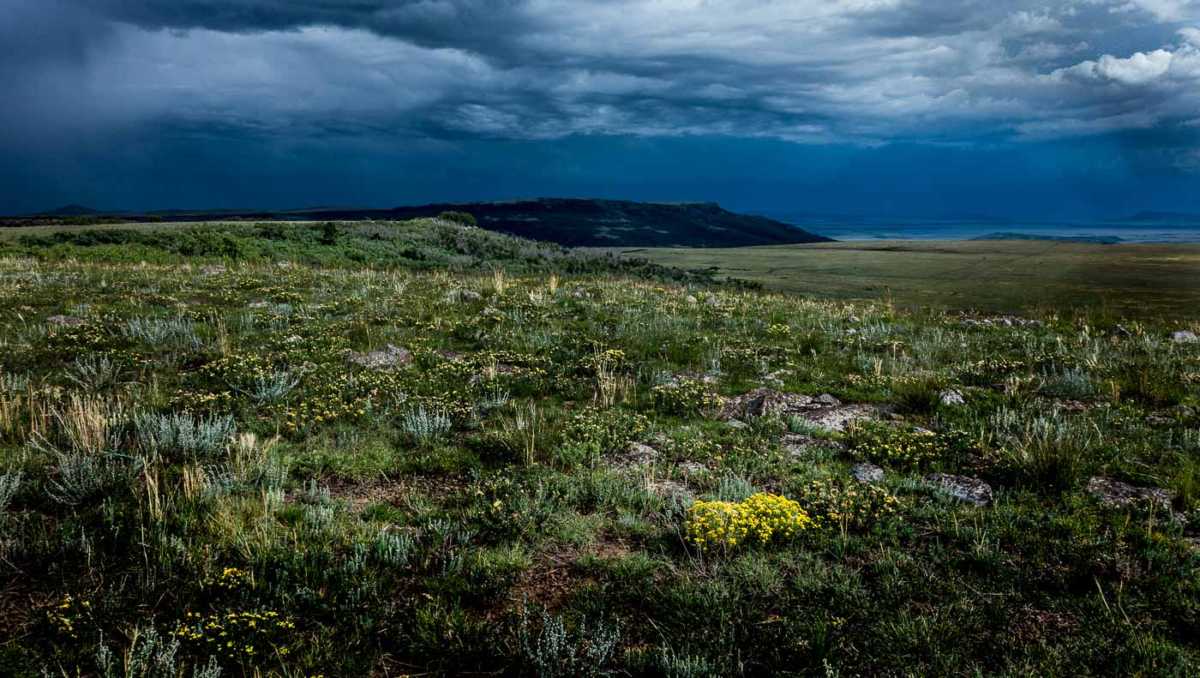 20. Horse Mesa Ranch, near Raton, New Mexico
A friend of ours owns this ranch, which is mostly a high plateau with some grass for cattle and lots of vigorous wild flowers that can withstand the harsh winter to show themselves like this through the summer. That bunch of yellow on an otherwise dark day was just calling to me.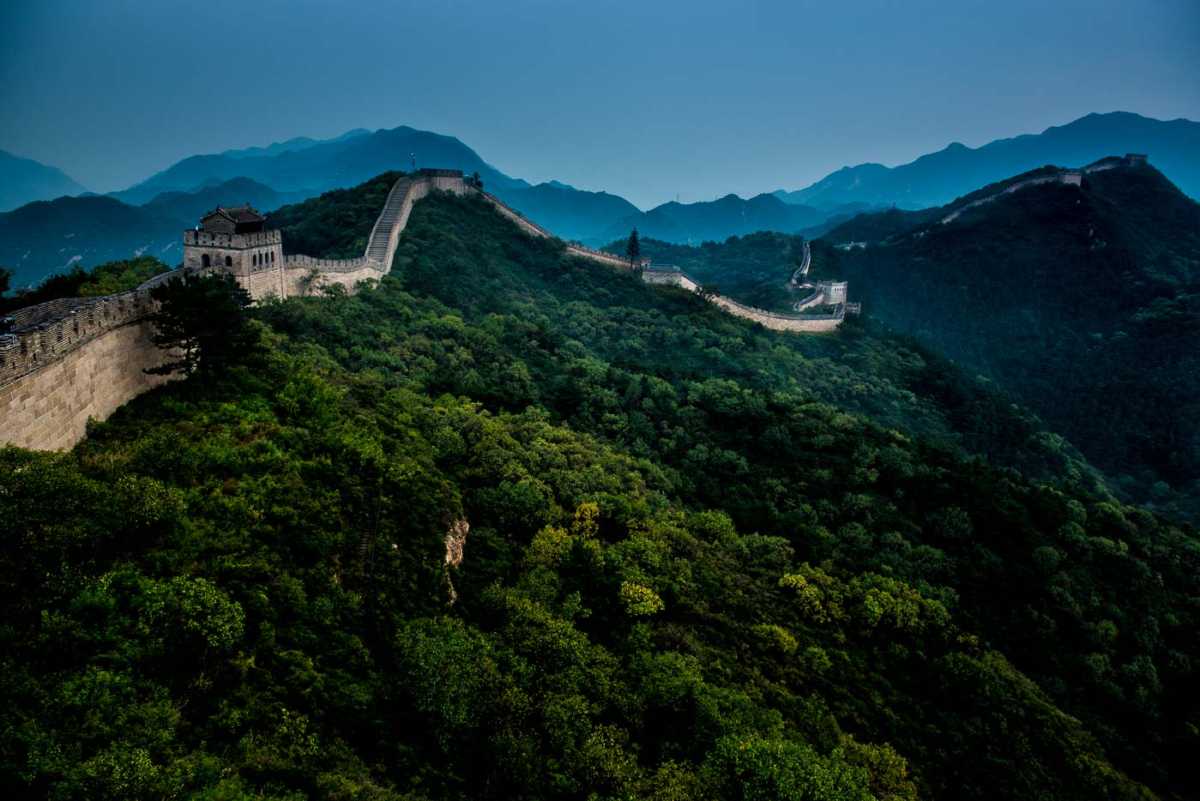 21. The Great Wall, near Badaling, China
The Great Wall, of course, is one of the most photographed sites on earth, and is usually covered in tourists. So the problem is, how do you shoot that? The answer, we found, was to leave the crowds who took the easy climb up the wall to the east and take the much harder, steeper, climb to the west all the way to the point where the guards wouldn't let you go any farther. At that point, the wall running along the hill crests became more of an abstract, organic, composition–a dragon slithering off into the distance.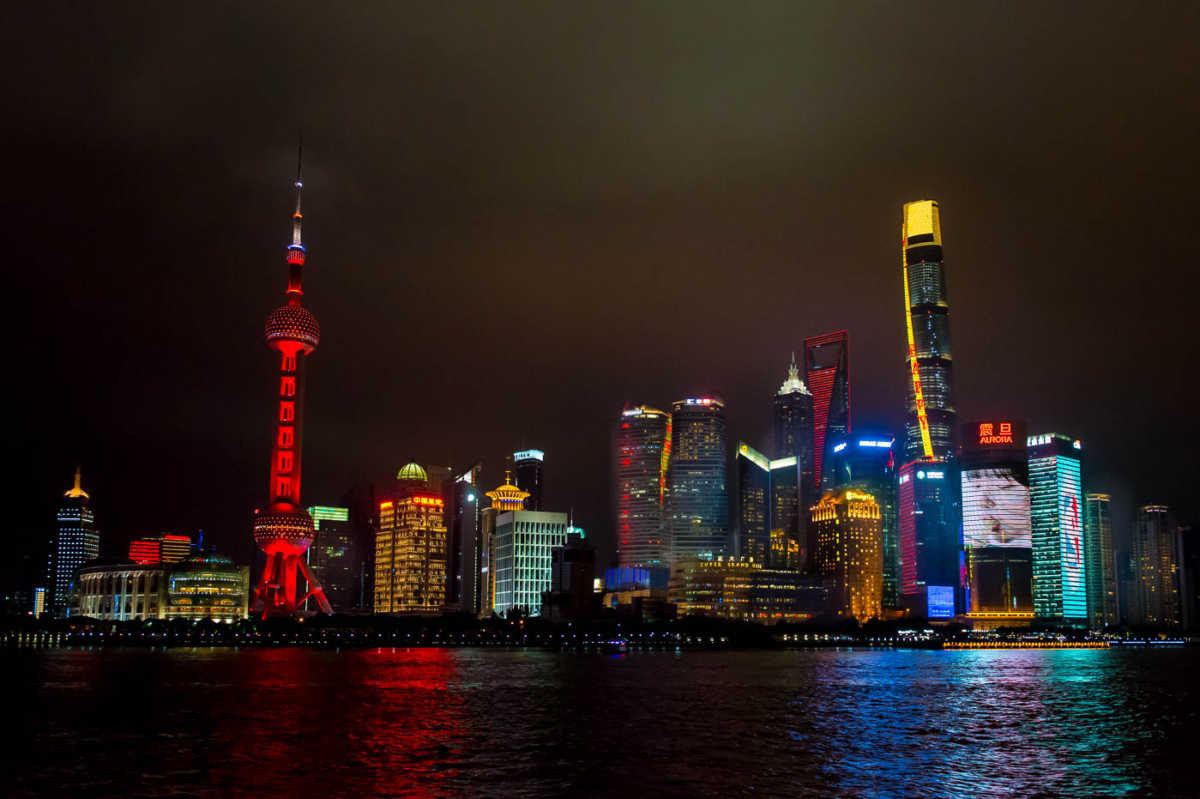 22. The Financial District, Shanghai, China
If you want evidence of the single minded industry of the Chinese people, there are many examples: the Great Wall, the Terra Cotta Army of Xian, and Shanghai. When you realize that this skyline has been built from scratch in the last 10 years, it's hard to even conceive of underestimating this vibrant culture.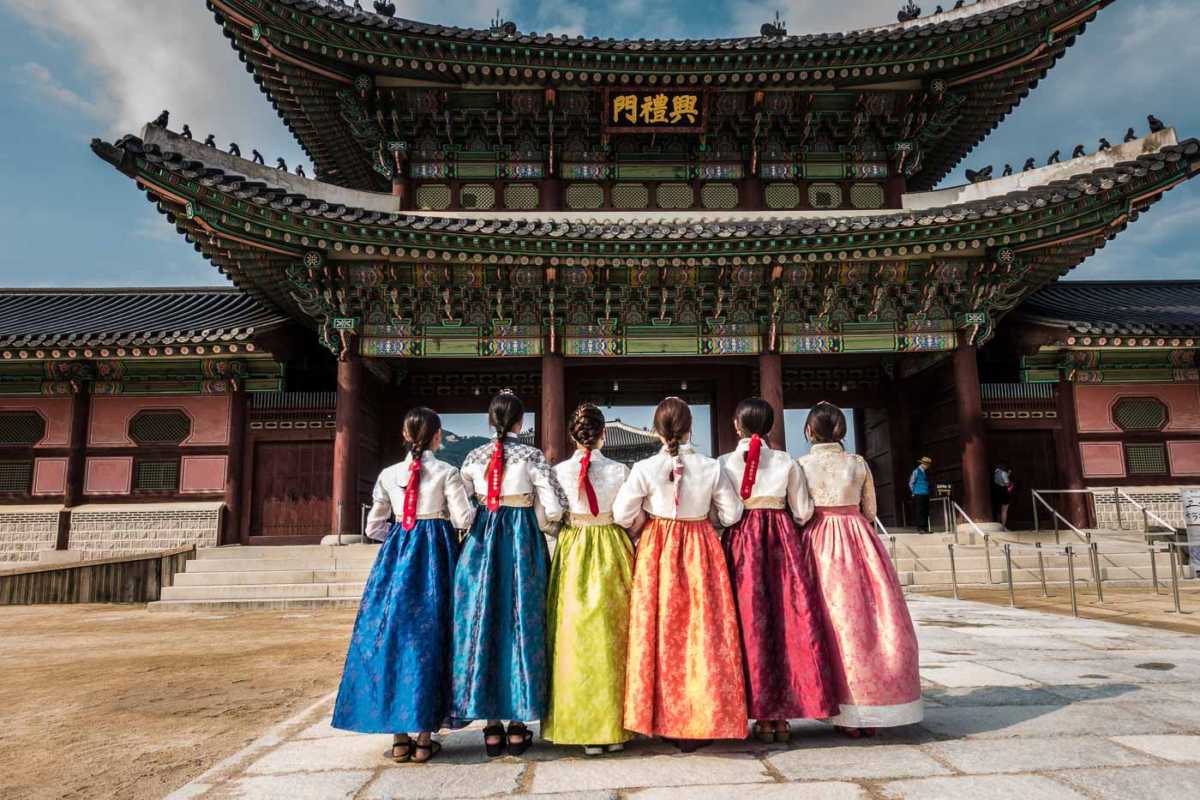 23. Girls Showing Their Hair Braids, Gyeongbokgung Palace, Seoul, South Korea
On certain holidays, Koreans who wear traditional dress are admitted free to the spectacular palace grounds where they photograph themselves in front of the colorful shrines. And, if you ask nicely, they will allow a tourist to shoot them front and back.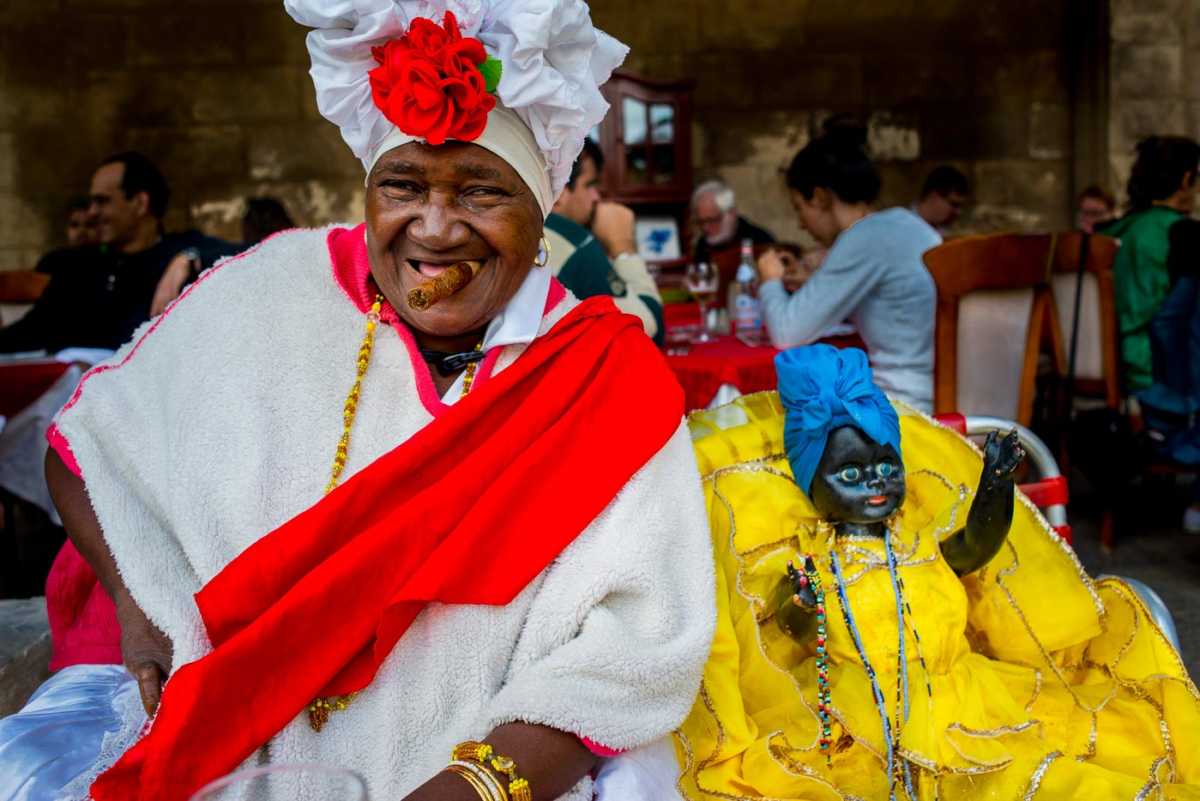 24. Fortune Teller, Old City, Havana, Cuba
There's a lot of dressing up for the tourists that goes on in Cuba, but, at the same time, there's a sincerity of belief in the native Caribbean practices of that strange mix of African and Catholic ritual. And so, there are lots of fortune tellers offering their services. I got one shot for $1, after declining the $5 fortune.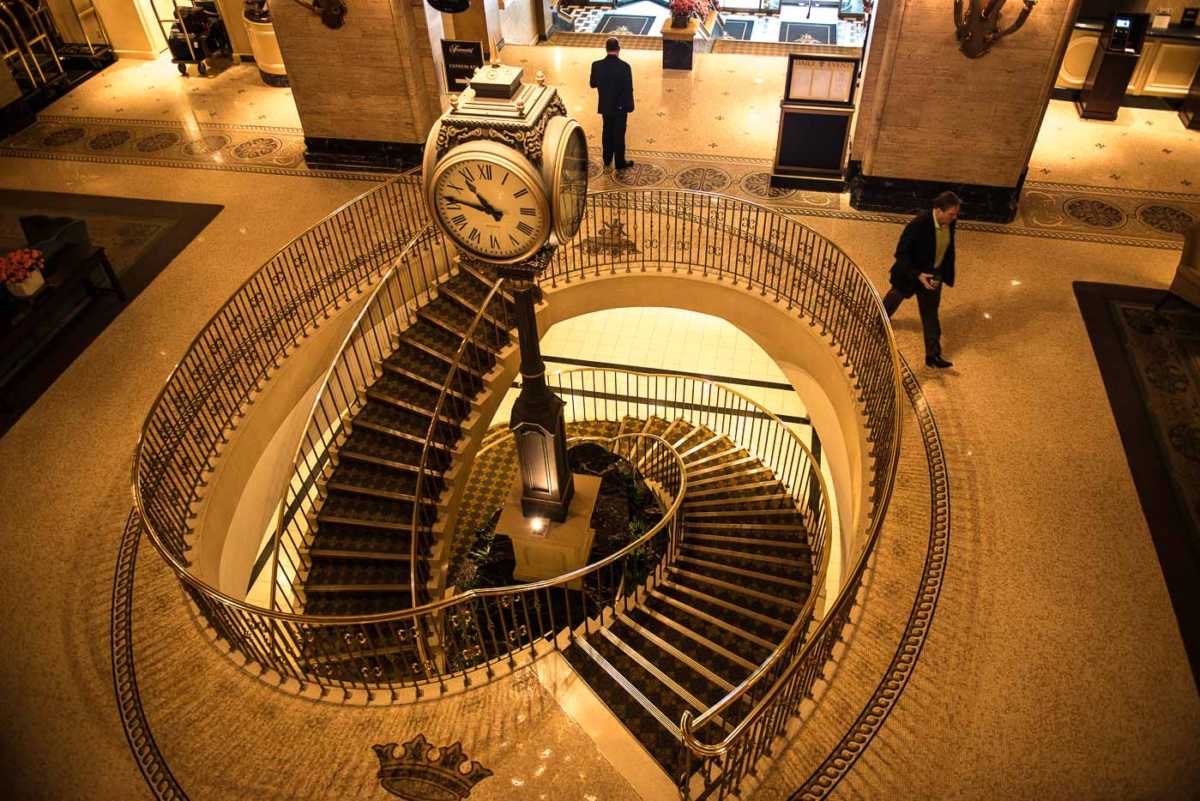 25. The Royal Fairmont Hotel, Toronto, Canada
As we were proudly informed, this is where the Queen stays when she visits her Canadian subjects. It's a very nice hotel, I'm sure. But I was more interested in the architectural touches.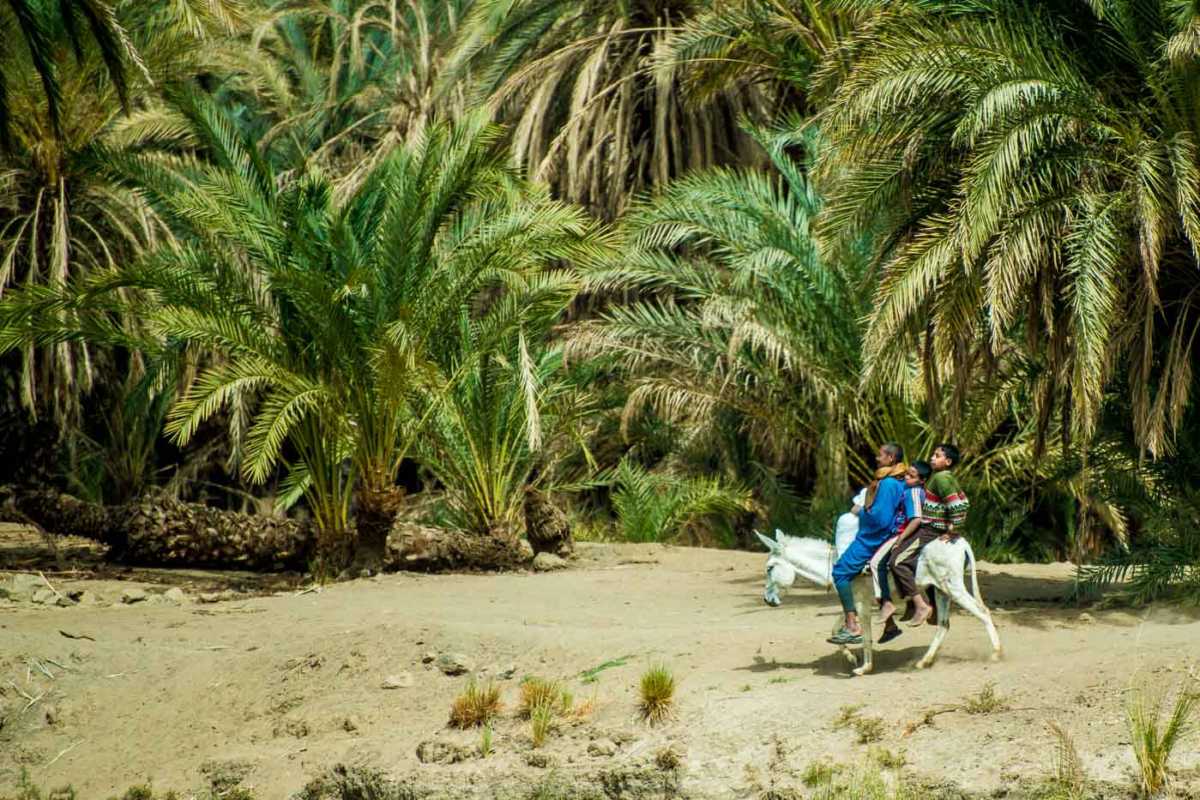 26. Riding a Donkey, Nile River, Egypt
If you stayed in Egypt too long, you could wear out a camera just taking pictures of what's going on along the Nile. A wild swath of fertility cutting through an abject desert. I don't think a lot has changed since the time of Moses and Pharaoh.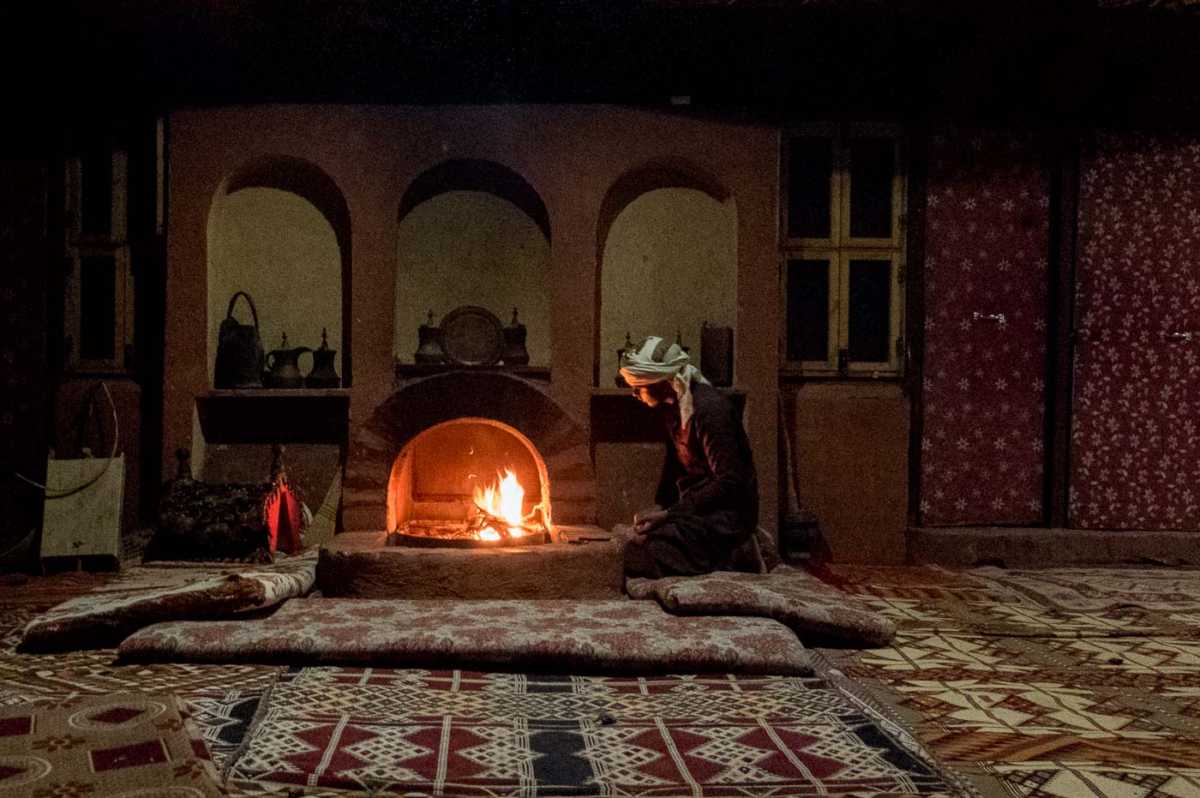 27. Bedouin Boy Building a Fire, Wadi Rum, Jordan
When you think of a fire at the Bedouin hospitality tent where you're being fed dinner, keep in mind that there aren't many trees in that desert from which to cut wood. A fire can be made out of one stick, and if you know what you're doing, that one stick can keep you warm, cook your dinner, and boil the water for after dinner tea.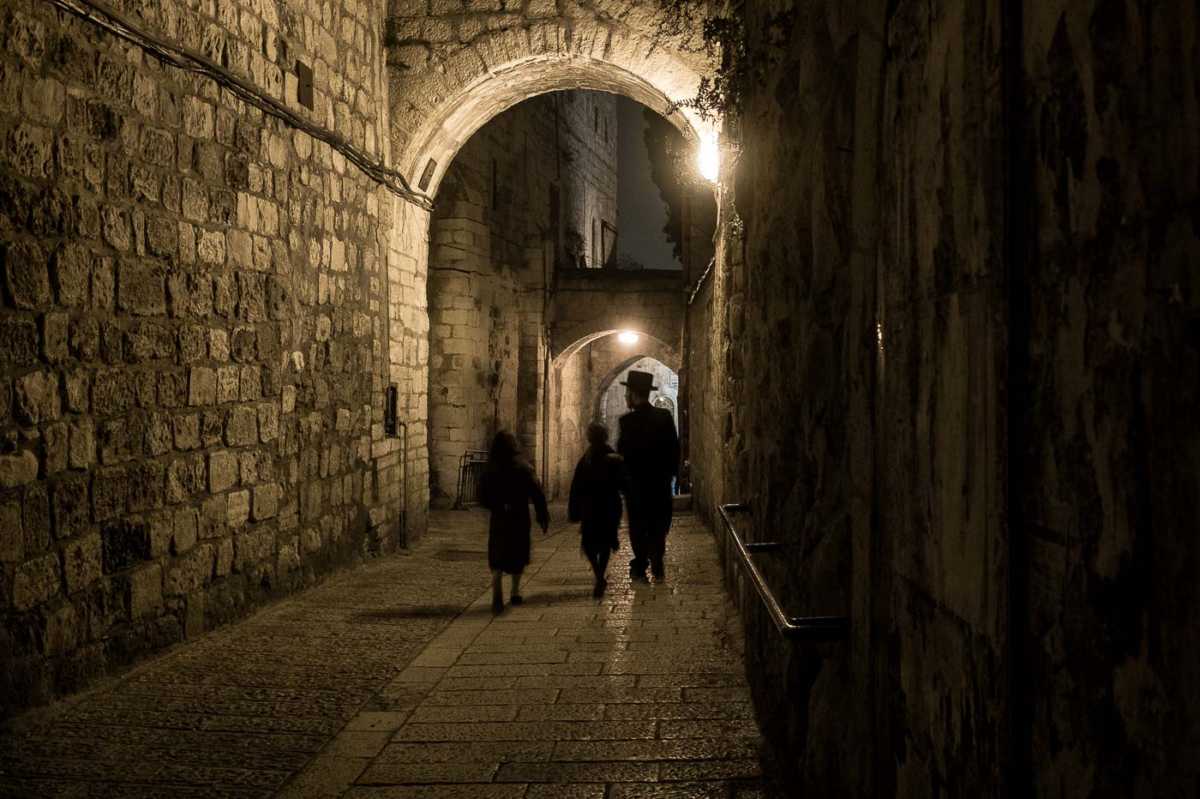 28. Old City, Jerusalem
Old Jerusalem is a maze. You could walk around it for hours and maybe just begin to figure out where one culture starts and the other ends. Some parts of it are relatively new, only a few centuries old, and other parts aren't that different from the streets Jesus walked on. It is different that any other place we've been, with a palpable tension mixed with an overwhelming sense of regret and dread. And then you see a family on their way home for supper and things seem normal.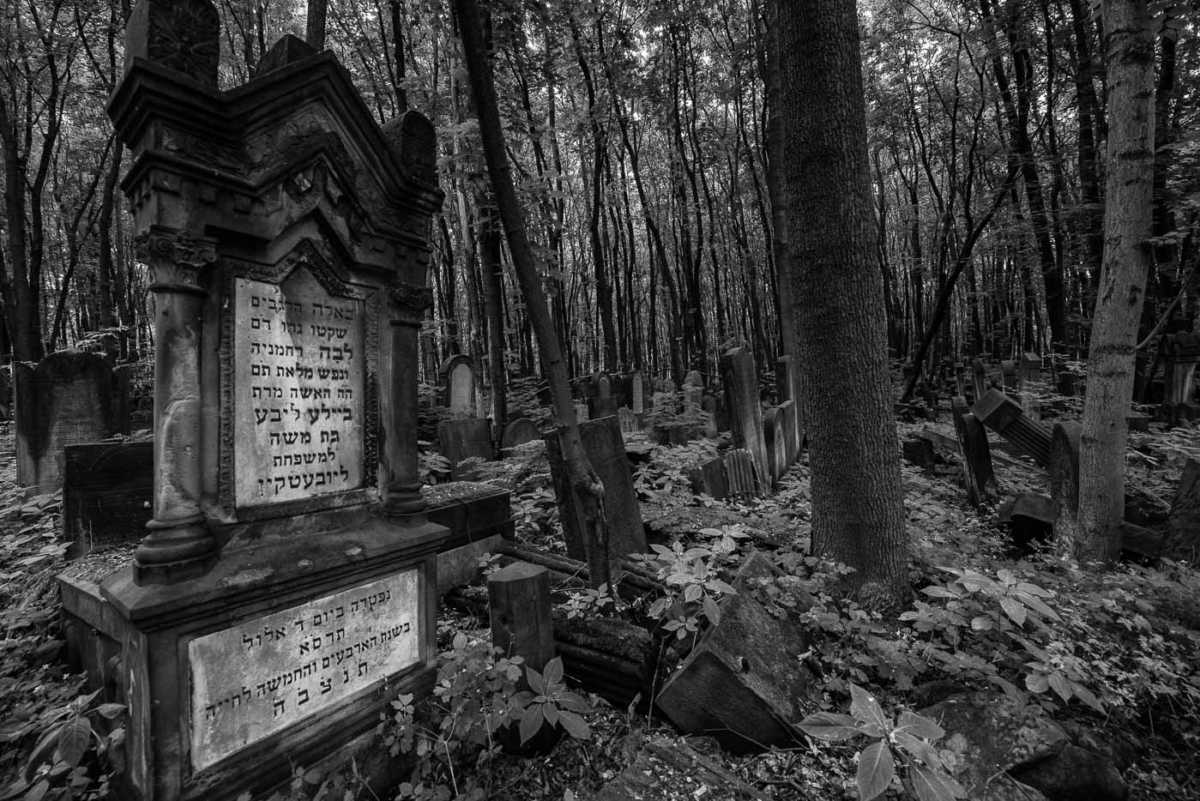 29. The Jewish Cemetery, Warsaw, Poland
When the Jews were expelled from Warsaw by the Germans in World War II, their old cemetery was left to ruin. In the past seventy years, an unchecked forest has grown up in the middle of the city and toppled most of the stone. Just in the past few years, the remaining small Jewish community has retaken charge the cemetery and is, little by little, rehabilitating it. And beginning to bury their newly dead there.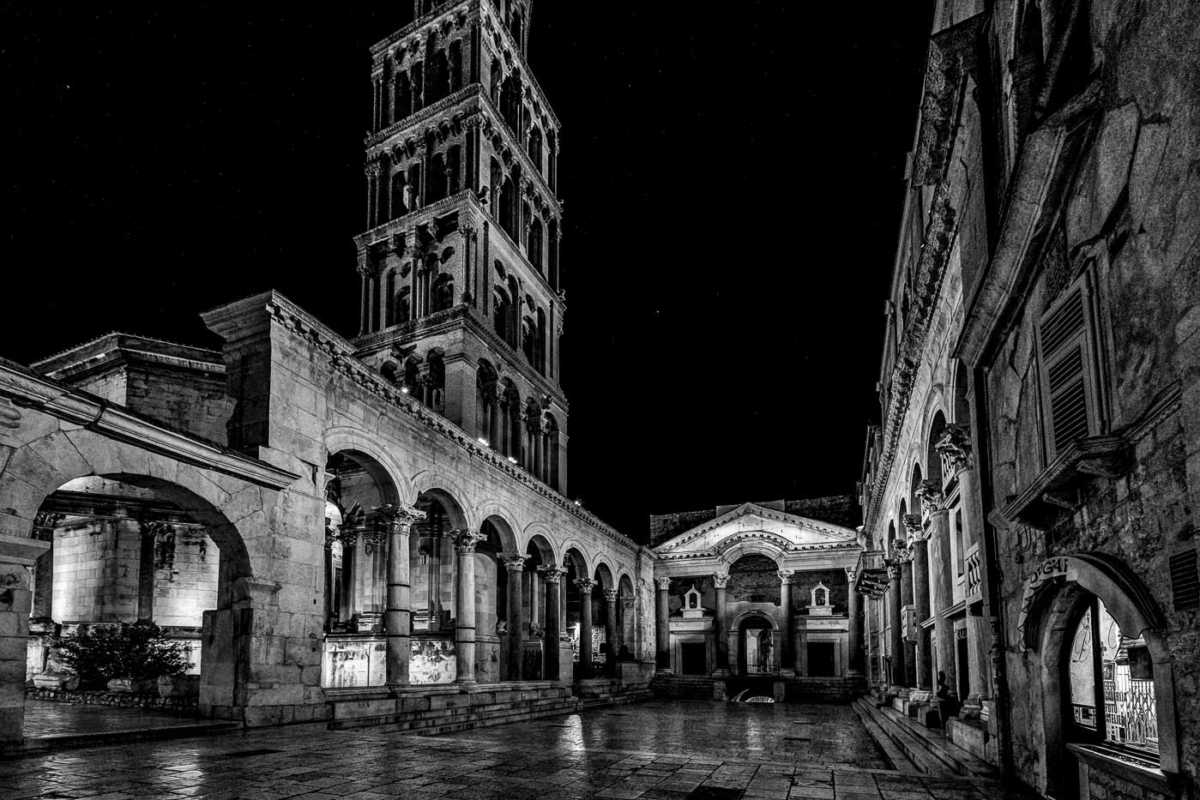 30. The Peristyle, Domitian's Palace, Split, Croatia
Those who know the history of ancient Rome know that the seat of the empire moved inexorably to the east until the capital ended up at Constantinople. The emperors made their pleasure palaces in nice places with cooler climates than Rome. Like Split, where the First Century Emperor Domitian liked to lay his head. The city eventually incorporated his vast palace into the current urban environment, and if you get up at 3 a.m to walk around when the other tourists are sleeping, you can get a bit of a sense of the architecture that's survived 20 centuries.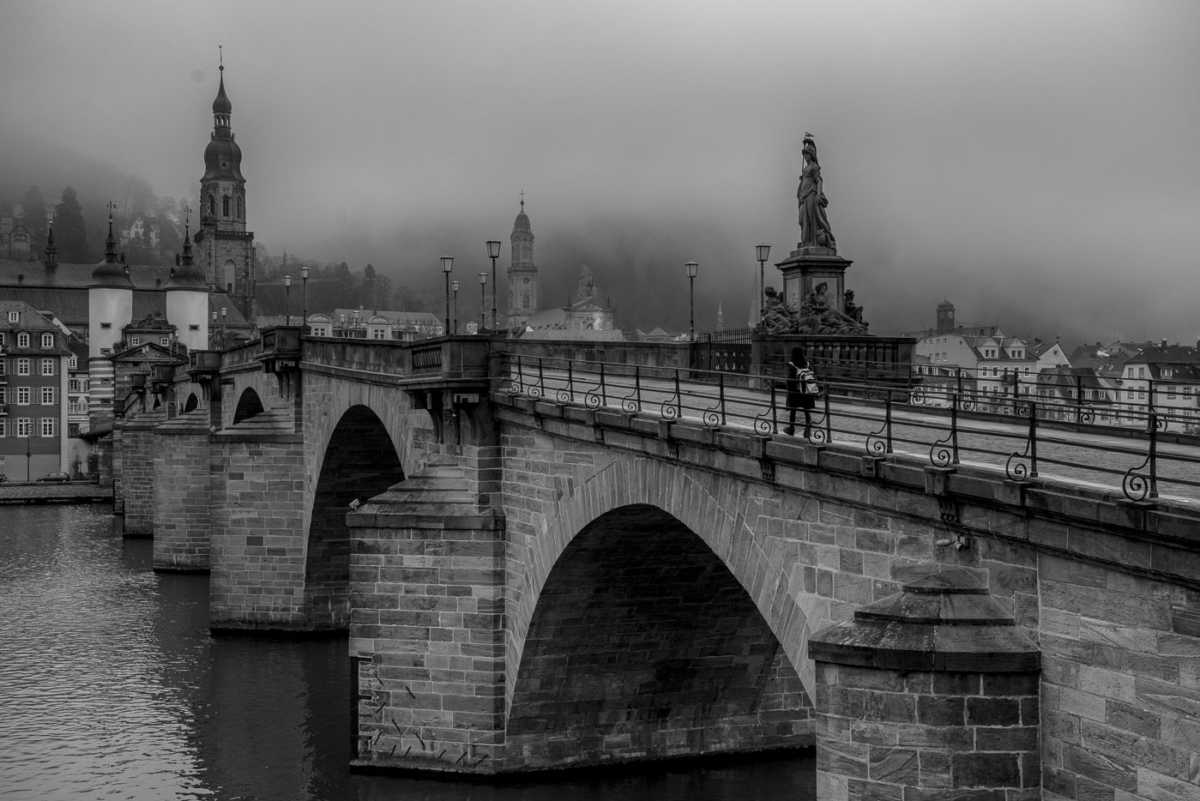 31. The Old Bridge, Heidelberg, Germany
I made many shots of this bridge at sunset the night before, but wasn't satisfied with any of them. But I did wake up early the next morning to a delightful fog. Our hotel was three kilometers from the bridge, and so I made a very brisk walk to get there before the sun burned it off.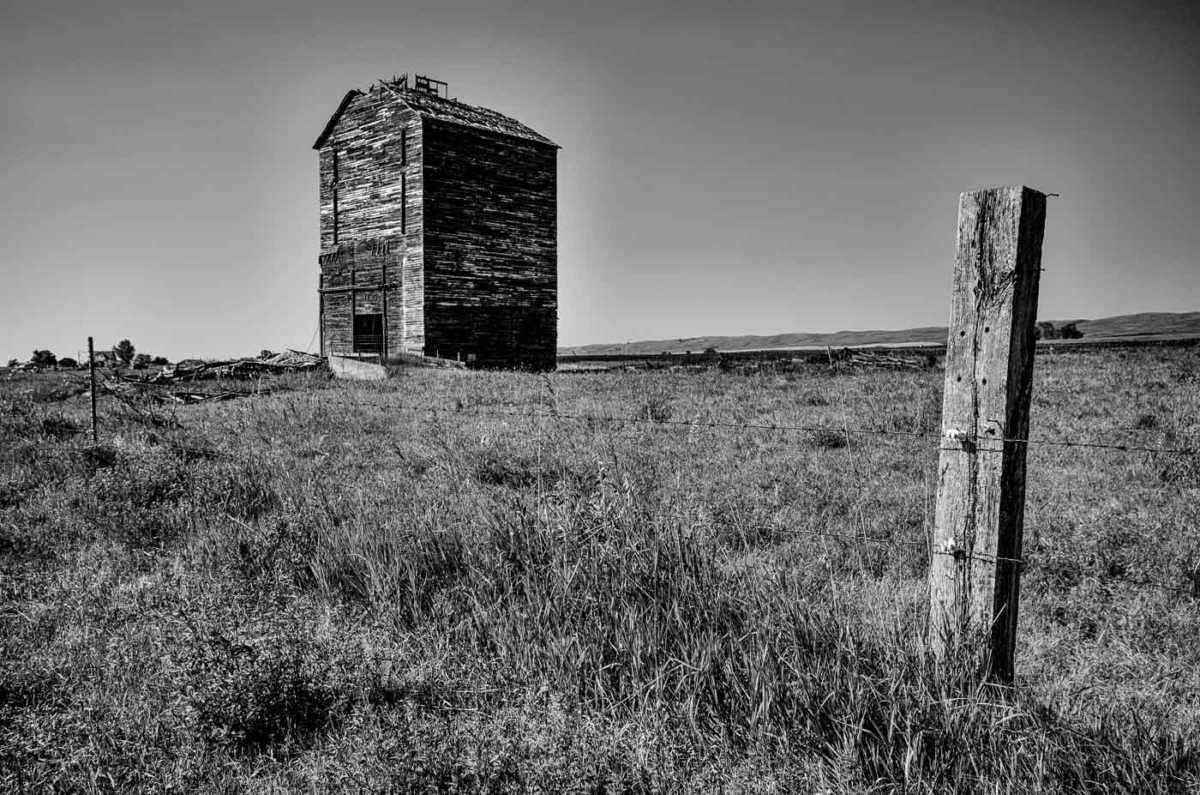 32. Ruined Grain Elevator, near Lily, South Dakota
You don't have to go all the way to Europe to see ruins. Sometimes, they're right next door. A very bright sunny July afternoon makes this look best in black and white. Because it's the texture and contrast, not the color, that counts.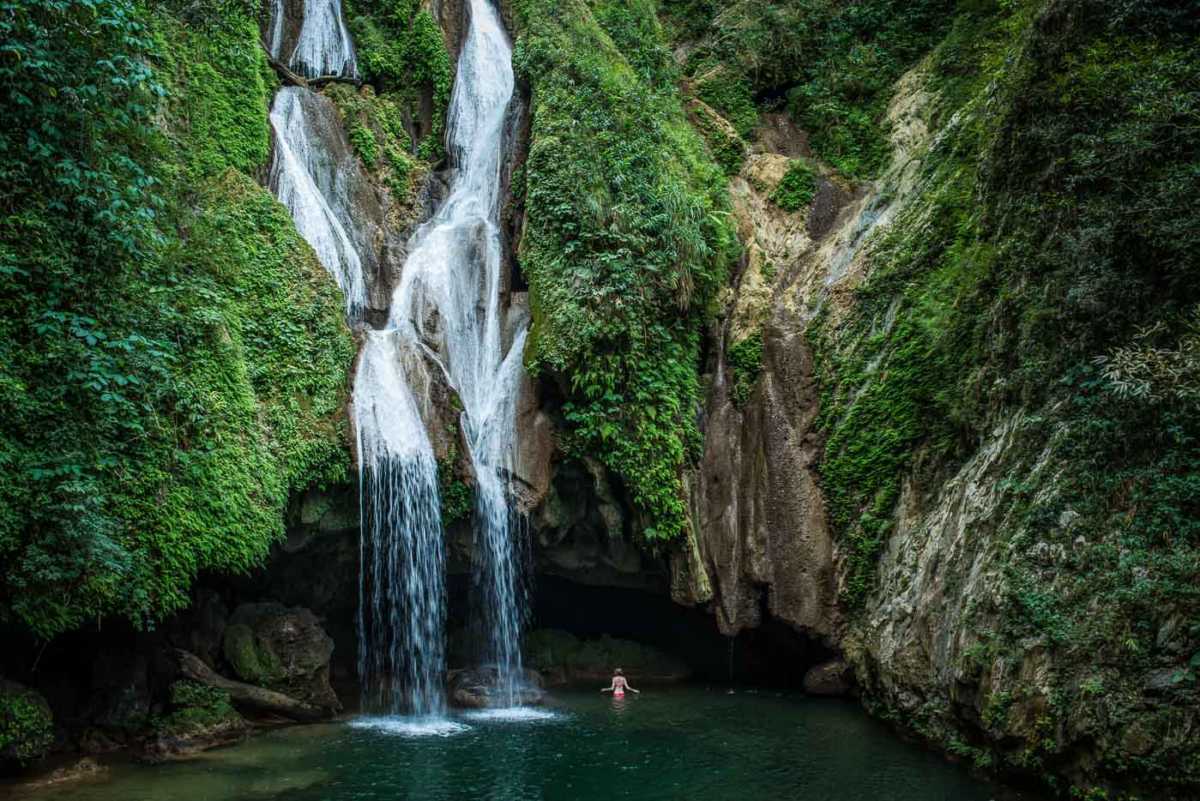 33. Waterfall, Vegas Grandes Hiking Path, Topes de Collantes Natural Park, Cuba
Cuba was a new surprise every day. I think mostly because it was so green. And mountainous. Which made for some interesting hikes. And, there was the occasional oasis where the visitors could take a refreshing dip to wash off the well earned sweat of the trek.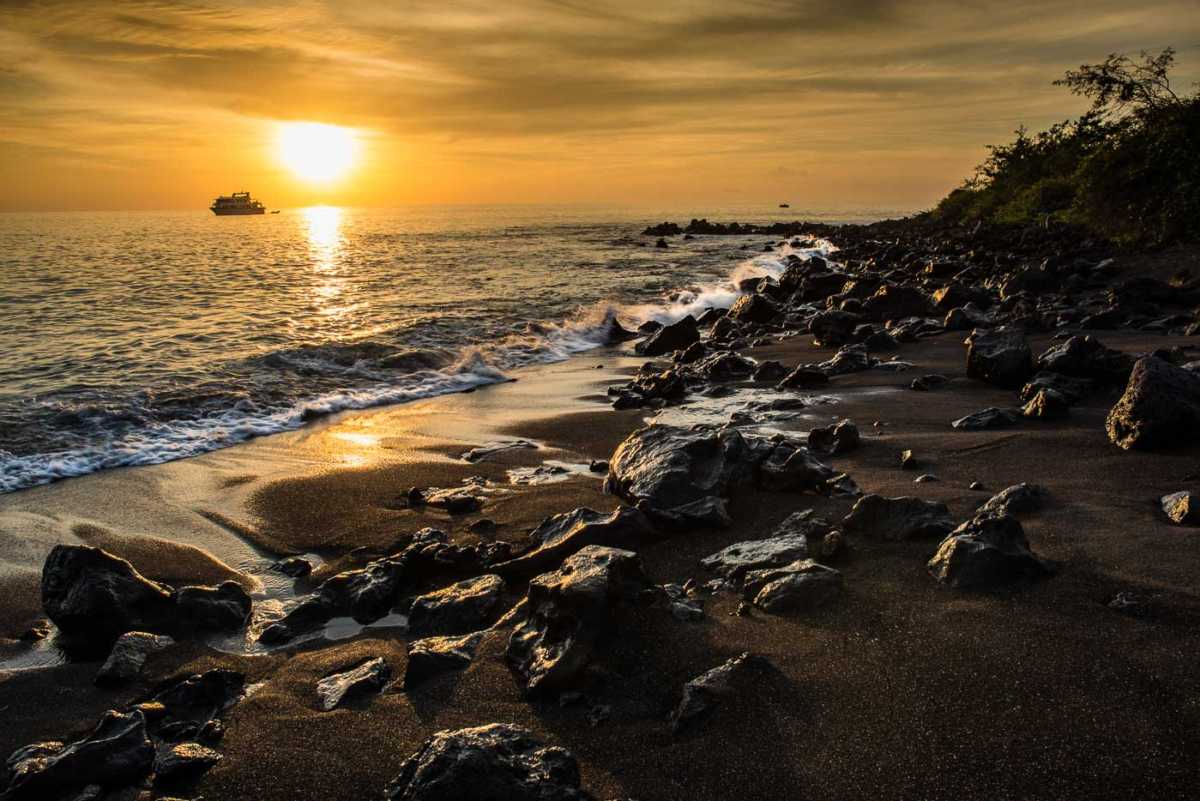 34. Sunset, Isla Floreana, Galápagos Islands, Ecuador
The thing about being at the equator is the time of sunrise and sunset doesn't vary much. Both are always around six, give or take a few minutes depending where you are in the time zone. And, it's quick. Unlike in the temperate zones, it lasts only a few minutes. So you have to be fast with the camera. And it helps to be in a place like this remote island where the last rays just give a glint off the wet lava rocks.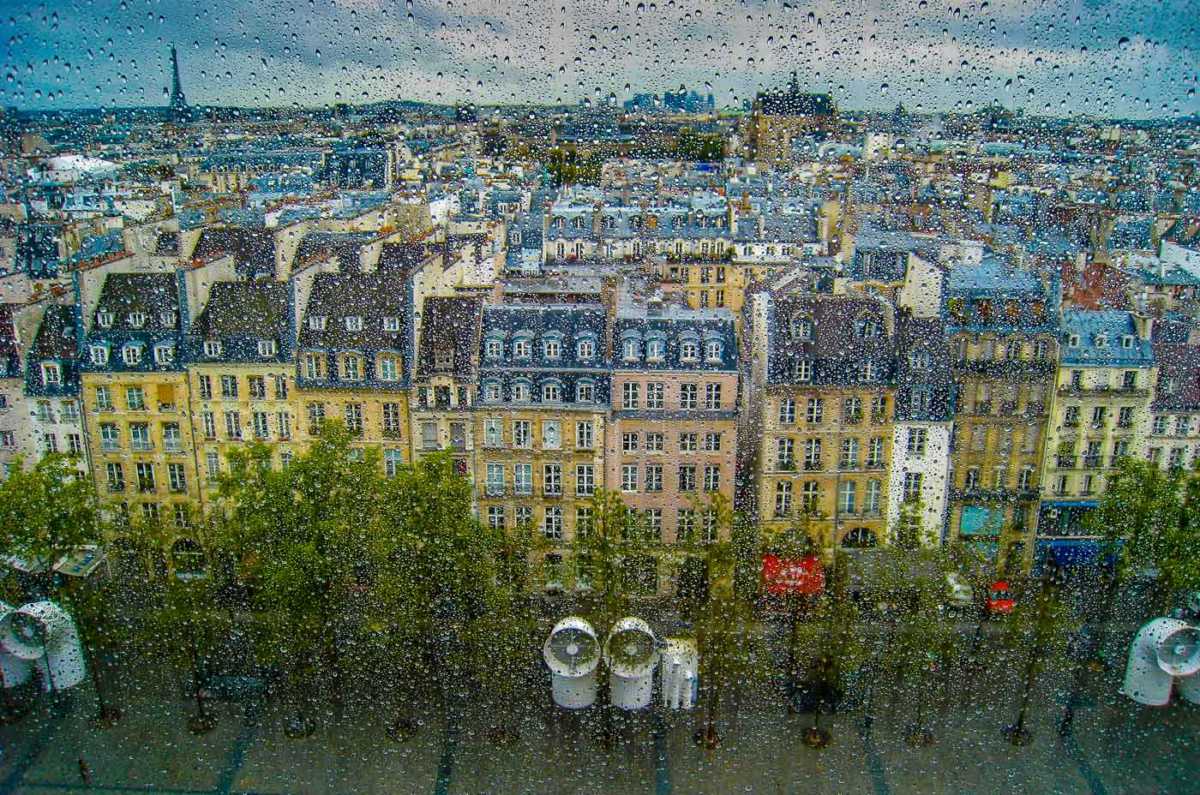 35. Rooftops in the rain, Paris
This photo is one of my favorites. And I think I more or less took it by accident. That is to say, I didn't give it a lot of thought. I was just finishing a visit to the Pompidou Centre on a rainy day, when it stopped raining for a little bit and the sun broke through just enough to light up the colors of the buildings across the plaza. I liked how the drops on the Pompidou windows softened the look. It looked a lot like some of the Impressionist paintings that I love in Paris.
To learn about what kind of camera equipment Tom uses, you can click here.
You can help yourself get ready for your own travels by reading our Get Started Planning Your Trip Now page.
We love traveling–with the right gear. We've gathered a lot of the stuff we use to make travel more pleasant and efficient all on one page. Shop our Travel Past 50 Amazon page to find our favorite gear. If you purchase something from the store, Travel Past 50, as an Amazon affiliate, may receive a small commission at no extra charge to you. Thanks.
Note: This post and other posts on TravelPast50.com may contain paid or affiliate advertising links.