Oswaldo Guayasamín, who died in 1999, is undoubtedly Ecuador's most famous artist. You see his images everywhere you go. Even the shops that sell Indian handicrafts appropriate his work for everything from sweaters to painted peanut bowls.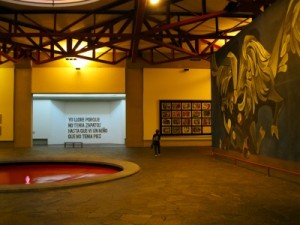 It was his final gift to his country to establish two incredible museums of his work–the Capilla del Hombre (Chapel of Man) and the Fundación Guayasamín. He was extremely generous.
The Fundación museum not only contains a lot of his own work, but displays his own extensive collection of pre-Colombian and colonial art. One gallery also features rotating exhibitions of the work of a modern artist.
For the acquisitive, there's a shop in the Fundación that sells signed prints, mass market posters and jewelry of Guayasamín's design. Prices are very reasonable–some of the posters are $6. The signed prints range up from about $800. A beautiful silver ring was $72.
The Capilla, which is up the hill (everything is uphill in Quito) from the Fundación, is the more remarkable, however. It is one large stone square building, with a rotunda. There are two floors, and the building is full of Guayasimín's largest works, the kinds and size that can only be displayed in public spaces and that best exemplify the power that a great artist can exert.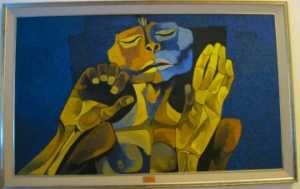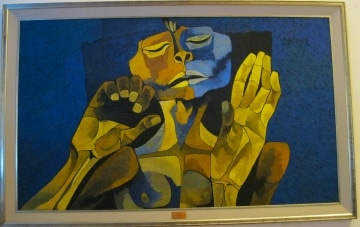 One of his constant themes was "Ira" which means "Anger." Like Picasso's Guernica, his work often reflects the agony he felt. In particular, he was adept at portraying hands and their ability to express his outrage at occurrences in his world.
The Fundación is only open Monday through Friday, so don't save it for the weekend. The Capilla is open Tuesday through Sunday. Admission to each is $4.
How to get there
From wherever you are in Quito, take a taxi. That's the easy way.
The way we did it was to take the Ecovia bus to the Bellavista stop and walk up the hill on Calle Ignacio Bossano (It will run right into Calle Bosmediano, which is the actual address of the Fundación.) I wouldn't recommend it unless you have already acclimated yourself to Quito's altitude or are part goat. It involves a lot of stairs, as well as just plain steep climbing up sidewalks. The Fundación is about a 20 minute climb if you don't stop too often to gasp for breath. The Capilla is about another 20 past that. There are plenty of the usual neighborhood shops along the way if you need to fortify yourself with bottled water or Gatorade.
You can help yourself get ready for your own travels by reading our Get Started Planning Your Trip Now page.
We love traveling–with the right gear. We've gathered a lot of the stuff we use to make travel more pleasant and efficient all on one page. Shop our Travel Past 50 Amazon page to find our favorite gear. If you purchase something from the store, Travel Past 50, as an Amazon affiliate, may receive a small commission at no extra charge to you. Thanks.
We never leave home without our travel insurance. Nor should you. Search for the travel insurance from Allianz that best meets your needs, whether it be an annual plan or a single trip.
Note: This post and other posts on TravelPast50.com may contain paid or affiliate advertising links.
Get all our travel tips delivered to your inbox
Subscribe to our email newsletter