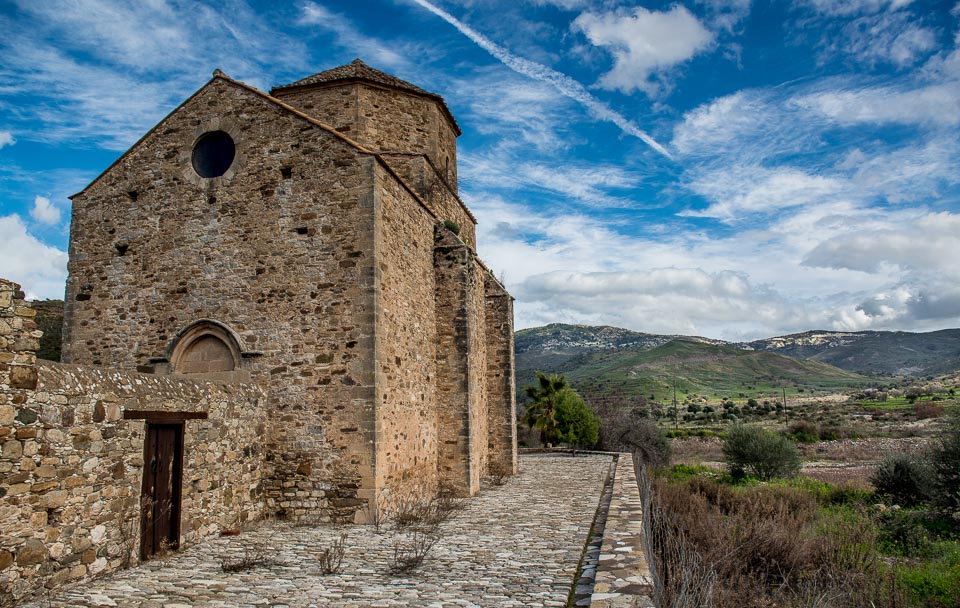 The Panagia tou Sinti Monastery is not on the list of the ten "Painted Churches" of the Troodos area that comprise the Unesco World Heritage site on Cyprus. Nevertheless, it makes for an interesting visit.
It's down in a valley that you can only reach by driving 5 kilometers on a rather dubious road. And, you'll probably never find it if you don't stop to ask somebody in one of the villages up the mountain for directions (Agia Marina or Pentalia.) up the mountain where it is. And, you'll have to be lucky enough that that person you ask is the only one in that village that speaks English. And, although she speaks English, she doesn't exactly know where the place is, but there happens to be an older guy who couldn't look more Greek if his name were Zorba who is just driving up in his battered truck, and he knows where it is. So he tells her, and she tells us, and yes it really was on the road that turns down the hill from the next village right after you pass the hill with a water pipe coming out of it.
We've had some experience with these remote churches in Cyprus already. And that experience is you wander all over the poorly marked roads and ask people where the churches are, and after a couple of recalibrations and Y-turns on very narrow roads you find them, only to learn that, even if they are World Heritage treasures, they aren't really open on any regular schedule, and in some cases there's not even anyone anywhere near the place you can ask if they have a key.
That was sort of the case as we got to Panagia tou Sinti after bumping down that road for 45 minutes all the while saying to myself, "I bet it's going to be closed." And it was, sort of.
We got there just at the same time as a local guide and his two clients showed up. He was sort of a young tall guy who walked around the side of the wall that enclosed the church, boosted himself over the wall and then came around to let his two clients in via the gate which he had unlocked from the inside. He then promptly closed the gate in our faces and when we pushed on it, he said we couldn't come in.
Well, Kris has never been much for taking orders from assholes, so she walked around, found a lower spot on the wall and stepped up on some rocks that had been piled there and was over the wall in about 30 seconds. I'm not as limber as she is, so it took me a little longer and she had to come back to hold my camera while I clambered over.
When we came around the corner in front of the church, the jerk said, "How did you get in here?" To which Kris replied, "Same way you did," and pushed past him into the church.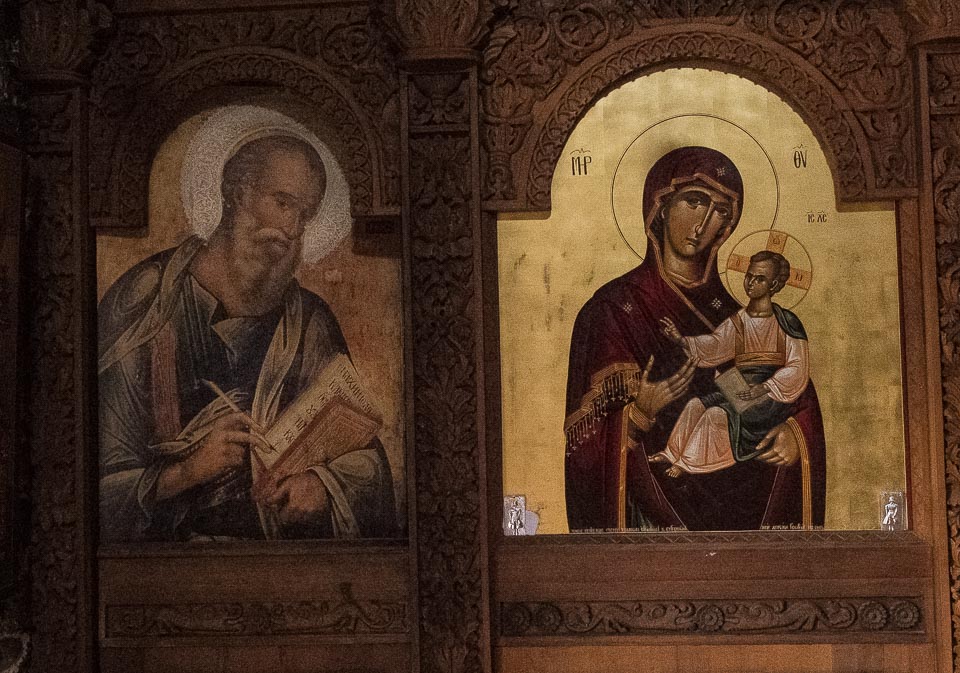 The church has some nicely restored icons, although, if you ask me, they may have been restored a little heavy handedly. They look like they were repainted from scratch by the icon factory rather than retaining a certain patina of their age. Oh well. There are plenty that still need restoring, and maybe they'll go a little easier.
But the church itself, and it's walls, have been nicely redone, and they retain all the character of their original construction that is over 500 years old. It's a very nice site, and you can get a good sense of what the place looked like when the Orthodox monks lived here and farmed the surrounding river bottom.
So Jerky the Guide and his charges were ready to leave, and he kindly let us out the gate that he'd opened, and then he locked it and climbed back out over the wall.
Kris and I stayed outside and walked around and shot a few more pictures and were getting ready to go when another car showed up. This guy and his girl were locals, but he was quite nice. He told us he had lived in Chicago a while, and Kris was about to show him the low spot on the wall where we'd climbed over when he said, "No, this gate is open." And he pulled on the handle and shoved on the gate that was right in front of us (not the gate that Jerky had let the other people in) and, yup, it swung right open.
And there was no key necessary for the church either. It was open, too, although Jerky had mimed that he'd unlocked it for his people and made a bit of a fuss about letting us in after them.
My guess is he was overcharging the hell out of them for his "guide" services when the church was open and welcoming to anyone who was willing to make the effort to find it. Too bad he was such an ass. If he'd just let us in, I probably would have tipped him 10 euros.
Anyway, his name, his client told me, is Deke, and he is Indian-American who has lived in Cyprus for more than 10 years. He has a place he rents out, and "guides" tours, although I didn't hear him tell his charges anything you couldn't learn from Trip Advisor. So if you run into a guy fitting that description, tell him Tom and Kris the Americans warned you that he was an ass and you'll save your money for beers.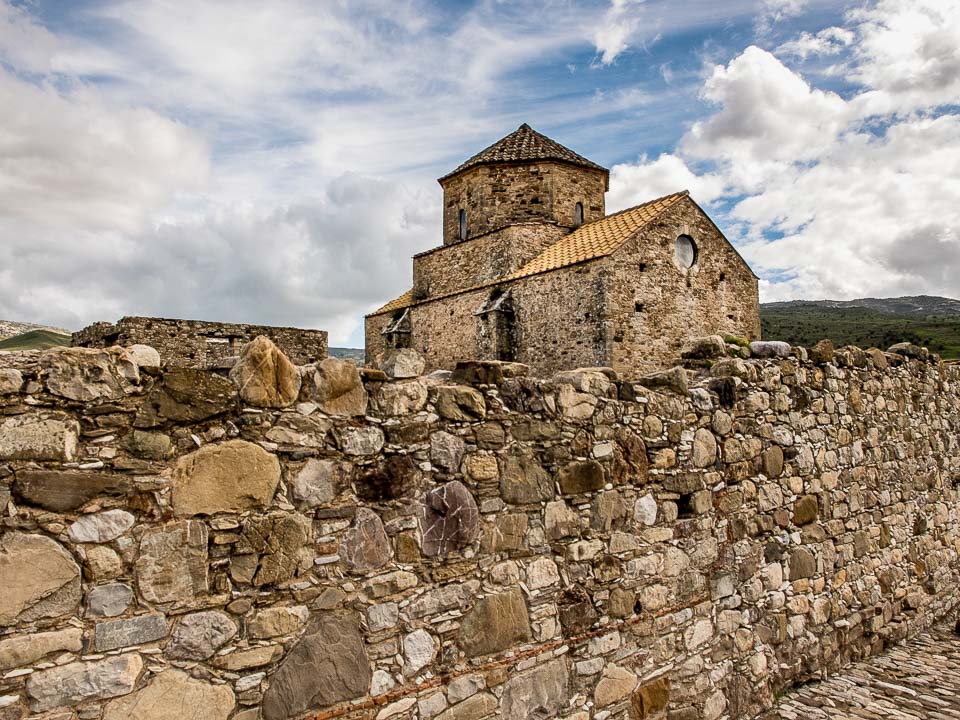 See our recommendations for the best things to visit on Cyprus.
When you're thinking of traveling, your first stop should be our Travel Resources page, where we list all the essentials you need to make your travels easier, cheaper, safer, and more fun.
You can also help yourself get ready for your travels by reading our Get Started Planning Your Trip Now page.
We love traveling–with the right gear. We've gathered a lot of the stuff we use to make travel more pleasant and efficient all on one page. Shop our Travel Past 50 Amazon page to find our favorite gear. If you purchase something from the store, Travel Past 50, as an Amazon affiliate, may receive a small commission at no extra charge to you. Thanks.
We never leave home without our travel insurance. Nor should you. Search for the travel insurance from Allianz that best meets your needs, whether it be an annual plan or a single trip.
You can see (and buy prints) of most of our travel photos in one place on this page.
Note: This post and other posts on TravelPast50.com may contain paid or affiliate advertising links. As an Amazon Associate we earn from qualifying purchases.