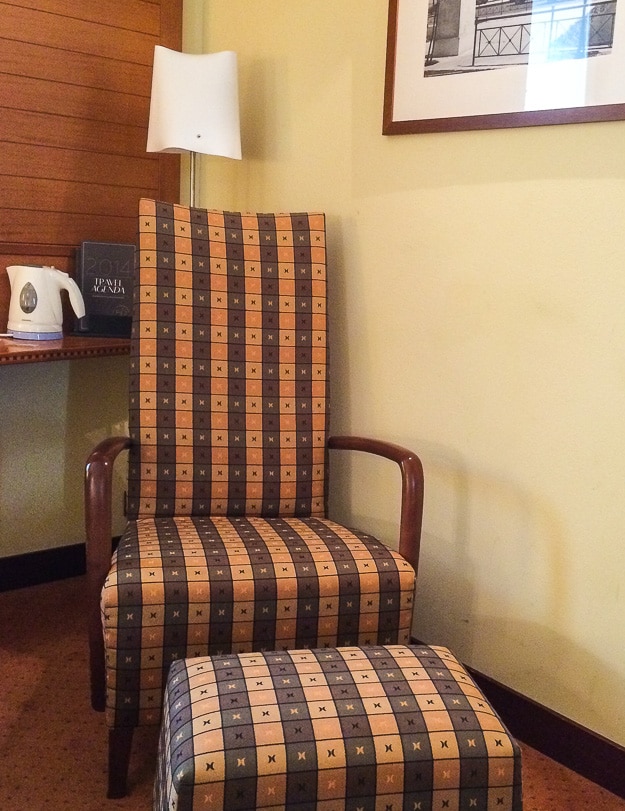 It's not often we write more than a couple sentences about hotel accommodations. And it's rare we stay in an airport hotel. But the Gods conspired in Greece, naturally, and here I am extolling the virtues of Sofitel Athens Airport Hotel.
First, if your plans are ill-laid, like ours, and you are arriving in a far off place after two or more stops or more than 15 hours of travel, you are given permission to opt for an airport hotel. Likewise, if you are traveling on to a Greek island, you'll want a rest en route. At Athens Airport, the Sofitel is not even a shuttle away; it's across the street.
Our flight arrived midday. Normally when we show up in Europe, we take a nap and then stroll around in the evening before bed, to get adjusted to the time zone. But the Athens Airport is about 45 minutes from city center by metro. So we were saved. We napped, had a bowl of soup, a taste of wine (at the special Sofitel French tasting event in the lobby), and then tipped back into bed.
Here is what makes a good hotel worthy of a rave:
The bed and bedding
King size bed, comfy mattress, extra pillows, nice sheets top and bottom, and a lightweight comforter.
The lighting
General lights, bedside lamps, PLUS reading lights each side of the bed.
Sitting area
This upholstered chair with ottoman was great for working or reading. It's always a luxury to sit somewhere other than bed!
Bathroom!
A great big shower room with a bench to sit on is in addition to a deep tub. Equipped with the nice toiletry products, including body lotion, often missing from decent hotels.
Space, closet space, and luggage storage
You gotta love a room that allows two to move around at the same time. Plus, the ability to keep some or all of your baggage stashed out of sight can be very calming.
Desk
Big enough, and not already cluttered with hotel materials.
Extras
A hot pot for making a cup of tea or coffee is such a simple and appreciated amenity.
Breakfast
One of the best hotel breakfasts we've had, anywhere, buffet style. Made to order omelettes, fresh and hot entrees, delicacies in sampling sizes (juices, smoothies, pastries), plenty of fruit and granola, tons of bread with big chunks of butter, and fresh pots of press coffee delivered to our table.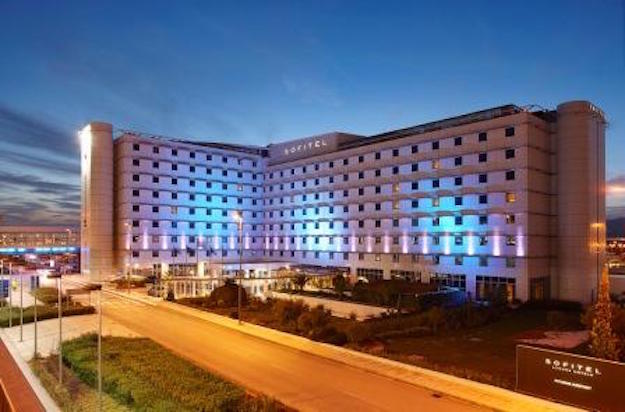 Hotel facilities
Since, in this case, we couldn't go anywhere but the airport, the bar and restaurant, lobby, and fitness facilities were especially important. And then the staff makes the difference. We were comfortable in the public areas, as if we lived in the neighborhood. Although the hotel architecture is nothing to write about, it did feature some spacious lounges on each floor with big sofas a la 60s lounge style.More elbow room.
The next day we walked just a couple hundred meters to catch the metro into central Athens, just €8 ($10). Rested and pleased, we were ready to meet Athens. In fact, Sofitel Athens Airport was such a good idea, we booked another night on our way out of Athens three weeks later.