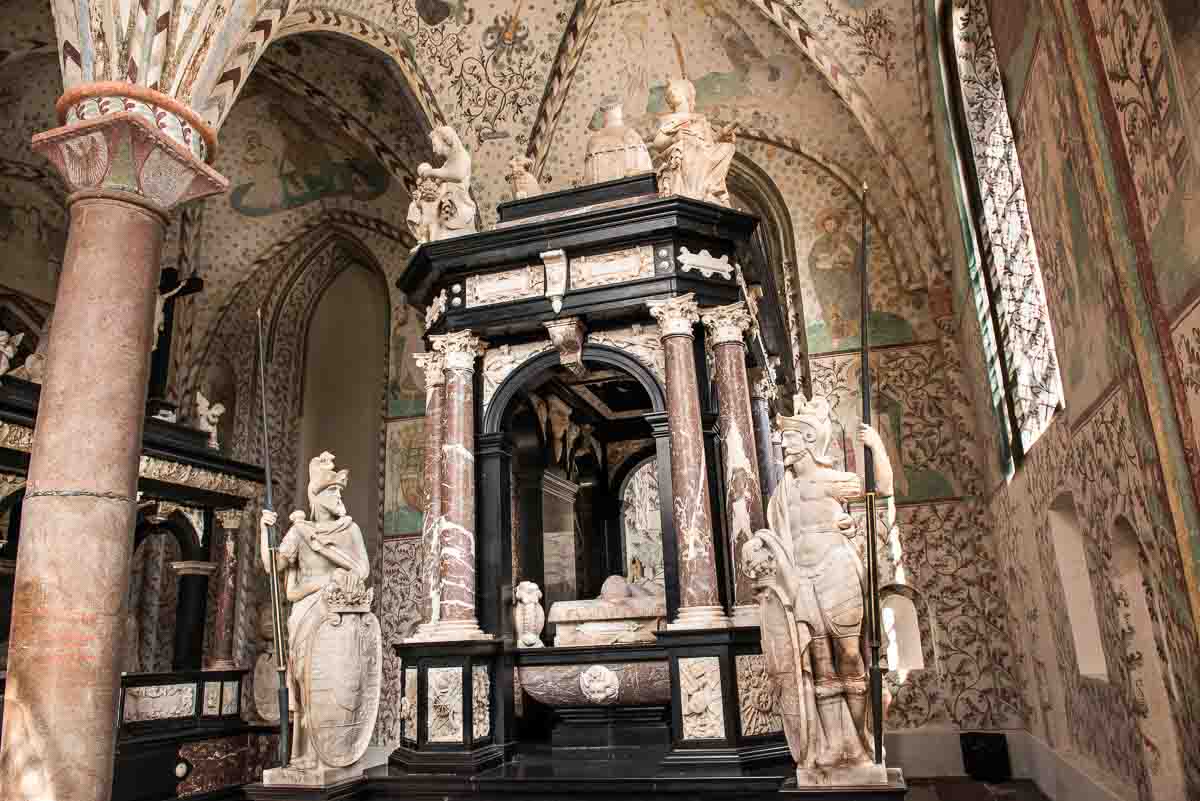 The Roskilde Cathedral (Domkirke) of the ancient capital of Denmark is the first Gothic cathedral to be built of brick. Because of this distinction, it's a Unesco World Heritage Site.
Built during the 12th and 13th centuries, it once featured extensive frescoes on the walls and ceilings. Unfortunately, during the Reformation furor of Northern Europe, like many ancient Catholic churches, the Roskilde Cathedral suffered a "makeover" of iconoclasm. In the case of the Domkirke, this meant all the original frescoes were whitewashed. Later, when sanity took hold again, they tried to uncover some of the frescoes, but the task mostly was in vain. Here is one chapel where the work was done, and you can see the pale simulacra of the original works.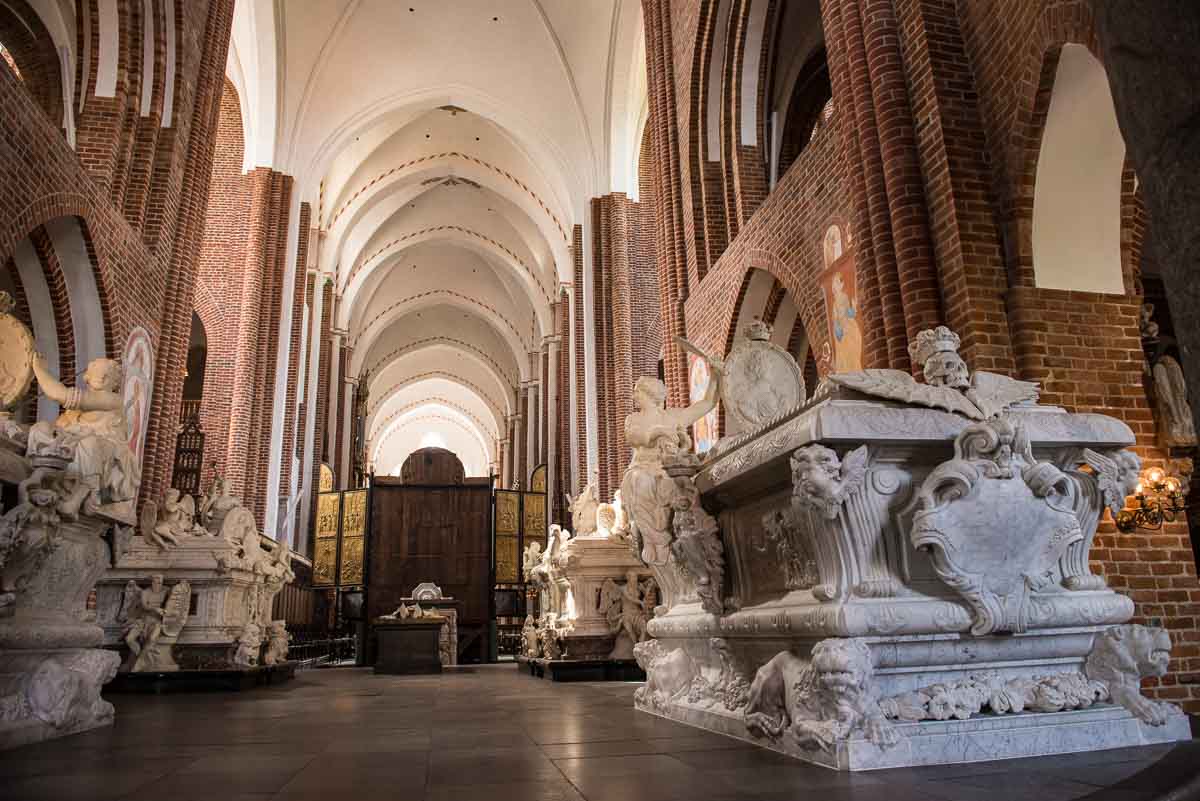 The various chapels of the cathedral now serve primarily as the burial vaults for Danish kings, right up to the current day. The grave memorials themselves are a veritable art history lesson as the installations date from the 13th to the 20th Century. Danish Gothic right up through Danish Modern design. This crypt dates from the early 17th Century.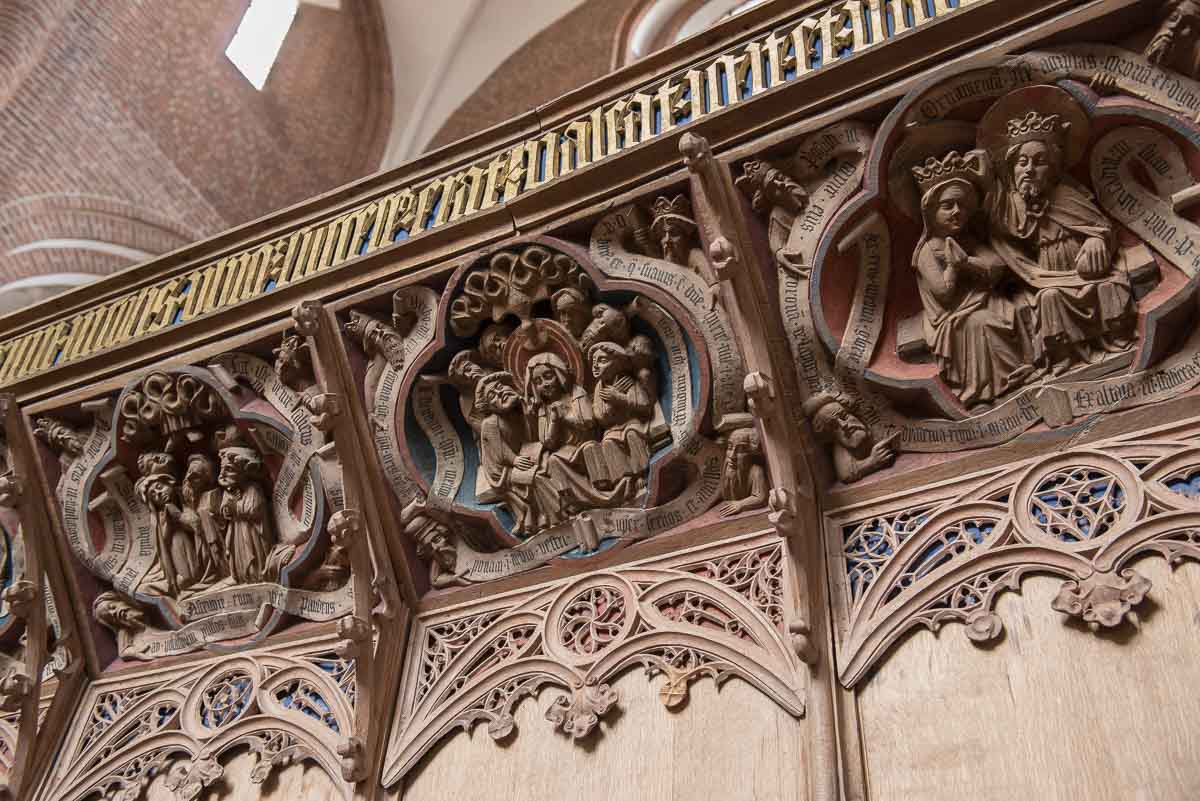 For some reason, when the Roskilde Cathedral was vandalized by the Protestant reformers, they left the slightly crude, but nevertheless beautiful carvings over the choir seats. The carvings below them, though, were removed, and replaced with bland wooden panels, as you can see in the picture. Maybe the carvings' very state of rough workmanship is what saved them.
The Roskilde Cathedral is a UNESCO World Heritage site in Denmark. For a complete list of the Danish UNESCO sites, with links to the ones we've visited, click the link.
Roskilde can be reached easily by car from Copenhagen in about half an hour. Or you can take a train from the Copenhagen Central Station and be in Roskilde in about 24 minutes.
You can help yourself get ready for your own travels by reading our Get Started Planning Your Trip Now page.
You can see (and buy prints) of most of our travel photos in one place on this page.
We love traveling–with the right gear. We've gathered a lot of the stuff we use to make travel more pleasant and efficient all on one page. Shop our Travel Past 50 Amazon page to find our favorite gear. If you purchase something from the store, Travel Past 50, as an Amazon affiliate, may receive a small commission at no extra charge to you. Thanks.
We never leave home without our travel insurance. Nor should you. Search for the travel insurance from Allianz that best meets your needs, whether it be an annual plan or a single trip.
Note: This post and other posts on TravelPast50.com may contain paid or affiliate advertising links.