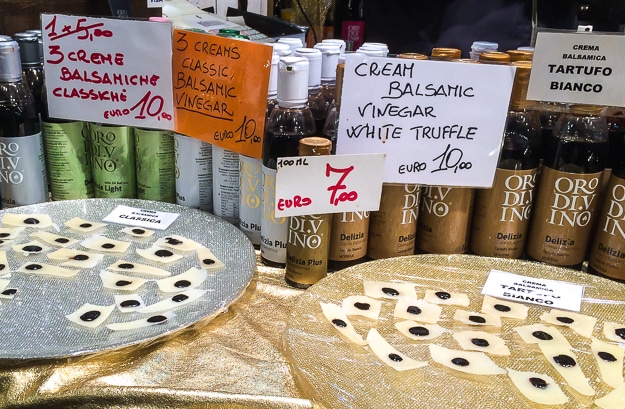 EURAIL 2014
[Note: this is one in a series of 'Stay and Eat' overviews covering the cities we visited while using first class Eurail passes in November and December 2014. See our itinerary and read a bit about our Eurail experience here. Come back soon for more on other cities on the tour.]
(Florence, Italy, December 13-27)
Our Eurail Pass traveling was winding down when we hit Florence. Instead of pressing on, we stayed for two weeks, including Christmas. It was a good chance to refresh our memories of Florence, to discover new neighborhoods, and revisit some favorite works of art. Oh, so many recommendations we have for you!
Eating in Florence
We tried to eat at every restaurant recommended to us, and failed miserably. Still, we had several memorable meals, even if we ducked into places indiscriminately–because they were convenient and open when we were hungry. It's hard to go wrong in Florence.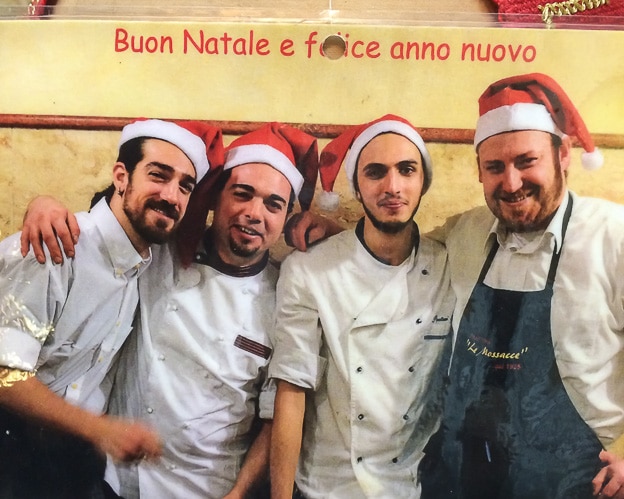 Located in the thick of things
Trattoria Mosacce – Our favorite new find. This small place exemplifies the family run, home cooking, cozy atmosphere of old Tuscany. Limited hours for lunch and dinner, shared tables, bustling kitchen, and a "can-do" attitude. Thanks to our apartment host, Elena, for the recommendation! And it's right in the thick of things on Via Proconsolo, between the Duomo and Bargello Museum.
The Yellow Bar – also on Proconsolo. This popular pizzeria is open throughout the day, except Mondays. Beware of not-so-cheap imitations on the same street.
Cantastorie – This was one of those choices of convenience, very near the Palazzo Vecchio, and completely satisfactory. We chatted with our Albanian waiter, and spotted him another day at a nearby bar this kitchen also services. All in the neighborhood.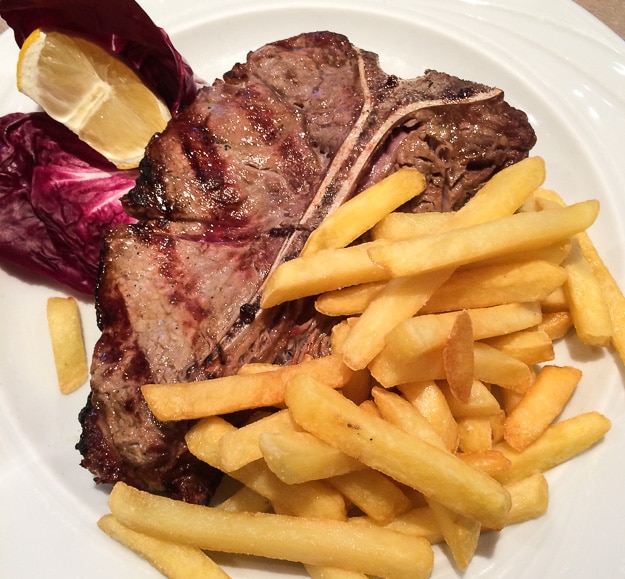 Il Mandarino – Yes, we chose to eat Chinese for Christmas Day, and in fact returned to this place for a second meal. Fresh and tasty.
Snack Bar Bardi – Right on Piazza San Firenze, this became our favorite neighborhood stop. We were there in the morning for cappuccino and croissant, and in the evening for a nightcap or takeout panini. Every morning should start at a place like this.
Botteghe di Donatello – Tuscany is known for its steaks. We bumped into this place on a Sunday, when the daily special included everything we wanted. Steak.
Across the river
Trattoria Angiolino – Based on good memories from our 2000 visit, and the fact we could find it again, we made a special effort to return to this classic trattoria. We got there early for a new year's eve day lunch and were not disappointed. Plan to eat for lunch (until 2:30) or dinner (after 7:30) when you visit the Brancacci Chapel.
Trattoria Gustapanino, Piazza S. Spirito  A nice stop for lunch if you're shopping in the neighborhood. The local old men linger here, too, so you know it's good. Try brasseola (thin slices of cured meat) with arugula!
Trattoria Pizzeria Dante – We also ate here twice, because they have inventive pasta courses and they are open all day.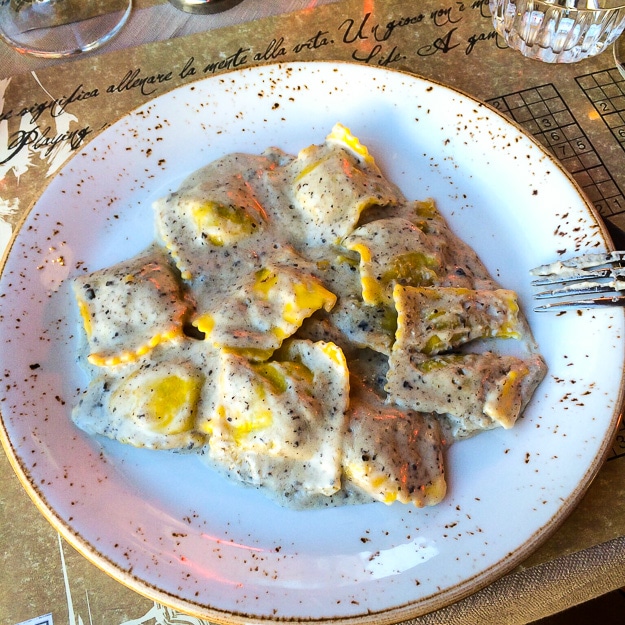 While you're in the neighborhood
Ristorante Pizzeria Le Campane – really nice and moderately priced place in the same neck of the woods as the celebrated Cibreo restaurants. Fixed two-course menu for 12 Euro, and pizza for 8 Euro.
Ristorante Accademia – good pizza before or after your visit with Michelangelo's David.
Da Pinocchio – I'm usually a sucker for eateries in or near major markets. The service was excellent here, and my homemade ravioli, stuffed with spinach and ricotta and topped with truffle sauce, was dreamy.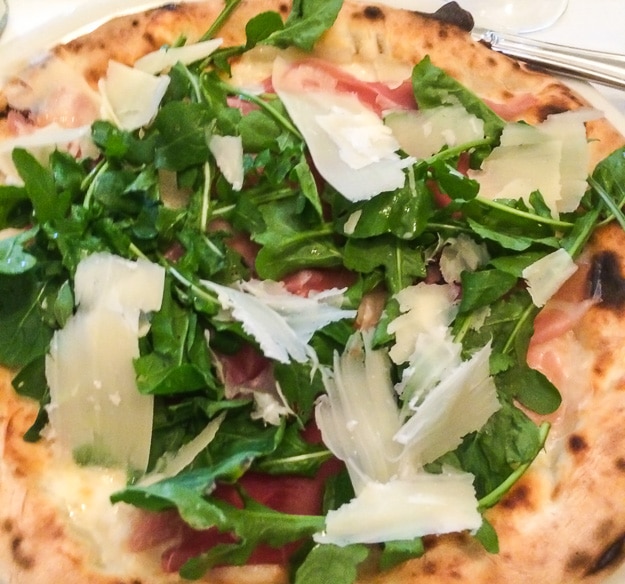 And just so you know, some of the heartily and oft recommended places we didn't get to include:
1. Mario's – Crowded, old-style Florentine trattoria near the central market.
2. Cibreo, Caffe Cibreo Cibreino, and Teatro de Sale.  Very popular, a little pricey, but reportedly they explore authentic traditions of renaissance cooking.
3. Trattoria 14 Leoni  and Cibi Santo Spirito – both near Piazza Santo Spirit, recommended by a Tuscan restaurant owner in Trieste whose opinion I trust.
4. Gastone – recommended by AirBnB Elena, who consistently steered us right.
Where We Stayed
AirBnB: Nicoletta Innocenti, Piazza Lorenzo Ghiberti, Florence
Listed as "Loft near Santa Croce," the best thing about this apartment is the location. The entry is right across the street from the Mercado San Ambrogio, which is THE place to shop for groceries now that the central market has been renovated and gone more upscale. Nearby are plenty of restaurants and wine bars, including the celebrated Cibreo restaurant group. Santa Croce and the Duomo are easy 10-15 minute walks. The apartment itself is OK, with a pretty large kitchen (which we hardly used) and bedroom up in the loft. The downside is that it opens onto a little alley in the back used mostly by the market vendors. So it's dark and can be pretty noisy in the early hours when the market opens. Earplugs rule.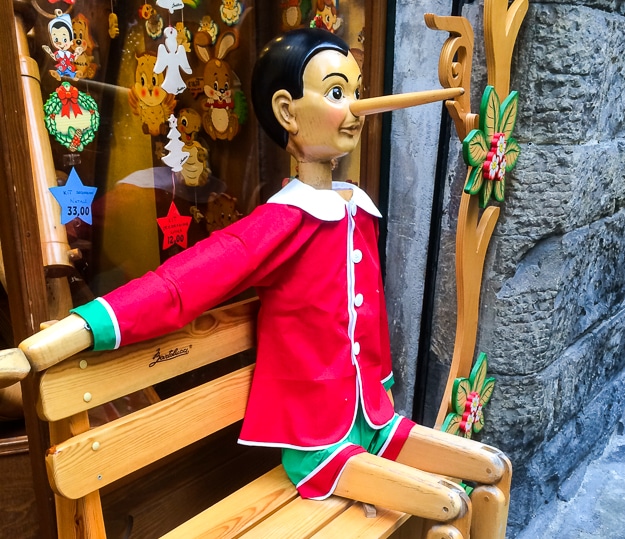 AirBnB: Palazzo Borghese, Appartamento "Barblan"
Week two was actually in smaller quarters, without a sofa or easy chairs, but very pleasant just the same. This apartment is on an upper floor with high ceilings and windows over the interior courtyard (light!). It's also on a quiet street, but just a couple blocks from the Bargello Museum and the handy Piazza San Firenze. Little kitchen, big refrigerator: fine with us. Highly recommend.