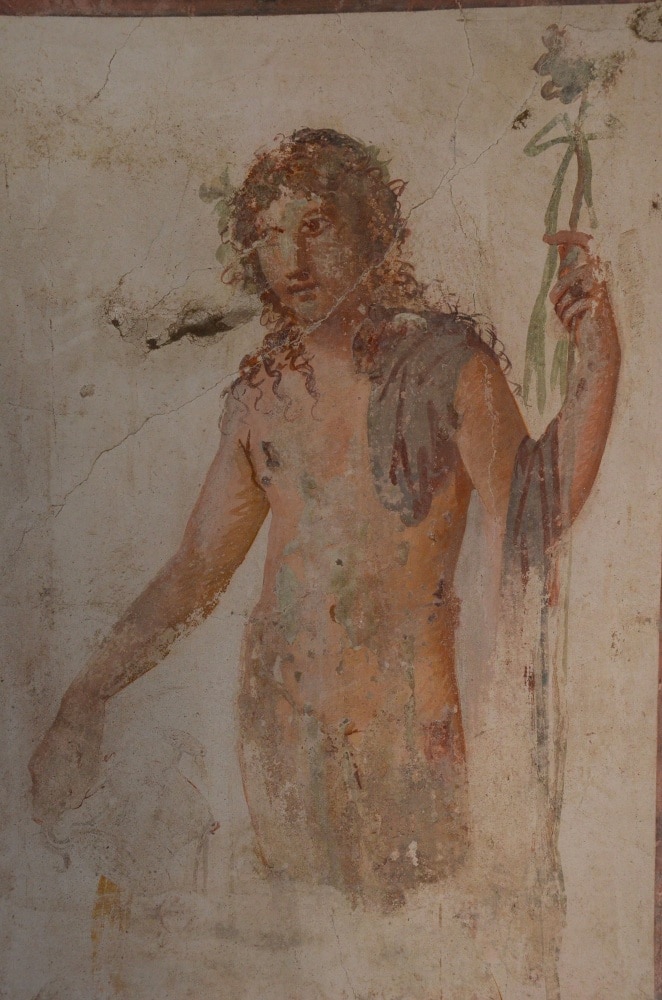 I posted about Rome six days ago, and at the time promised to go on endlessly about our subsequent visits to the sites that were destroyed by Vesuvius in 79 AD, or as the secularists say, 79 CE. Since I'm a Latin guy though, I'm sticking with AD.
So, here goes. First there was a train ride from Rome to Naples, then a change for Pompeii. We had decided to stay in Pompeii, instead of Naples, for a couple of reasons. Number one is that Naples is pretty much of a shit hole, and I can't remember the second one.
So, we were very glad to stay in Pompeii, also for a couple of reasons. Pompeii is not a shit hole, and in fact by Italian standards is damn clean and nice. Also, we luckily discovered the charming Hotel Diana. It was very reasonable, included breakfast, and the staff was absolutely charming, as well as fluent in English. (I do have some Italian, and I understand a lot more than I speak, but it inevitably breaks down sometime after the first sentence and I find I'm speaking Spanish, and as far as most Italians are concerned, they'd rather show off their English, if they have it.)
So, they do have it at Hotel Diana, and they'll use it to give you really good recommendations and directions of how to best see the sites, eat at the good restaurants, take the train or buses to other cities, and generally enjoy the hell out of Pompeii. Nadia was the front desk person during the day, and she was wonderful. Her accent was so adorable I just wanted to squeeze here every time she talked.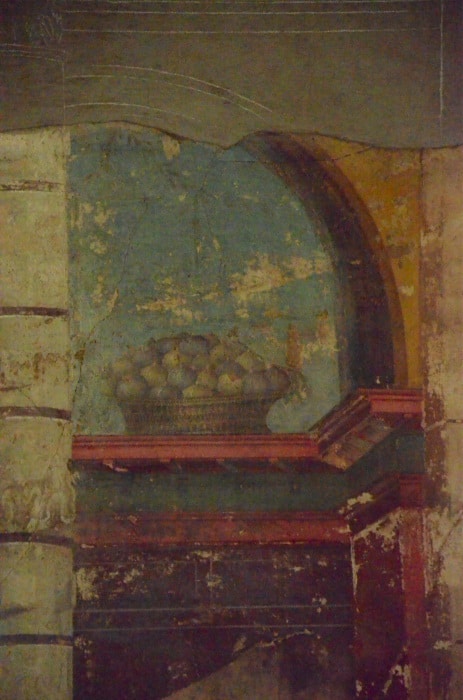 So, on to why we were there. As those of you who know me know, I studied Latin. A lot. In fact, I'm sort of a Latin geek. And being a Latin geek includes being fascinated with all things Roman as well as being very supercilious about knowing things like what a triclinium is (a dining room where the best people took their meals while reclining on a sofa) and what you could eat at your local thermopolium (fish soup.)
So, you can see lots or triclinia and thermopolia at Pompeii, and lots of other stuff, including brothels and baths, where the Roman residents liked to hang out. Of course, it's a shame it's in such tough shape and so many buildings are closed, but such is the fate of a long buried site that was found by looters before the conscientious archeologists got there.
The guide books recommend that you allow five hours for Pompeii, but, being the geek that I am, I forced Kris to spend more like eight hours there, and bored the hell out of her by telling her, among other things, how the baths worked. (There were three rooms: the cold, the warm, and the hot. I even explained how they were heated. The Romans invented in-floor heating, btw.)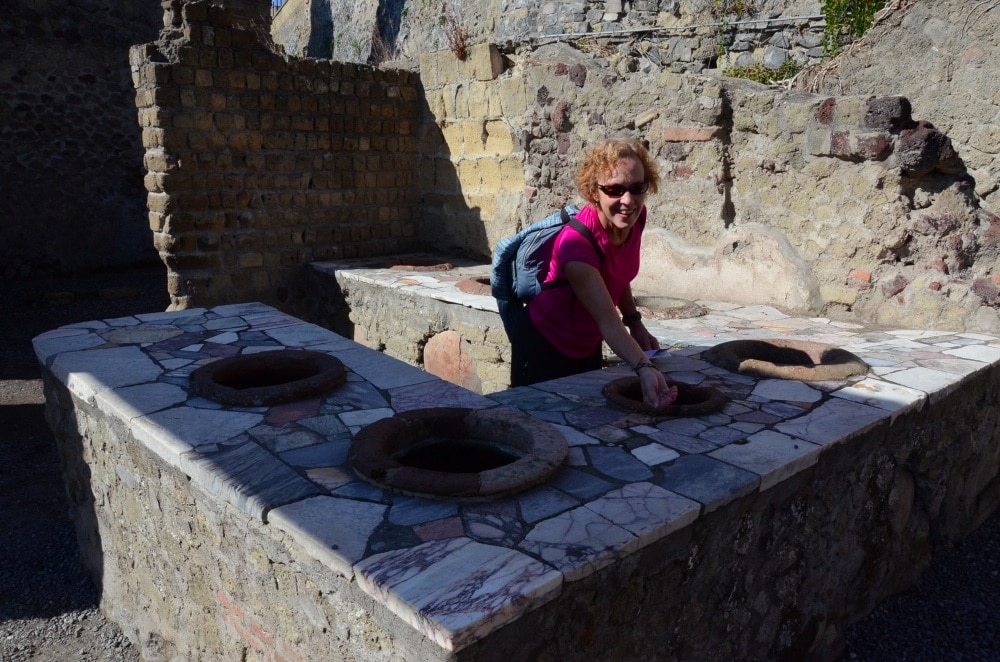 At any rate, Pompeii is probably the coolest place I've ever been, including the ruins in Rome. One thing you can really get a sense of there is how the Romans actually lived. How they ate, how their toilets worked, how they moved goods around the city, and what the homes of the rich, and the poor, were like.
You can get even more of the same in Herculaneum, which is actually better preserved than Pompeii. It's just a short train ride from Pompeii, but make sure you talk to Nadia about which train to take. There are two, and you need to get on the right one (the Circumvesuviana.) Otherwise, you might end up in Naples, which is a shit hole.
Some details: if you are a true geek, buy the combined ticket for Pompeii, Herculaneum, Villa Poppea, Stabia and Boscoreale. It's 20 euros and is good for three days. Pompeii and Herculaneum are 11 euros each, so even if you only visit those two sites, you'll save 2 euros.
Unless you already know a lot, buy one of the guide books from the vendors that are lined up outside the entrance to Pompeii. I've heard you can bargain the price, since they are all selling the same books, but we didn't try because we didn't buy one because, when it comes to Roman stuff, I'm already pretty good.
The day before you visit Pompeii, be sure to make appointments to see the Baths at the Porta Marina (with the brothel paintings) and The Casa de Principe. The people at your hotel should be able to help you with this. You have to have reservations, or you won't be able to get into those sites.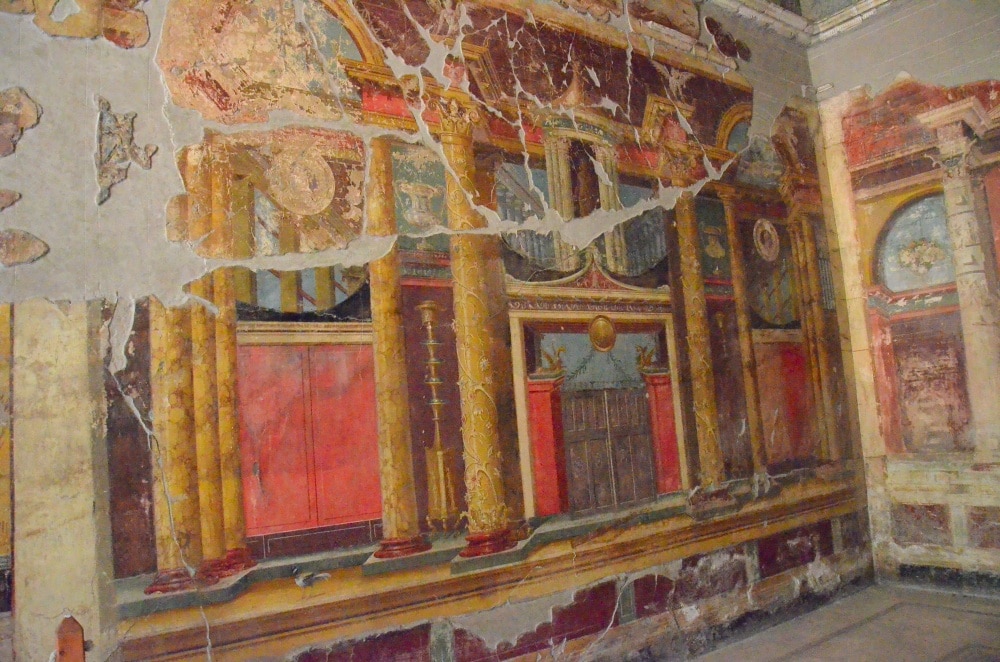 Don't miss Herculaneum and the Villa Poppea. Both are small and easily done in a couple of hours. Villa Poppea is amazingly well preserved, especially the wall frescoes. And, the Villa did belong to Nero's wife, Poppea, and therefore was pretty spectacular to begin with. (While you are there, try to forget that Nero kicked her to death while she was pregnant.)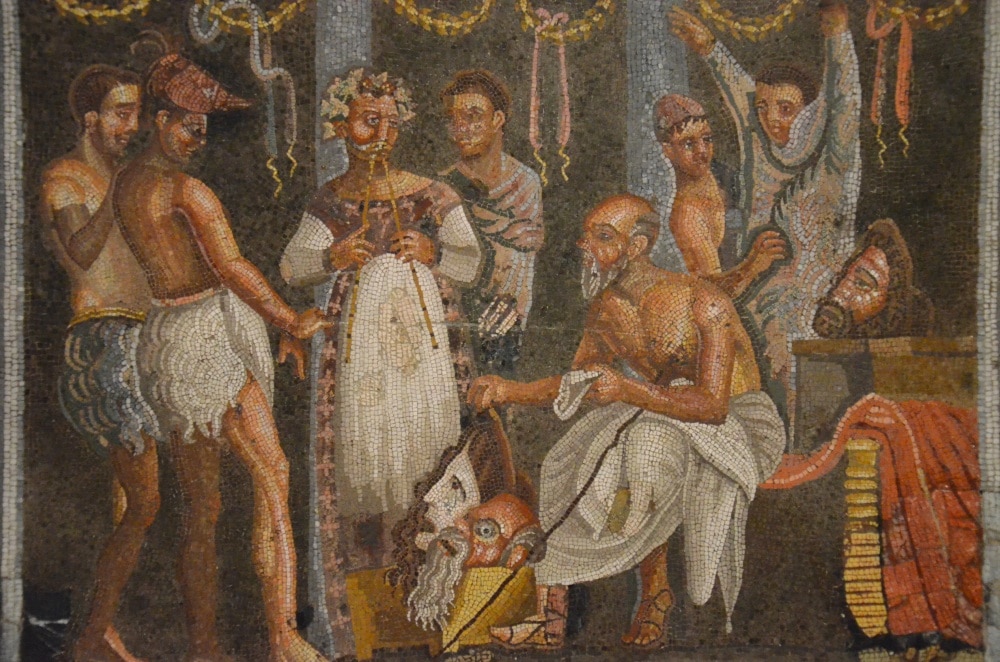 Try to find out, too, if the Villa di Papyri is open the day you visit Herculaneum. We unfortunately missed it and it's currently closed for restoration, but saw most of its treasures at the Archeology Museum in Naples. (The Museum is the only reason to go to Naples. Don't go Sunday. The museum is open, but a lot of exhibits are closed because of staff cutbacks.) The Villa di Papyri was the villa of a fantastically wealthy patron of the arts, and contained one of the ancient world's greatest libraries.
And, while in Pompeii, stay at Hotel Diana, and eat right around the corner at La Bettola del Gusto. Great, and not cliche Southern Italian food.
You can help yourself get ready for your own travels by reading our Get Started Planning Your Trip Now page.
We love traveling–with the right gear. We've gathered a lot of the stuff we use to make travel more pleasant and efficient all on one page. Shop our Travel Past 50 Amazon page to find our favorite gear. If you purchase something from the store, Travel Past 50, as an Amazon affiliate, may receive a small commission at no extra charge to you. Thanks.
We never leave home without our travel insurance. Nor should you. Search for the travel insurance from Allianz that best meets your needs, whether it be an annual plan or a single trip.
Note: This post and other posts on TravelPast50.com may contain paid or affiliate advertising links.