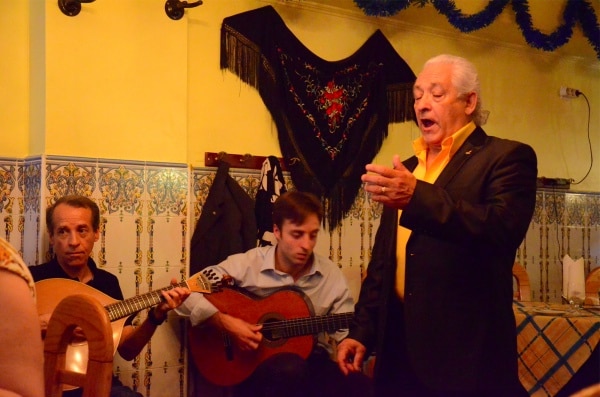 Probably the first thing you'll notice about Lisbon, if you've just come from Madrid as we had, is that the heat is just as impressive. Except, that unlike the dry 40 degree heat of Madrid, Lisbon is a humid 40 degrees. So, instead of feeling like you're being roasted, it's more like being drowned in your own juice. And, Lisbon is much hillier than Madrid, so you have plenty of opportunity to work up a good sweat–not that that would be my aim.
But there are plenty of other differences as well. In two days, we didn't really see much of Lisbon. We'll be coming back for one day on our way out of Portugal and will spend that getting lost in the Alfama barrio, as the guidebook recommends. But, for the two days we were here, we also did the guidebook recommendations and with some small exceptions, were not that impressed.
To put it briefly, Lisbon needs a good cleaning and a coat of paint, and I don't mean more graffiti, of which there is plenty. Our first night here, we spent wandering the Bairro Alto, the "high barrio" which is the home to the "funky" neighborhood restaurants. Unfortunately, it's also the home to the funky smell of old cooking grease, uncollected garbage, and streets that restaurant owners don't bother to sweep in front of their establishments. Nothing like cigarette butts and discarded plastic water bottles to whet the appetite, I always say.
Nevertheless, we were guided by an old man handing out cards into a restaurant called Ja Disse on the Rua Diario de Noticias. What attracted us was the promise of traditional Portuguese cooking (btw, that pretty much means potatoes with everything) and Fado, the classical sad music of Lisbon.
I had grilled sardines, which is probably the most typical–even to the point of being a cliché–dish of Portugal. Big sardines, about six inches long, not like what Americans think of little fish crammed into a can, are grilled simply and without garnish. They taste like grilled sardines–a bit dry and nothing special. (I like my sardines out of a can I guess, with lots of olive oil and salt, on a simple stoned wheat cracker.) It came with salad and, you guessed it, boiled potatoes. No effort whatsoever to enhance the tastes of anything with any sort of seasoning other than the very sparse bits of parsley barely sprinkled over the fish and potatoes.
Oh well.
Kris fared somewhat better with her choice of another typical dish called cataplana. That was a simple fish stew, with, you guessed it, potatoes. But at least she had a tasty broth flavored with tomato, onion, and a modicum of spice that gave it a nice aroma and a bit more interest than just boiled potatoes. Not a Spanish paella, but at least they tried. The fish was chunks of two different varieties of some firm white fish, and a few shrimp. But, again, very simple.
We also had a bottle of tart Vinho Verde, and that was pretty much the far reach of any taste for the meal.
Except for the Fado, which was very tasty.
We'd been told the singing would start at 8, and so, as our Spanish experience would lead us to believe, it would probably start at 8:30 or 9. But, as we have subsequently learned, the Portuguese are punctual, and hell, even early at times. (A Spanish woman we spent some time with yesterday wondered what the hell the Portuguese were doing having lunch at 1 p.m. when we were still wandering around looking for coffee.) At about a quarter to 8, a guy sat down and began to tune his "Portuguese guitar"–which sort of resembles a lute–and by 10 to, we had a lovely full throated young woman singing her heart out from about 2 meters away. She sang three songs and then left, which broke my heart because I thought we'd get her all night. But she was replaced by an older man, and he was quite good as well, although his sentiment rang slightly less true than hers. Of course, it could be that I had just fallen in love with her after the first song and he was a very poor substitute indeed.
Tomorrow, we cover the Belém barrio, and the Monasterio dos Jerónimos, which, if you like that sort of thing, is good for a few reasons I'll talk about when I get there.
Get all our travel tips delivered to your inbox
Subscribe to our email newsletter