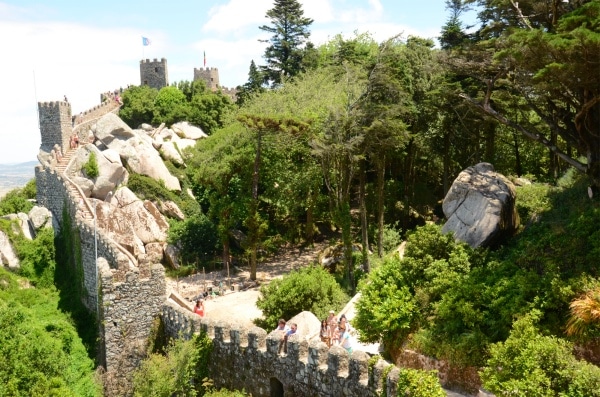 I went to Sintra, too, but I'm not going to be able to improve on Byron's ode to it's beauty.
Poor, paltry slaves! yet born 'midst noblest scenes—
Why, Nature, waste thy wonders on such men?
Lo! Cintra's glorious Eden intervenes
In variegated maze of mount and glen.
Ah, me! what hand can pencil guide, or pen,
To follow half on which the eye dilates
Through views more dazzling unto mortal ken
Than those whereof such things the Bard relates,
Who to the awe-struck world unlocked Elysium's gates.
(Childe Harold's Pilgrimage)
Some posts on Travel Past 50 may contain affiliate links. If you buy something through one of those links, we may earn a small commission. As an Amazon associate, we earn from qualifying purchases.
It was nice, in a quaint sort of way. There's lots to see there, if you're a fan of castles and so forth. And the people were extraordinarily nice, almost as if their lives depended on tourism…or as if they're extraordinarily nice.
So this is what we did in Sintra.
First, it's about 40 minutes and 4€ by train (return) from Lisbon. Now getting out of hot, humid Lisbon is reason enough to go to Sintra. After all, the kings of Portugal spent their summers there once it was discovered the Sintra had its own microclimate that makes it cooler, breezier and drier than Lisbon. Just think of Sintra as another reason that some people don't believe the planet is warming. They go to Lisbon where it's hot, and then they go to Sintra and say things like, "See, it's not so bad. Ninety percent of scientists aren't right all the time."
Sorry, I digress. But, yes, it's much nicer and smells a lot better than Lisbon.
We stayed, conveniently enough, in a little guest house in Sintra which is, actually, right across the street from the train station. It was called Monte Da Lua, and is owned by a Portuguese woman who is married to an American. She, of course, speaks perfect English, as do the other two women who work there. So, not only do you not have to fumble with your inadequate Portuguese, you can also get good, detailed advice on what to do in Sintra.
What to do in Sintra?
On the eating front, there's breakfast at Saudade, a little coffee and sandwich and pastry shop about a block from Monte da Lua. Saudade features the two things that are almost reason enough to come to Portugal: the pasteís de nata, which are flaky pastry shells filled with custard, and the travesseiros, which are flaky pastry rolls filled with egg and crushed almonds. The coffee is good, too.
As for lunch, we moved around, but you could do a lot worse than stopping at the small, dark, and decorated O Cantinho de Lorde Byron Restaurant & Snack Bar on Rua das Padarias, which is on the way up or down from the ruins of the Moorish Castle, and you really can't miss it. Have a couple of beers and the plate of local meats and cheeses. Look at the interesting local memorabilia on the walls. Pretend it's the beginning of the nineteenth century and you're a romantic poet on his way up the hill to gaze over the "variegated maze of mount and glen." If you're on your way down, as we were, just pretend you are hot and tired and need a beer. Either should work.
Other than the eats, Sintra has a few things worth stopping for. We chose the National Palace, which is pretty much in the center of town and won't tax your desire for steep uphill walks, and the Moorish Castle and the Pena Palace, which will tax your uphill walking desires, but will be worth it.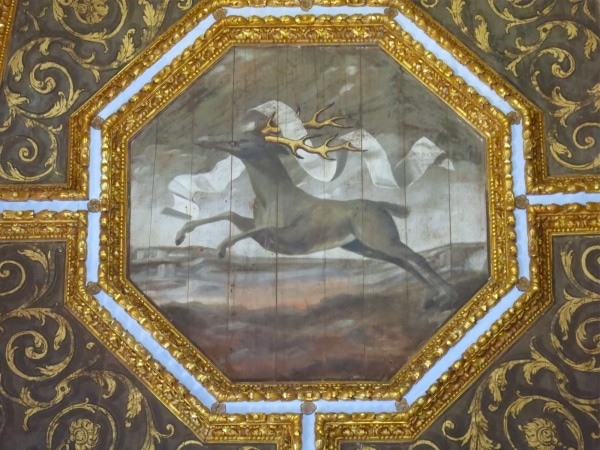 The National Palace ain't much to look at outside, but is kind of fun inside. My favorite things about most palaces is their ceiling, and I wasn't disappointed here. I often spend much of my time looking up to see what an unlimited budget can do for a surface that most people never look at unless they're in the bedroom. Here we get lots of good stuff, especially if you like leaping stags, which the decorator here seems to have done. There are also swans, some bas relief putti, and some insouciant tile angels–which all together create an image of delightful and unfettered imagination that make the whole place feel–well–happy. I liked it.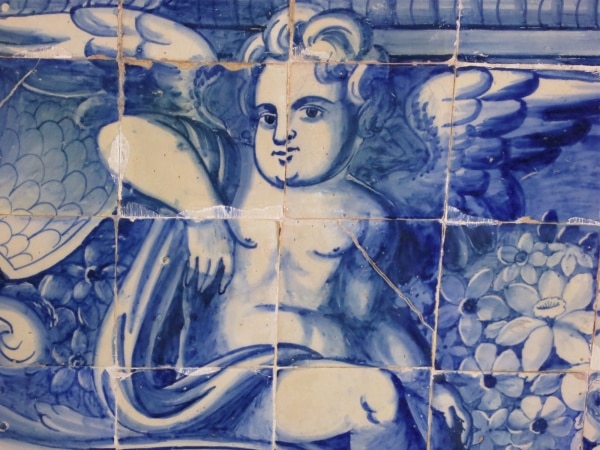 The next day, fortified by another all-pastry breakfast, we decided to walk it off by eschewing the shuttles or taxi and hiking uphill to the Moorish Castle. The Castle was first built soon after the Moors got to the Iberian Peninsula in the Eighth Century, and held out as the dominant political and military outpost in the area until it was reconquered by the Christians in Twelfth Century. Let's just say that it's seen better days, and the primary parts that remain are the outer walls that climb up granite outcroppings and offer dominant views of current Sintra below. The Portuguese are building some interpretive outposts within those walls which should be completed around the time we get our third set of teeth. In the meantime, climb up the walls, look over Sintra, and experience a glorious vertigo as you realize that one false step off the old low walls that aren't much more than tripping height above the walkway will get you back to the center of town a lot faster than you planned.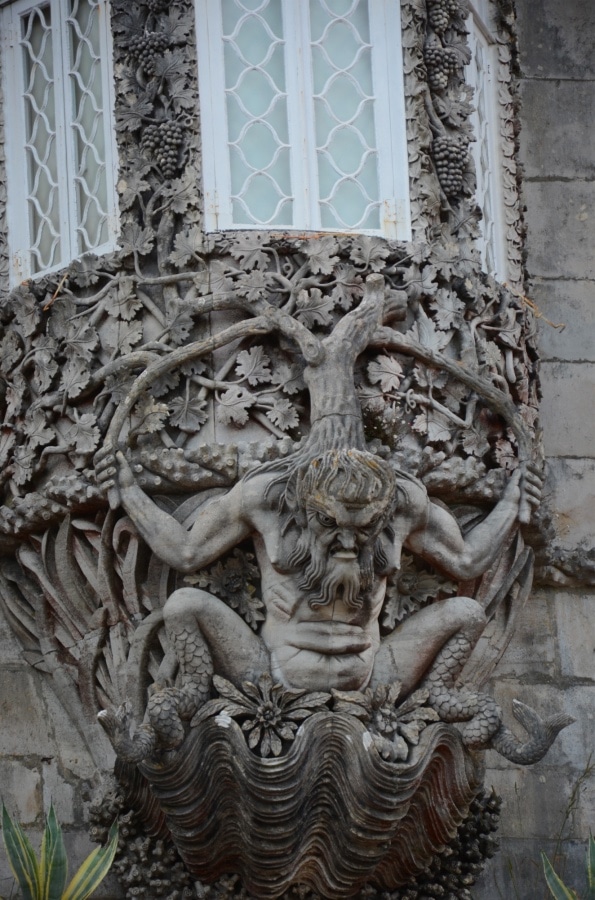 From the castle, you can follow signs over to the next mountain top to the Pena Palace, which, when it comes to wacky, puts the National Palace so far below down many notches on the scale of whimsy…or is it hallucination? At any rate, both the in and outs of the Pena Palace don't disappoint as you can discern the architectural styles of many centuries in the overall construction, and the effect of having too much money and sometimes the nineteenth century equivalent of Jim and Tammy Bakker's decorative sense on the inside treatments.
In other words, it's great.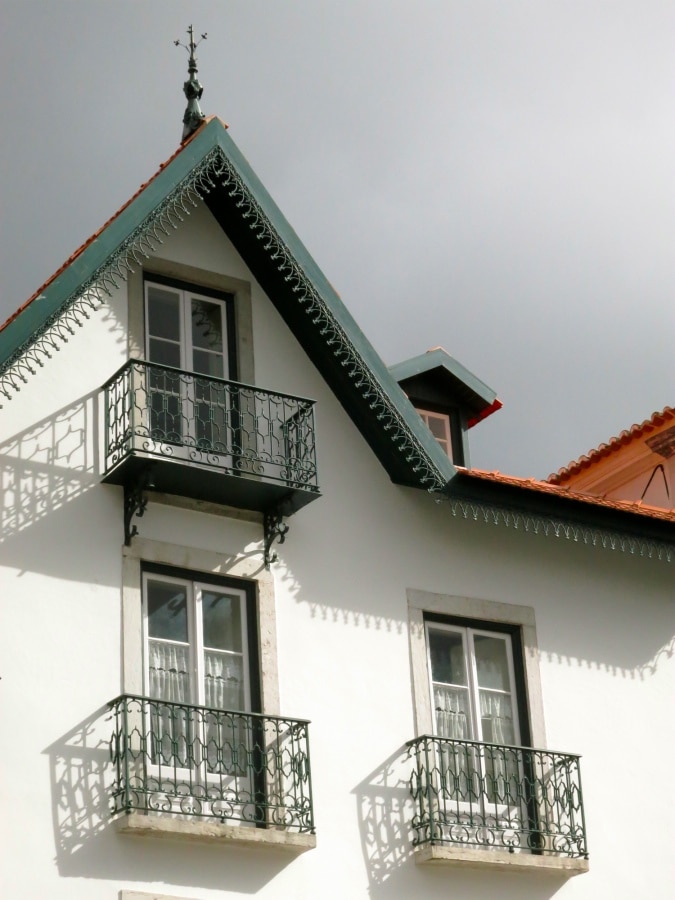 A footnote: Sintra is known for its architecture, which often features delicate cast iron work, like on the roof line and balconies of this building near the Royal Palace.
Travel Planning Resources
Looking to book your next trip? Use these resources that are tried and tested by us. Flights: Start finding the very best flight deals by subscribing to
Thrifty Traveler
. Book your Hotel: Find the best prices on hotels with
Booking.com
. Find Apartment Rentals: Find the cheapest prices on apartment rentals with
VRBO
. Travel Insurance: Don't leave home without it. We recommend
Allianz Travel Insurance
. Need more help planning your trip? Make sure to check out our
Resources Page
where we highlight all the great travel companies and products that we trust. See all of the gear and books we like in one place on our
Amazon shop
.