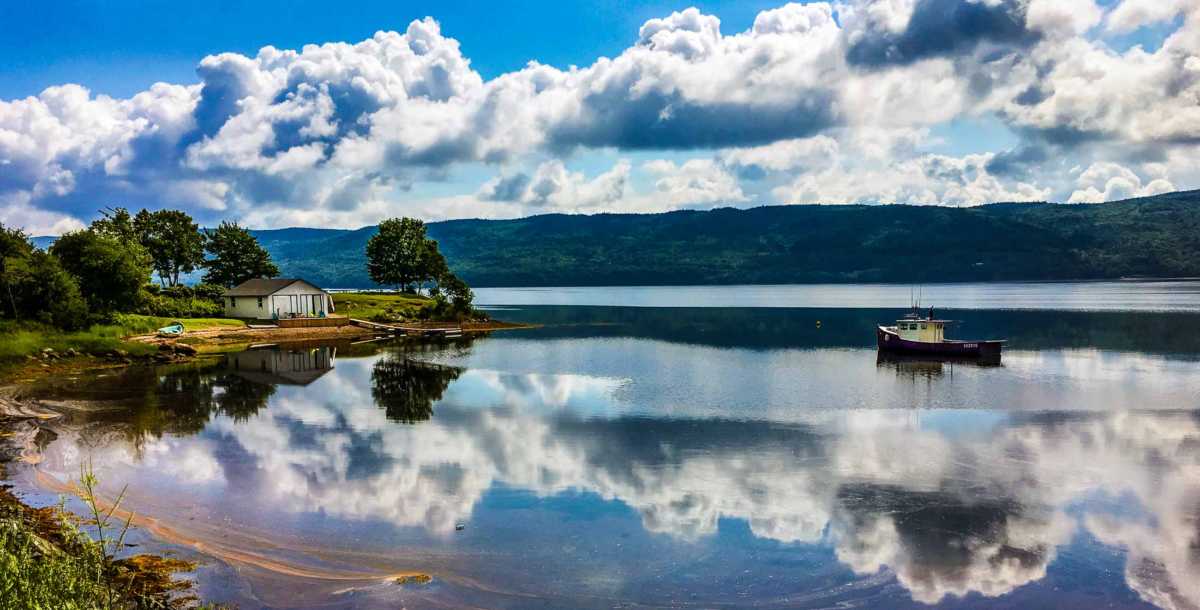 Nova Scotia offers its own brand of history, cuisine, natural beauty, and recreation. It wasn't an hour off the Digby Ferry (which sails twice a day from Saint John, New Brunswick, to Digby, Nova Scotia) that we realized these two Maritime Provinces on either side of the Bay of Fundy are very distinct. We wanted to lap up all Nova Scotia has to offer as fast as we could. Our introduction–with about eight days and a rental car–covered a lot of ground and impressive historic, culinary, and outdoor highlights.
History in Nova Scotia
Along the Annapolis River river flowing into the Bay of Fundy, our first stop was Fort Anne. Not much remains of the 18th Century fort (built over earlier Scottish and French fortifications), but a small museum and the massive grounds reveal the footprint of a British military base that repelled repeated French attacks.
Downstream is Port Royal, site of a French colonial settlement and Nova Scotia's first capital, another testament to the centuries of struggle for control over this new territory.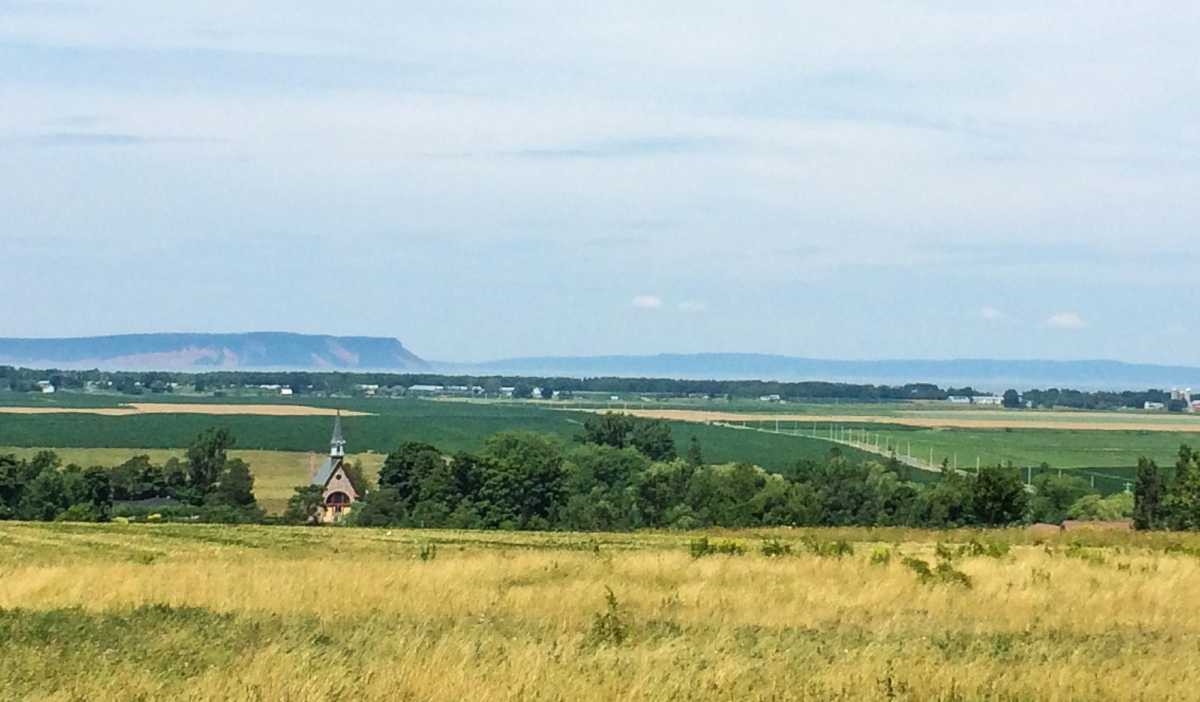 But the impact of these conflicts on the settlers who lived in this territory is most poignantly described at Grand Pré, the UNESCO World Heritage Site that marks the expulsion of the Acadian people in 1755 by the British. (We happened to visit on the very same July 28 date as the original proclamation was delivered.) Over the course of several years, some 6,000 Acadians were removed, often separating families and ultimately killing nearly half of the fleeing population through sickness, exposure, and accidents at sea. Survivors settled in New England and as far south as Louisiana (Cajuns).
The story of the Acadians is dramatic for a couple reasons. First, they tried to stay out of the power struggle between the French and the British. They purposely avoided taking sides, declining to pledge allegiance to either Louis XIV or King George, and earning the mistrust of both countries in the process. Second, the Henry Wadsworth Longfellow poem "Evangeline" evokes the misery inflicted on innocent individuals, and raised awareness of the plight of the Acadians. Worth a read and worth a visit.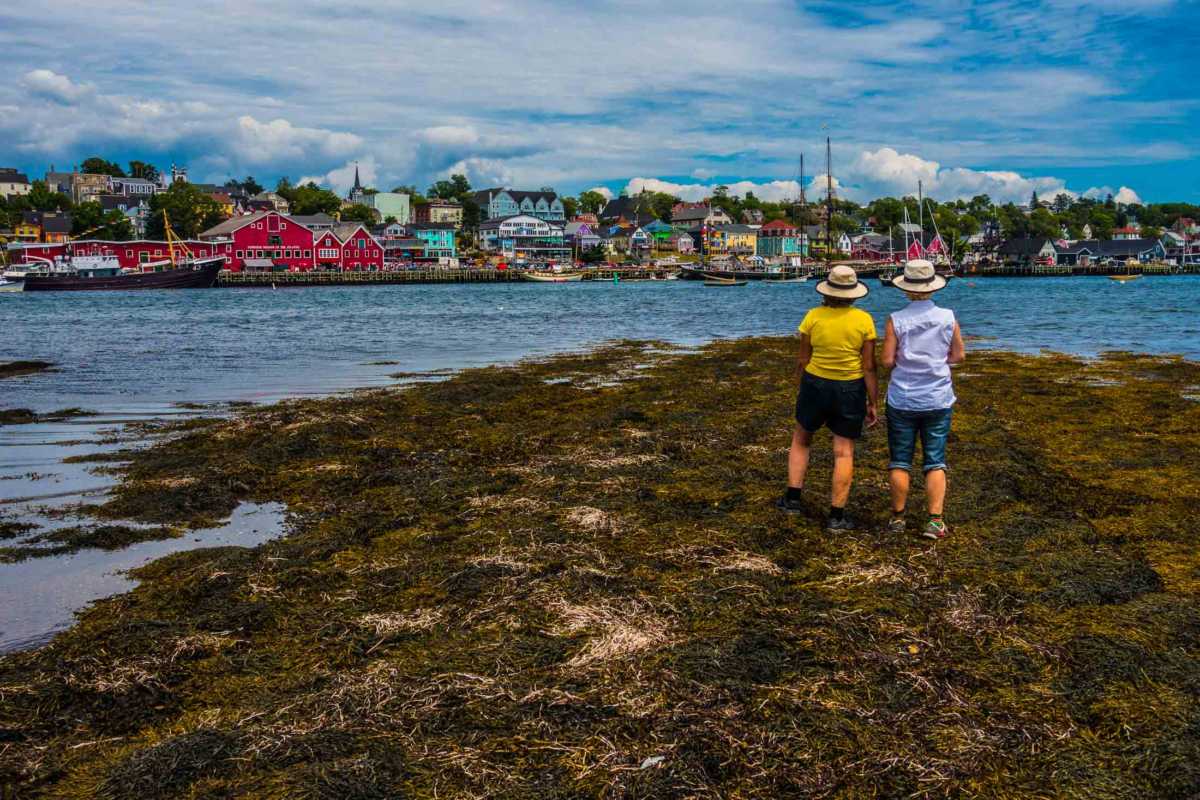 Other Nova Scotia historic sites we recommend are the Fortress of Louisbourg National Historic Site (please skip the hockey puck-like burger at the Grubstake restaurant) and the UNESCO World Heritage Old Town Lunenburg, known for its architecturally important (and intact) wooden homes from the 1700s. Lunenburg's little fishing museum is fascinating, and a walk around town with a stop for lunch makes for a satisfying day. (This is the sort of town I'd be happy to live in.) Our bonus sighting was the Blue Nose II schooner in Lunenburg's harbor. The historic craft is pictured on the Canadian dime and on Nova Scotia's license plates.
Eating Well in Nova Scotia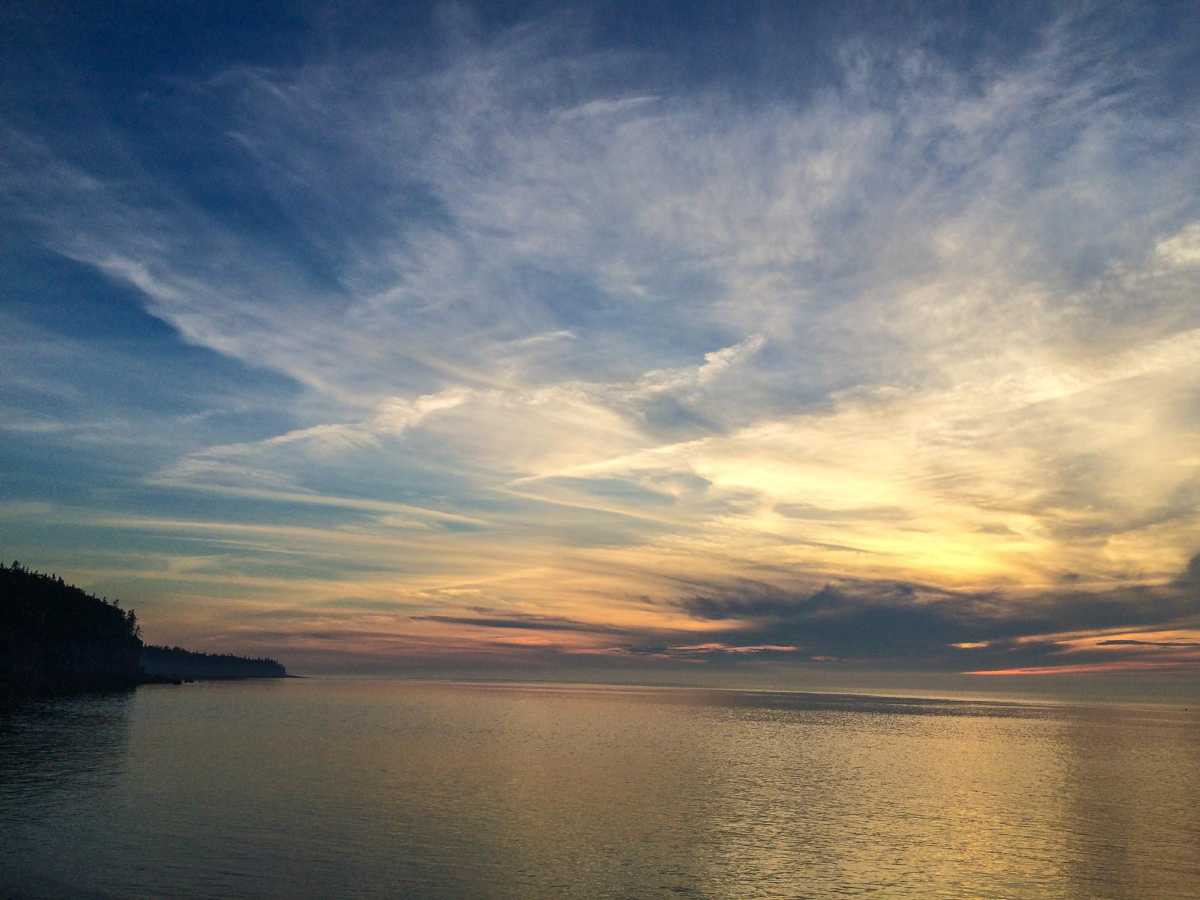 We felt it our duty to eat live lobster whenever we could in the Atlantic provinces. In Nova Scotia, the prize goes to Hall's Harbour Lobster Pound. We were directed there by a lively receptionist in our Wolfville hotel (Old Orchard Inn) who also directed us to the scenic "Look-Off Point" over the wide valley above Fundy's Minas Basin. Despite our near empty gas tank, we made it to Hall's Harbour in time for sunset and our choice of lobster. (Choose the small ones, under a pound and a quarter. At Hall's you can get up close and personal with your lobsters as you carry them over to the chef's counter.)
Not every meal was live lobster. At Yello Cello in Baddeck (Cape Breton), we ordered lobster pizza with some trepidation, but found it fresh and tasty, served with lemon. We splurged a bit at the Telegraph House, also in Baddeck, to top off our two-day stay with a dinner of halibut and prime rib. Also in Cape Breton, we got lucky pulling into The Rusty Anchor Restaurant for a lunch stop during our Cabot Trail drive. Fish and chips, a cold beer, and stellar scenery on Pleasant Bay were exactly what we wanted.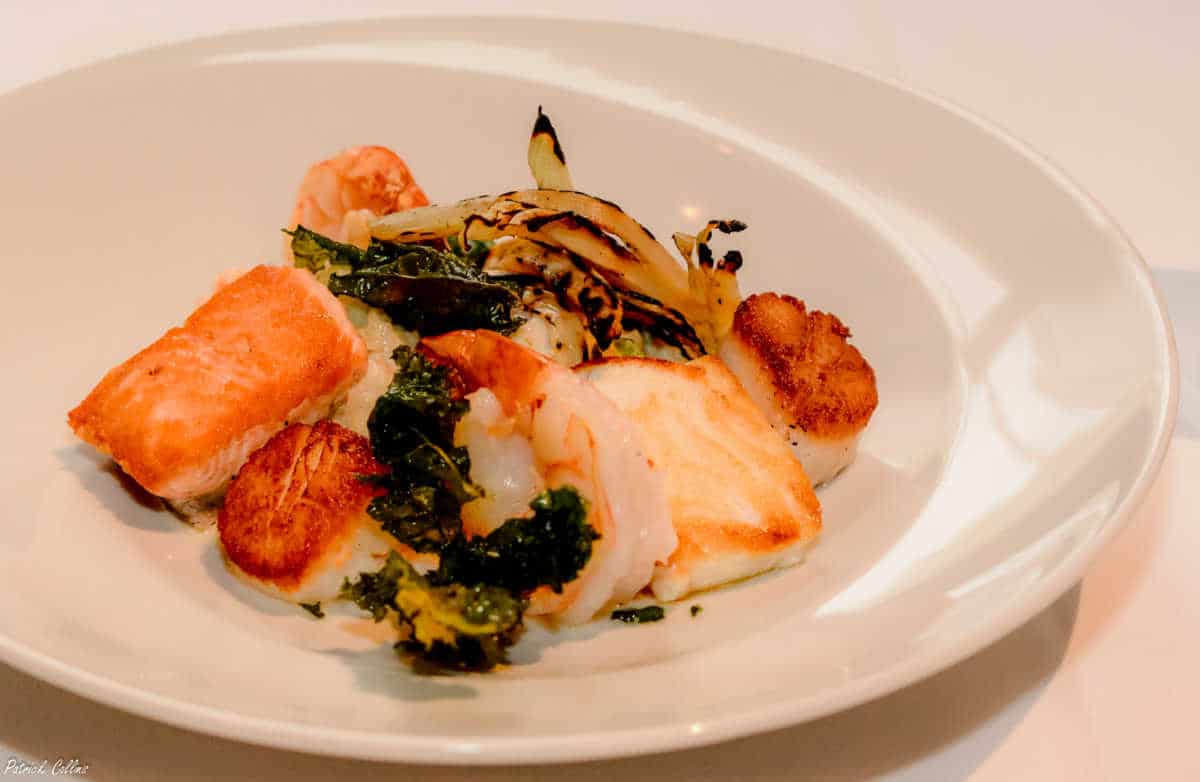 All our foodie desires came together in Halifax, in a bit more urbane fashion. We sampled tuna tartar, lamb chops, and cocktails at The Bicycle Thief, nicely located at the bustling Bishop's Landing along the harbor walk. We lunched in the Seaport Market near there another day, but ran out of time to visit the Garrison Brewing Company. (Obviously, our priorities were out of whack.) Twice we got our fill of seafood at The Five Fishermen Restaurant in central Halifax, and delved into local wines there, too. Try Avondale Sky's Tidal Bay white with seafood, delish.
Nova Scotia makes it easy to arrange travel around food, with seafood chowder itineraries, winery tours, local brew tips, and lobster–even burger–tours.
Natural Beauty and Recreation in Nova Scotia
Especially in the highlands of Cape Breton, the coastline, rivers, and woods provide all sorts of opportunities for photography and recreation. Throughout the province, Road trip options are well laid out, and you'll be forgiven wanting to cover some trails again and again, by bicycle, car, motorbike, even RV. We stopped a lot for photos, mostly involving coastlines and sky.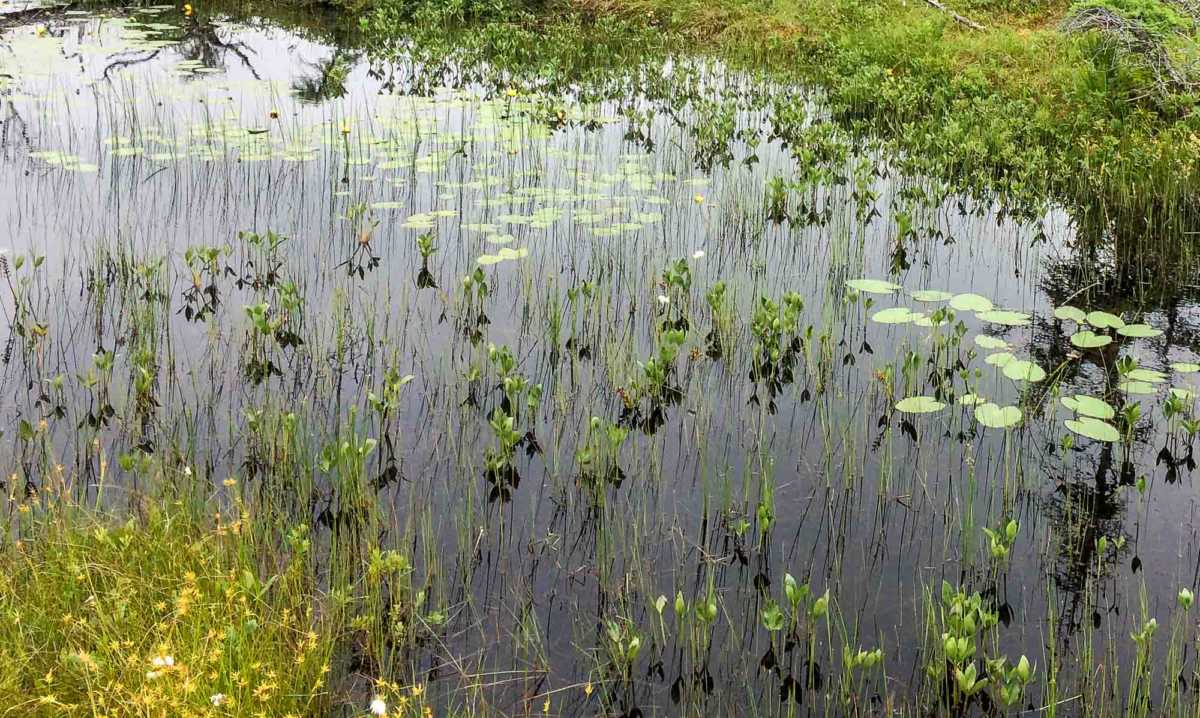 Cabot Trail is the grandest of them all, circling Cape Breton Highlands National Park.* Wild flowers border the road in purple, yellow and white, then give way to Arcadian forests of hardwood–birches, willows, maples–mixed with spruce. Upland meadows rest below bulging clouds. Some coves sport bright red beaches, and others are hemmed in by dark basalt rock. It is never boring. For those with time and pedal power, the entire Cabot Trail would be an excellent multi-day bike excursion. Hiking trails are a huge draw, especially the Skyline Trail.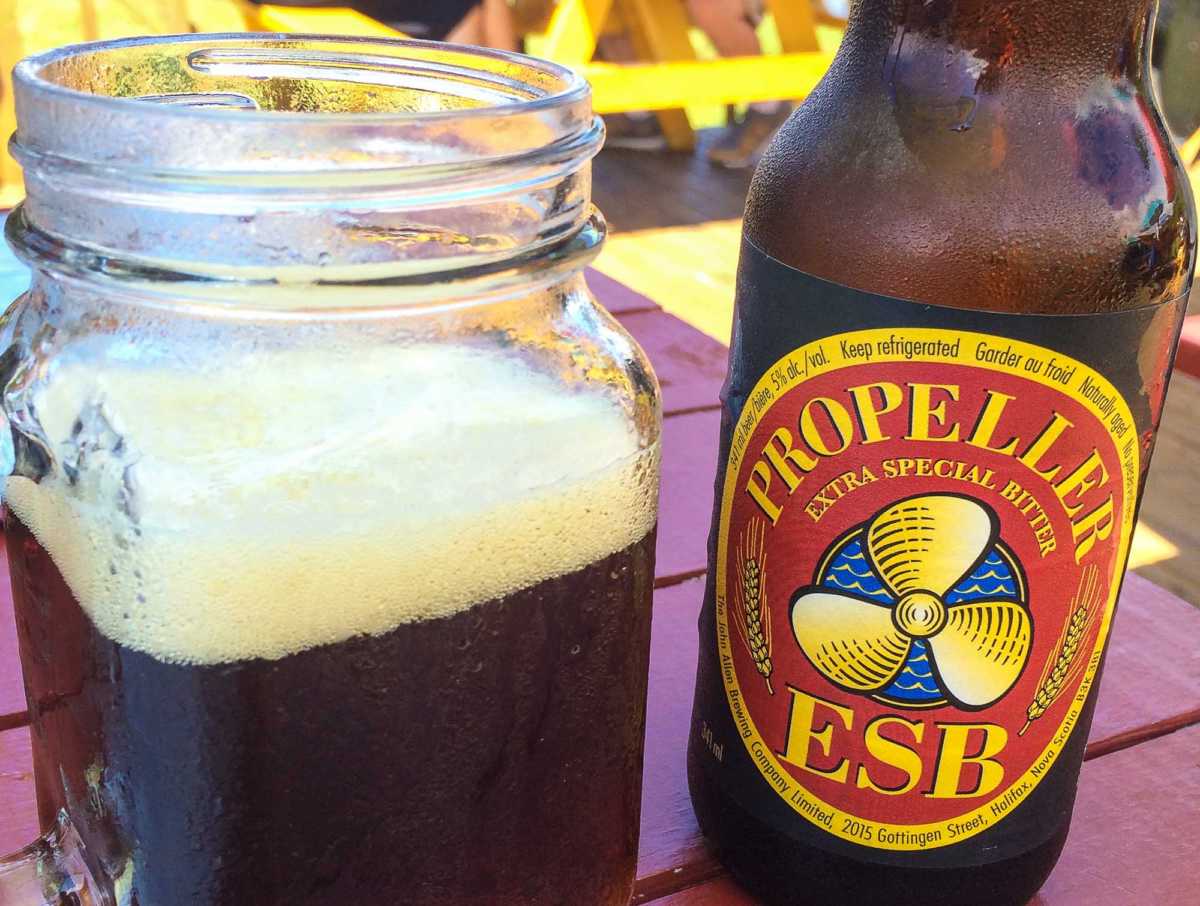 For thrills other than the scenery of a road trip, it's possible to go tidal bore rafting with local operators in Maitland on the Bay of Fundy. (Nova Scotia is the only place in the world you can do this.) Fishing and whale watching excursions are easy to come by, and kayaking the North River or down along the Atlantic Coast (near Peggy's Cove) is the way to go. For families or solo adventurers, options are plentiful.
Eclectic Accommodations and Points of Interest
Among the trails and scenic byways, Nova Scotia offers some cool surprises. We felt lucky finding our accommodations in Baddeck at the Water's Edge Inn, for example. Nicely located at the southern side of the Cabot Trail loop and on the edge of Bras d'Or Lakes, we preferred this to the swankier resorts and having to change hotels daily along the trail.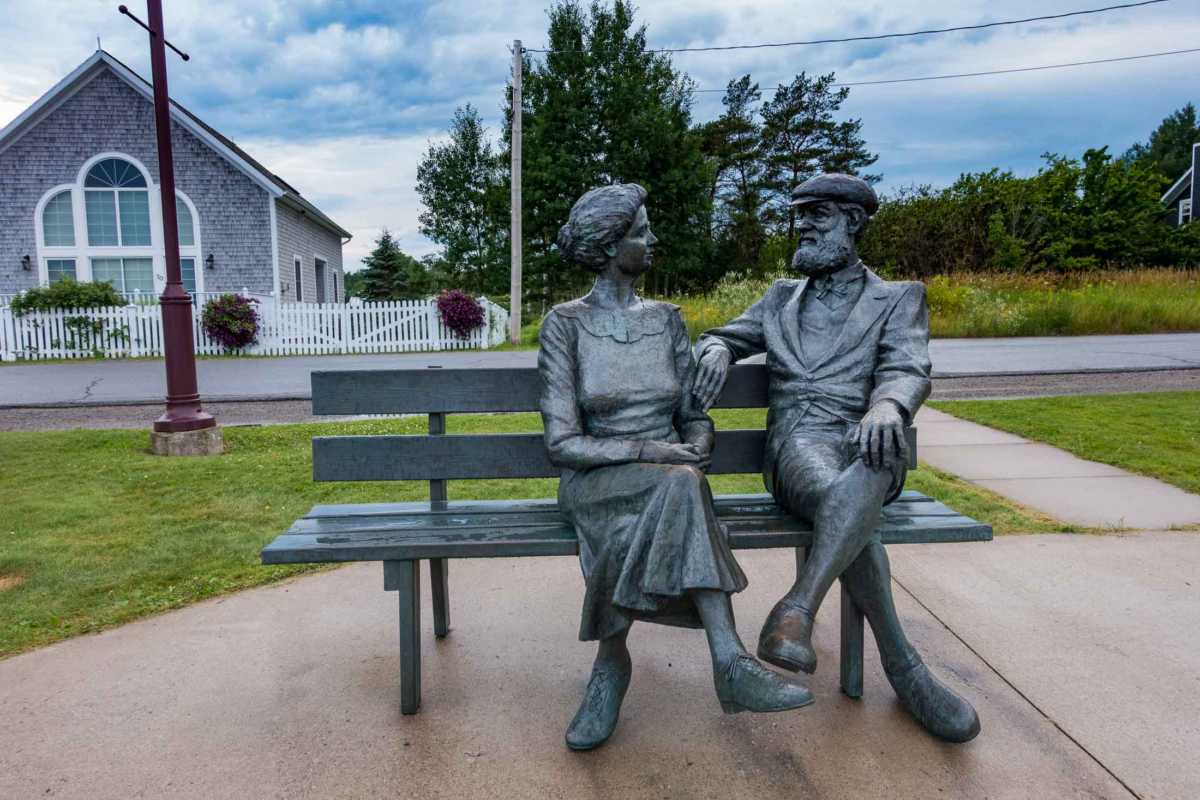 In Baddeck, we discovered the Alexander Graham Bell National Historic Site (part of Parks Canada). This is where Bell summered–and eventually lived–with his family. The museum presents a fine survey of his life and inventions, including the hydrofoil, a relic of which has been recovered from a nearby beach and partially rebuilt. In particular the museum credits Bell's wife, Mabel, for developing the team that created the Silver Dart, Canada's first flight plane. The museum did a great job demonstrating the inspiration of the natural world on Bell's inventions. He was a playful guy.
Elsewhere in Nova Scotia, Celtic music fans will enjoy various free Ceilidh (pr. Kay-lee) sessions. Sing along if you dare, as Jill from Vermont did while we picked at our salads during lunch at the Celtic Music Interpretive Centre.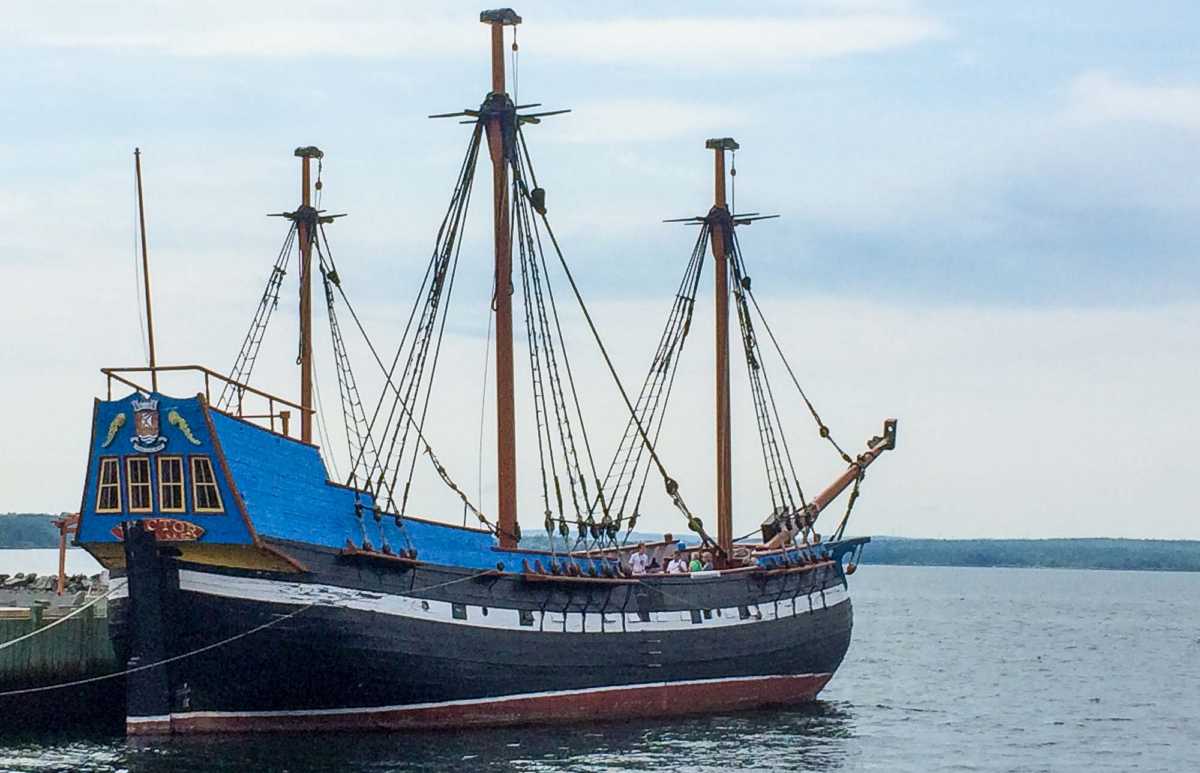 From top to bottom, from wilderness to city, from coastal shores to inland waters, Nova Scotia's native cultures and curiosities are intertwined with the natural beauty. Geologists will get a kick out of the errant rocks around the iconic Peggy's Cove lighthouse. Visitors will notice Asian collectibles decorating the Braeside Country Inn in friendly Pictou. Locals in Pictou will strike up a conversation and maybe steer you to the replica ship at Pictou's Hector Heritage Quay. Halifax tourists will enjoy the comforts of Lord Nelson Hotel, the charm of the Halifax Public Gardens, and the annotated harbor walk.
In this compact province, the pleasures are wide-ranging.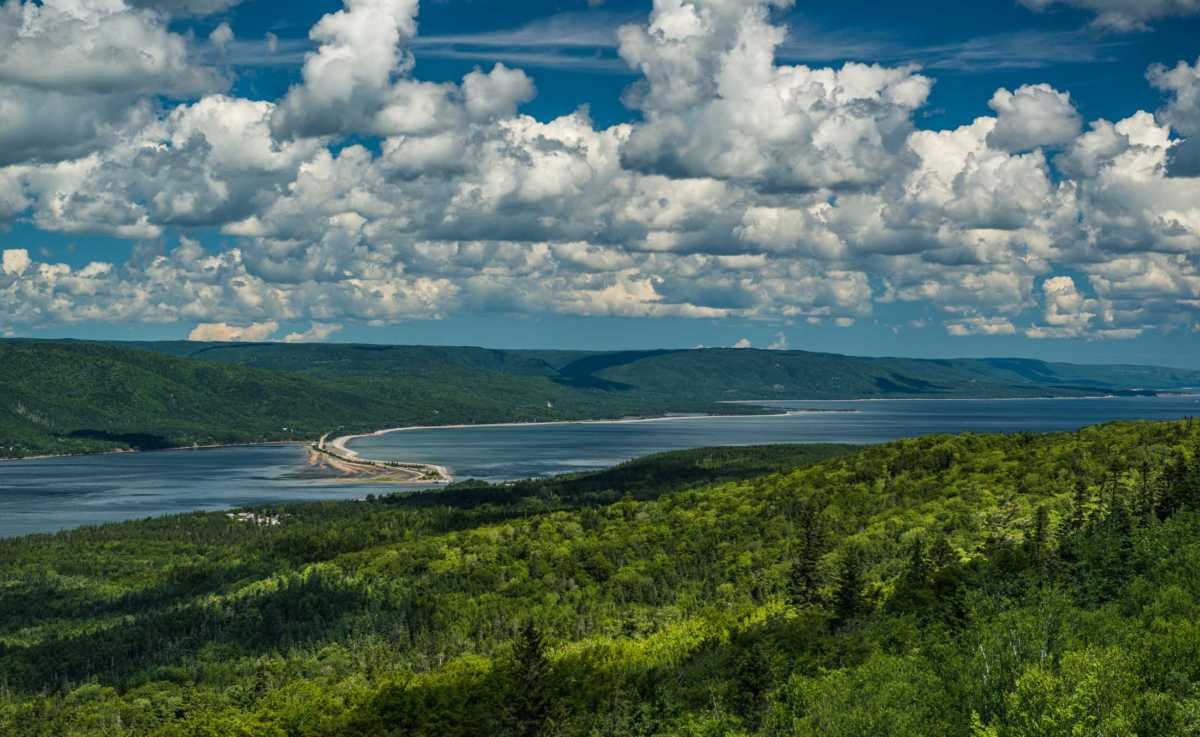 The Cabot Trail makes a 185-mile (297-kilometer) loop around the eastern part of Cape Breton Island, passing in and out the Cape Breton Highlands National Park. It encircles almost the entire island, leaving off only the northeastern most points. Since Cape Breton–and all of Nova Scotia–is very narrow (an average of only 128 km wide) you are never far from the sea.
And, as the name suggests, the National Park is mostly mountainous. So as you drive in a counter clockwise direction from Baddeck, as we did, the various bodies of water that surround Nova Scotia are mostly on your right, and scenic mountain vistas on your left.
It's can be about an eight hour drive, if you take your time to stop for photos and the occasional walk on the various trails that are presented to you. And, of course, a lobster lunch at the Rusty Anchor overlooking Pleasant Bay.
We took that eight hours to make the round, with several quick stops for photos, and an interesting walk in the French Mountain Bog. Who knew a swamp could be so interesting?
Here are some of Tom's photos from the drive, not necessarily in order.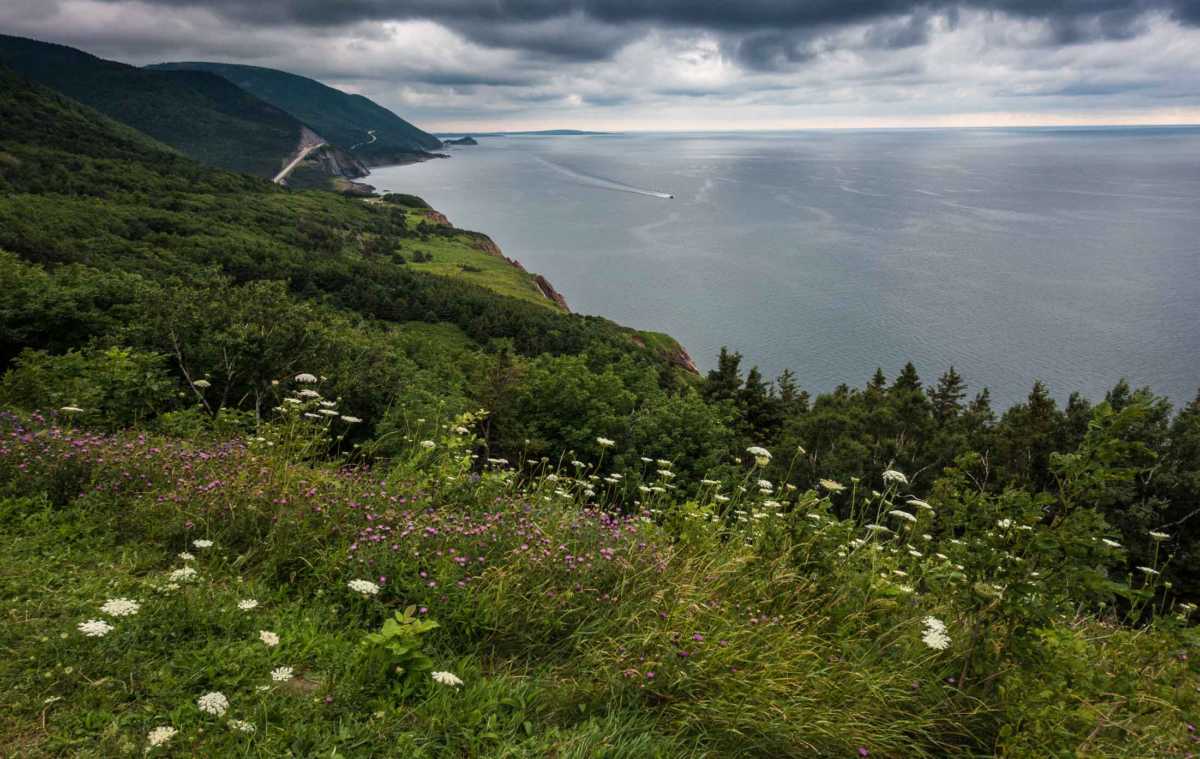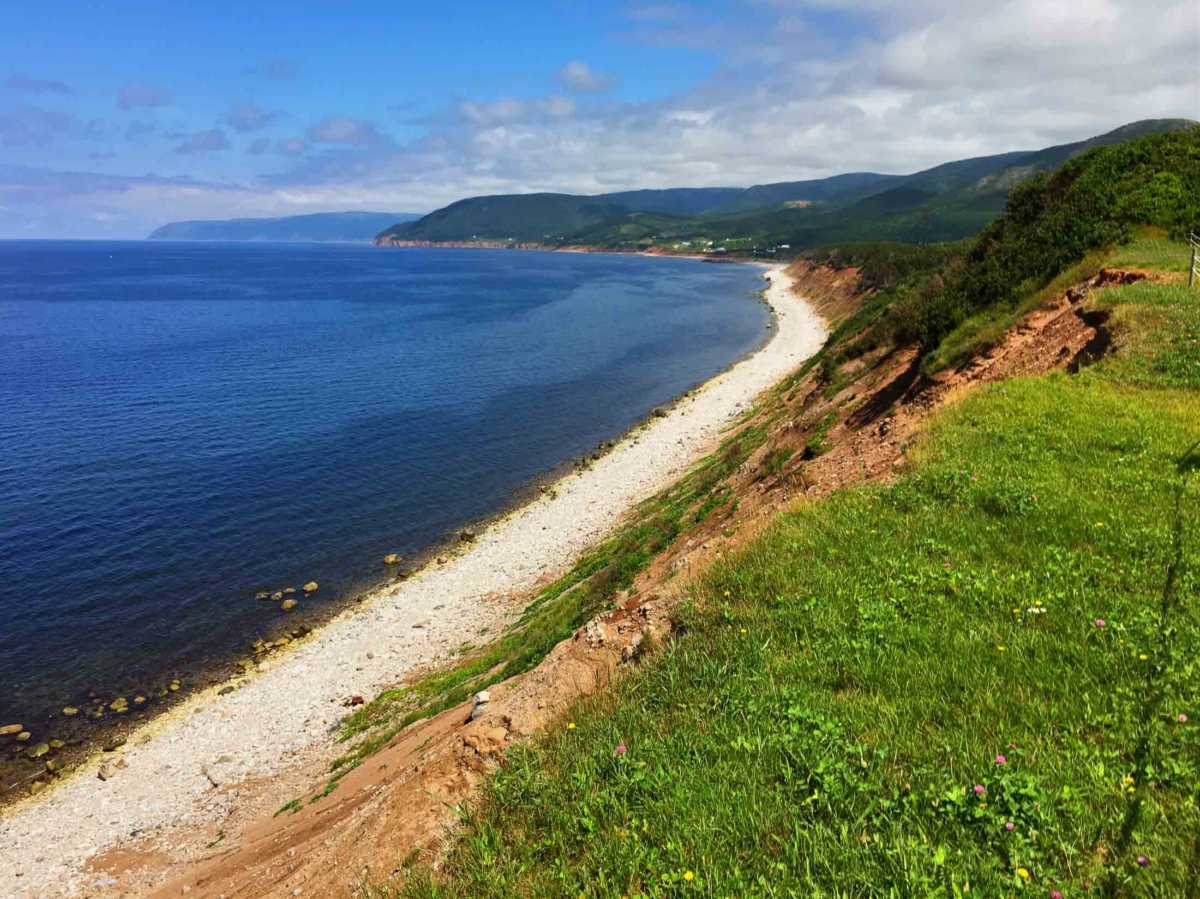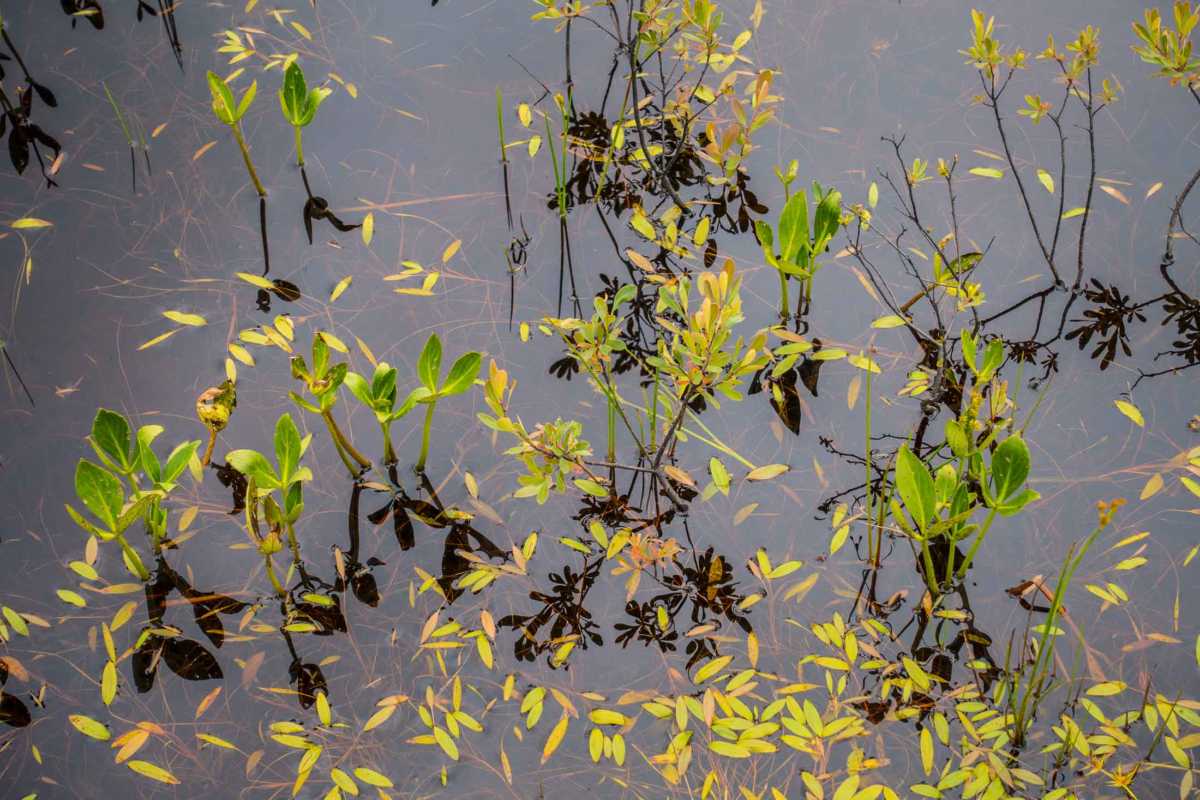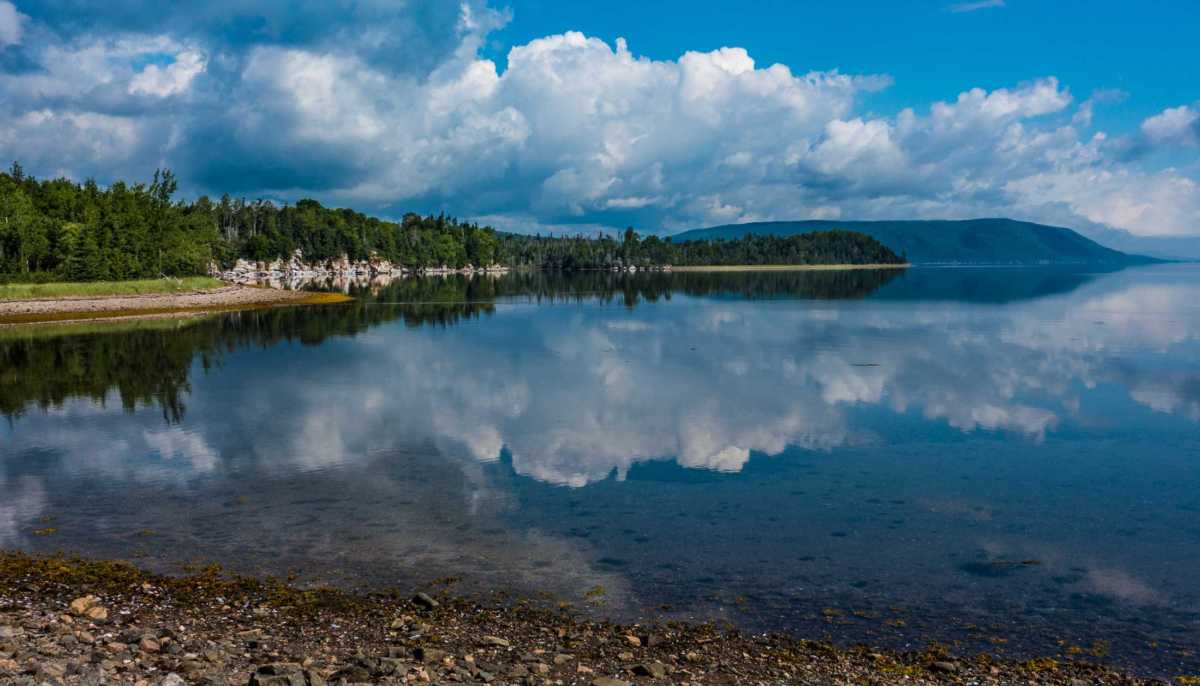 When you're thinking of traveling, your first stop should be our Travel Resources page, where we list all the essentials you need to make your travels easier, cheaper, safer, and more fun.
You can also help yourself get ready for your travels by reading our Get Started Planning Your Trip Now page.
We love traveling–with the right gear. We've gathered a lot of the stuff we use to make travel more pleasant and efficient all on one page. Shop our Travel Past 50 Amazon page to find our favorite gear. If you purchase something from the store, Travel Past 50, as an Amazon affiliate, may receive a small commission at no extra charge to you. Thanks.
We never leave home without our travel insurance. Nor should you. Search for the travel insurance from Allianz that best meets your needs, whether it be an annual plan or a single trip.
You can see (and buy prints) of most of our travel photos in one place on this page.
Note: This post and other posts on TravelPast50.com may contain paid or affiliate advertising links. As an Amazon Associate we earn from qualifying purchases.
Be sure to have a look at our post about visiting New Brunswick, which we visited on the same trip.
Note: For tips on health safety precautions for post-pandemic road trips, read our post, Planning Your Safe Road Trip 2020.