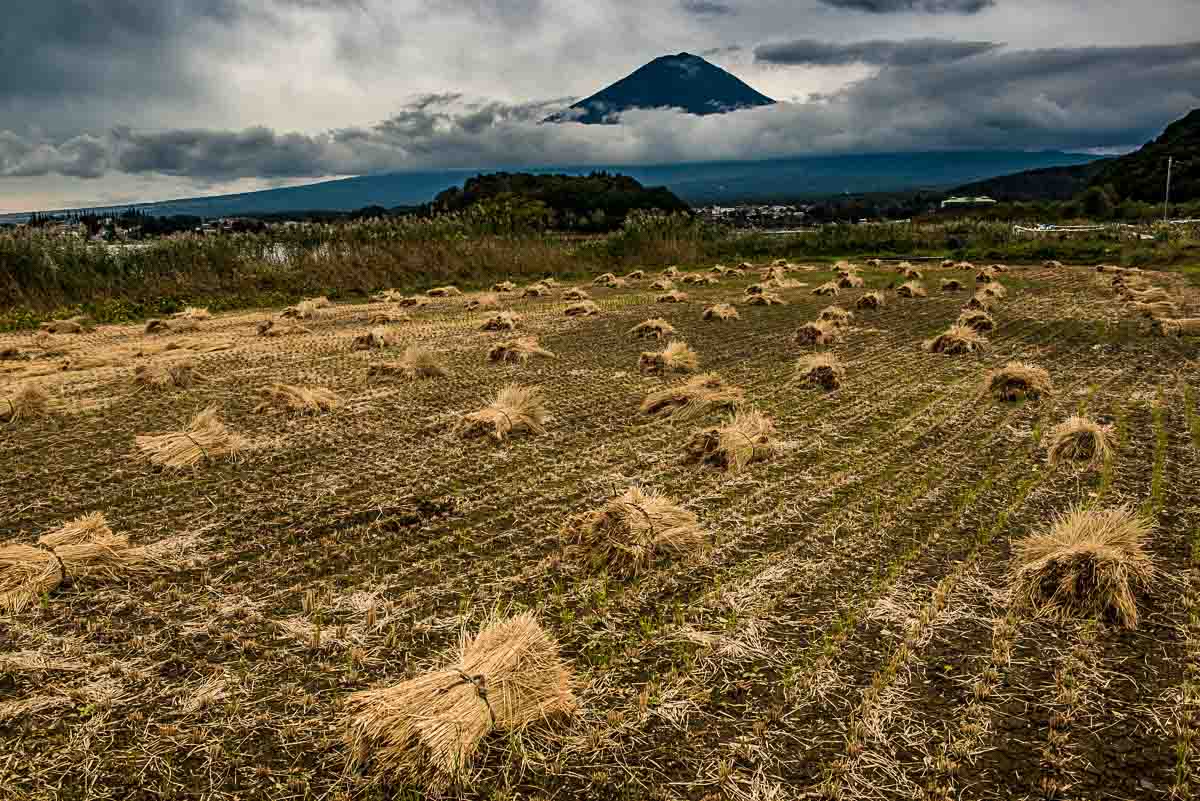 Mount Fuji doesn't reveal itself easily. We stayed near the mountain for three days and the clouds only cleared enough to get a good shot for maybe two hours during that time. So, a lot of time was spent waiting, and walking around looking for an angle. But I think I got lucky three times as we circumnavigated the mountain. Even though we never once got to see more than the top of Fuji as it showed above the clouds, sometimes that's enough.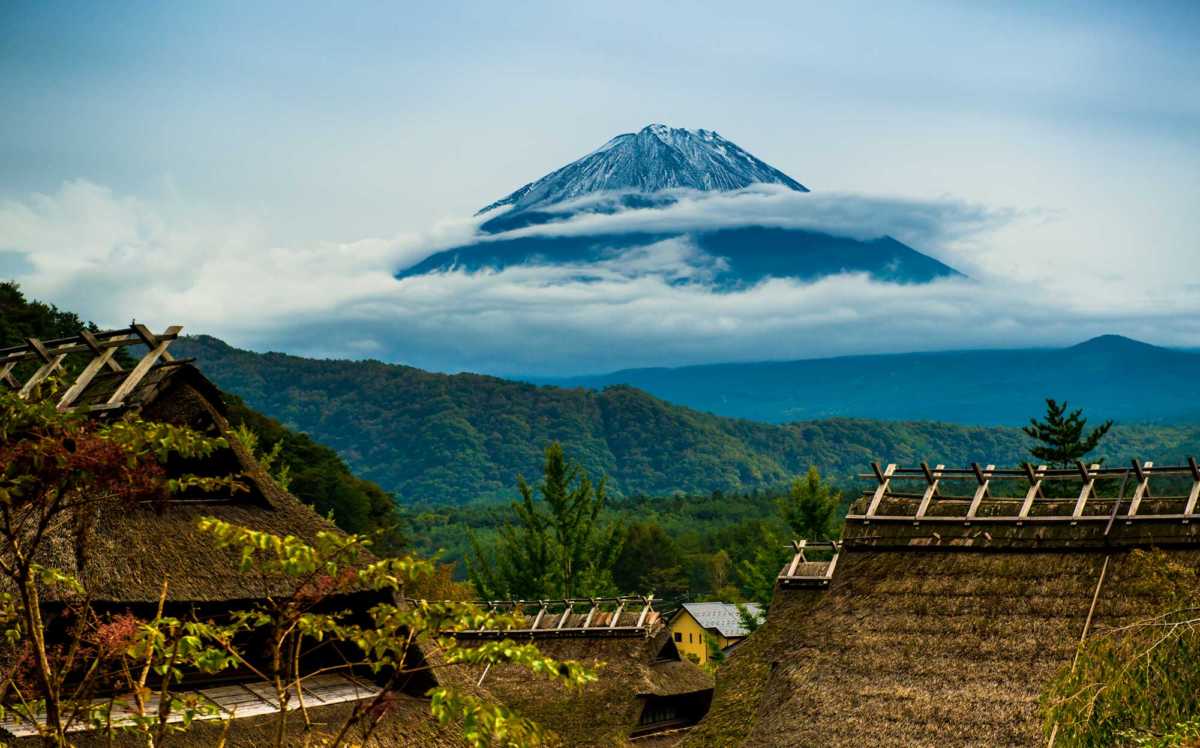 Another view of Mt. Fuji, taken looking over the rooftops of Iyashi no Sato, a traditional Japanese village. Actually, it's a restored village that mimics what a traditional Japanese village of the Edo period looked like. The original was destroyed by a mudslide caused by a typhoon in 1960. This village, though, is quite nice, albeit touristy. The rebuilt homes are homes and studios for a wide range of traditional Japanese artisans who do paper making, furniture building and ceramics.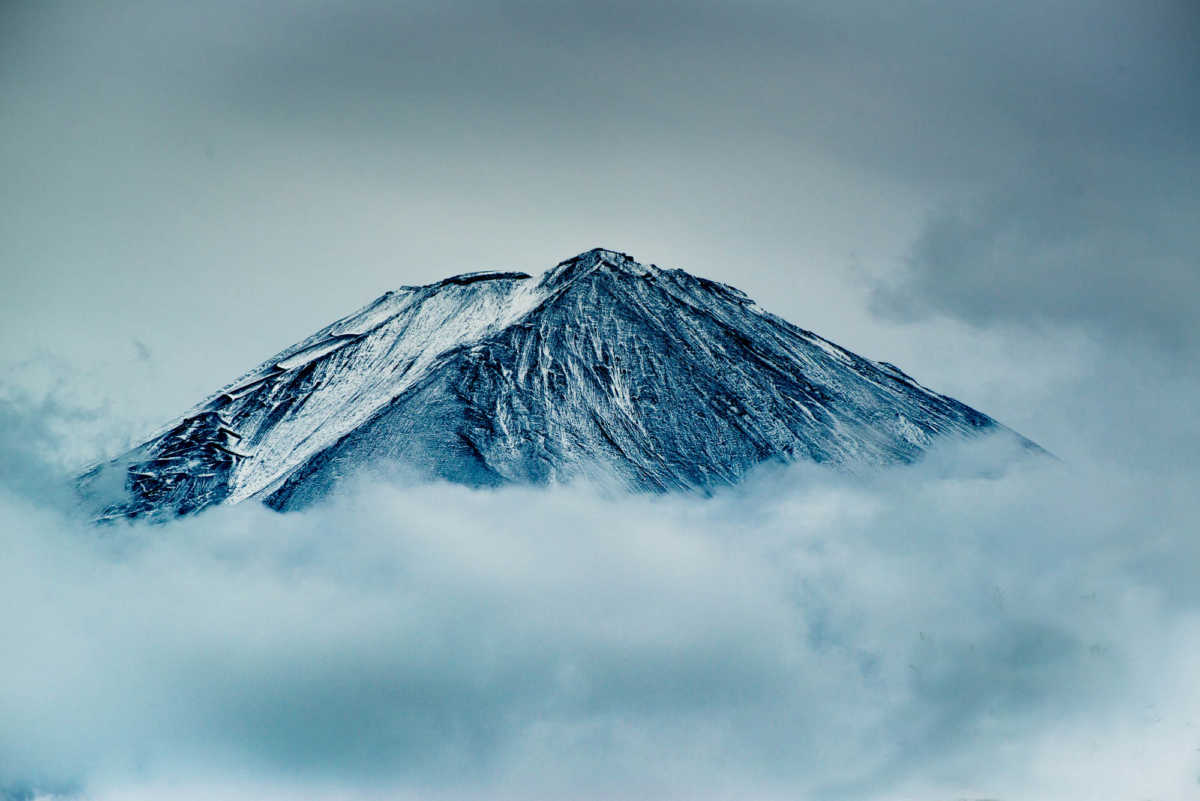 It had been completely overcast since we've been in the environs of Mt. Fuji. It rained most of our first night in the vicinity and into themorning, but about 10 a.m. the overcast parted just enough for Mt. Fuji to show his brand new snow cover. When it was raining in the valley, it was snowing above. We walked just down the road 100 meters from where we are staying to get this shot of the brand new snow, the first of the season.
Mount Fuji, or "Fujisan, sacred place and source of artistic inspiration," is how UNESCO describes Mount Fuji. It is indeed an inspiration.
Fuji can be visited as a day trip from Tokyo, or you can stay in a town at the foot of the mountain for a few days, as we did. If you do that, you'll have a better chance of actually seeing the mountain.
Mount Fuji is a UNESCO World Heritage site in Japan. Click the link to see a list of the UNESCO sites, with links to ones we have visited.
The best way to get around Japan is with the Japan Rail Pass. Click the link for more info.

When you're thinking of traveling, your first stop should be our Travel Resources page, where we list all the essentials you need to make your travels easier, cheaper, safer, and more fun.
You can also help yourself get ready for your travels by reading our Get Started Planning Your Trip Now page.
We love traveling–with the right gear. We've gathered a lot of the stuff we use to make travel more pleasant and efficient all on one page. Shop our Travel Past 50 Amazon page to find our favorite gear. If you purchase something from the store, Travel Past 50, as an Amazon affiliate, may receive a small commission at no extra charge to you. Thanks.
We never leave home without our travel insurance. Nor should you. Search for the travel insurance from Allianz that best meets your needs, whether it be an annual plan or a single trip.
You can see (and buy prints) of most of our travel photos in one place on this page.
Note: This post and other posts on TravelPast50.com may contain paid or affiliate advertising links. As an Amazon Associate we earn from qualifying purchases.