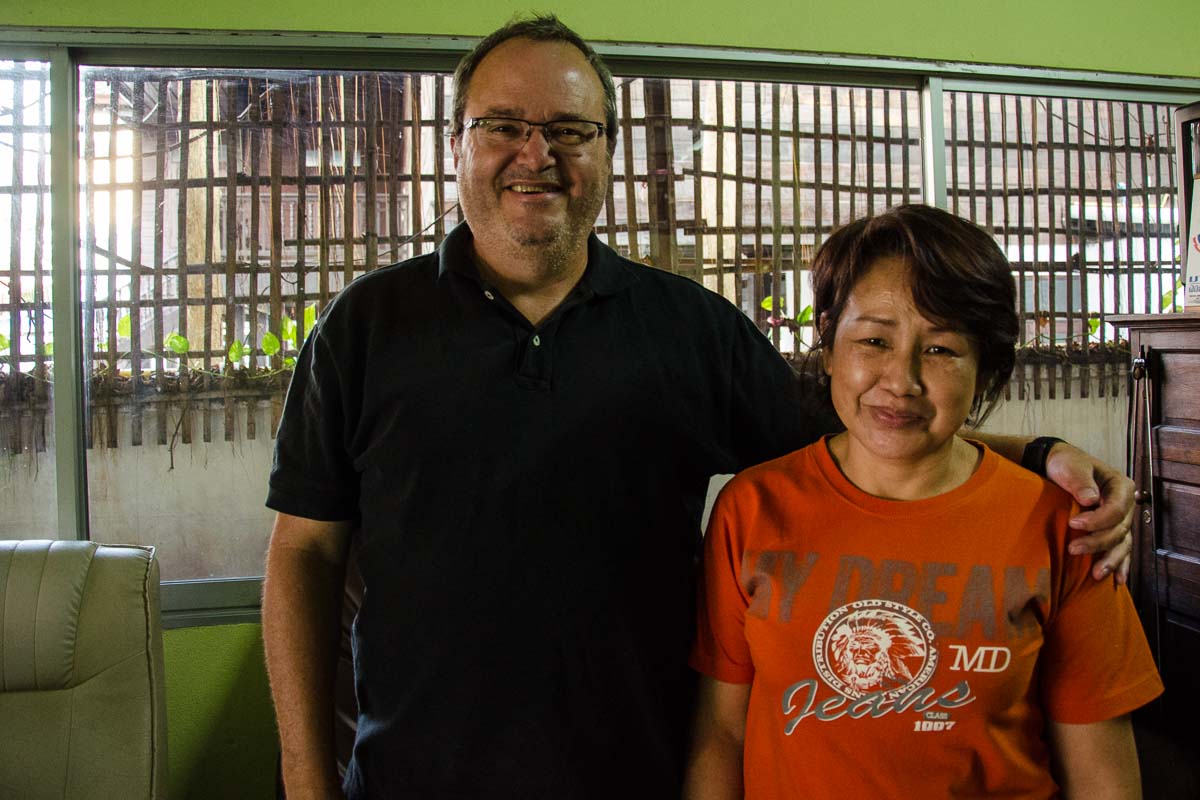 At the request of a friend who's coming to Chiang Mai soon for only two days, I'm going to tell you all the important stuff I've learned here in my four-day sojourn. So far, there are only two things that I would call important. The rest are interesting, which is a far cry from important.
For those who have never had a Thai massage, you're in for something different. In contrast to the soothing, along-the-line-of-the-muscle Swedish style prevalent in the US, the Thais believe that they should rub hard across the grain of the muscle. This has the effect of stretching your connective tissues, such as tendons and ligaments, in directions they've probably never been in before. Honestly, it hurts. But, after it's over, you'll ask yourself why the hell haven't I been doing this all my life?
A full body massage (minus the feet) takes two hours. You can tell you're getting near the end when the masseuse puts you in a Full Nelson in order to stretch your back. That comes right after she tries to rip your arms off, if you're keeping track of lap times. When the rending is over, I recommend adding an additional hour just for the feet.
Some posts on Travel Past 50 may contain affiliate links. If you buy something through one of those links, we may earn a small commission. As an Amazon associate, we earn from qualifying purchases.
Yes, I said you should have a three-hour massage. It's perhaps the best suggestion I've ever given on this blog. (It will probably be eclipsed by the Four Diseases You Should Keep in Mind as You're Eyeing that Hooker in Bangkok" post, but I haven't got around to that one yet. I'll let you know.)
I've had four massages since coming to Thailand. The best, by far, was by Mrs. Pon in her shop called Gold Fingers Massage. (I will resist the obvious James Bond reference. You're welcome.) Her little shop is on Ratchadamnoen Street–what Tha Phae street is called when it crosses into the old town. It's between Phra Pokklao and Jhaban on the south side of the street.
Mrs. Pon is tiny, but don't be fooled. She will give you a Thai Massage that hurts like hell, but will make you beg for more. It's sort of like a domination session except she wears a baggy t-shirt, her teenaged children are sitting in the shop on their cell phones and computers, and she laughs the entire time at how inflexible I am.
Or maybe she was laughing at how fat I am. The two sort of go together, I suppose.
She will go hard or soft on you, depending on how much you grimace. I recommend the grin-and-bear-it countenance if you want her to dig deeper into your muscles than you ever thought possible without a scalpel.
Three hours of this exquisite torture will cost you about $14, plus a generous tip.  Don't forget to tip. Remember what your last three hours with Mistress Carlotta cost you back in the world? Something short of that is adequate, but don't skimp.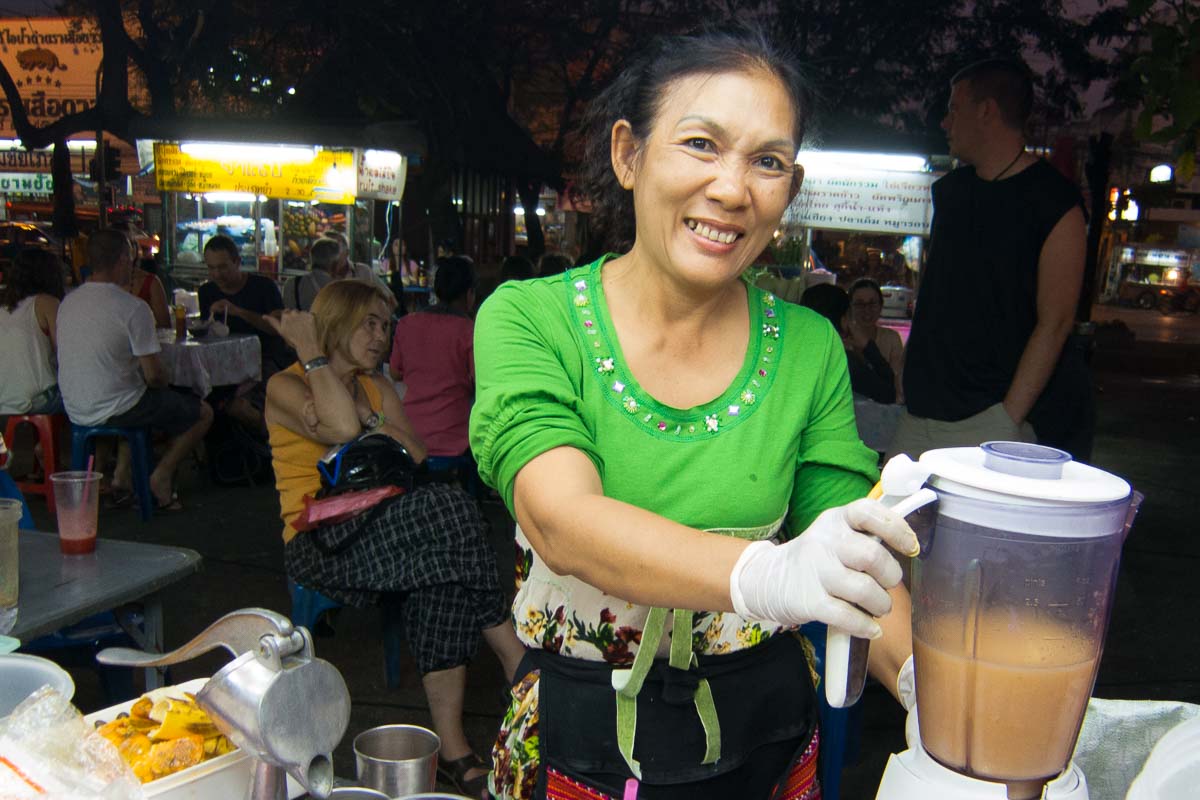 Thanks to Jodi Ettenberg at Legal Nomads, I also now know who makes the Best Smoothie in the World. It's Mrs. Pa, and she sets up her cart every day around 5 p.m. at the Chiang Mai Gate market on the south wall of the old city. Take my, and Jodi's, word for it. Mrs. Pa is the Wolfgang Amadeus Mozart of smoothies. The freshest fruit, homemade sugar syrup, and a big smile are the winning ingredients. A large glass of her icy concoctions will set you back the equivalent of about 70 American cents. It's 100 times as good as Jamba Juice, and it only costs one seventh the price.
And, you say, "Yeah, but that's all in Chiang Mai, Thailand, and I'm stuck here in the snow in the U.S."
Think of it this way: If you have one of Mrs. Pon's massages and one of Mrs. Pa's smoothies every day for about six days, you'll have saved enough for your plane ticket from the U.S.
Oh, yeah, the interesting things: There's a night crafts market, really good street food, and wonderfully artistic temples (click here to see them) to sample as well. Check those out between pummelings.
Here are some suggestions of what to do in Bangkok.
When you're thinking of traveling, your first stop should be our Travel Resources page, where we list all the essentials you need to make your travels easier, cheaper, safer, and more fun.
You can also help yourself get ready for your travels by reading our Get Started Planning Your Trip Now page.
We love traveling–with the right gear. We've gathered a lot of the stuff we use to make travel more pleasant and efficient all on one page. Shop our Travel Past 50 Amazon page to find our favorite gear. If you purchase something from the store, Travel Past 50, as an Amazon affiliate, may receive a small commission at no extra charge to you. Thanks.
We never leave home without our travel insurance. Nor should you. Search for the travel insurance from Allianz that best meets your needs, whether it be an annual plan or a single trip.
You can see (and buy prints) of most of our travel photos in one place on this page.
Note: This post and other posts on TravelPast50.com may contain paid or affiliate advertising links. As an Amazon Associate we earn from qualifying purchases.
Travel Planning Resources
Looking to book your next trip? Use these resources that are tried and tested by us. Flights: Start finding the very best flight deals by subscribing to
Thrifty Traveler
. Book your Hotel: Find the best prices on hotels with
Booking.com
. Find Apartment Rentals: Find the cheapest prices on apartment rentals with
VRBO
. Travel Insurance: Don't leave home without it. We recommend
Allianz Travel Insurance
. Need more help planning your trip? Make sure to check out our
Resources Page
where we highlight all the great travel companies and products that we trust. See all of the gear and books we like in one place on our
Amazon shop
.