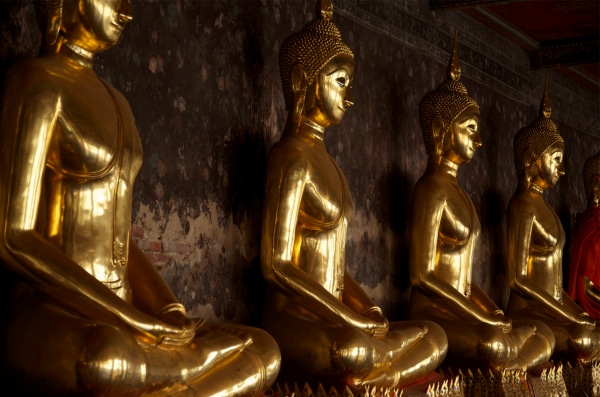 I don't know why I picked eight things to tell you about Bangkok. It's an arbitrary number, I know. But, I've heard that eight is generally regarded as a lucky number in Asia. I was in Bangkok for eight days. That might have something to do with it, but I don't like to read too much into these things.
1. Yes there are "bar girls" and "massage girls" and "hookers" in Bangkok. The bar girls are everywhere. They sit on the street outside the bar to entice customers into the bar. They then enter the bar with you and sit and talk to you, and presumably entice you to buy more drinks…and one for them. They operated in the "Sports Bar" of the hotel we stayed in  (Livingstone's) and when I asked the manager about them he said it was common practice and that bars employed them to "stimulate" business.  (OK, "stimulate" is my word, but you get the picture, right?) "If you want one of them to come up to your room with you, that's between you and her," he added. If you want an extensive selection of bar girls, I suggest visiting Sukhamvit Soi 21, where there seem to approximately six girls per potential customer. Bars are one right after the other, and the girls' costumes often match the bar's theme. The little side street off Soi 21, Soi Cowboy, will have just what you want if you're one of those guys who has fantasies about the Dallas Cowboy cheerleaders.
On our hotel street (Sukhamvit Soi 33) there were a couple legitimate Thai massage places. The women who work there also sit outside, but they're usually wearing baggy t-shirts or some sort of shapeless smock. They also look like they could crush walnuts in their bare hands. (If you've ever had a Thai massage, you know that they probably can.) Also on our street, down a hundred meters or so into the less well lit territory, were other massage store fronts. My favorite name of these establishments was "Love Teen Massage." Outside of this and its sister establishments also sat women. Their "uniforms" were, shall we say, of a more suggestive style and they also looked like they could crush nuts, but of a different sort. To me, though, they were suggestive of a course of nasty antibiotics, and no, I didn't go near.
Then there are the less passive variety of street girls. In other words they just don't sit there offering a come hither look.  I didn't experience this myself, but a friend described an encounter like this; "She pushed me up against a wall, shoved her hand down the front of my pants, and asked if I wanted a date." I have enough trouble at home with this. I don't need it from strangers.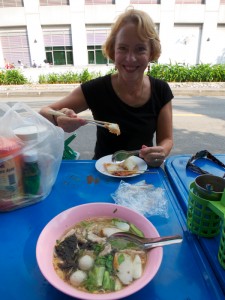 2. Street food. Every travel blogger who has ever been west of San Francisco writes about the street food in Asia. Yes it's good. Yes it's cheap. And, yes, if you pick the wrong stall, you will get sick. How can you tell if it's not the wrong stall? Good question. My suggestion is look for three things. Are the natives eating there, and, if so, how popular is the place, i.e. what's their "turn?" Two: is the fire nice and hot and the water nice and boiling, or if it's oil that's boiling, is it clear? Your best chance of killing what will try to kill you is if the food is thoroughly cooked. Three, if it tastes at all weird, spit it out.
3. Go to Chinatown. Bangkok itself is a bit shocking to someone who hasn't been to a big Asian city before. Chinatown is shocking on steroids. Even more crowded than Thai Bangkok, with more pushing and shoving and commerce and smoke from cooking fires, and fewer smiling faces. The food, especially the roast duck, is phenomenal, though. Try it. While you're eating, be careful you aren't run over by carts, tuk tuks, running youths, and whatever else the hell is going on there. I'm reminded of the last line of the movie Chinatown: "Forget it, Jake. It's Chinatown." And that means you really don't have any damn idea what you're looking at.
4. The Buddhist temples scattered over the city are amazing. They're not like the Hindu temples of Bali at all, although the architecture and imagery is similar. They're a lot more formal, and the connection the worshippers have with the Buddhas within seems a lot less organic. Gold and wealth provide a much more pervasive metaphor for the religious experience here, which strikes me as doubly odd for a religion that has as its central tenet that renunciation of the illusory world is the way to nirvana. In this way, the temples reminded me more of the Catholic churches of Spain than the joyously decorated temples I saw in Bali.
5. Take the water taxi on the canal at least once. This differs from the water taxi on the river in that the canal is pretty much a sewer and smells like one. The only thing that masks the vomitous odor of the offal which pervades the canal is the overwhelming smell of diesel, which I presume they dump in the canal in order that it do just what I described. The aroma from the canal even pervades the nearby Jim Thompson House, which is otherwise a very nice museum of my favorite type: the home and personal environment of an idiosyncratic and tasteful art collector.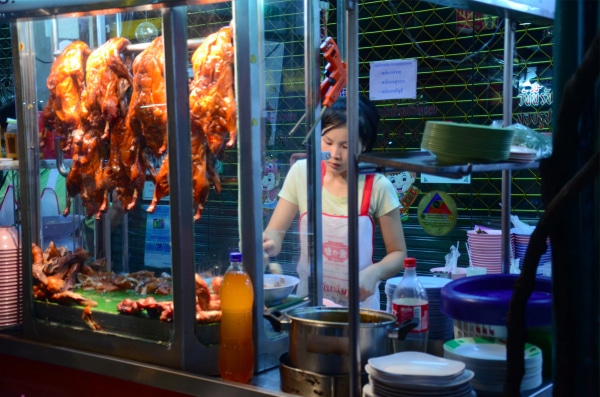 6. The Weekend Market in Bangkok is pretty much like any outdoor market I've ever been to–El Rastro in Madrid, the central market in Ubud, Bali, the market streets of Quito, or the Chinatown market in Sydney. Yes you have some local craft items, but the vast majority of what you'll plow through is cheap clothes and plastic crap from China. If you are interested in cheap crafty stuff, by all means go and plow. There are very nice things to be found if you're looking for jewelry, lovely fabrics, and small curios for your home. Me, I'm getting sort of bored with it. You're better off going to the villages where they actually make the stuff and buying it direct from the source. It will be cheaper, better, and you'll get a sense of what went into making the item you like. Then maybe you won't offer half when the woman asks you for a dollar for something that took her a few hours to make.
7. The walking street Soi Wanit 1, also known as Sampeng Lane, in Chinatown. We stumbled on this street completely by accident, which is probably the right way to do Chinatown if you have a few hours and enough courage to walk into an area where you will be one of very few westerners. It's on Nancy Chandler's Map of Bangkok (the best tourist map ever) but her little descriptions of what you'll find there are laughingly inadequate. The very narrow street, which is supposed to be pedestrian only, is lined with small shops, most of which seem to be in the wholesale business but will sell smaller quantities to bewildered tourists. Cookware, flip-flops, bathing suits, plumbing supplies, leaf springs, swords, and real counterfeit watches are all to be gawked at and had. And I just described about the first 10 meters. If you're walking though, be careful. As I said, it's supposed to be pedestrian only, but like the rest of Bangkok, motorbikes go wherever they damn well please, and fast. Couple that with the fact that most shops' wares spill well out of their doorways into the streets and you've got yourself a constant game of hopscotch Twister.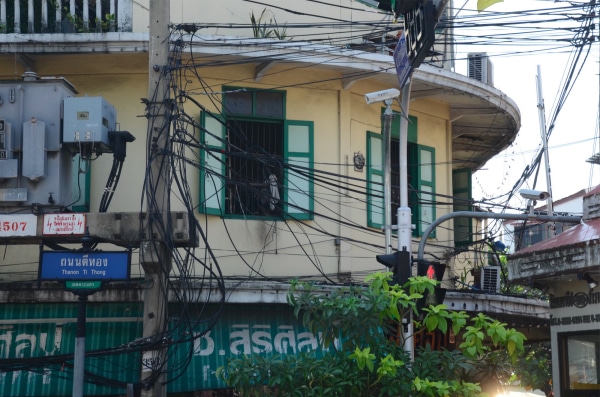 8. When all of the above gets a bit too real for you, and it probably will after eight days, whatever you do, don't go to Khao San Road. If you can imagine a big fat cliché that would sum up Bangkok, take that and steep it in thousands of overtattooed, dreadlocked, backpacking Europeans. That would be Khao San Road. Instead, go to the Emporium Mall on Sukhamvit Road. It's at the Phrom Phong stop on the Skytrain. Wander among the high tech and high fashion stores. Bathe in the air conditioning and think of Kansas.
Other things to see in Bangkok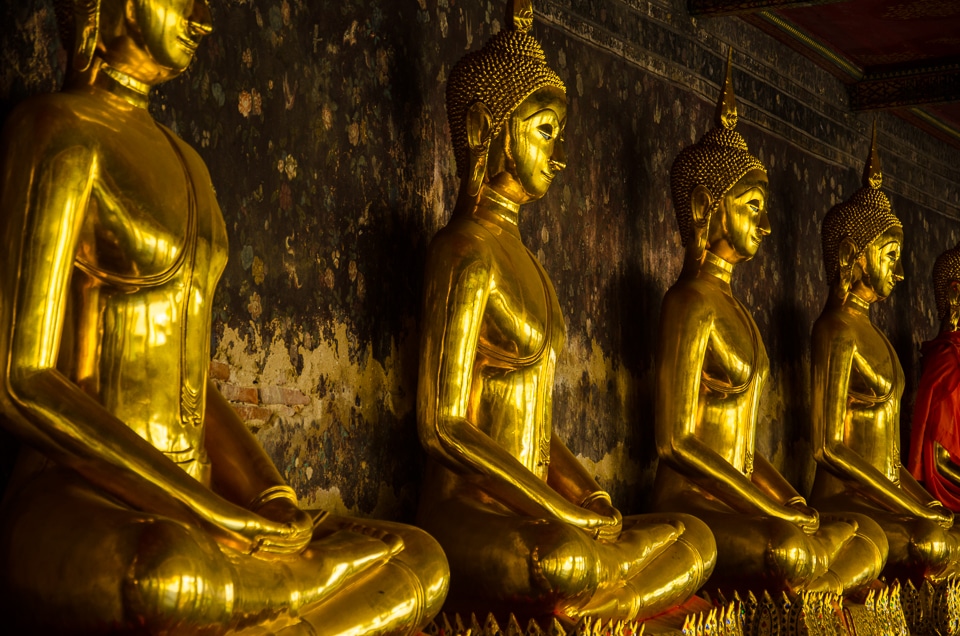 A lineup of golden Buddhas at Wat Suthat, Bangkok. I've never understood why the multiple images, but I wonder if it doesn't symbolize that Nirvana is open to everyone.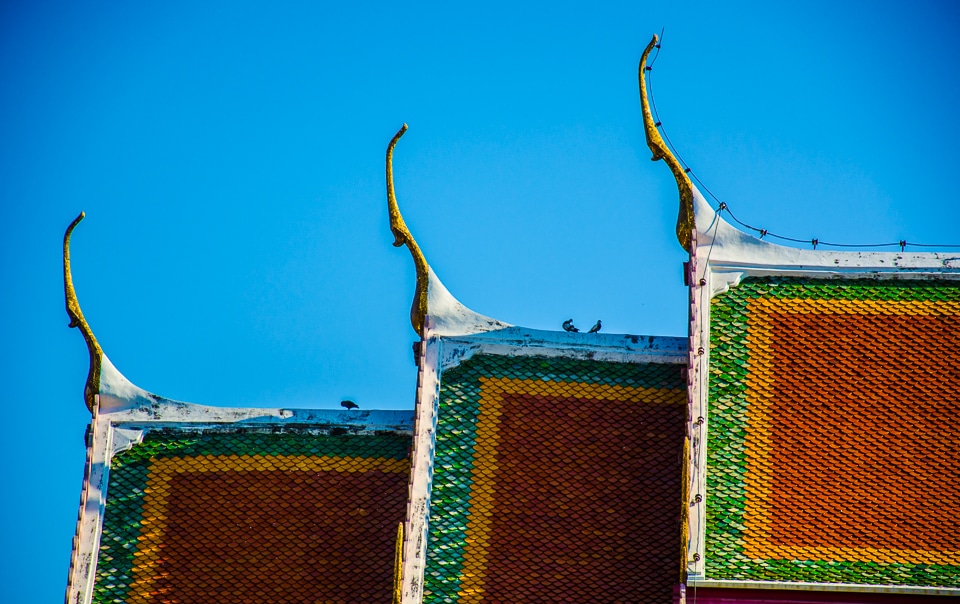 Every inch of Wat Pho in Bangkok is decorated with some colorful shape, either entirely abstract, or drawn from nature. The architects took special care to repeat shapes throughout the site, while varying colors along the way to add to a sense of whimsy.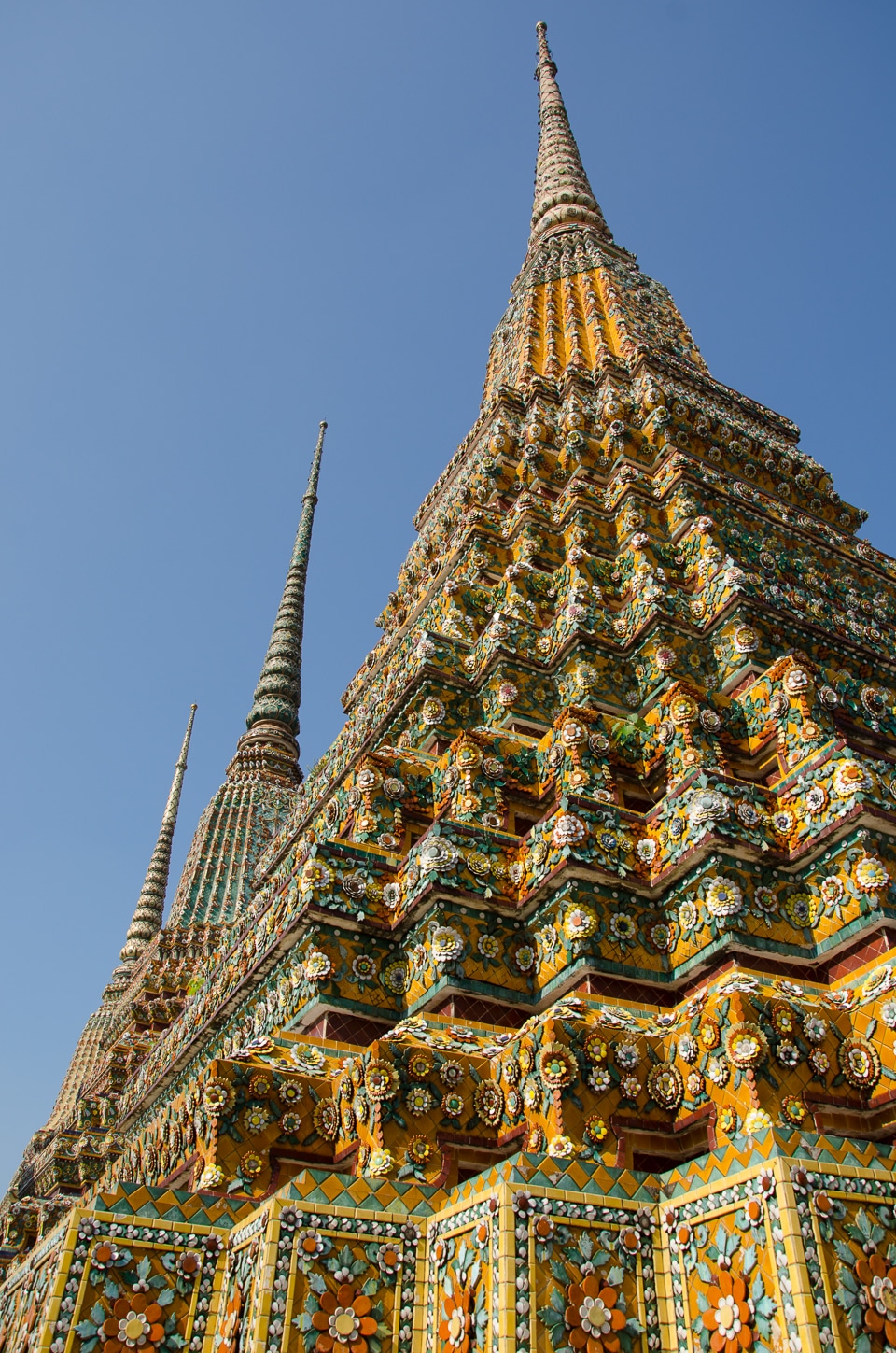 The temple complex of Wat Pho in Bangkok was full of pure decoration like these towers, festooned with thousands of colorful ceramic flowers. Such a departure from the sober Christian artistic sensibility we're used to in the west. In contrast, Buddhism seems to be such a happy religion.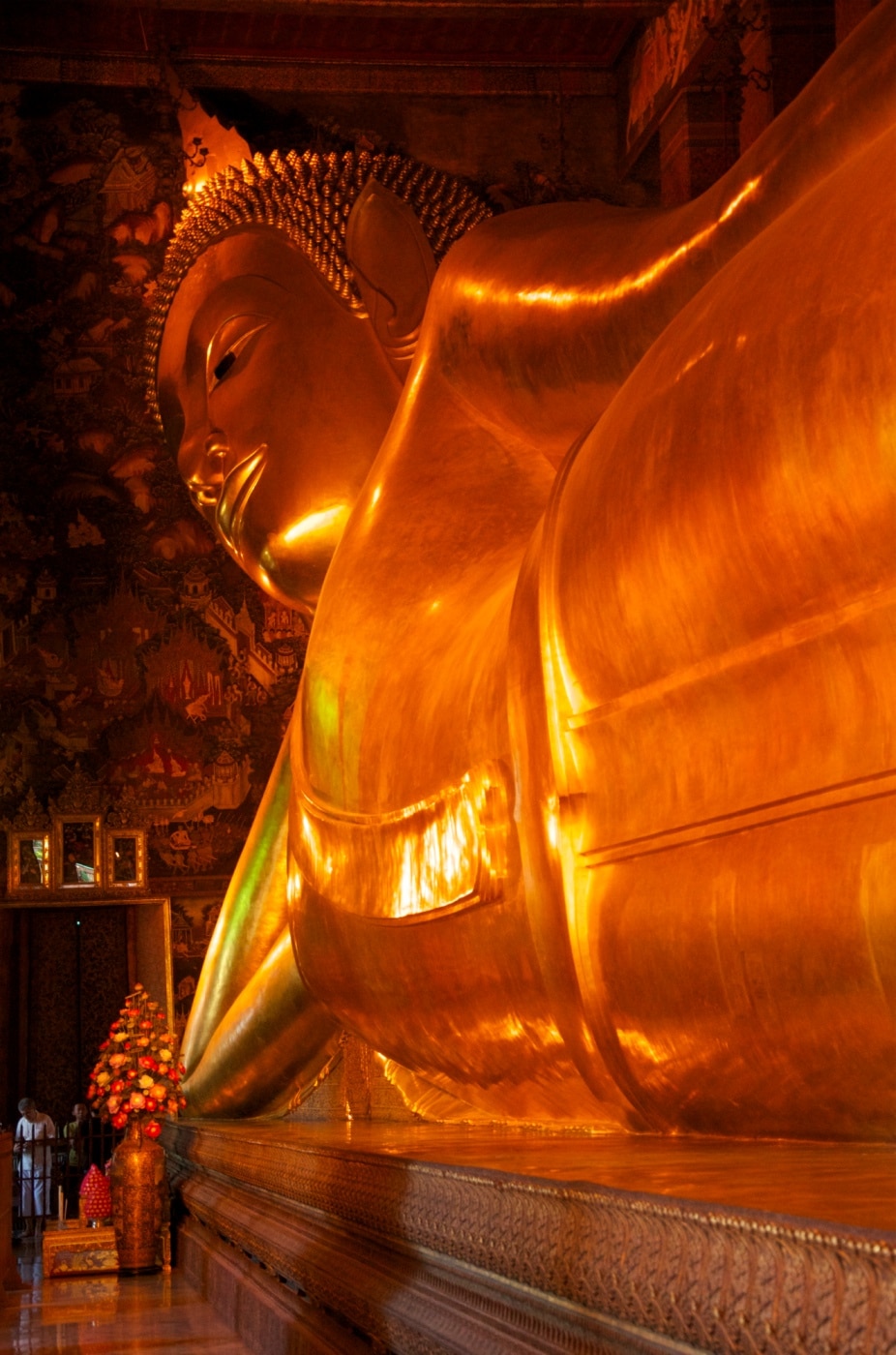 Reclining Buddha at Wat Pho.
When you're thinking of traveling, your first stop should be our Travel Resources page, where we list all the essentials you need to make your travels easier, cheaper, safer, and more fun.
You can also help yourself get ready for your travels by reading our Get Started Planning Your Trip Now page.
We love traveling–with the right gear. We've gathered a lot of the stuff we use to make travel more pleasant and efficient all on one page. Shop our Travel Past 50 Amazon page to find our favorite gear. If you purchase something from the store, Travel Past 50, as an Amazon affiliate, may receive a small commission at no extra charge to you. Thanks.
We never leave home without our travel insurance. Nor should you. Search for the travel insurance from Allianz that best meets your needs, whether it be an annual plan or a single trip.
You can see (and buy prints) of most of our travel photos in one place on this page.
Note: This post and other posts on TravelPast50.com may contain paid or affiliate advertising links. As an Amazon Associate we earn from qualifying purchases.