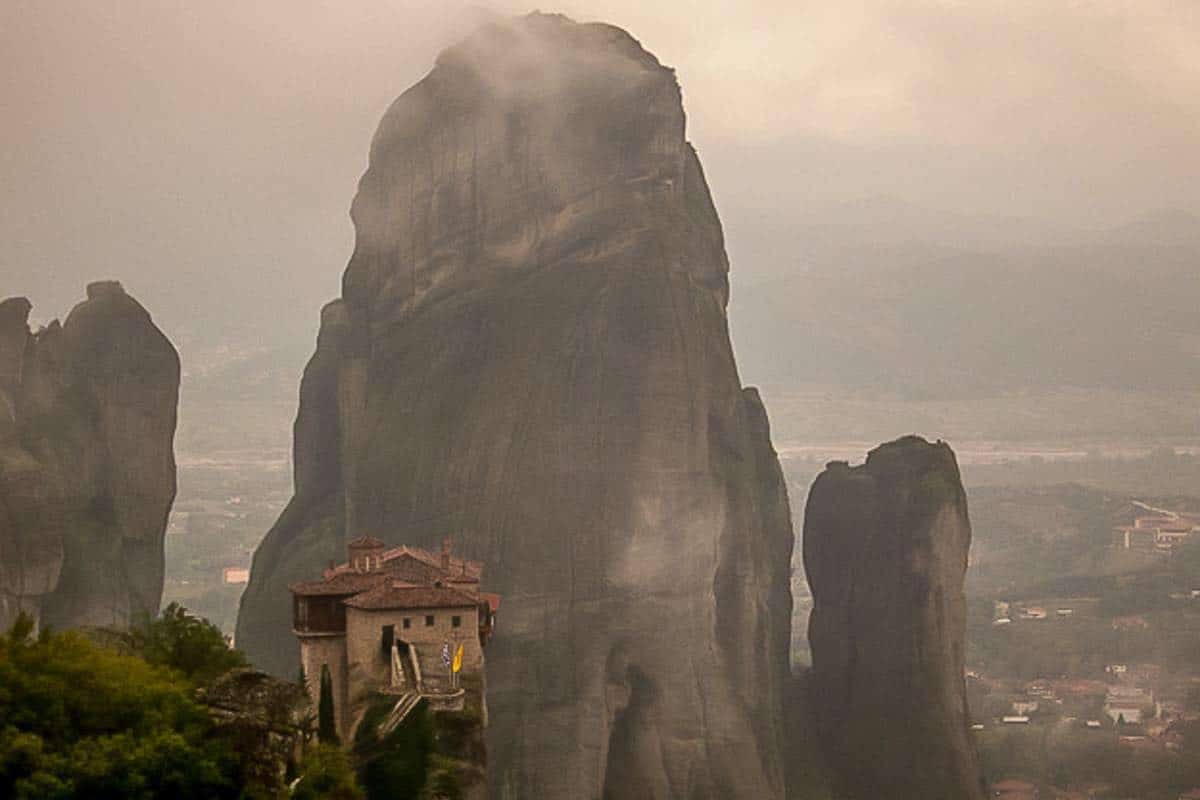 There's a saying in Greece, "I'm in Meteora." It means 'I'm up in the air,' or 'I'm in limbo.'
Meteora, a UNESCO World Heritage Site in north central Greece, outside the town of Kalambaka, is the inspiration for this saying. Meteora earned its WHS recognition on multiple fronts: its natural landscape, its art, and its history as home to multiple cliff-hanging monasteries built and active between the 10th and 16th Centuries.
For anyone who has grown up around Meteora (as our guides had) the metaphor for being 'up in the air' is understood. Viewed on certain days, the monasteries, built atop the vertical rock spires, appear to be floating on clouds.
The Meteora landscape is defined by hundreds of rock pillars rising 300-500 meters (roughly 900-1500 feet) from the vast valley below. The geology traces back tens of thousands of years when this area was covered by the sea but surrounded by mountains. Eventually, water funneled through the peaks and into basins as the land rose and the waters receded. The rock spires are a deceiving combination of stone and mud, appearing more vulnerable than their actual cement-like structure. Wine and rain and time have carved them up, speckled them with caves like pock marks, and left odd-shaped head stones balancing on top. The locals have names for almost every rock. The Crown. King Kong, the Obelisk, etc.
George Kourelis of Visit Meteora remembers a boulder the size of a mini van toppling from its perch after a heavy rain.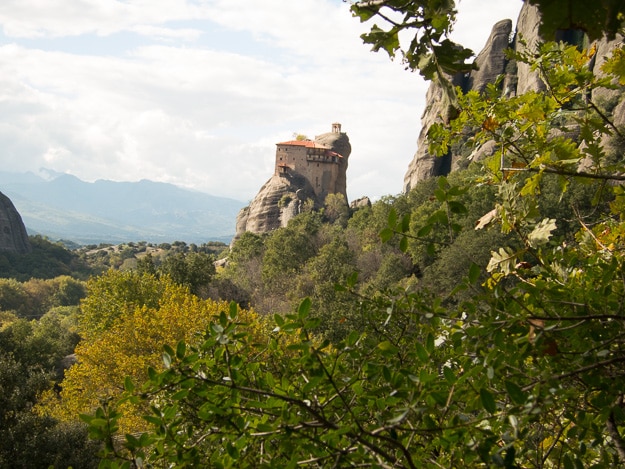 The monasteries built on these rocks are as unfathomable as the rocks themselves. Hermetic monks migrated to Meteora for isolation, safety, and the most minimal subsistence, living in small slits in the face of the rocks. Eventually, with the help of a well-connected founder and many determined and skilled rock-climbers, the monastic communities began to develop. They built in isolated pockets barely visible to the outside world. Supplies were collected by hand, hauled with donkeys, hoisted by hand with pulleys, and secreted away until the structure could be built and defended.
Though separated by their distinct silos, the monasteries co-existed and cooperated, sometimes with the help of villagers. But they succumbed to a drop in pilgrimages and revenue, to disease, and to harsh weather. Six monasteries remain open today of the twenty-four that thrived in the 16th Century.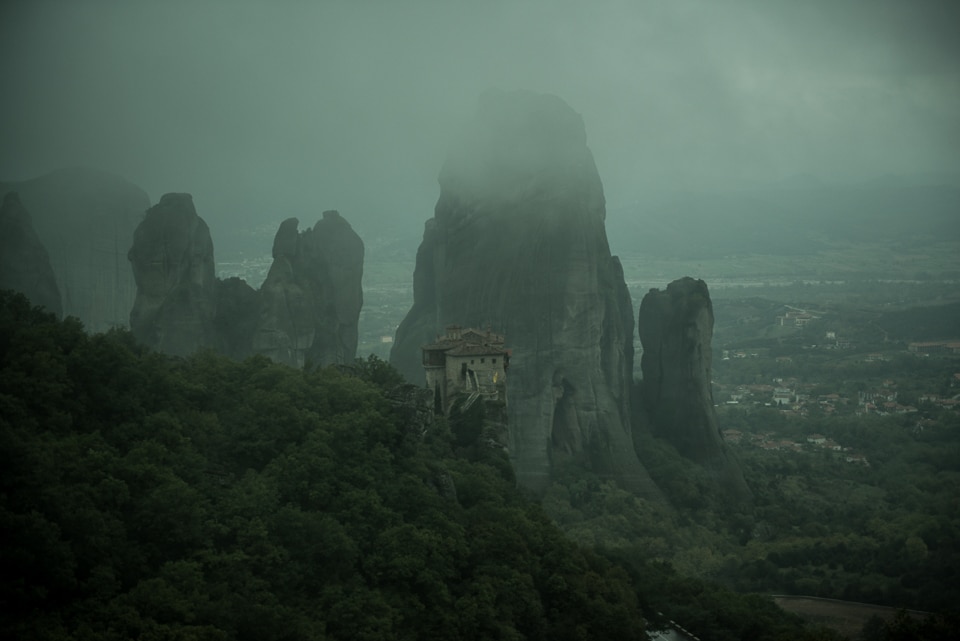 An introductory tour of the area delivers guests to two or three of the monasteries. After an approach by road, visitors use stairways and bridges built since the 1920s to access the monasteries. Women are required to wear skirts in the churches, so cloth wraps are provided. (N.B. The churches and museums don't allow photos, either, but the views make up for that, mostly.) The monasteries' churches and museums are notable for their Byzantine frescos, relics, finely woven biblical scenes, delicately carved wooden crosses, and intricate metal work incorporated into the portrayals of Greek Orthodox icons.
Just when you think you've seen all that Meteora rocks have to offer, a bonus side trip heads to the Theopetra Cave, the oldest continuously inhabited dwelling known to man. Excavation work in the cave started in 1987, and has now been suspended. On display are human remains and multiple layers of civilization, from 25,000 B.C. to the present.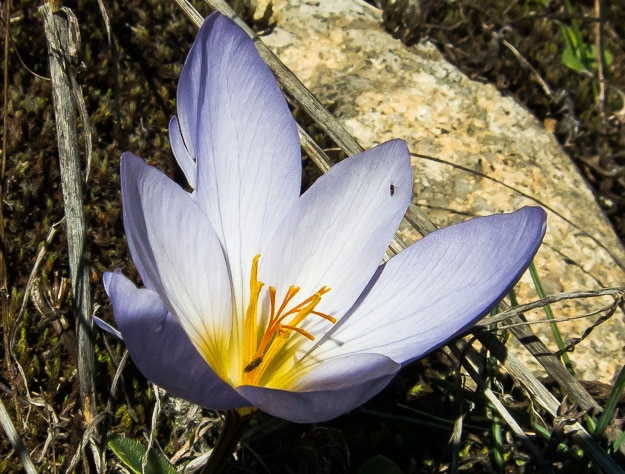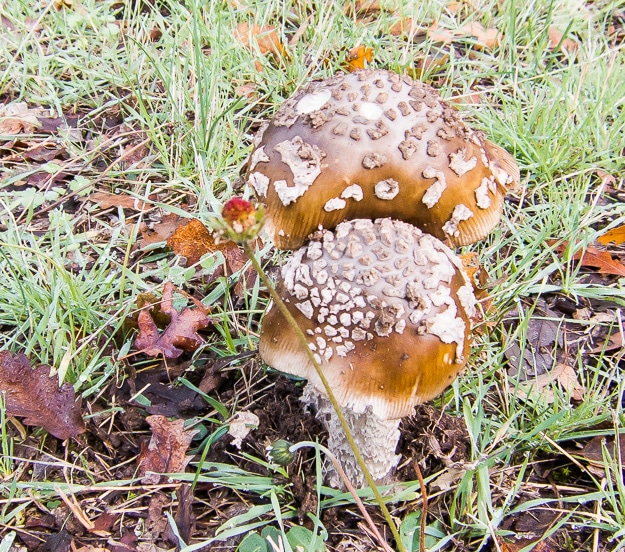 To get closer to the land, find a a way to hike or bike the trails–or plan some rock climbing. For climbers, this is a gold standard area, and many climbs are set with pitons in place. Our hike with Visit Meteora curved through woods of oak, almond, and plein trees, circling behind the rock spires. While we discussed everything from the geology to Byzantine history, modern Greek history and current events, we enjoyed long vistas over the valley, views of abandoned monasteries not visible from the road, and close-ups of delicate flowers and poisonous mushrooms. Loose dirt indicated where wild boar had dug up flower bulbs; remnants of a medieval village mark, it's thought, a community abandoned during the Black Plague.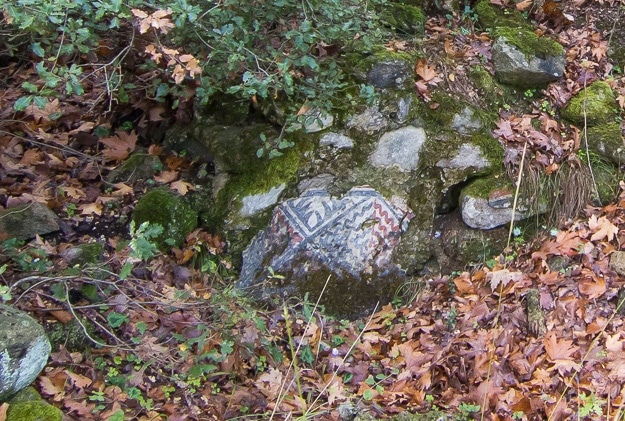 Travel tips? We recommend the longest stay possible so that you can enjoy the sights under a range of weather and lighting conditions. And you might learn the names of some of the rocks while you are there, "in Meteora."
Stay and Eat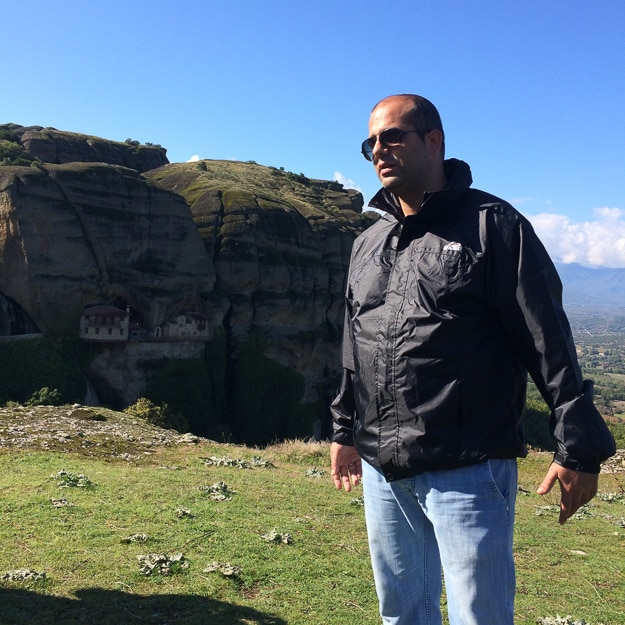 Toti Boutique Rooms Inexpensive, serviceable rooms in central Kalambaka, with cold breakfast.
Archontiko Mesohori A beautifully appointed and comfortable place surrounded on three sides by the Meteora spectacle. I could have stayed a month in our 2-room suite with kitchenette.
Meteoron Panorama Restaurant Serving the entire range of Greek small plates and main dishes, this place is situated for best views around.
Panellinio Restaurant Great soups and fast service.
More photos and commentary of Meteora, by Tom, are below.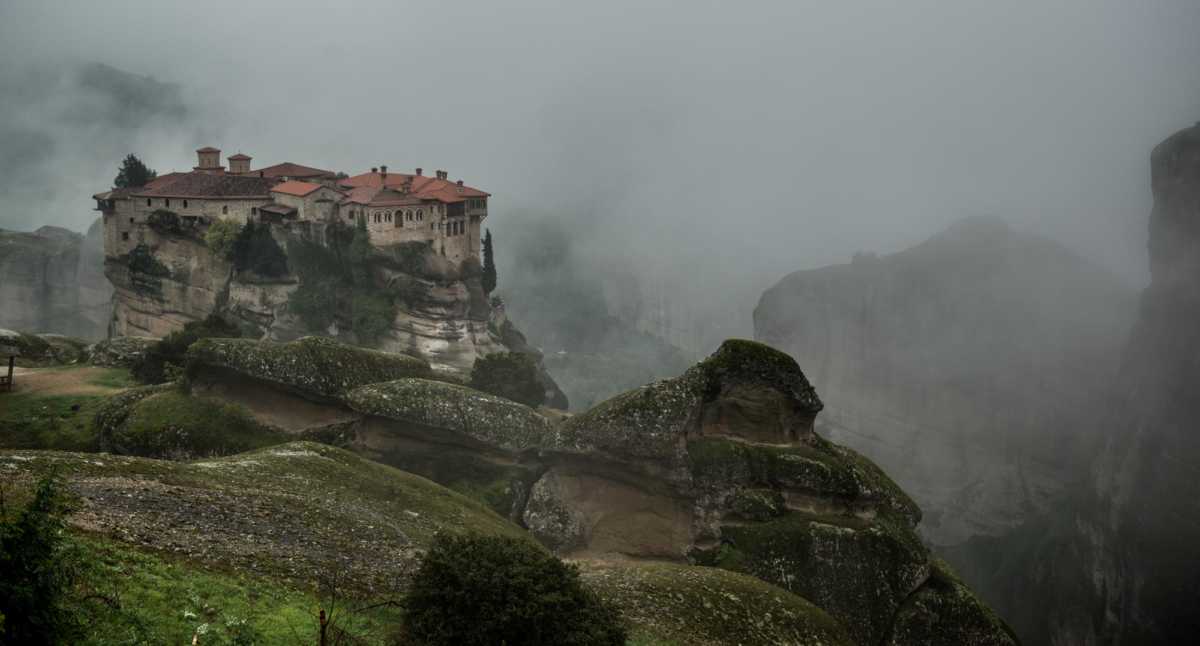 We spent a couple of weeks in Greece and one of the things I remember most from the mountains was the seeming constant presence of fog. Both the ancient polytheistic religion, as personified by Mount Olympus, and the medieval Orthodox Christian religion as practiced in the mountain monasteries of Meteora, seemed to rely on clouds to provide the appropriate air of mystery that both obscures and enhances the various mythologies.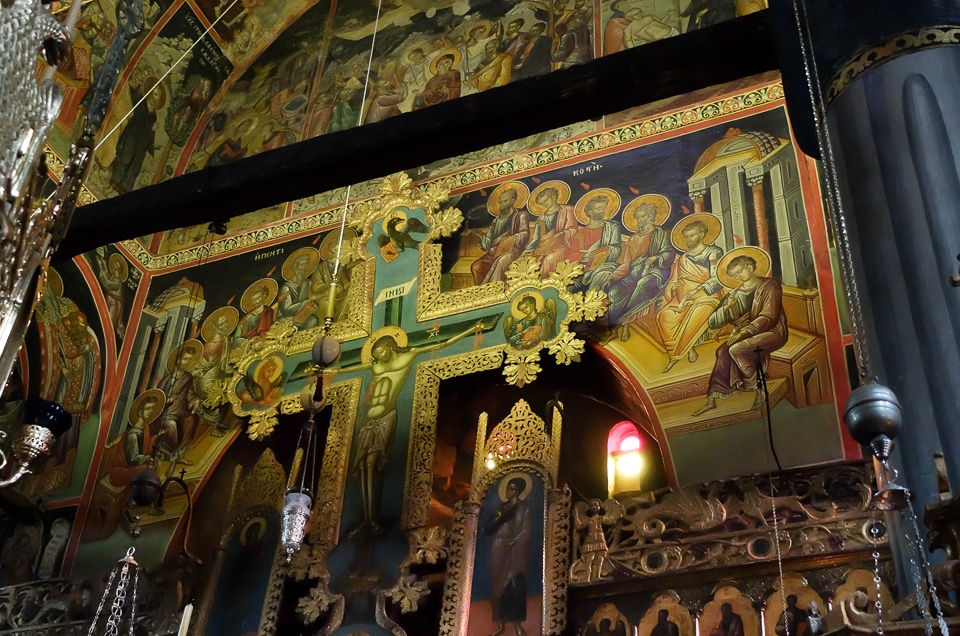 Meteora, Greece was once the home of 24 monasteries perched on top of or in caves on the spectacular mountains. The landscapes are amazing in themselves, but perhaps even more impressive are the fantastically detailed frescoes that decorate the centuries-old interiors of the churches. We toured two on the day we took the bus ride. For some unfathomable reason, they don't allow photos within the churches, and in each there was a stern Greek fellow who intoned repeatedly "No photos, no photos" to anyone who was carrying a camera. Which was everyone on the tour.

The constant fog made it difficult to get dramatic photos of the very, shall we say, dramatic landscape of Meteora. So, instead of trying to get just that shot, I used my camera's panorama feature and shot this from the top of one of those amazing pinnacles. The drama is in the sweep. There's just that much cool stuff to look at, and when you have a 120 degree field of view, you can see a lot of it. Let's see, six big rocks, four monasteries (if you look very closely,) and some mysterious fog. Yeah, I like it.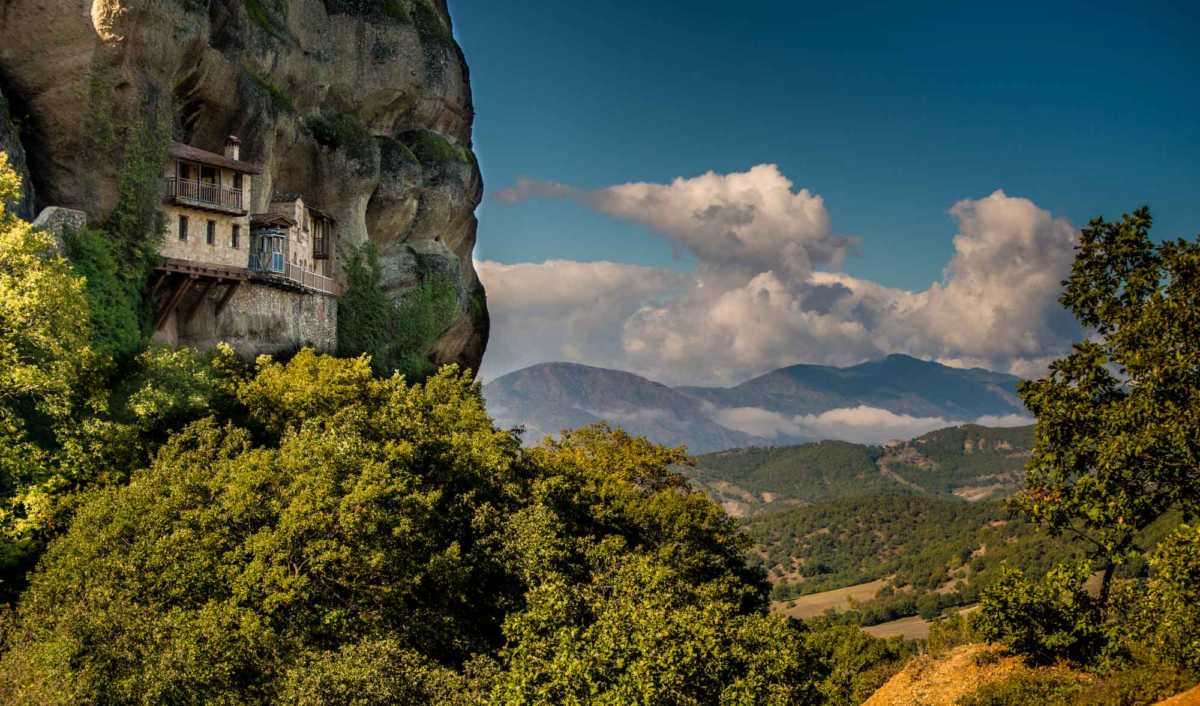 We were in Meteora for three days, two of which were completely fogged in. That made it ok to take some bus tours of the medieval monasteries, but made it, in general, a difficult day for photography. But on the third day, we had a 10 kilometer hike scheduled with a local guide. And the hike led us to some vistas the bus couldn't reach. The sun came out. It got warm. And it was beautiful.
When you're thinking of traveling, your first stop should be our Travel Resources page, where we list all the essentials you need to make your travels easier, cheaper, safer, and more fun.
You can also help yourself get ready for your travels by reading our Get Started Planning Your Trip Now page.
We love traveling–with the right gear. We've gathered a lot of the stuff we use to make travel more pleasant and efficient all on one page. Shop our Travel Past 50 Amazon page to find our favorite gear. If you purchase something from the store, Travel Past 50, as an Amazon affiliate, may receive a small commission at no extra charge to you. Thanks.
We never leave home without our travel insurance. Nor should you. Search for the travel insurance from Allianz that best meets your needs, whether it be an annual plan or a single trip.
You can see (and buy prints) of most of our travel photos in one place on this page.
Note: This post and other posts on TravelPast50.com may contain paid or affiliate advertising links. As an Amazon Associate we earn from qualifying purchases.