We've never kept a 'bucket' list of places to visit before we die. If we had, the Galapagos Islands would surely have been on it. Yet somehow, we lived for nine months in Ecuador in 2010-11 and never visited this UNESCO World Heritage Site. Maybe that's because we didn't know at the time that instead of arriving by and staying onboard a ship, we could participate in a land-based Galapagos tour.
The  islands' main appeal of course, is the wildlife and array of endemic species: the marine life, botanics, birds, and mammals that have populated the volcanic islands since they were formed some million and a half years ago. We loved seeing and photographing turtles, sea lions, blue-footed boobies, finches, beaches, and volcanic fields.
But the land-based Galapagos tour gave us a chance to talk about tourism and business and families with the islanders, to experience the flip side of the coin depicted in the marvelous "Planet Earth" episodes. With Galakiwi Tours, we mixed land and water-based activities, spent our days with local guides and our evenings in local restaurants. Through our fortnight visit, we stayed on all four of the populated islands. During the days, we usually embarked on at least two excursions: biking, hiking, snorkeling, stand-up paddle boarding (SUP), sea kayaking, and otherwise sticking our faces in all kinds of places, usually with camera in hand.
We gathered many personal stories as we learned not only about the geological and biological history of the Galapagos, but about the fascinating history of people on the islands. The result was that we were equally captivated by Galapagos human history as by its wildlife.
Below you'll find my interview with our principle guide, Pablo Valladares, who explains what land-based tourism means to   Galapagos people today.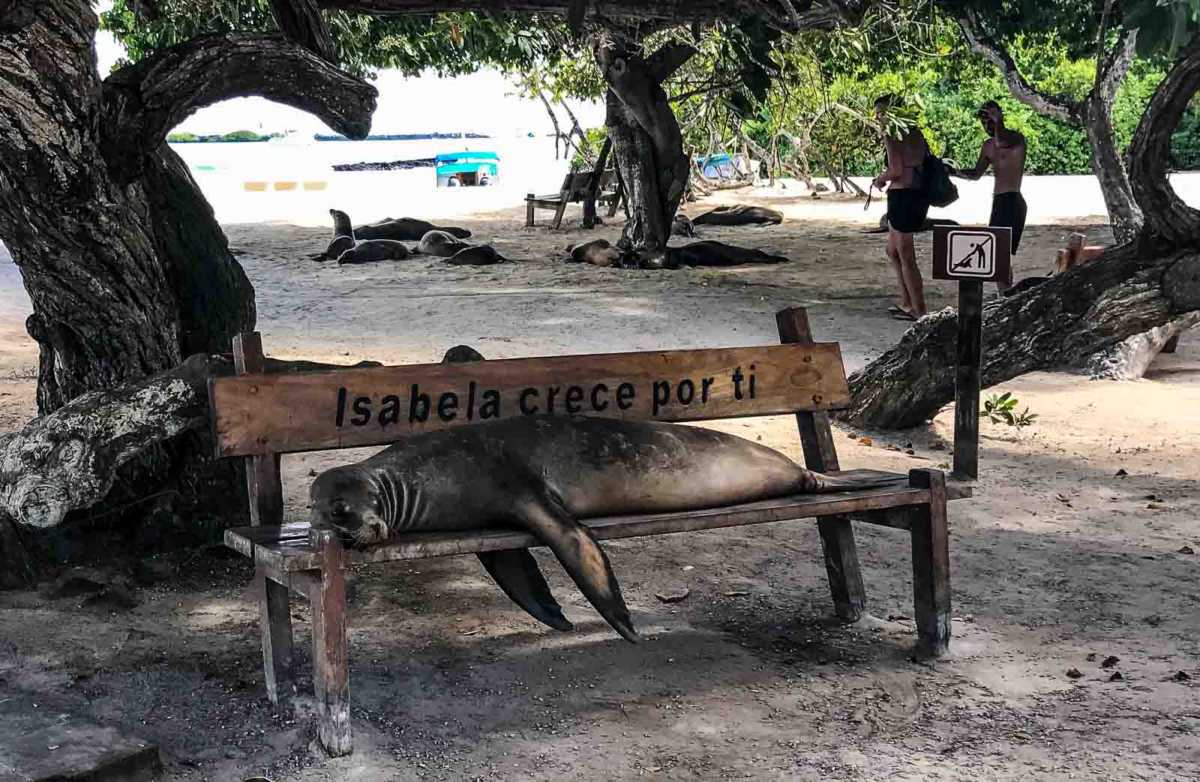 History of Human Visitors to the Galapagos Islands
In their short time on the Galapagos–just over the last 500 years–humans have inflicted a lot of damage, and also made huge strides in correcting that damage. Even Galapagos tourism has evolved since it became popular in the 1970s.
When the Galapagos were first discovered, by accident, by a Spanish priest sailing from Panama to South America in 1535, the islands were quickly deemed inhospitable. Pirates liked to hide here, and whalers hauled off giant tortoises to provide sustenance on their ships as they sailed on. (If it's true that pre-Colombians had landed here much earlier, they certainly didn't find the water and food needed to stay.) The Galapagos are epitomized by hot temperatures, precious little fresh water, shoe-depleting sharp lava rocks, and prickly plants built to protect their precious fruits. No land mammals other than the tortoise were about, until sailors introduced rats and bats.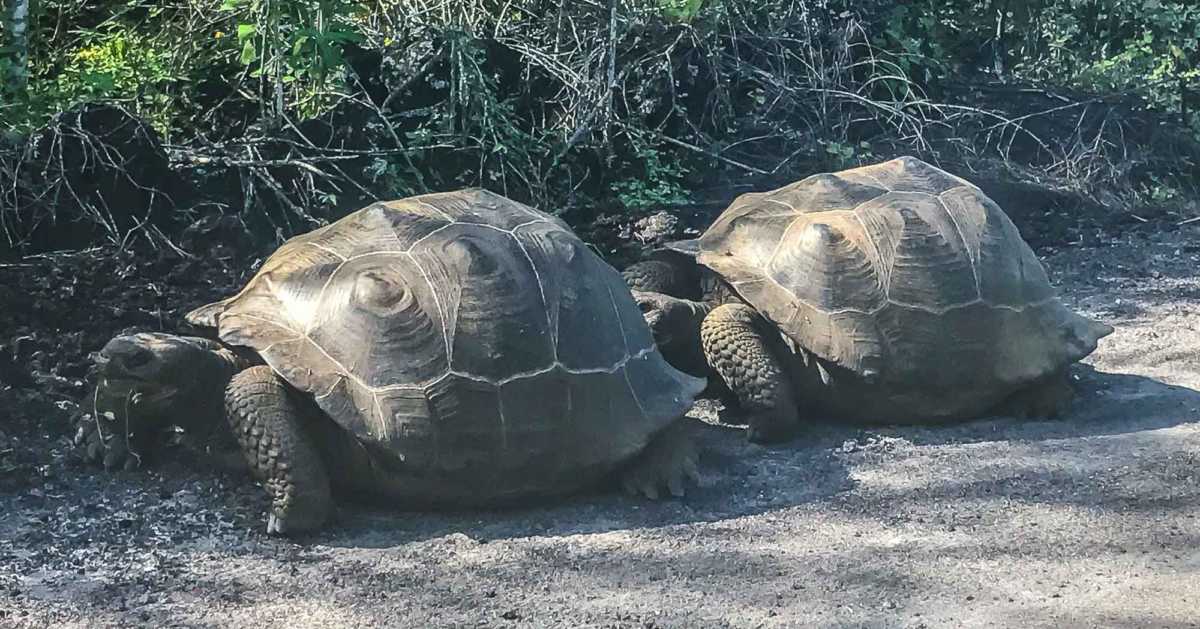 Even with the publication of Darwin's Origin of Species in the 19th Century, the practical protection of endemic species was little understood. Once Ecuador gained independence from Spain in 1822, penal colonies were introduced as a means of populating the isolated islands and asserting ownership. Gradually, little towns and villages took hold, with nothing of any significance developing until the 20th Century. Agriculture and the introduction of domestic animals quickly affected the delicate balance of endemic and introduced species. And a US military base brought construction and more people.
Biology research and tourism both started to take off in the 1970s. That's when Lonesome George, the famous last specimen of a now extinct species (4 of 15 Galapagos tortoise species are now extinct) was discovered on Pinta Island. Research centers and tortoise breeding centers were founded. Tourism was supported largely by small explorer boats and cruise ships. The fishing industry dominated the islands, but the population grew quickly with an influx of Ecuadorians eager to capture the tourism trade.
Now, in the 21st Century, four of the islands are inhabited. The military base on Baltra was converted to the first commercial airfield in the Galapagos, serving Santa Cruz Island. In 2007, an airport in San Cristobal opened, and the port there has been improved to accommodate passengers shuttled from cruise ships anchored nearby. According to Galapagos Conservation Trust, barely 10,000 visited the islands per year in the 1970s; since 2013, the numbers have exceeded 200,000.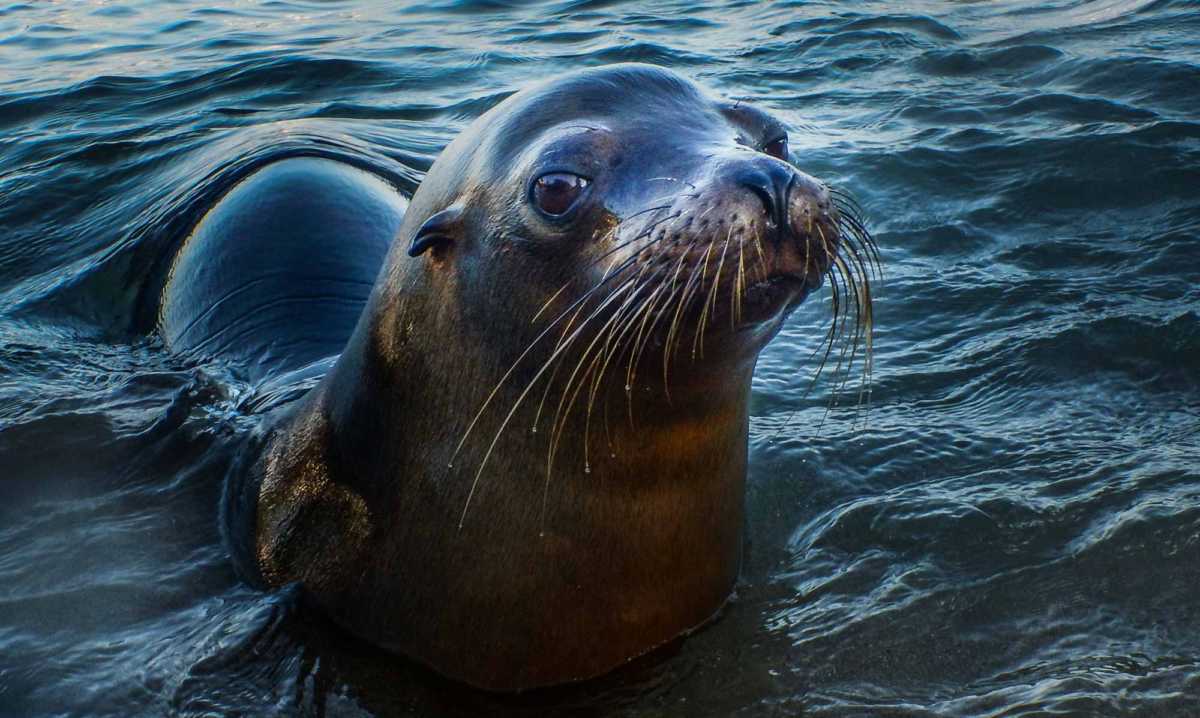 Yet it doesn't seem crowded or hyper touristy in the Galapagos. Several new practices are controlling tourism and population both, and in turn benefiting the local Galapagos communities. First, Ecuador initiated the INGALA Control Card about a dozen years ago. This $20 visa, of sorts, simply tracks everyone going into and out of the islands. (We also paid a $100 National Park fee upon entry.)
In the 1990s, controls were also imposed on mainland Ecuadorians trying to transplant to the Galapagos. Galapagos birth or immediate family heritage is now required for residency. These days, each island has its own identity and regulations. Carry-on bags are checked to be sure there's no transportation of seeds; even boat licensing is handled independently by each island.
While many visitors still base their visits from cruise ships, the latest development in tourism is land-based tours. With Galakiwi Tours, for example, we stayed on each of the four inhabited islands, starting in San Cristóbal, then to Floreana, Isabela, and departing from Santa Cruz. As our guide, Pablo Valladares Salgado, a biologist and National Park Naturalist Guide, pointed out, this supports the local communities. Land-based tourism ultimately puts more into the local economy, which in turn helps support community initiatives and specifically education. It's this education, says Valladares, that will ultimately decide the future of the Galapagos.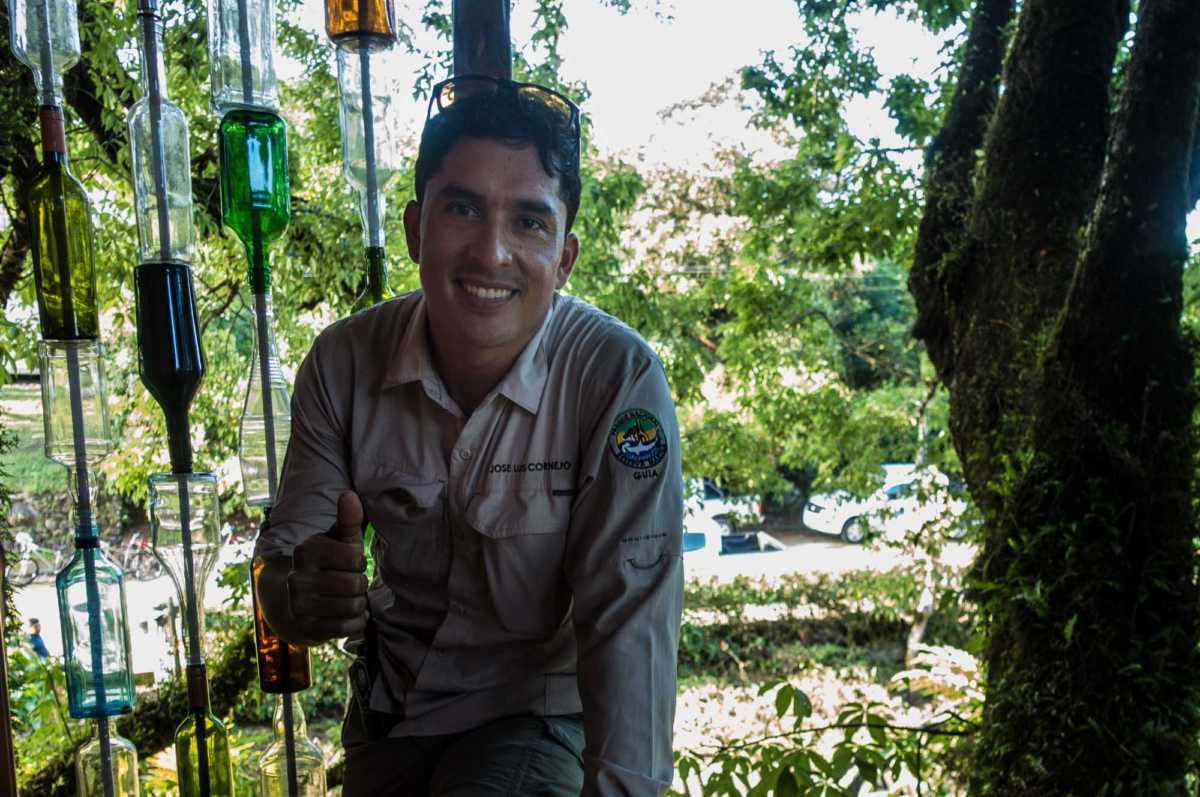 Of course the growing population and visitor count means the need for more outside food–which presents more danger to endemic species. But as one of the world's first twelve UNESCO-designated World Heritage Sites (1978), the Galapagos are handled with care. With international support, the priorities are firmly on the side of sustainable tourism: conserve water and energy, recycle and treat waste, source locally produced products, and hire and train local employees for a fair wage.
Just as children growing up in this natural playground are learning to protect it as they enjoy it, land-based tourism visitors can immerse themselves in the whole picture of the Galapagos–on land and sea–and contribute to a sustainable program of tourism and protection.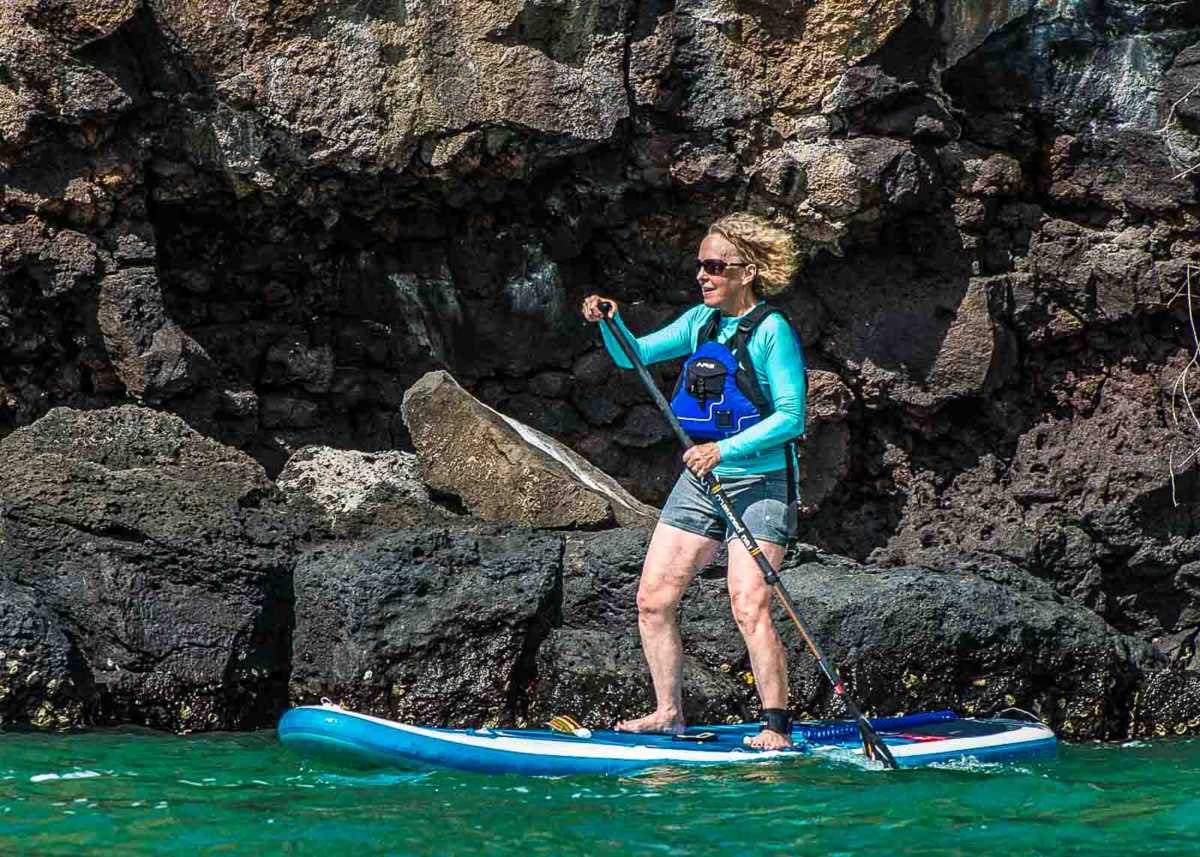 Active Travel in the Galapagos
Our visit was with a select group of bloggers and videographers. Galakiwi Tours had a dual mission: to prepare a PR video for their own company, and to participate in an episode of "Facing Waves," a television show out of Toronto, Canada. (We'd never heard of it either.) So Tom and I had agreed in advance to be filmed.
For the most part the activities while we visited were the same as any Galakiwi guests would experience, with the exception of having to back up and kayak/swim/SUP in the appropriate direction a second or third time for the cameras.
Our fellow bloggers were (not surprising) all younger than us, and all more GoPro, drone, and video oriented. We stuck with our still cameras mostly, and even so had magnificent failures. (We managed to drown two cameras while we were there.) Here is one video, though, taken while swimming with sharks at Kicker Rock. I was flabbergasted they swam so close, and that I was in the water with SHARKS, hence the quick camera movements.

Interview with a Galapagos Guide
Our friends at Travel Writers Radio managed to work with my poor quality recording to deliver this interview with our Galapagos guide, Pablo Valladares. Pablo was an eloquent and inspiring guide, and speaks here about the impact of land-based Galapagos tours.
This second recording features my contribution to Travel Writers Radio talking about our Galapagos tour experiences.

We were lucky to have such a knowledgeable guide in Pablo and Galakiwi Tours, who hosted our visit to the Galapagos. We understand the delicate balance between tourism and conservation on the islands, and we are continuing to research and listen to views on the future of tourism in the Galapagos. Opinions expressed here are the authors' alone, and have not been reviewed, approved nor edited by these companies.
You can see some images from our Galapagos tour here.
This is an updated and expanded post from the original published in 2017.
You can help yourself get ready for your own travels by reading our Get Started Planning Your Trip Now page.
We love traveling–with the right gear. You can check out a lot of the stuff we use to make all our travel much more pleasant and efficient all on one page. Click here to see it. If you purchase something from this page, Travel Past 50 may receive a small commission at no extra charge to you. Thanks.
Note: This post and other posts on TravelPast50.com may contain paid or affiliate advertising links.