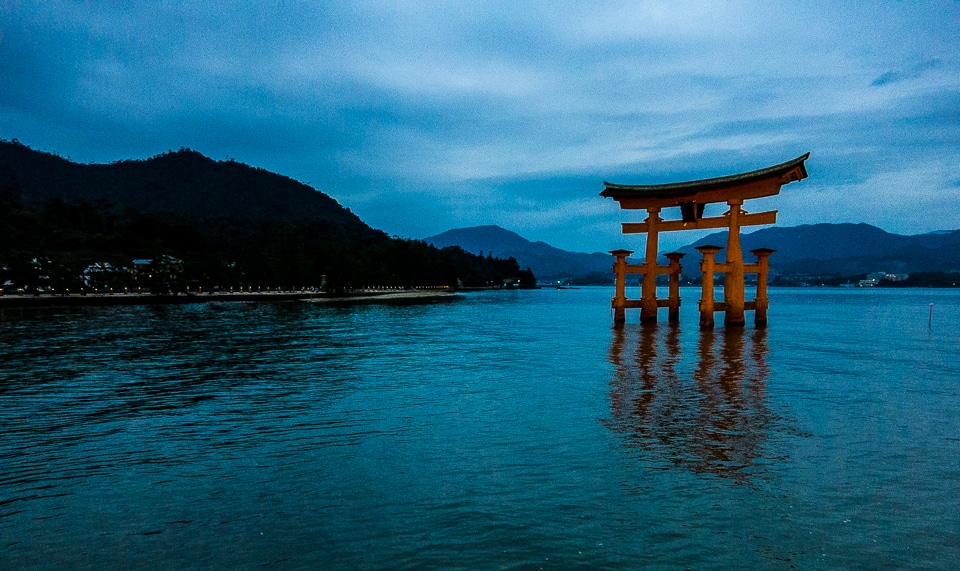 The famous Torii gate at Itsukushima Shrine, a Shinto temple which dates from the 6th Century, guards the inlet that hosts the sprawling shrine. The shrine buildings actually sit astride the inlet, and when the tide is in, it surrounds the buildings and makes them seem as though they're floating on their own island. The Torii gate in this location is made of decay resistant camphor wood, and is the eighth gate to stand in this spot. It is not anchored to the sea floor, but sits on the floor of its own weight. As the gate deteriorates over the centuries, it is replaced. A gate has been in place here since 1168; the current gate dates back only to 1875.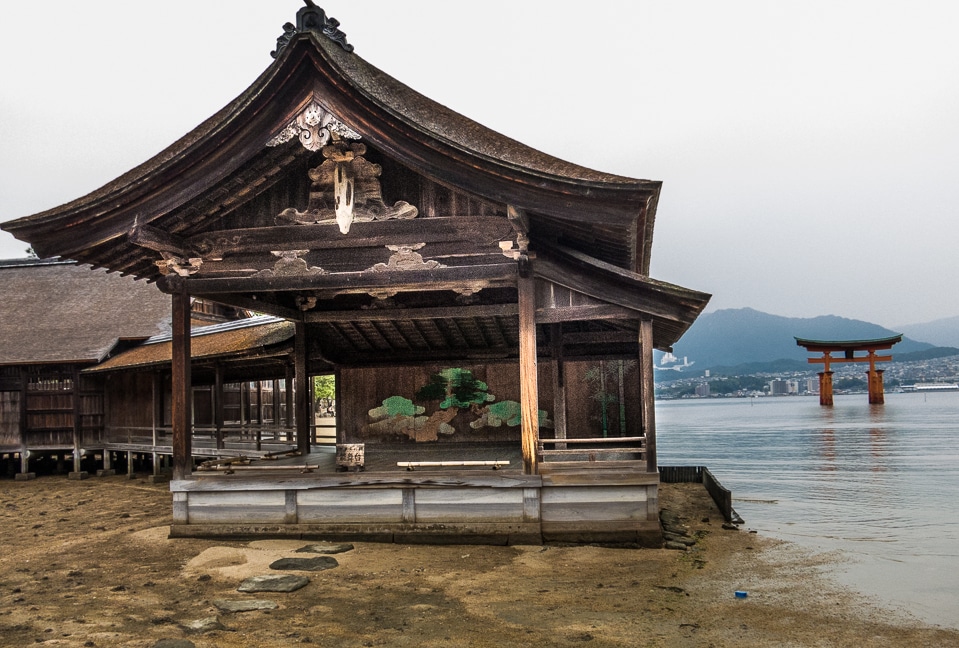 The Shinto shrine at Itsukushima also features a Noh theater stage, which is used to present the traditional Noh plays, many of which illustrate myths of the Shinto religion. Here it is, with the torii gate to the shrine in the background.
The Itsukushima shrine is a UNESCO World Heritage site in Japan. Click the link to see a list of all the World Heritage sites in Japan with links to posts about the ones we've visited.
You can help yourself get ready for your own travels by reading our Get Started Planning Your Trip Now page.
We love traveling–with the right gear. We've gathered a lot of the stuff we use to make travel more pleasant and efficient all on one page. Shop our Travel Past 50 Amazon page to find our favorite gear. If you purchase something from the store, Travel Past 50, as an Amazon affiliate, may receive a small commission at no extra charge to you. Thanks.
Note: This post and other posts on TravelPast50.com may contain paid or affiliate advertising links.