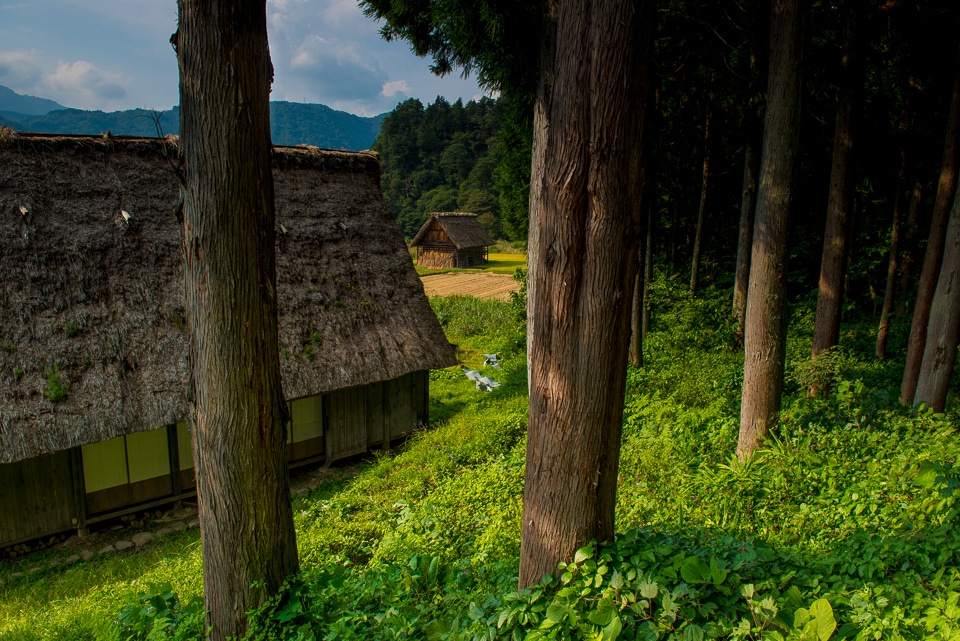 The village of Shirakowa-go, Japan, is noted for its unique style of architecture–very thick thatched roofs that are used nowhere else in Japan. The village had fallen into disrepair over the centuries, and many residents had left. But the successful application for Unesco World Heritage status has spurred a revival of the village, and a surge of tourism. Despite the fact that village has attracted so many tourists, the residents for the most part still seem to embrace their traditional life style. While the shops by the road were hawking souvenirs, farmers were gathering the rice harvest and putting it in drying huts like this one visible through the thick mountain forest that surrounds the valley.
A standard exposure for the brighter hut out in the sunlight, letting the shadows go as dark as they did. I used Lightroom to brighten up the trees in the foreground slightly, but otherwise didn't do much else. Nikon D800E with 24-70 f/2.8 lens set as wide as it goes. ISO 100, f/8.0 at 1/125th of a second. I use mirror lock up, even when hand holding (especially when hand holding?) to minimize shake when I'm using this camera below 1/500 sec. It works.
For more info on my camera stuff, see this page.