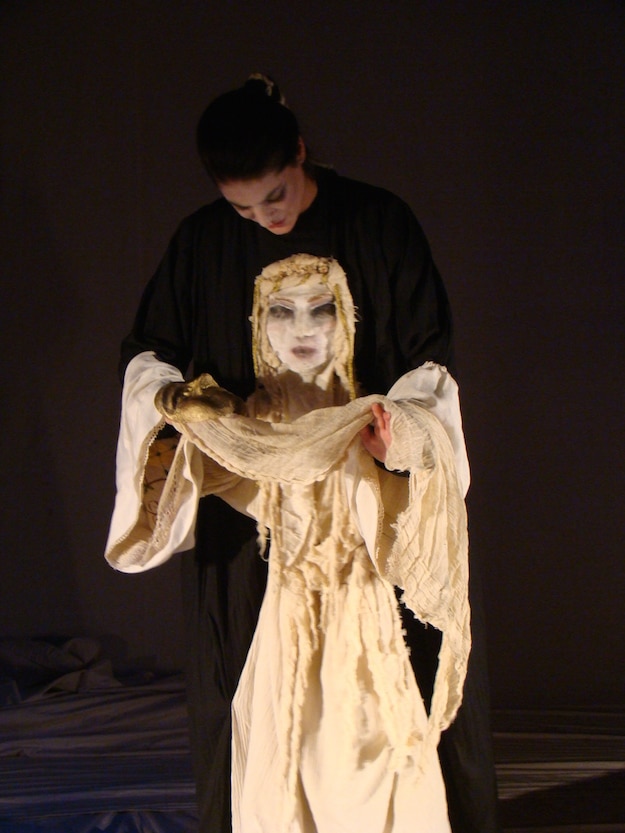 England has Shakespeare, Stratford-upon-Avon, the great theater tradition of the RSC and National Theaters, of John Gielgud and Judi Dench. But of course Shakespeare didn't invent tragedies or theatrical performances. The Greeks were describing their world through theater long before. You can barely stumble up to the Parthenon in Athens' Acropolis without first seeing a massive theater stage and grand seating area. Do you wonder about the ancient performances held there? Taking in a Greek play while you're exploring ancient ruins can clarify the complicated history of Greece, its heroes, and its gods. Besides all that, it's good entertainment.
In Athens, Topos Allou Theater offers a crash course in Greek drama and pathos. Their production, "Ancient Pathos" (previously titled "Ruins of Passion"), is an original adaption of at least five classic Greek plays joined together. The story draws from Euripides, Aeschylus, and Sophocles plays. In just one hour, the performance illuminates the deep influences on ancient and modern life: self-determination, sacrifice, retribution–in other words, all the scenarios we face today, every day.
Topos Allou Theater has been performing "Ancient Pathos" for four years, in Greek and in English. The small company is at home in a cozy renovated space in central Athens. The house has two stages, one seating 70 and the other, where we saw "Pathos," in a 200 seat space. The foyer includes a bar, and the space overall is also used for other classic and modern plays, plus dance, music, and visual art exhibitions.
"Ancient Pathos" follows the story of Clytemnestra, beginning with the sacrifice of Iphigenia, daughter to Agamemnon and Clytemnestra, by Agamemnon. Despite Clytemnestra's objections, Agamemnon must follow the gods' wishes and offer this sacrifice before heading to war in Troy.
When Agamemnon returns home ten years later, he his murdered by Clytemnestra. Their other children, including Electra and Orestes, struggle with their own emotional responses. Orestes murders his mother, Clytemnestra, and is then haunted but the matriarchal goddesses, Erynies, for taking matters into his own hands–for his god-defying hubris. Eventually Orestes flees to Athena's temple in Athens, where Athena casts the deciding vote in court, sparing Orestes' life.
The catharsis, or denouement, in traditional Aristotelian style, depicts all sides satisfied: Orestes spared, the Erynies offered a place of good standing with Athena, and an end to the cycle of revenge. The dead, however, are still dead. That's how it goes even in Greek tragedies. But presumably their lives and deaths contributed to the peaceful end.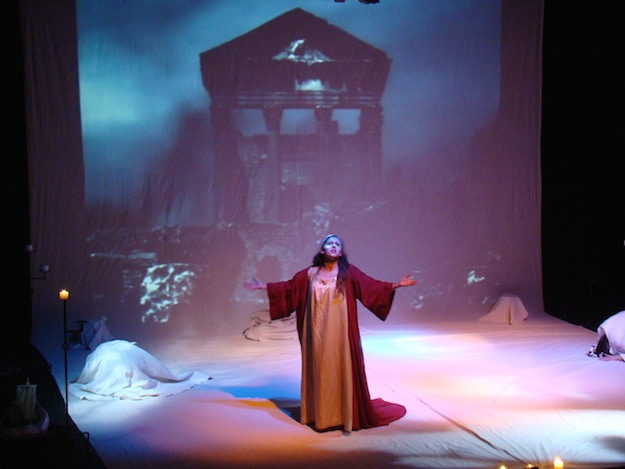 Director Nikos Kamtsis adapted the play, and his co-director, Mika Panagou, is the costume designer. The classic Greek chorus is portrayed via video narration. Music, puppetry, and masks harken back to traditional Greek theatrical devices and enhance the company's capable performance.
To its credit, Topos Allou is committed to outreach and education, intent on sharing its passion for Greek theater with the world. Performances are frequently accompanied by mask-making workshops or hands-on costume seminars. Many of their audiences are exchange students visiting Athens; others are simply travelers seeking more context for their visit to the modern version of this ancient Greece.
Now Topos Allou is working on presenting "Ancient Pathos" in the U.S. or elsewhere for students of the Classics, Theater, or Greek language studies. They are entirely ready to take their show on the road, with minimal expense. For more information, contact topos-allou@topos-allou.gr, or Nicholas Kamtsis at nkariel@gmail.com.
For more on the joys of theater, read this recent post from London.
Updated November 21: The article has been corrected to indicate the production we saw was in the larger theater, not the 70-seat theater as originally stated. It was also updated to reflect the play's new name "Ancient Pathos."