We had a notion that Japan was going to be a bit, shall we say, inscrutable. And we were right. There's something about not having an alphabet so foreigners can at least sound out the words on a sign that doesn't exactly scream, "Welcome." So here, at least, are a few things that might help you cope.
From the airport
First, and thank you to a Japanese person we met in Honolulu for this tip, the best way into the city of Tokyo from Narita airport is the Limousine Bus. (That's the name of the company, not a description, btw. It's a bus, not a nice stretch job.) They run a comfortable, air conditioned bus into the hotels in most precincts of the city. It takes a little more than an hour via the expressway, and it costs ¥3000 (about $30 US at current rates.) Believe me, that's cheap for Tokyo. There's a Limousine Bus counter right outside customs at Narita. You buy your ticket, go outside and wait at the clearly marked stand. The guy takes your ticket and your luggage, and you're on your way. If you are staying at one of the main hotels, chances are the bus will go right to it. If not, it will get close. Just tell the person at the ticket counter, who probably speaks English quite well, where you are going and she'll get you there.
SIM cards? Nevermind
One of the first things we usually do when we get to a new country we're going to stay in for a while is get a SIM card for our iPhones. We went to all three Japanese mobile phone providers, and to an Apple store, and got the same story from each: No SIM cards for foreigners in Japan. No explanation exactly except that it's not permitted. We were told that we might be able to "rent" a phone for our stay here, but that it would be ¥1000 ($10/day) each. So, faced with spending around $600 for a month, we passed.
So, what do you do? Look for free wifi, of course. Can you find such a thing in Tokyo? Not so much.
ATM? Nevermind, except at 7-11 stores
If you can find an ATM at all, and it's not that easy in Japan, chances are it won't dispense money to you if you have a card that's been issued outside of Japan. Other of the airport, about your only chance is to find a 7-11 store. Their ATMs work for us foreigners. Personally, I don't understand why the Japanese don't want to collect a foreign exchange fee from us, but if I started listing all the things I don't understand about Japan, we'd be here for a week.
Wifi is hard to find
The only place we've found that has wifi, other than our hotels, is Starbucks. Unlike Europe, and many other places in Asia we've visited, no restaurants, bars, or coffee houses seem to provide it. BTW, if you want to use it in Starbucks, you have to register in advance in some other place that has connectivity, such as your hotel. You can't actually register at a Starbucks. So, if you're going to Tokyo, log on here and complete the registration before you get there. Be careful, too, when you enter your email address. It's case sensitive when you actually try to log on at the Starbucks store. That took me a little while and a lot of cursing to figure out.
Anyway, Starbucks here are always very nice, and the coffees are actually slightly cheaper than in the US.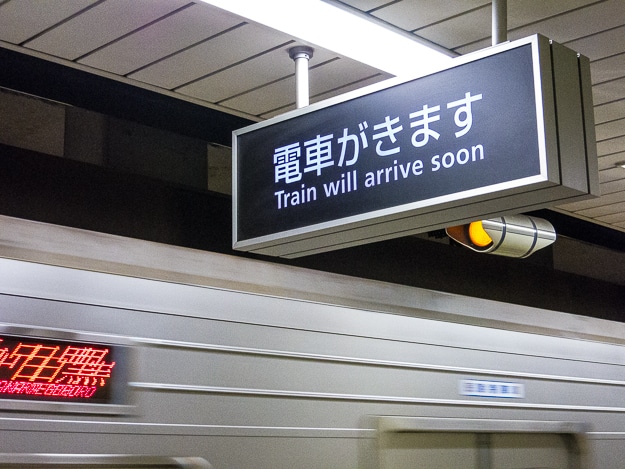 The Metro
Getting around Tokyo on its wonderful Metro system is actually pretty easy, once you know some basics. In most stations, the directional and station signs are in English as well as Japanese. (Notice I said most stations–not all. Some of them, you're screwed.) Tokyo also has a few companies who own the various lines on the Metro system, and a ticket for one of them doesn't work on the others. One way to get around this, if you need to transfer between lines run by different companies, is to buy a multi-company day pass for ¥1000. That lets you go wherever you want on the system for one day, which is really not a bad deal if you're moving around the city.
If you know where you're going though, and not moving around too much, it's cheaper to buy individual tickets. Those range from ¥160 up to more than ¥450, depending on how far you are going–and if you can figure out which lines you are on, and whether they're the same company, etc.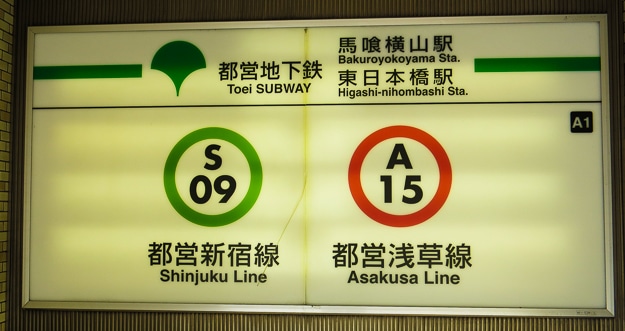 The stops are all described with a letter and a number (e.g. H-14, where the H is the line designation and the 14 is the stop number on that line) and once you figure that out, things are much easier to manage. They're in colors, too, and the colors correspond to the signs in the Metro stations.
Near the ticket machines, there will usually be a map with the lines in colors, and the names and numbers of the stops, and another number telling you what the fare is to that stop. So, like I said, if you can figure that out, you can buy a single ticket by putting the fare into the machine. Don't worry about having the correct change, the machines can make change for anything up to a ¥10000 note.
But don't worry too much if you buy the wrong ticket or don't pay enough fare. You have to put your ticket into the turnstile machine when you exit. If you've done something wrong, the turnstile won't open and an English message will say something like, "You need to see the attendant." There's an attendant at every station, right next to the turnstiles, and all you have to do is put your wrong ticket on the counter, make a face that says, "I'm an idiot," and he will gladly exchange your ticket for a correct one. If you have to pay an extra fare because you've changed companies or whatever, he'll tell you that, sell you a supplemental ticket, and you're on your way. They are completely forgiving if you make a mistake. Try that in any other city.
Of course, like I said above, it's a lot easier to buy the day pass. It also saves the time of having to figure out the fare every time.
Once on the train, things do get easier. There are line maps above the seats, and there are also usually LED displays above the doors in English telling you what stop you are at, both in name and number, and what stop is next. There are also verbal announcements before each stop in both Japanese and English.
Another thing which is helpful is that all the exits from stations are numbered. If you are entering a station that you will be returning to, it definitely pays to note where you came in so you can go out the same way. It will save you a lot of aimless walking later, believe me.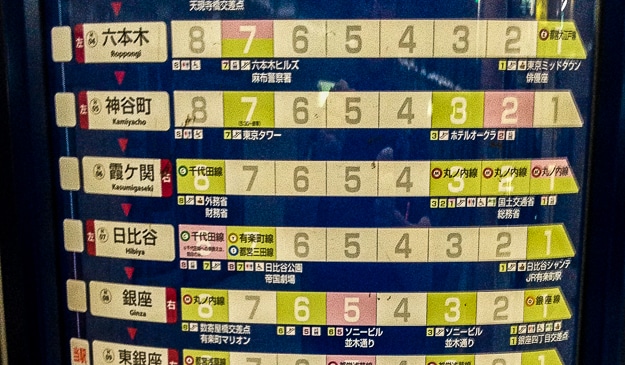 Another cool thing is at each stop is a list of all the other stops on the line, with a little picture of the train cars and graphic representations of which cars on the train will let you off nearest the elevators, or escalators, or bathrooms, or handicapped facilities. If you are a mom with a stroller or bags of groceries or a tourist with luggage, that's a big help.
Finally, this is the cleanest Metro system you've ever seen in your life. So far, I've yet to see so much as the tiniest scrap of paper anywhere on a floor, or even on the tracks. If you're used to New York or London, you won't believe you're on the same planet.
Above ground
Now that you're above ground, you have another problem. Did you know that very few streets in Tokyo have names? And that actual building addresses are 1) optional; and 2) if the address does exist, it doesn't follow any numerical order; and 3) the name of the building is likely to be only in Japanese characters? Embrace it. You're going to get lost. People who live here get lost, too. Allow time to blunder about.
In all tourist offices and most hotels, you'll be able to pick up a nice free guide called the Tokyo Handy Guide. It has guides to all the attractions, ordered by neighborhood, with maps of all the nameless streets. It also has a Metro map, and tells you what the nearest Metro stop is to the various attractions.
If you're lucky, your hotel will actually be shown on one of the maps. By all means, go to the desk of the hotel where someone will undoubtedly speak English. Ask them to circle your hotel on the map. That way, when you are lost, you can point to it. The cordial Japanese guy on the street will shake his head knowingly and then point you in the right direction.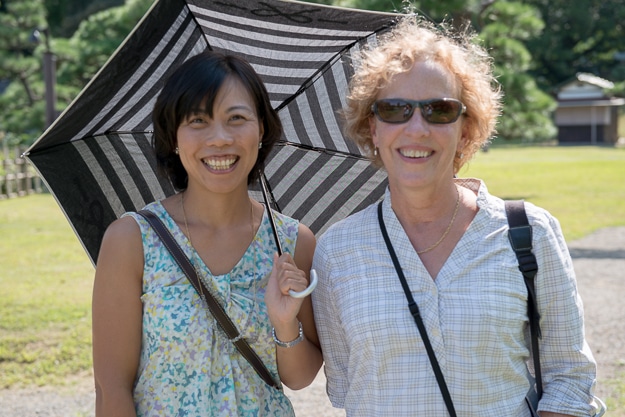 A local guide for free
And, when you're tired of being lost, there's a wonderful service for foreign visitors called Tokyo Free Guides. It's completely simple to use. You log on, create an account, tell them what day you're hoping for and what you might want to see, and they'll get back to you with a local independent English speaking guide who will give you a day tour. Your only cost is to pay that person's Metro fares and their lunch, if you decide to do that.
We had a marvelous insider tour of the Tsukiji Fish Market and the Hamarikyu Gardens from Keiko Nakamatsu.
And, we didn't get lost even once.
BTW, Kris has some more tips on Tokyo, such as where we stayed and what we ate and saw here.