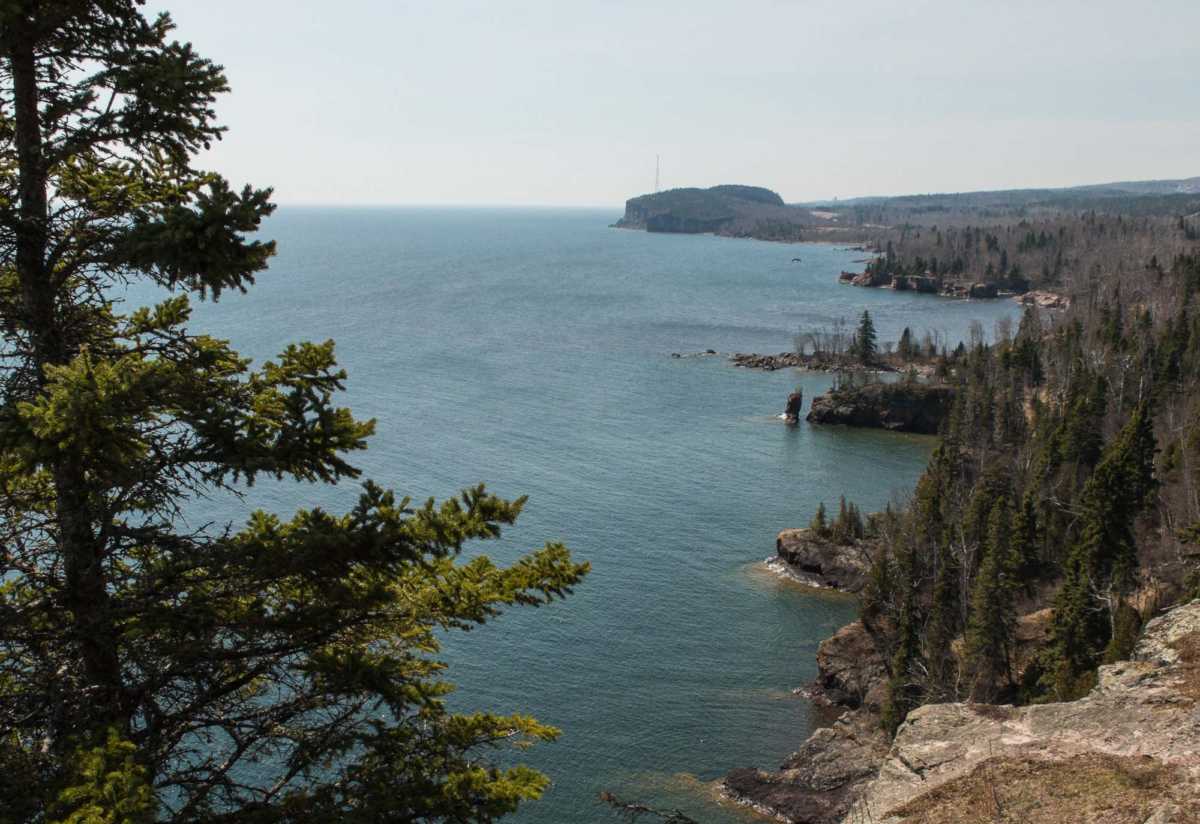 We've already posted some pretty pictures from the North Shore. But for anyone within striking distance–and that includes folks from Minnesota, Wisconsin, Manitoba, and Ontario–it's worth remembering how easy it is to take a mini-vacation along Lake Superior's northern shore in Minnesota.
Our April visit was a last minute decision. We were at an impasse moving into a condo, stalled making travel plans, and not making much headway working. Getting away could only help, like a deep breath.
We booked a room at an old stand-by, Solbakken Resort. It's nothing fancy, but it's where we honeymooned some decades back, and it's conveniently located between Lutsen and Grand Marais. Solbakken's attraction is that it sits right beside the water, where you can climb on the rocks, listen to the waves, and see the weather coming and going. The cozy cabins and motel rooms, however, could use new beds; I think my next visit will be after I've heard of this upgrade.
Unlike in my childhood, the drive to Duluth and then up the North Shore goes quickly. From the Twin Cities, it's about two and a quarter hours to Duluth, and then two more hours to Grand Marais. We drove up on Wednesday afternoon, arriving easily for check-in before dinner. With three nights, we found time to relax, sightsee, hike, do a little work, and eat pretty well.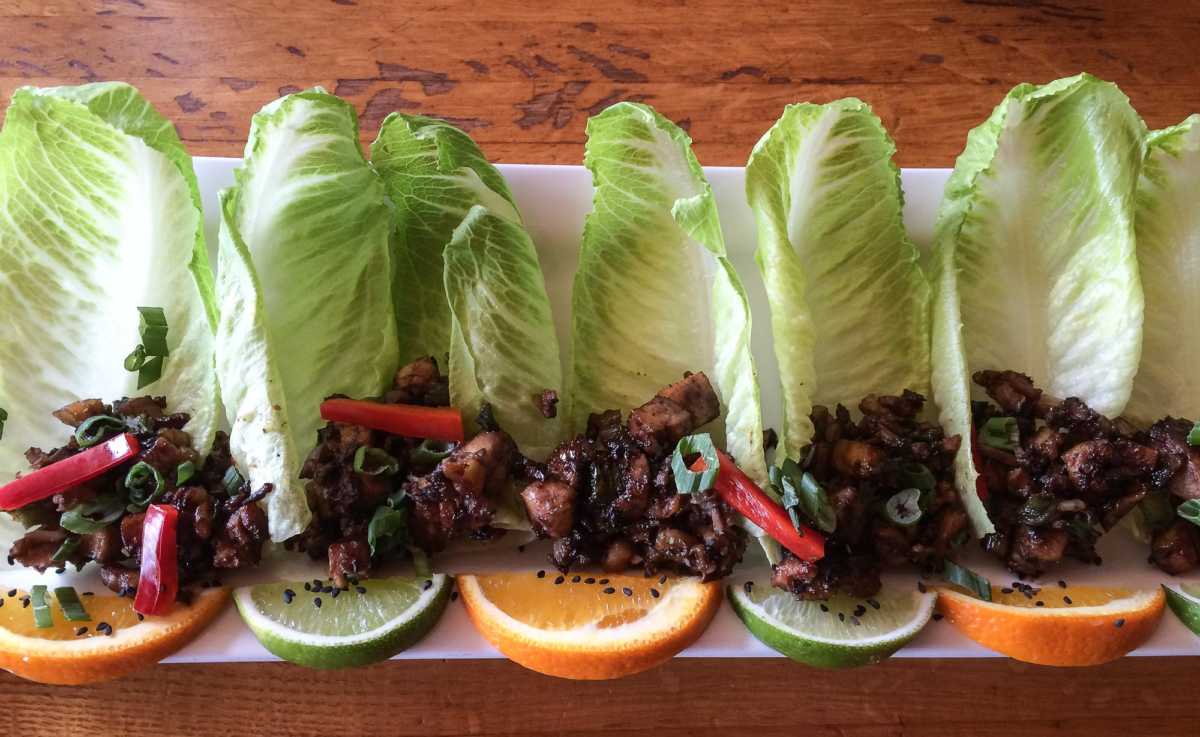 Day one started late (of course) with a drive up to Grand Marais in time for a late lunch at the Gun Flint Tavern. We took a liking to this place and returned late the next day, too. They serve their own brews and other distinctive local Minnesota beers; the owner's dog, Reuben, is the house mascot; the menu is really nice (homemade soups and specials, sandwiches, 'ethnic' dishes, local and imported fish); and the staff is especially friendly. The tavern looks out across the street to the coved harbor of Grand Marais.
We took our server's recommendation and headed to Judge C. R. Magney State Park to check out Devil's Kettle Falls on the Brule River. A late snowfall made the walk a bit treacherous. Snow was still several inches deep in the forest, and trails were icy and slushy. The river was running high and fast, a mix of cold gray and spring mud brown. Devil's Kettle, a big pool at the base of the booming waterfall is mysterious in that no one has ever figured out where all that water goes. Dyes, ping pong balls and who-knows-what-all have been fed into the kettle and never observed surfacing again, neither down river nor out in Lake Superior.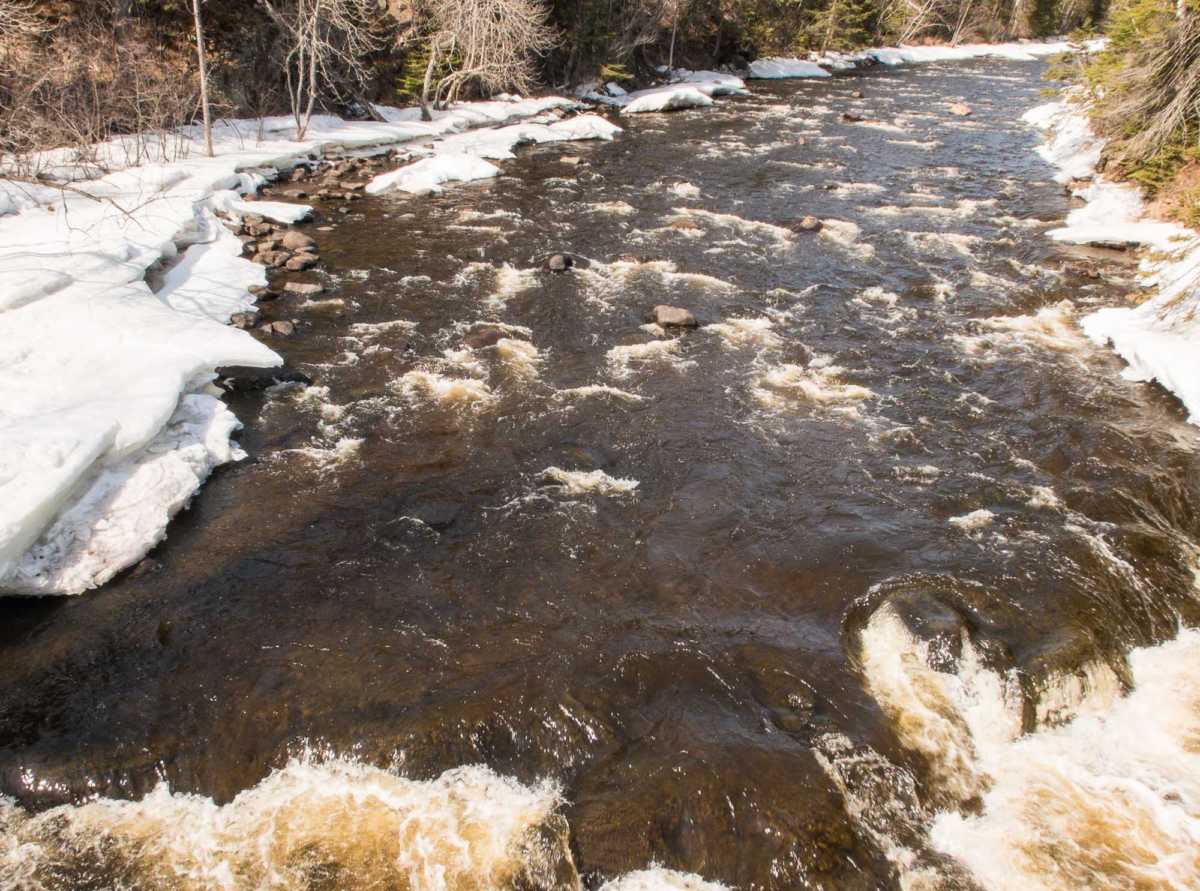 We drove further north to Grand Portage, site of the historic fur trading companies and all sorts of commerce in this part of the world. Isle Royale, an off shore National Park (actually claimed by Michigan) is accessed from Grand Portage in season, and that season is short: mid-April through October only. (From Grand Portage, it's just six miles to the Canadian border and thirty-eight more to the town of Thunder Bay, Ontario.)
Our second day took us on the scenic drive up the Gunflint Trail, the very same road I traveled as a kid to our annual family vacation on Gunflint Lake. (The road is now paved, and this trip, too, is faster. Four moose were hit by cars just this winter. Slow down and be aware.) This is the heart of the Boundary Waters Canoe Area where, in my mind, anyone who loves water and woods should visit at least once to canoe, camp, and live next to the clear cold water.
Gunflint Lodge was our a lunch destination, and they came through with a tasty menu peppered with wild blueberries, a product of the local forests. Gunflint Lodge has been around for a long time, and they are one of the few places "up north" that remains open year round.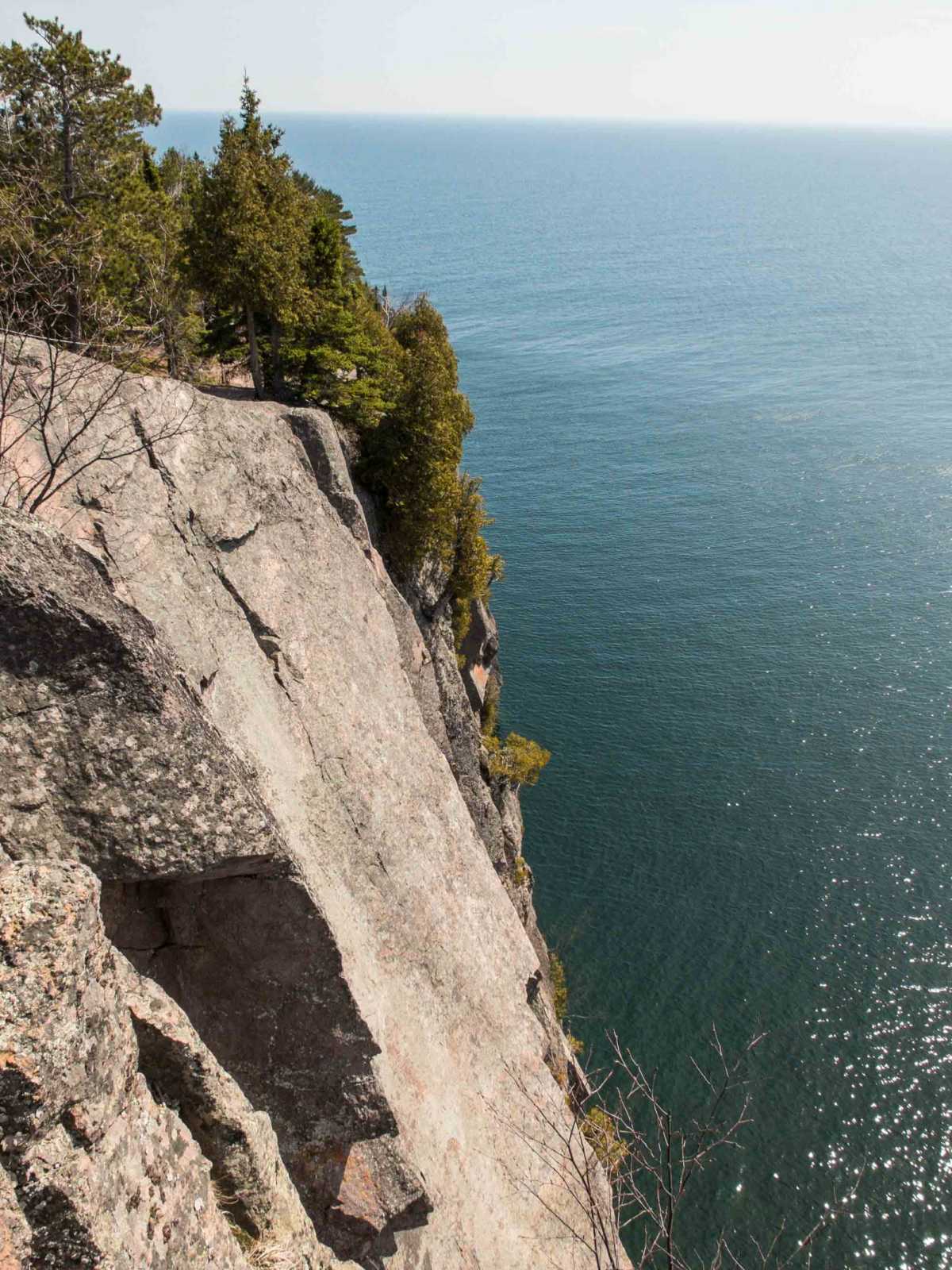 Saturday was our day to head back to the Twin Cities, but we managed to take in two more State Parks and a fine lunch in Duluth. Tettegouche State Park is a great alternative to the more popular Gooseberry Falls State Park further south. Trails to Tettegouche's falls (including the highest waterfall in the state) were closed due to April snow, or maybe we just decided not to attempt it. We hiked instead to Shovel Point. The trail traces along the rocky cliffs, with great views back to Palisade Head. Climbers had dropped off the cliff edge (by rope), and walkers stopped to sun themselves. Temperatures on Shovel Point in the brisk lake wind were significantly colder.
Last stop before Duluth was the iconic Split Rock Lighthouse State Park. Besides learning about the history of the lighthouse itself (open to visitors) it's fun to pull over and consider the history of the scenic drive along the North Shore. With our State Park pass, we also pulled into the campgrounds around the other side of Little Two Harbors, where we found a stony beach, the foundation of old fishing huts, and a serene view of the lighthouse from water's edge.
As we overheard one visitor tell a friend over the phone, "It's like the ocean." This part of Minnesota, called the Arrowhead (referring both to its shape and the carved stone arrow points made here by Native Americans) possesses a geology all its own. An ocean-like lake, semi-mountainous terrain, the Superior National Forest of pine, cedar, birch, and maple growing right out of rock outcroppings, and the network of lakes and rivers is a magnet for birds and wildlife. The big lake and its north shore deliver a dependable break from daily life and mundane scenery. It's a corner of the world that renews the spirit.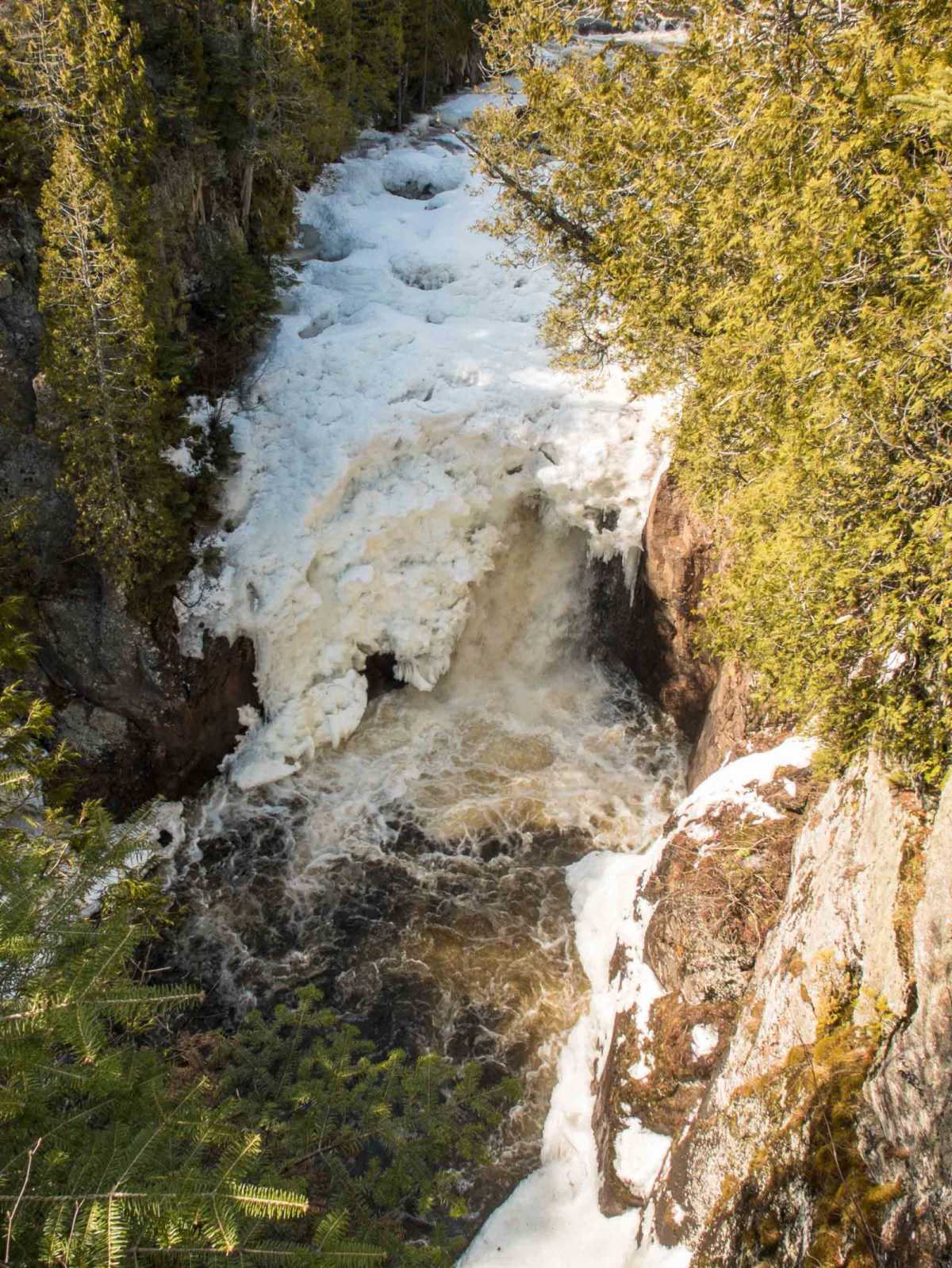 You can help yourself get ready for your own travels by reading our Get Started Planning Your Trip Now page.
We love traveling–with the right gear. You can check out a lot of the stuff we use to make all our travel much more pleasant and efficient all on one page. Click here to see it. If you purchase something from this page, Travel Past 50 may receive a small commission at no extra charge to you. Thanks.
Note: This post and other posts on TravelPast50.com may contain paid or affiliate advertising links.
Get all our travel tips delivered to your inbox
Subscribe to our email newsletter