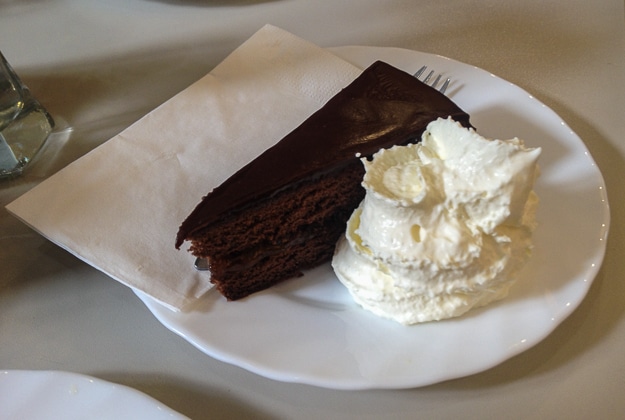 Vienna was cold at the end of November. It was below freezing and worse, there was about a 40 kph wind blowing all the time. And since we hadn't planned or packed for winter in Northern Europe when we left the US, we were definitely underdressed.
Consequently, we didn't do our usual wandering around more of less in a stupor gazing at architecture while we were wondering what to do next. Oddly for us, we started each day in Vienna with a plan. So, although we were here for less than three days, we managed to pack a lot in. And we did get some architecture gaping in during the walks between attractions.
The first mission was to find the fabled rich food of Vienna, and while we were at it, partake of the also fabled café culture. As I mentioned here, we succeeded admirably right off the bat with Café Prückel and the Wiener schnitzel. Since that success included a bottle of wine and it came after a long train ride from Prague, we decided to stumble back to the apartment to rest up for tomorrow.
Some posts on Travel Past 50 may contain affiliate links. If you buy something through one of those links, we may earn a small commission. As an Amazon associate, we earn from qualifying purchases.
We spent the next morning catching up on some blog tasks and some Thanksgiving emails and so didn't make it out of the apartment until after noon, when we headed directly for the Leopold Museum. I wasn't exactly sure what I expected out of the museum, since I'd never heard of it before other than a couple of friends' recommendations on Facebook, but the brochure promised Klimt, and I do like gloriously gilt nudes.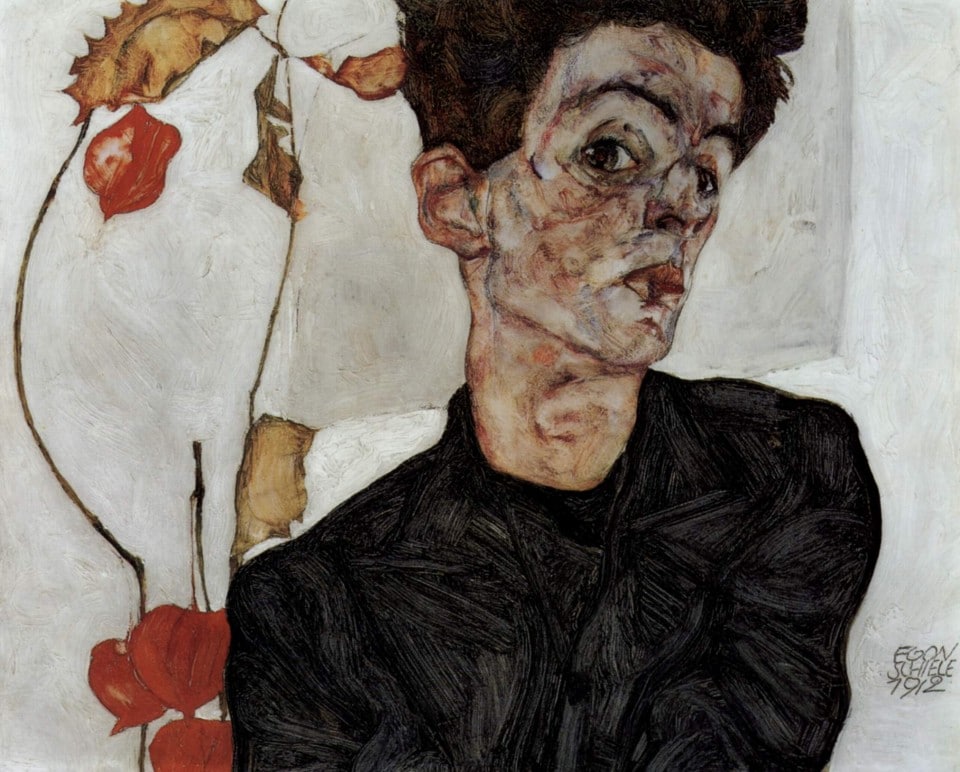 Despite its own publicity, the Leopold was a bit short of Klimt paintings, but had a large collection of Egon Schiele, who, I'm embarrassed to admit, I was only very vaguely familiar with. Now, I'm glad to say, I'm planning on becoming more familiar, because he was an incredible talent. When he died of flu when he was only 28 years old, we all lost a lot.
The Leopold gave a room to another early 20th Century Viennese artist who died young: Richard Gerstl. There were only six or seven of his paintings there, but there was a long biographical didactic of his life on the wall. He'd had an affair with his best friend's wife, and when she went back to her family and he was subsequently shunned by his circle of friends, he killed himself at age 25. But, like Schiele, he left a small be remarkable body of work. His brush work, especially in a striking portrait of his father, reminded me of Van Gogh at his most manic.
We finished up the night in a charming Italian restaurant we stumbled upon who wooed us with its name, L'Asino Che Ride (The Laughing Ass,) and the promise of pizza cooked in a wood oven. It was delicious. Especially because it was accompanied by our recent find (in London, of all places) of Sicilian wine Nero D'Avola. Try it next time you're in an Italian place. Usually the cheapest thing on the wine list, and maybe the best. Well, maybe the best other than a $150 bottle of Barolo. Certainly better than Chianti.
Our last day was the most packed with "touristy" things. While we were wandering around after pizza, we'd stumbled, completely by accident, on the famed Spanish Riding School, home of the Lipizzaner stallions. The ticket office was closed, but there was a performance in the morning at 11. And although the web site wouldn't sell us tickets when we got back to the apartment, we resolved to get up early (for us) and hike down to see if there were any left.
As Kris was standing in line, I heard the ticket clerk tell the person two ahead of her that there were only two tickets left, and that they were not even together. So, disappointed, I moved over to the line for tours of the school that were available that afternoon. But as I got there, that clerk, who was about to put up the "Sold Out" signs on the counter, told me they'd just had a cancellation and there were two available in the fifth row for €40 each. Since Kris really likes horses, I bought them.
We killed most of the hour we had before the performance by sitting in the school's café and having some delicious smoked salmon with dollops of fresh horseradish on cream cheese (not Philadelphia) spread bread. I'm not sure I've ever had fresh horseradish before other than when I was tricked into taking a big bite at a seder when I was 17, but this was absolutely delicious when married with the salmon and delicate cheese. I'll be back.
We followed this up with a slice of Sacher Torte, which, for the uninitiated, is a chocolate sponge cake with apricot jam spread between its layers and covered with a bittersweet chocolate frosting. Even though this wasn't the "official" Sacher Torte developed by Mr. Sacher and served "officially" and "exclusively" at the Sacher Hotel Café, it was delicious, and a relative bargain at €3.80 (€5 with a cappuchino.) More on cake later.
About the only thing I know about the Lipizzaner stallions is a very vague recollection of a TV show about them when I was young. I think it was on Disney's Wonderful World of Color and was about their rescue by American troops near the end of World War II. (Evidently, there was some concern that the horse meat-loving Russians who were advancing on the horse farms had plans other than ballet for the stallions.) There was also and an argument between Denzel Washington and Gene Hackman in an otherwise forgettable movie about whether they're originally from Spain or Portugal. (The answer is Spain, btw.)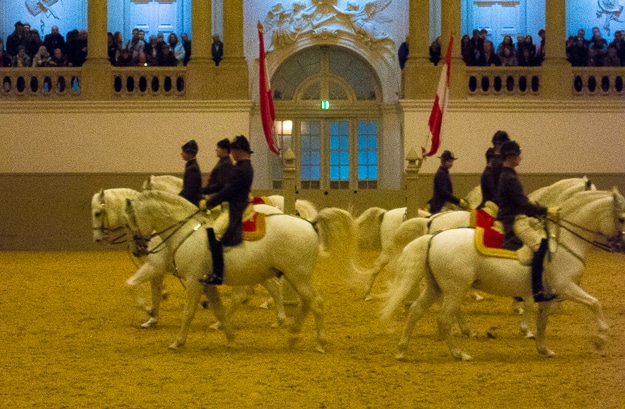 I can't say I know much more about the Lipizzaners now, other than one has to gratefully admire the degree of training these horses can absorb, and how the riders are able to so fluently communicate with their mounts with almost invisible touches of their spurs, crops and reins. All in all, it was beautiful dance, mostly set, because this is Vienna after all, to the music of Strauss. And, while I usually don't like horses that much, I do love classical dance.
Since the performance ended shortly after noon, lunch was next on the agenda. Like usual, we had no specific plans, but as we walked around, we ran into the aforementioned Sacher Hotel, and its eponymous café. Which serves Sacher torte. And since we're dedicated to providing our readers with the genuine experience whenever possible, we each had a sandwich and left room for a second helping of torte.
This may be blasphemy, but I actually preferred the torte at the Riding School coffee shop. It was moister, the apricot jam was more evident, and the frosting was smoother. The Sacher Café's version was dry, there was no perceptible apricot jam, and the frosting was hardened over the cake, more like a coating of stiff fudge than a frosting. The fudge itself was a wonderful bittersweet chocolate that was probably tastier than the Riding School version, but the cake itself was a dry disappointment. OK, shoot me now if you like.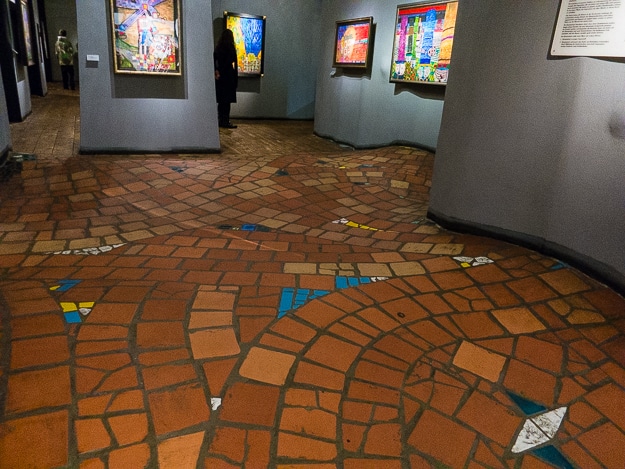 Next, we hiked to the Hundertwasser Museum at Kunst Haus Wien. I'd never heard of the artist Friedensreich Hundertwasser until then. But several friends recommended him to us as Vienna's Gaudi. That's not a totally inaccurate description. The house itself, as well as his paintings, his prints, his architectural models, and more housed within his former home certainly recall Barcelona's master of whimsy, down to and including his riotous use of mosaics for almost anything. Highly recommended.
We lucked into a temporary exhibit there, too, of the fashion and celebrity photo work of Swiss photographer Michel Comte. Huge prints of very beautiful and interesting people done by a master. Wonderful stuff and worth a visit if you get there before it closes Feb. 16, 2014.
Finally, Vienna is, of course, noted for its music, and we made sure of making to one concert. It wasn't the traditional opera or orchestral works, but we came upon an evening chamber music concert in the St. Stephan's Cathedral. We splurged a bit and spent €35 each for front section seats to hear an eight piece ensemble (with two vocalists) do Bach, Mozart and some recognizable Christmas music of a more popular, if not modern, style as well.
Food, art, music. The Viennese triumvirate. It didn't disappoint.
Travel Planning Resources
Looking to book your next trip? Use these resources that are tried and tested by us. Flights: Start finding the very best flight deals by subscribing to
Thrifty Traveler
. Book your Hotel: Find the best prices on hotels with
Booking.com
. Find Apartment Rentals: Find the cheapest prices on apartment rentals with
VRBO
. Travel Insurance: Don't leave home without it. We recommend
Allianz Travel Insurance
. Need more help planning your trip? Make sure to check out our
Resources Page
where we highlight all the great travel companies and products that we trust. See all of the gear and books we like in one place on our
Amazon shop
.