Note: This story was originally posted together with a summary of Florence's museums. But the post became unwieldy: that's how many significant churches and museums are recommended in Florence. Churches, mind you, have some of the best art in the world so don't be afraid to enter. They are also museums. To help guide you, here's our round-up of churches and public spaces in and near Florence. For our notes on Florence's museums, check out "What's New in Florence."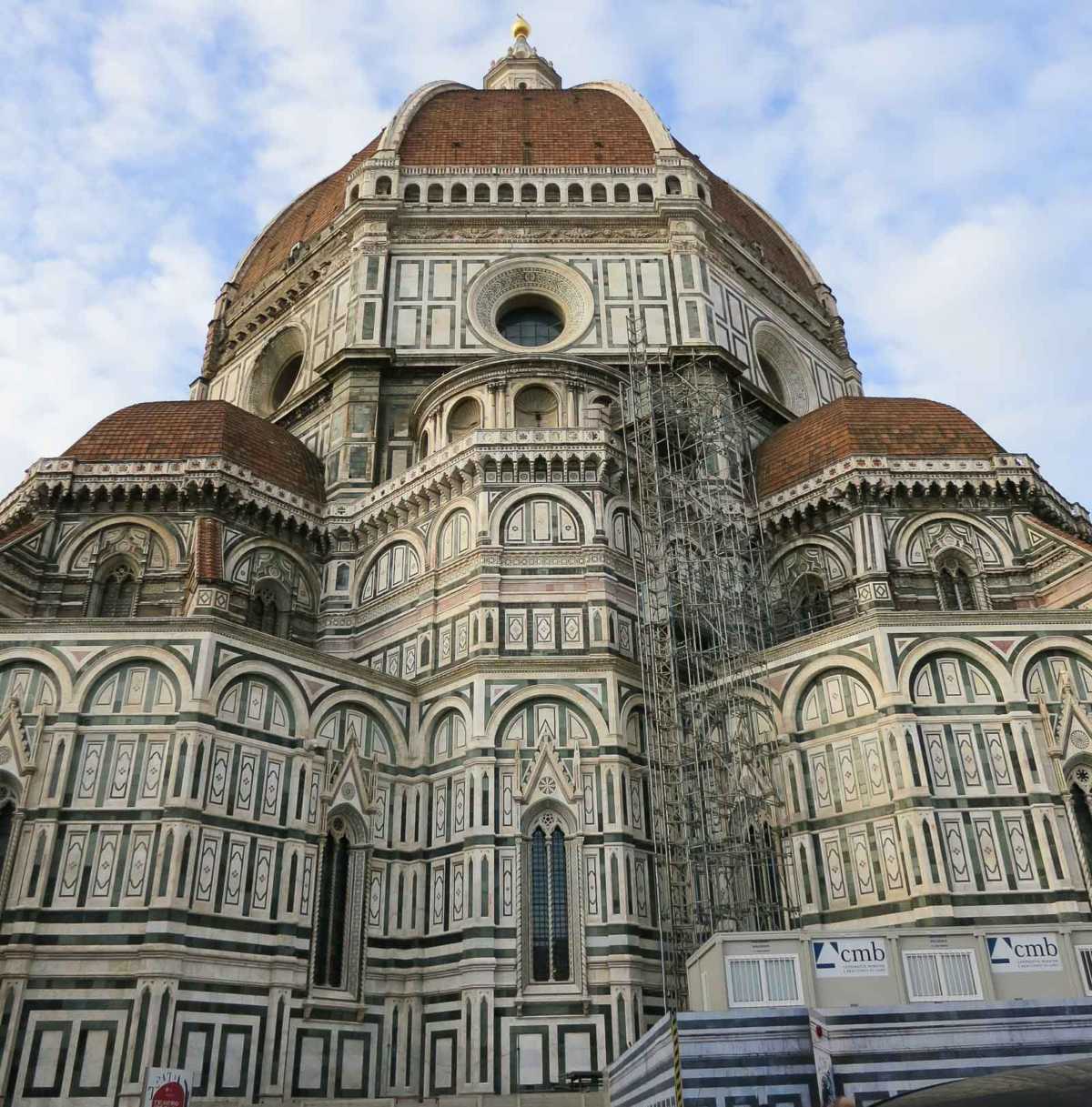 On my fifth visit to Florence, Italy, everything old seemed new again. I loved Florence on my first visit in the 70s, and I still love it now. But my travel advice for the day is: don't ever say "Been there, done that."  Maybe we've been there before, but Florence isn't standing still. Museums and churches are constantly being adapted to restore and preserve art and to handle more visitors.
The Duomo – I don't mind visiting the landmark Duomo cathedral every day I'm in Florence. The Duomo Museum was closed for remodeling when we visited in December 2014. It didn't even exist during some of my earlier visits, so I can't tell you what will be new upon its reopening. (I was sorry to miss seeing the Michelangelo pieta that is housed in the museum.) But there's lots to see besides the Museum. Entry to the Duomo nave is free. For a combined 10€ ticket, visitors can enter the excavations and crypt below the cathedral, tour the Baptistry building, and climb the dome and the bell tower. We did it all, using the 24 hour ticket over two days–to save our legs and to see views at different times of day. (Today's quiz: Guess which part of the Duomo was covered with scaffolding this time. Answer: The Baptistry.)
Santa Croce – 6€. Most worthy to be re-visited. Santa Croce includes frescos by Giotto, the sacristy, the Pazzi Chapel, cloisters, and, for 1€ more, a useful brochure which details art throughout. Parts of the cloister were not previously open to the public.
Brancacci Chapel at San Carmine – 6€. Groundbreaking, emotional work for its time. Not to be missed, even though on any given trip I make three attempts to visit before I get the opening hours right. Frescos by Masaccio, Masolino and Filippino Lippi. Of course the art hasn't changed, but the access and bookstore have expanded to handle more people.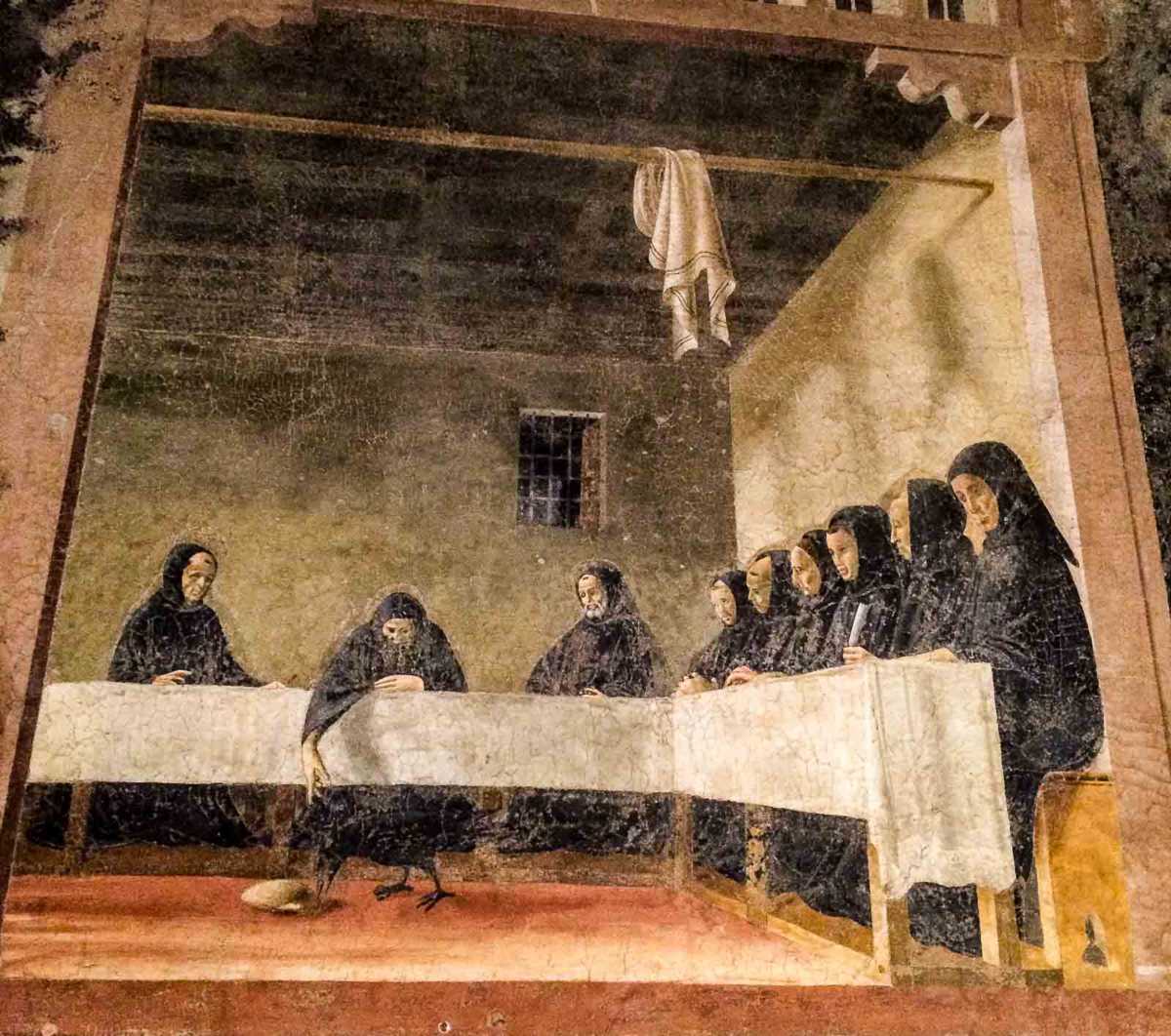 Santa Maria Novella – 5€. Includes the basilica, cloister, and museum. This large church/museum was lower on my priority list previously, but the wealth of art will keep me coming back. You'll find a Giotto crucifix plus paintings and frescos by Masaccio, Ghiberti, Botticelli, Ghirlandaio, and Filippino Lippi.
San Lorenzo – You'll probably be nearby to see the Medici Chapel, so you may as well duck in to see the chapel by Brunelleschi plus Donatello's pulpits.
For bonus points, pass through San Marco and SS Annunziata churches and foyers. Frescos are currently being restored.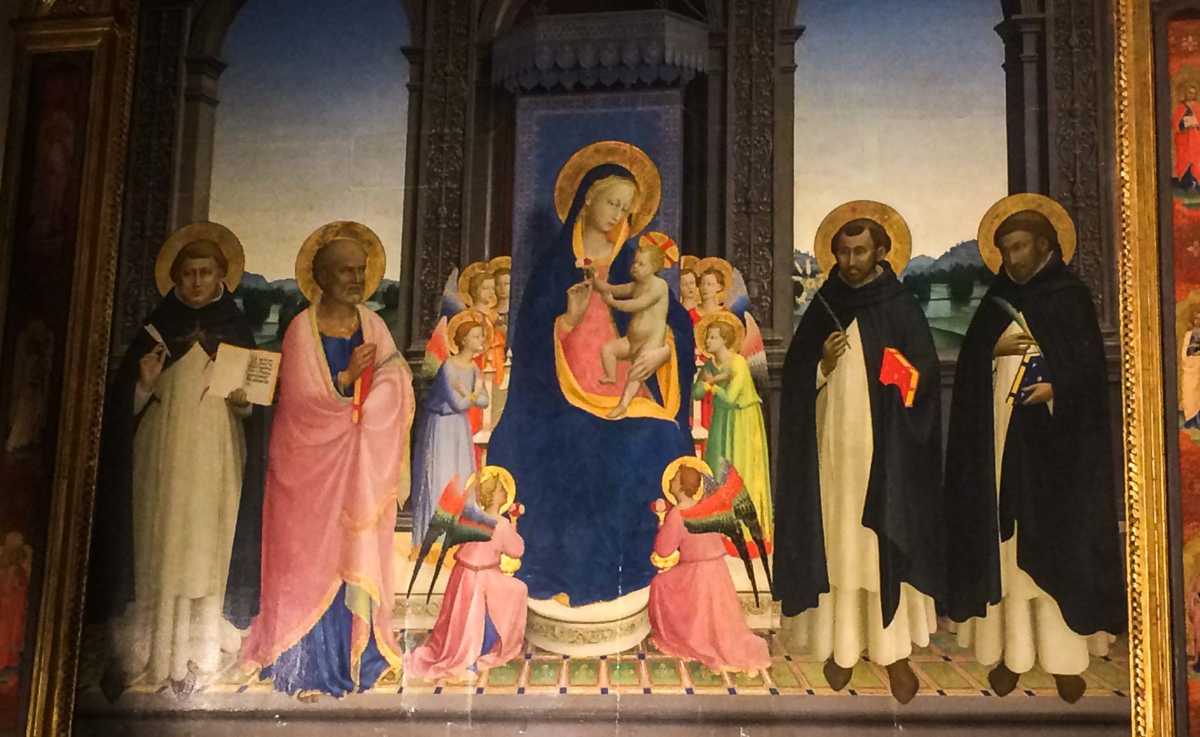 San Domenico – Some days of sightseeing are bound to be fraught with failure. After missing Assisi (we changed plans due to a late start and general confusion), we struck out in Fiesole, visiting on a day when museums and archeology sites were closed. Then after our consolation lunch, Tom was locked into a bathroom for about 25 minutes…with no phone signal. But after three strikes, we were rewarded. We walked downhill from Fiesole to San Domenico, a pleasant walk of about 45 minutes, to see the Fiesole Altarpiece (1425) by Fra Angelico. Not only were we able to get into the church, but electricians were working on lighting the art. They took special care and pride in allowing us to view the work for as long as we wanted.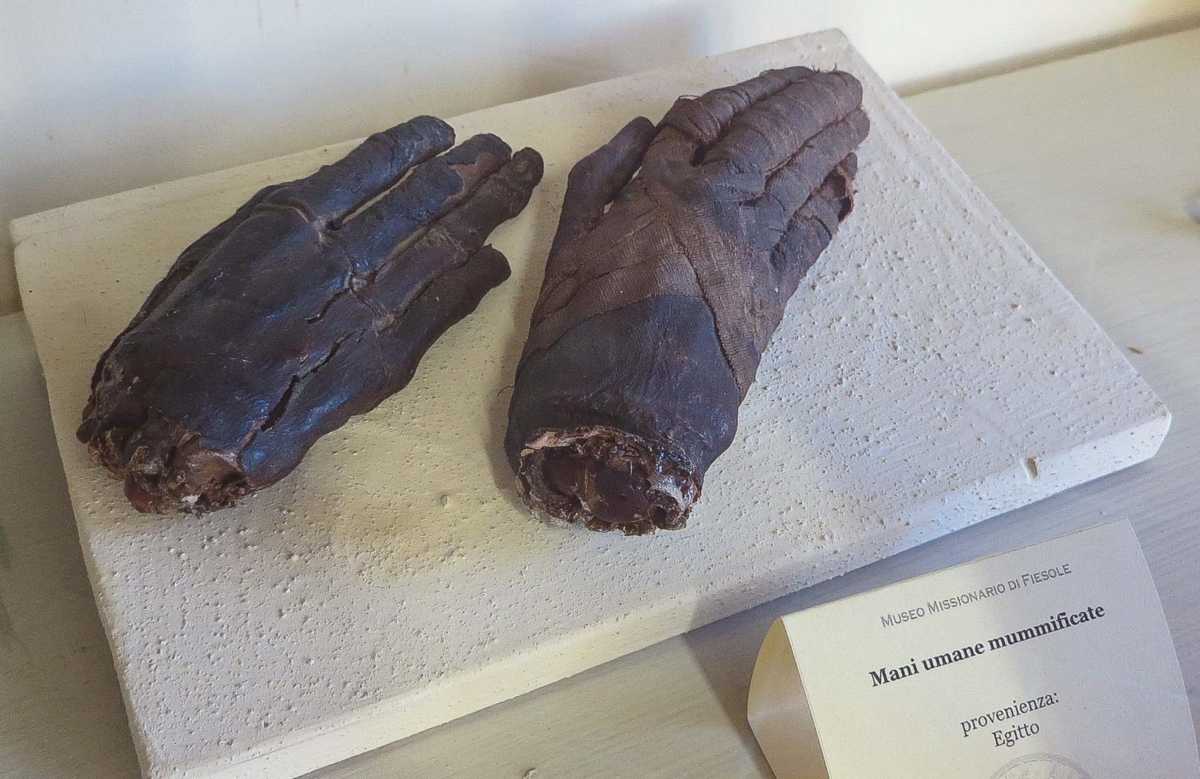 Fiesole Franciscan Monastery – Also new to us, discovered because everything else was closed, was the Franciscan Monastery Museum at the top of the hill in Fiesole. Once you walk to the upper view point, continue up the stairs, then down to the basement of the monastery where this hidden gem exhibits findings of the missionaries in Indonesia and Egypt. Ivories, prints, textiles, and more are free to view.
Other Public Spaces
Museo degli Innocenti (MUDI) – in the former Hospital of the Innocents – Besides being a lively example of Brunelleschi's architecture, the historic site is being renovated to exhibit the multidisciplinary work of architects, art historians, and educators.
Piazza S. Spirito – Included here as an example of the trend we enjoyed in several locations: highly produced light shows projected onto historic facades. This one included drawings from school kids, and the enthusiastic audience to match.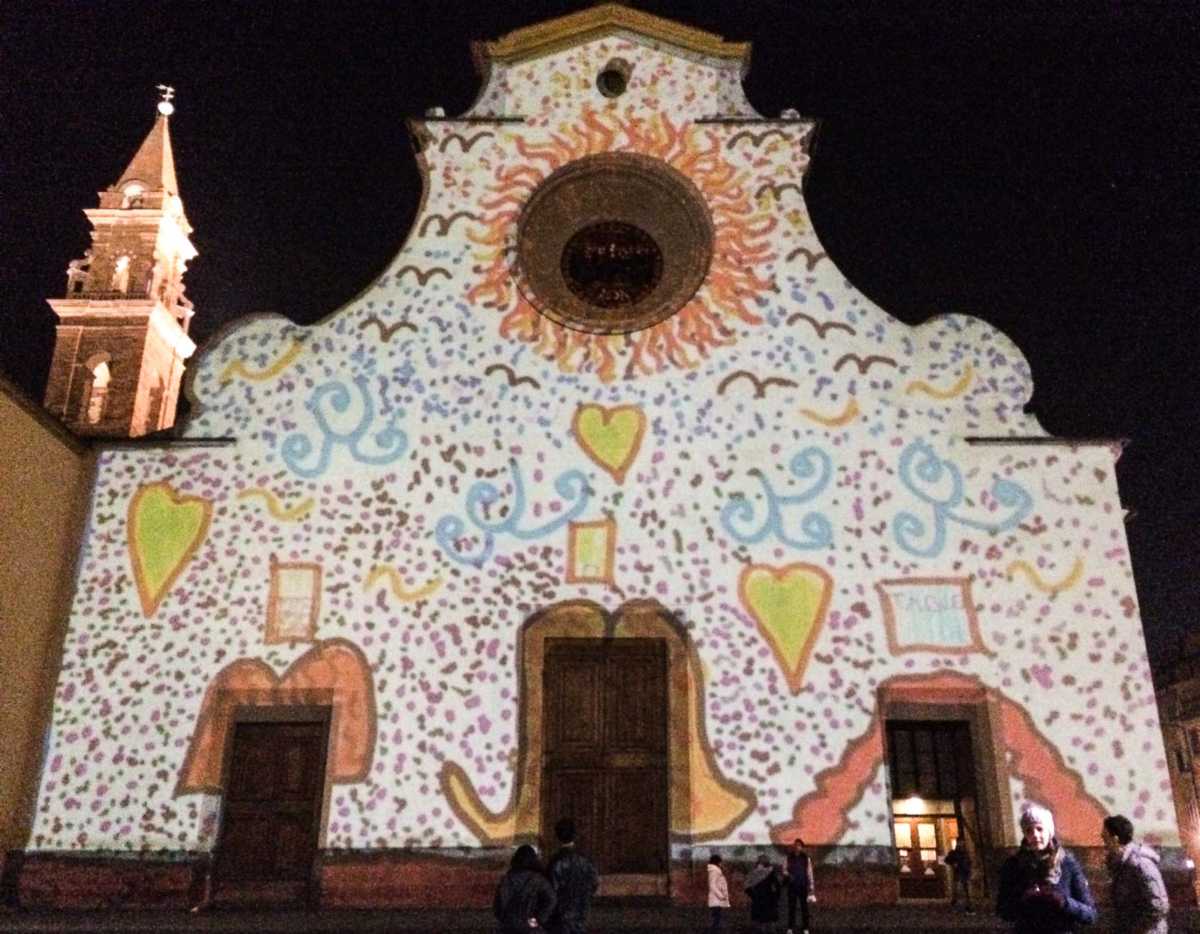 Mercato San Ambrogio – It's the happening place, especially since the upscale-ization of the Central Market
Piazza Ciompi Antique Market – Apart from the better known shops around the Ponte Santa Trinita, this small outdoor market area looks interesting, even though we kept passing it at night when it was closed. This is on a central, non-touristy shopping street dotted with affordable restaurants, too.
Piazza San Firenze – Tucked close by to the Piazza della Signoria hub, this smaller, intimate square is home to some inexpensive restaurants and our favorite place for morning coffee.
For more about our stay in Florence–specifically where we slept and ate–check this out. We love Florence.
You can help yourself get ready for your own travels by reading our Get Started Planning Your Trip Now page.
We love traveling–with the right gear. We've gathered a lot of the stuff we use to make travel more pleasant and efficient all on one page. Shop our Travel Past 50 Amazon page to find our favorite gear. If you purchase something from the store, Travel Past 50, as an Amazon affiliate, may receive a small commission at no extra charge to you. Thanks.
We never leave home without our travel insurance. Nor should you. Search for the travel insurance from Allianz that best meets your needs, whether it be an annual plan or a single trip.
Note: This post and other posts on TravelPast50.com may contain paid or affiliate advertising links.