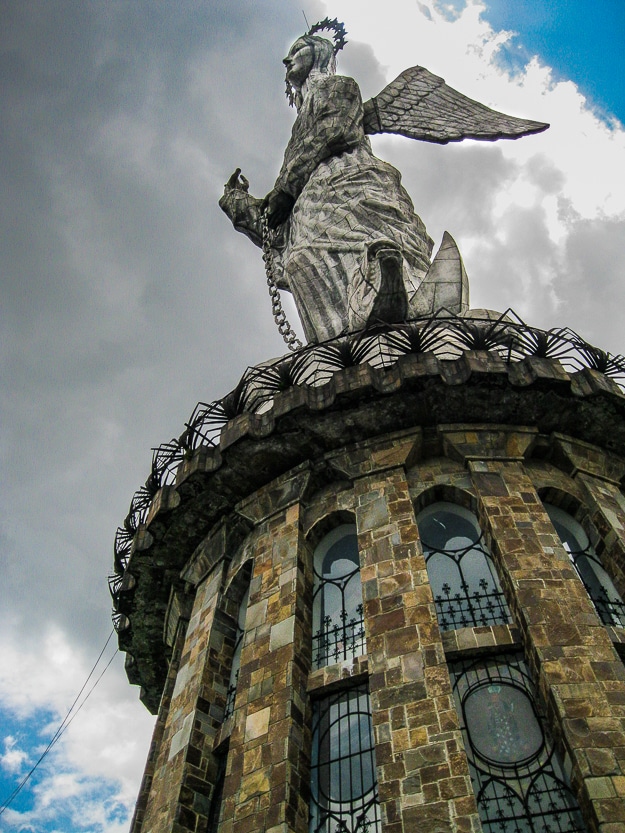 I've been living in Quito, the capital of Ecuador, for about four and a half months now, counting the two trips back to the U.S. to take care of some business. Now my wife, Kristin Henning,  and I are here for the duration, and that could be indefinite as we've just applied for resident visas.
The picture at the top of this post is a view from of the Virgin of the Panecillo. You can see her from the picture window of my apartment. The apartment is very small, very inexpensive, but, except for the mattress, very comfortable. Depending on how successful I am with the visa application, I will remedy the mattress situation soon.
The view is of a hill, which rises right in the middle of the valley of Quito and is called the Panecillo, which translates as "Little Loaf of Bread." It's topped by a large statue of the Virgin Mary, which sort of serves as the logo of Quito. And, as Quiteños are proud to point out, she's the only Virgin with wings in the world. That's because she's the Virgin of the Apocalypse and is stomping on the snake from the Garden of Eden. It's the image of the final triumph at the end of the world of good over evil. I'll believe it when I see it.
Turning to the east on a clear day, I can see the snowy summit of Antisana, the fourth tallest volcano in Ecuador. If I walk up the hill I live on a ways and look to the south, I can see Cotopaxi, the second tallest. The street I live on also happens to be named Cotopaxi, and it's damn near as steep as its namesake.
I came here in June to teach at a private language school. I did it for two months, but for various reasons, including having to go back to the States for business and personal reasons, I had to resign. I like teaching, and am now working with one private student, but, at the same time, it's a bit confining to have to be somewhere on a schedule, when what I really want to do is see new places and do new things.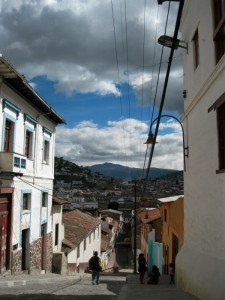 I'm going to use this space primarily to talk about the places we go. I'm going to include some detailed information about how to get there using publicly available transport. We don't have a car, and don't plan on getting one any time soon. You don't need one.
I'm going to start tomorrow with La Mitad del Mundo, the touristy little monument to the equator just outside Quito.
Get all our travel tips delivered to your inbox
Subscribe to our email newsletter