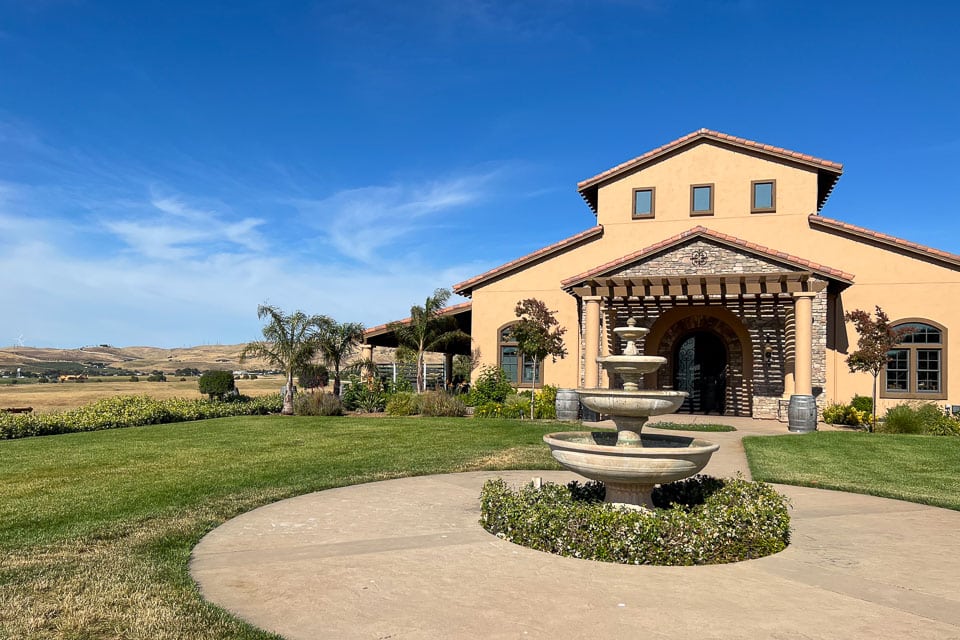 Can we discover California's Tri-Valley if it's a 'secret,' or explore it if it's a 'hidden gem'? Let the copywriters quibble. When we announced to friends, even in the Bay Area, that our itinerary would take us to Tri-Valley, the usual response was, "Where? Why?" Now we can unveil the reasons to visit Tri-Valley. Though little known outside the local area, it is a worthy travel destination.
Tri-Valley refers to the charming California region located just east of the San Francisco Bay Area. Nestled amidst rolling hills, vineyards, and picturesque small towns, Tri-Valley offers a blend of natural beauty, outdoor adventures, cultural experiences, and delicious culinary highlights. And some shopping, too.
The three valleys referred to, by the way, are the San Ramon Valley, Amador Valley, and Livermore Valley. Over three days, we found dozens of places to visit and things to do. For road trippers crossing the state to visit National Parks and monuments, for Bay Area residents who want a quick but complete getaway, and for travelers from around the country and world, there's a sweet spot in Tri-Valley you'll enjoy.
Here's what we recommend in Tri-Valley, often dubbed 'the sunny side of the Bay.'
Wine Tasting in Livermore Valley
Tri-Valley is renowned for its wine, and the Livermore Valley is at the heart of this viticulture region. Though rich in history – this valley has been producing wine for 140 years – the valley is unpretentious and easy to visit, only about 30 miles form both Oakland and San Jose. With over 50 vintners, Livermore Valley makes a great alternative to, or addition to, the typical Napa Valley wine tour. The entire Livermore Valley Wine Country area is over 3,000 acres, growing a large range of varietals and displaying a keen sense of cooperation among the neighborly vintners. A couple of the original vintners, Wente Vineyards and Concannon, survived prohibition and still lead the way. Wente, known for its chardonnay and moving to the 6th generation, is the longest continuously operated winery in the United States. The historic Concannon Vineyard is known primarily for its Bordeaux-style wines and its Cab Sav clones.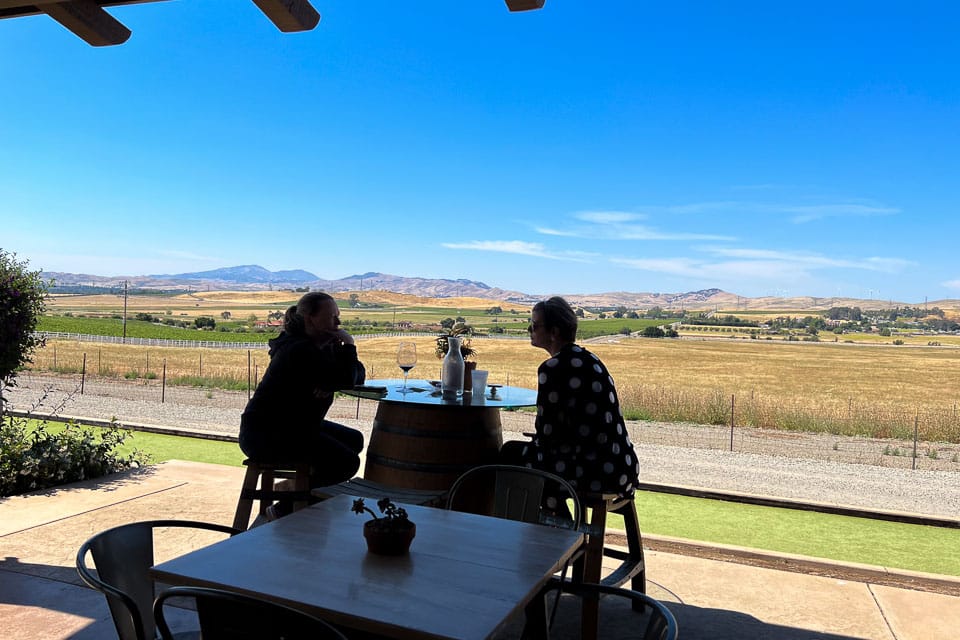 We spent a leisurely afternoon at McGrail Winery and Vineyards, now operated by the second generation of the McGrail family. (Founder Jim McGrail, a former Alameda County Sheriff Captain, bought the property for his family long before deciding to plant grapes.) Daughter Heather surprised herself by returning home after college to help the family in the endeavor. Their first bottle was produced in 2005, and the McGrail Tasting Room opened in 2007. Heather was just 24 at the time, but speaks to the generosity and knowledge of her fellow Livermore vintners in helping the fledgling winery grow and prosper. The county contributed to the area's success, too, with zoning and water management as early as the 1970s to protect the area from rampant development. McGrail's flagship wines are Cabernet Sauvignon, with a few acres of Chardonnay to appease her mother, Ginger.
Both the Livermore Valley Winegrowers Association and Visit Tri-Valley Wine Trails bureau offer guides to visiting and tasting the award-winning wines of Livermore Valley.
The tasting room experience at McGrail combines large indoor and outdoor spaces, an entertainment calendar, event venue opportunities, and wonderful broad views of the nearby fields and hills and the landmark Mount Diablo. Many of the scenic vineyards also offer guided tours, allowing you to delve into the wine-making process and appreciate the craftsmanship involved.
More Tri-Valley Food and Beverage Trails
Find an easy-to-follow guide and discover local beers at various breweries and tap rooms with the Tri-Valley Beer Trail app. Your app is also your passport for checking in and accumulating points to win merchandise.
Visit Tri-Valley also provides a convenient guide to coffee hotspots, with their Caffeine Trail. Submit your favorite images along the way and win a Tri-Valley mug.
While you are hitting the trails, be sure to check out the five fancy ice cream shops that participate in an Ice Cream Trail. Get a scoop for me, please.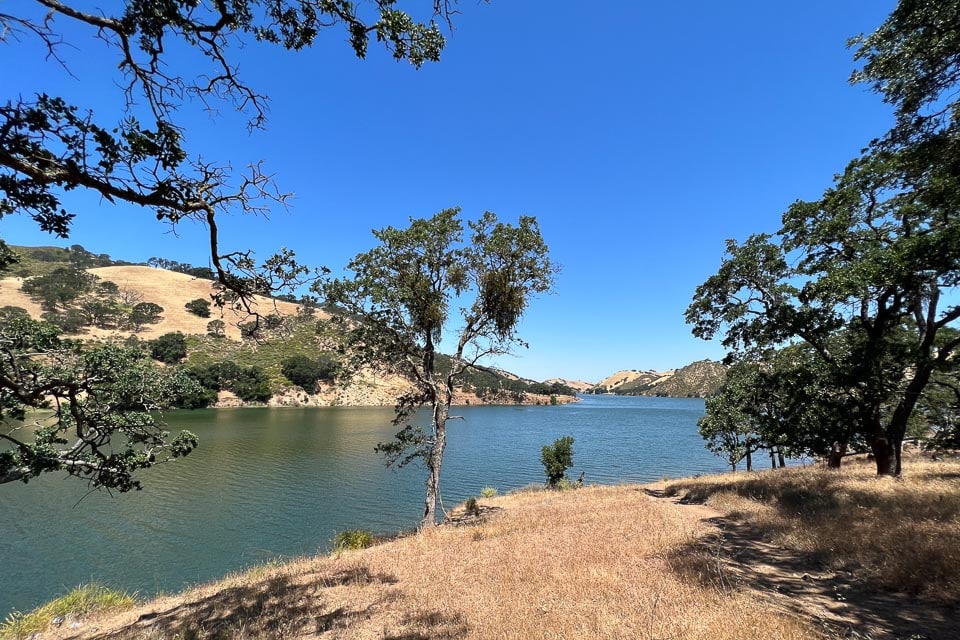 Outdoor Adventures in Tri-Valley Regional Parks
Nature enthusiasts will find plenty to love in Tri-Valley's regional parks. Lace up your hiking boots and hit the trails, or take to the water for recreation. The Del Valle Regional Park, for example, offers breathtaking vistas of the sparkling Del Valle Reservoir. For golf enthusiast, Tri-Valley offers several exceptional golf courses that will challenge players of all skill levels.
Our early morning walk along the lake in Del Valle Regional Park primed us for a hearty lunch and our afternoon wine tasting. But it would be easy to spend the whole day in the park. You'll find beaches, a boat landing, docks, and sweet little shaded spots along the banks for picnicking or fishing. One distance swimmer was headed the length of the lake. Though early in the day, SUP-ers and sailors were putting their craft into the water. A brand new visitor center (open weekends) and signage annotates the wildlife and conservation efforts here, and birding is a popular activity. The scenic drive to Del Valle Park from Livermore is worthwhile, too. Expect to give way to adventurous cyclists headed up the hills for the day.
More Trails for Hikers, Cyclists, Equestrians
The Tri-Valley Conservancy is instrumental in protecting open land and wildlife for public enjoyment. Check out their site to see ways in which you can help and participate responsibly in enjoying Tri-Valley's open spaces.
With Visit-Tri-Valley, the Conservancy has published a nice brochure of 10 Tri-Valley Trails for Hikers, Bikers, and Equestrians. Find it at the local tourism sites, or see this Parks and Trails web page.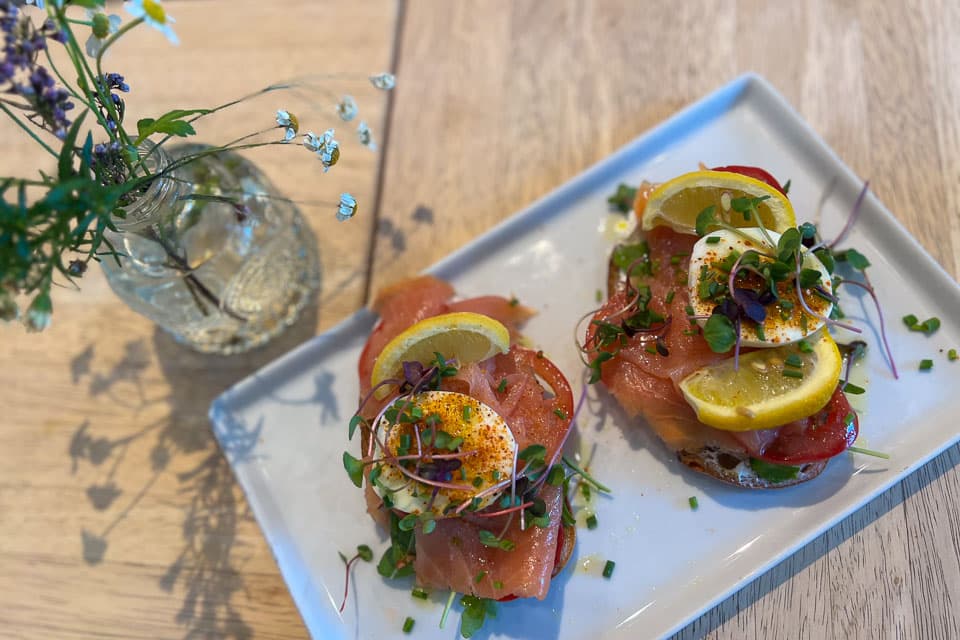 Restaurants in Tri-Valley Towns
Tri-Valley caters to food lovers, boasting an eclectic mix of culinary offerings. From farm-to-table establishments to international cuisine to home town comfort food, there is something to suit every palate. Besides the places we list below, be sure to wander around downtown Pleasanton or downtown Livermore to discover more foodie finds: restaurants and cafes serving tasty dishes made with locally sourced ingredients.
For many of us visitors, the fresh California cuisine is only topped by the plentiful patio seating. Yes to dining al fresco! Don't forget to pair your meal with a glass of locally produced wine.
Breakfast, Coffee, and Casual
The Press Cafe in Livermore. A great way to begin the day, with a menu covering soups, salads and sandwiches. But the stars of the show are the Toastini. The Nordic with thin salmon, herb cheese, a juicy tomato slice and egg dusted with paprika and watercress thoroughly satisfied me.
The Sideboard in Danville. Dubbed a 'neighborhood kitchen', Sideboard is just that. Featuring from-scratch comfort food and a coffee bar, the Sideboard menus transition perfectly from breakfast to brunch to lunch and dinner.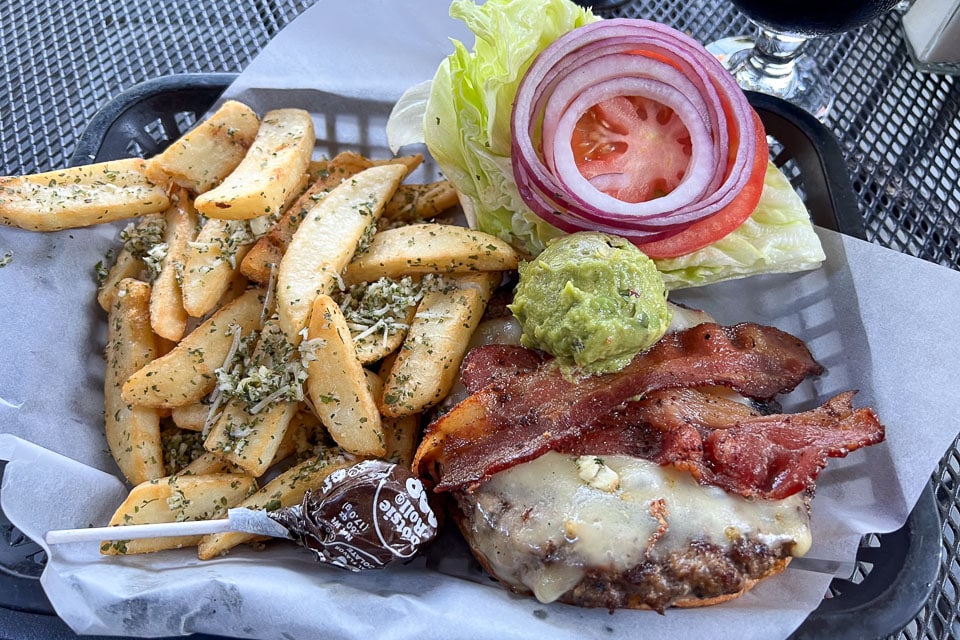 Lunch/Dinner
First Street Ale House, Livermore. Land yourself a spot at this lively intersection in downtown Livermore, and you'll have a front row seat for people-watching. The place was packed for a televised NBA championship game when I was there, but I sat outside and made a small dent in a large burger, sampled a couple local beers, and marveled at the mix of utility trucks and luxury cars driving by. This local joint features the Pat LaFrieda burger, blending Angus chuck, brisket and rib meats.
Uncle Yu's at the Vineyard, Livermore. This fine restaurant might be easy to miss, tucked back from the street behind its large patio. But inside and out, Uncle Yu's delivers top notch Asian fusion cuisine. Both the food and the expert sommelier garner attention for quality ingredients and tricky pairings. Success.
Burma! Burma!, Dublin. Burma! Burma! is a stand-out example of the great international cuisine available in Tri-Valley. Dublin, in particular, boasts scores of restaurants featuring some of the state's best global cuisine. Oh my, we ordered generously and could not stop! Delicious.
Danville Harvest, Danville, stands for fresh ingredients and shared plates, taking pride in being a pillar of the local community. Chef Noe Briseno and team share their passion for sustainably sourced ingredients by creating an approachable menu. We jumped on the day's special crab salad, and reveled in the leafy outdoor patio.
Tri-Valley Arts and Culture: Museums and Attractions
The reason Tri-Valley holds its charm is that the region's cities and towns have invested in downtown areas and built arts venues that draw local and regional patrons. See the Tri-Valley Downtown notes below for tips on viable arts and culture centers in each town.
A couple attractions, though, bear special attention. They definitely inspire locals and road-trippers to spend a little more time in the Tri-Valley area.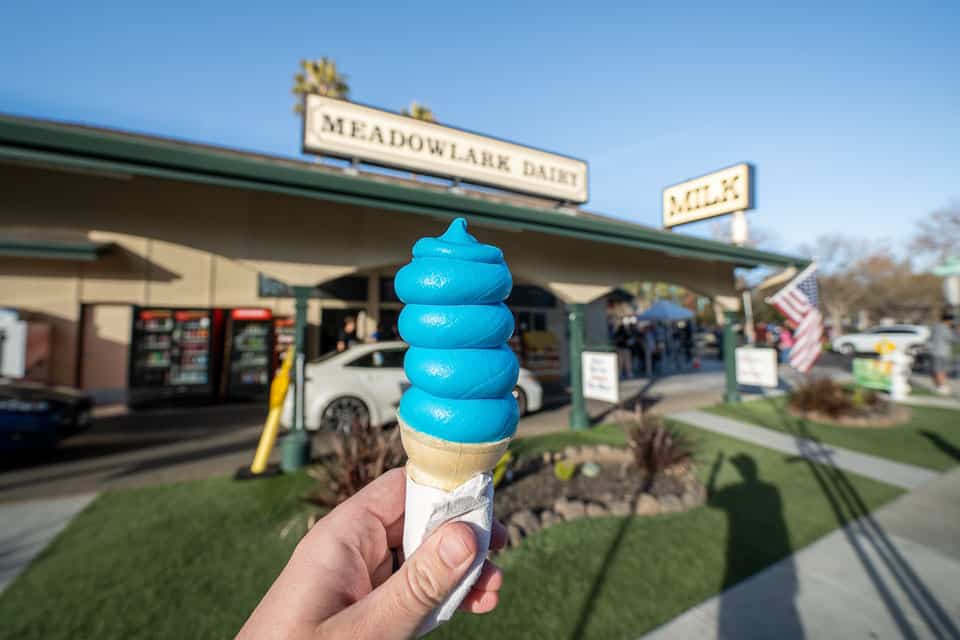 Eugene O'Neill National Historic Site
The famous American playwright Eugene O'Neill and his wife Carlotta moved to California in 1936, purchased 158 acres outside Danville in 1937 to build their "Tao House". O'Neill, winner of four Pulitzer Prizes and the only American playwright to win a Nobel prize, wrote The Iceman Cometh and Long Day's Journey Into Night while living here.
As expected from National Historic Sites, the tour of Tao House is excellent, providing insights into O'Neill's marriage, working habits, family background, and eventual career-ending hand tremors and disabilities. Some of the furnishing are original and reflect the Eastern influence Carlotta favored. O'Neill's bed, from the amazing (now defunct) Gump's store off Union Square in San Francisco, was famously returned to the site at the urging of Katherine Hepburn. A copy of her pithy letter is on display.
Note: The Eugene O'Neill National Historic Site can only be accessed by National Park shuttle bus that departs from 205 Railroad Avenue in Danville. There is ample free parking there.
Museum of the San Ramon Valley
On Railroad Avenue, just between the shuttle stop and the old railroad tracks turned to recreational trails, is the Museum of San Ramon Valley. Housed in the former rail station, this small non-profit museum guards a collection of artifacts from the valley's early settlement days. Check their calendar for exhibits. Though they were between shows when I visited, the guys on site will fill in the details.
San Francisco Premium Outlets
Hey, plenty of people from the Bay Area and beyond head to Tri-Valley for the shopping. If they aren't browsing the fun boutiques in the towns' downtown areas, they are most likely headed to Northern California's largest outlet mall, San Francisco Premium Outlets.
Festivals
If you're lucky, you might catch one of the many festivals celebrated in Tri-Valley, showcasing local talents, culinary delights, and cultural diversity.
In addition to the Eugene O'Neill Festival and numerous food, wine and music fests held across the Valleys' vineyards, do check out the Pleasanton Harvest Festival and summer night markets in Pleasanton. Both take place at Alameda County Fairgrounds.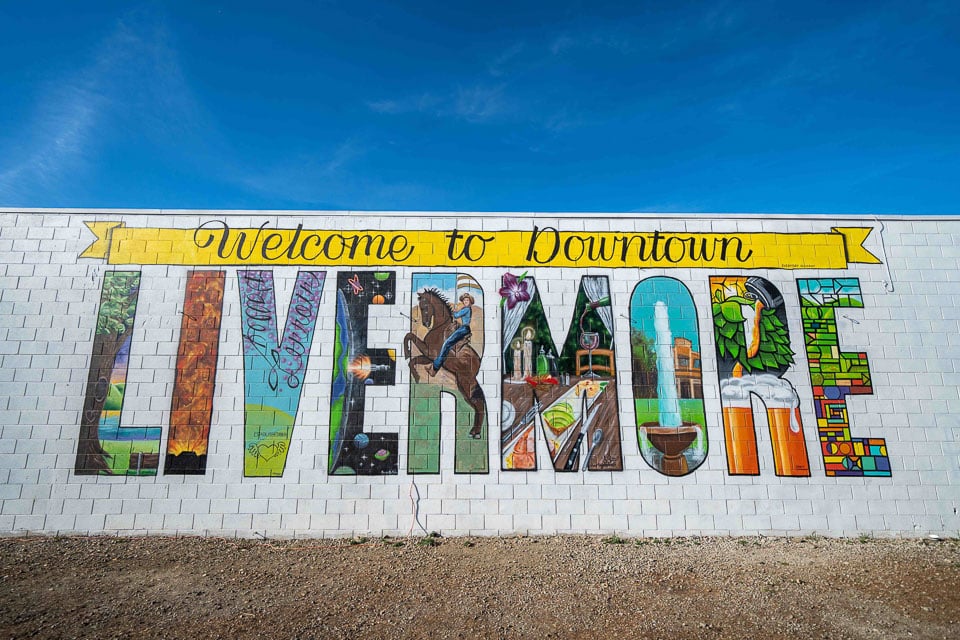 The Tri-Valley Downtowns
Visit the Bankhead Theater in Livermore, a state-of-the-art performing arts center that hosts an array of concerts, theater productions, and dance performances throughout the year. Don't miss the Firehouse Arts Center in Pleasanton, a hub for visual arts exhibitions and live performances.
Pleasanton
Get to the heart of Tri-Valley with a visit to the vibrant city of Pleasanton. Stroll down Main Street, lined with boutique shops, art galleries, and charming cafes. Don't miss the Farmer's Market on Saturdays, where you can savor the flavors of locally grown produce. For history enthusiasts, a visit to the Museum on Main will provide insights into the area's past.
Livermore
While open fields and wineries surround downtown Livermore, just minutes away, the main streets are well established shopping and dining destinations. Historic buildings include the Livermore Opera House, the Livermore Heritage Bank Building, and the Livermore Firehouse Museum. Today, residents enjoy the Livermore Valley Performing Arts Center as well as the family friendly Livermore Farmers Market, Livermore History Museum, and Livermore Science Museum. Check out the popular murals about town, and load up on wine, souvenirs, or a new accessory from the local shops and galleries.
Danville
Danville's located in the picturesque San Ramon Valley and is known for its tree-lined streets, historic buildings, and small-town hospitality. Downtown Danville is a walkable district with character. Check out the 1891 Danville Hotel, which now houses shops and restaurants. The arts scene in Danville includes the Village Theatre and Art Gallery.
As noted above, Danville is the base for visiting the Eugene O'Neill Historic Site. It's also the launching place for visits to Mount Diablo State Park. Of course, downtown Danville is also a top culinary center; just frame your day with breaks in cozy cafés, trendy bistros, or upscale dining restaurants.
Dublin
While Dublin may be overshadowed by its more trendy Tri-Valley neighbors, it's a great place to explore the history and heritage of the region. At the Dublin Heritage Park and Museums, you can delve into the city's rich history through exhibits, preserved buildings, and guided tours. Visit the Kolb House, a charming Victorian-era farmhouse, and experience life as it was in the 19th century. The Murray Schoolhouse, a one-room schoolhouse, provides a glimpse into the educational practices of the past.
Shopping and dining abound in Dublin of course. But be on the lookout for street fairs and music festivals here. The weekly farmers market showcases an array of fresh produce, local goods, and live entertainment. The annual St. Patrick's Day celebration, a nod to Dublin's Irish heritage, is a festive extravaganza that draws visitors from near and far.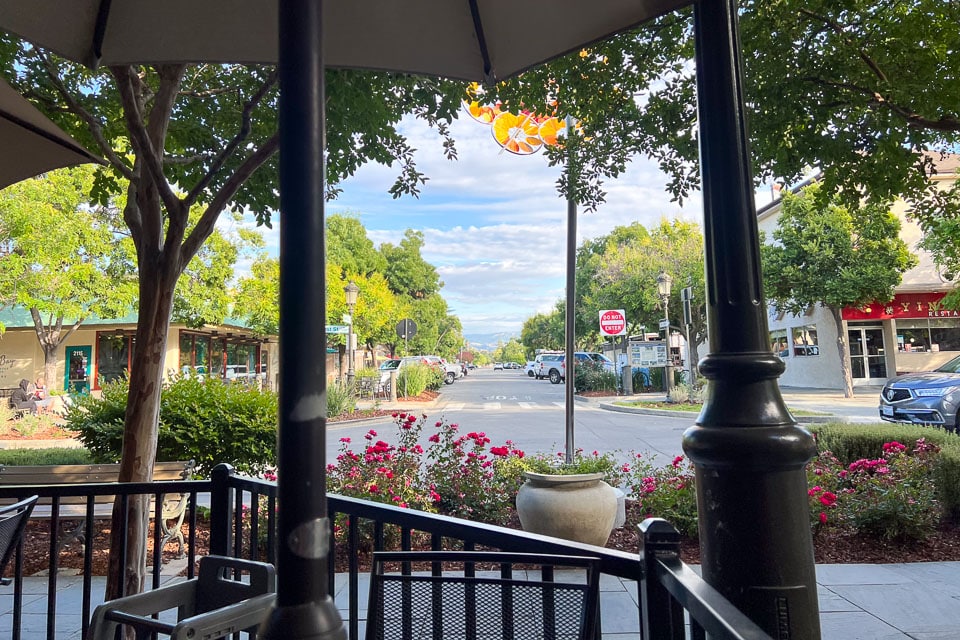 FAQs about Tri-Valley California
Tri-Valley, California, offers a delightful escape from the hustle and bustle of the nearby Bay Area. With its scenic beauty, charming towns, excellent wines, outdoor adventures, and thriving arts and culture scene, this hidden gem is waiting to be discovered. Whether you're seeking relaxation, outdoor exploration, cultural immersion, or culinary delights, Tri-Valley will leave you with fun memories and a desire to return.
How to Get to Tri-Valley
Getting to Tri-Valley, California, is convenient, whether you're arriving by air, by car or by public transit. The closest major airport is Oakland International Airport (OAK), located approximately 30 minutes away by car.
By car, Tri-Valley is easily accessible from San Francisco or Berkeley via Interstate 580 East. If you are coming from the south, you can take Interstate 680 North or Interstate 880 North, depending on your starting point.
Tri-Valley is also served by Bay Area Rapid Transit (BART), a good option for travel between the Valley and San Francisco, Berkeley, or other parts of the Bay Area. Tri-Valley stations include Dublin/Pleasanton, West Dublin/Pleasanton, and Livermore. From these stations, you can connect to local buses or use rideshare services to reach your final destination.
Where to Stay
There are some 40 hotels in the Tri-Valley area to accommodate you in style. Since the area attracts business and pleasure travelers (the Lawrence Livermore National Laboratory, for example, employs about 8,000), the hotel inventory is responsive to travelers' needs. Courtyard by Marriott Livermore has a 24-hour fitness center, a nice bar, and convenient deli/amenities for guests.
When to Visit Tri-Valley
Any time of year works for a visit to Tri-Valley. Spring is a great time for wine-enthusiasts as grapevines are sprouting new leaves and the wineries are still uncrowded. The longer days and warmer weather of summer, plus lots of live music, are great for families and outdoor enthusiasts. And in the fall, there is still sunny weather, colorful vineyards, various festivals, and dwindling crowds. Even winter provides comfortable Mediterranean weather and lots of indoor activities to enjoy.
Other Places to Visit Nearby
Berkeley. See our post about Berkeley and combine visits to the two destinations. 10 Reasons to Make Berkeley Your Bay Area Base Camp.
National Parks. California has nine National Parks, and most are an easy drive from Tri-Valley or ideal for your California road trip. Read about California National Parks we've visited, starting from this Travel Past 50 National Parks page.
Visit California. The State's official visitors guide can help you navigate California from top to bottom.
When you're thinking of traveling, your first stop should be our Travel Resources page, where we list all the essentials you need to make your travels easier, cheaper, safer, and more fun.
We love traveling–with the right gear. We've gathered a lot of the stuff we use to make travel more pleasant and efficient all on one page. Shop our Travel Past 50 Amazon page to find our favorite gear. If you purchase something from the store, Travel Past 50, as an Amazon affiliate, may receive a small commission at no extra charge to you. Thanks.
We never leave home without our travel insurance. Nor should you. Search for the travel insurance from Allianz that best meets your needs, whether it be an annual plan or a single trip.
You can see (and buy prints) of most of our travel photos in one place on this page.
Note: This post and other posts on TravelPast50.com may contain paid or affiliate advertising links. As an Amazon Associate we earn from qualifying purchases.