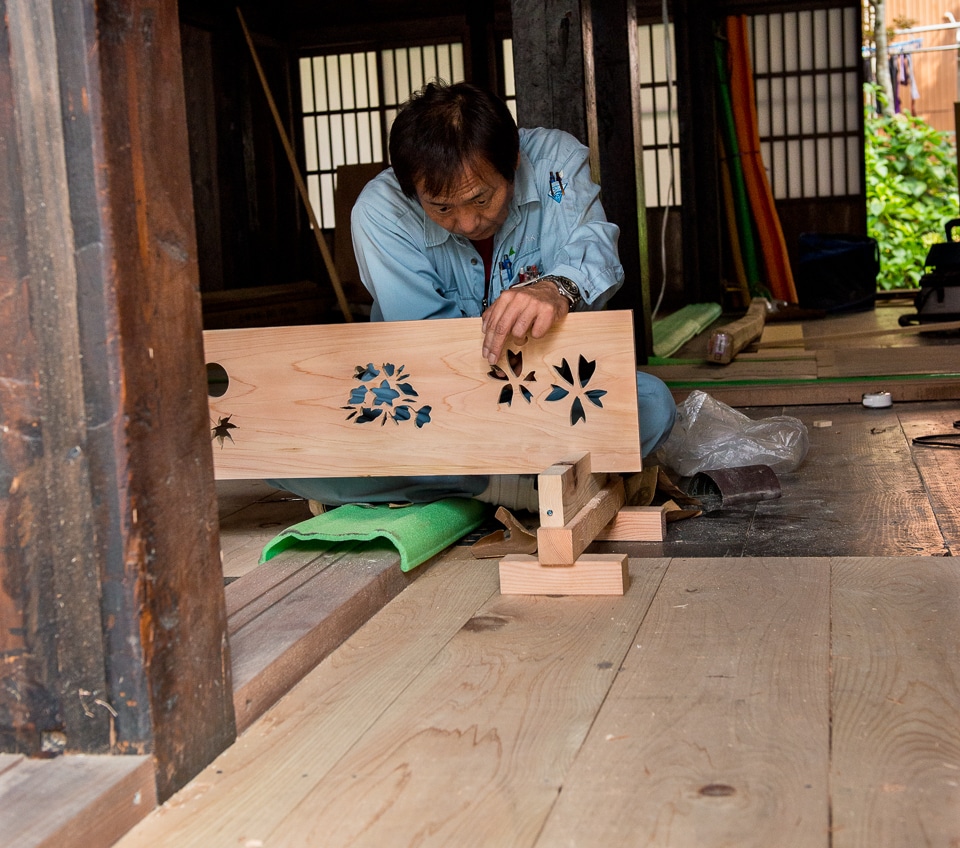 The village of Shirakowa-go, Japan is a Unesco World Heritage site. It used to be an isolated village that employed a unique style of thatched roof architecture to ward off the persistent heavy winter snows, and the town had largely fallen into disrepair. But, over the last decades, since being named a Unesco site, it has prospered from the resultant tourism and the residents have been working hard to restore the original beauty of their unique architectural style. As you walk through the town, you can see evidence of the restoration by skilled craftsmen working on several buildings. In this one, the woodworker was doing finish sanding on a piece of a screen that tops an interior wall. In addition to the lovely simplicity of the cut out design, the screen allows airflow between interior spaces.
One always asks before shooting a picture of a person in Japan. This craftsman was cordial enough to allow me to fire away while he worked. It helped that I told him I was a woodworker as well, although my own skill level, I'm sure, is far below this guy's. Pretty easy shot really, just crank up the ISO to 1600 and expose at f/5.0 at 1/400 sec. I like to keep my shutter speeds fast with the Nikon D800E because the huge file size and absurdly sharp 24-70 f/2.8 lens magnifies any camera shake dramatically.
For more info on the equipment I use, see this page.