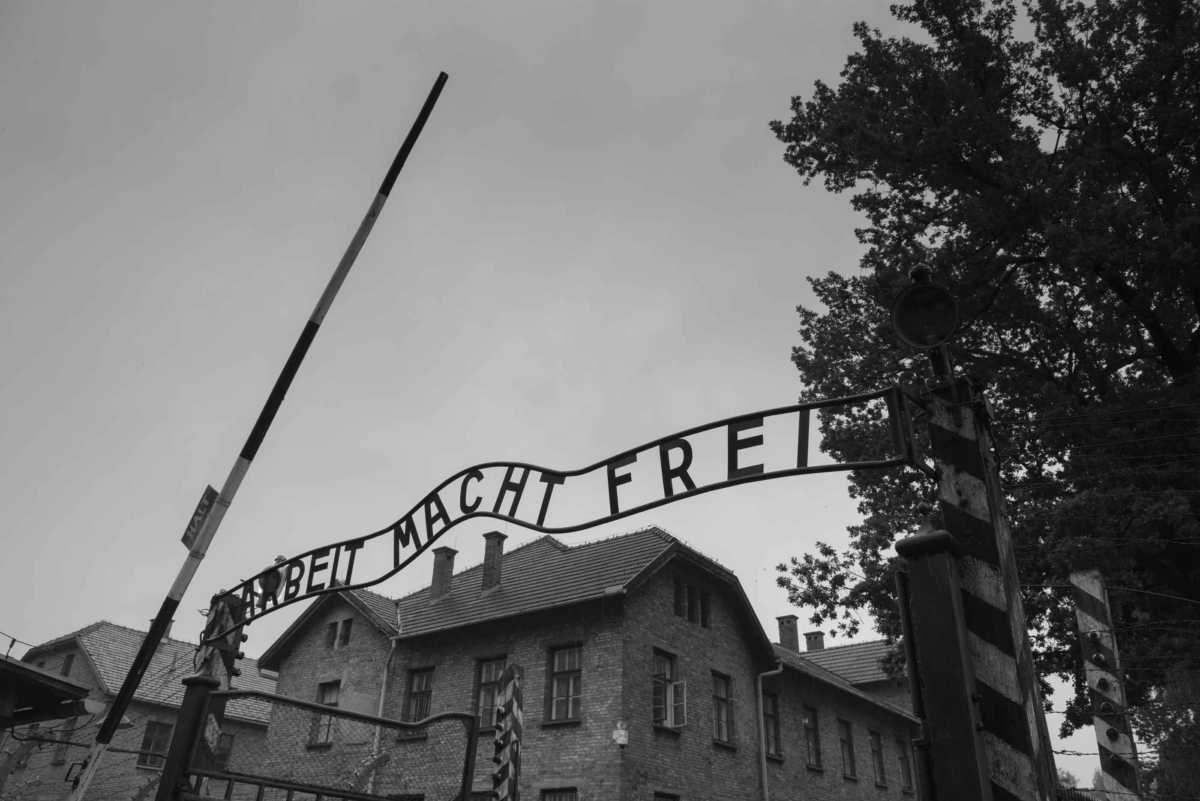 It dawned one of those sniveling gray days we've gotten used to since we've been in northern Europe. By the time the tour van arrived to pick us up at 7:30, it was raining steadily. It let up briefly on the one hour drive from Krakow to Auschwitz, but by the time we arrived at the camp, the sky had determined to be unremittingly miserable. It beat us with a melancholy roar–soaking us through our all-too-permeable jacket hoods before we could even walk from the van to the gate.
The gate where we entered the Auschwitz concentration camp bears the overarching black iron legend, "Arbeit Macht Frei" – Work Will Set You Free. Camp Commandant Rudolf Hoess had it fashioned so the very first communication to the prisoners of the concentration camp was a message of false hope that they might someday get out of Auschwitz. So much more diabolical than "Abandon All Hope, You Who Enter Here" inscribed over the door of Dante's hell.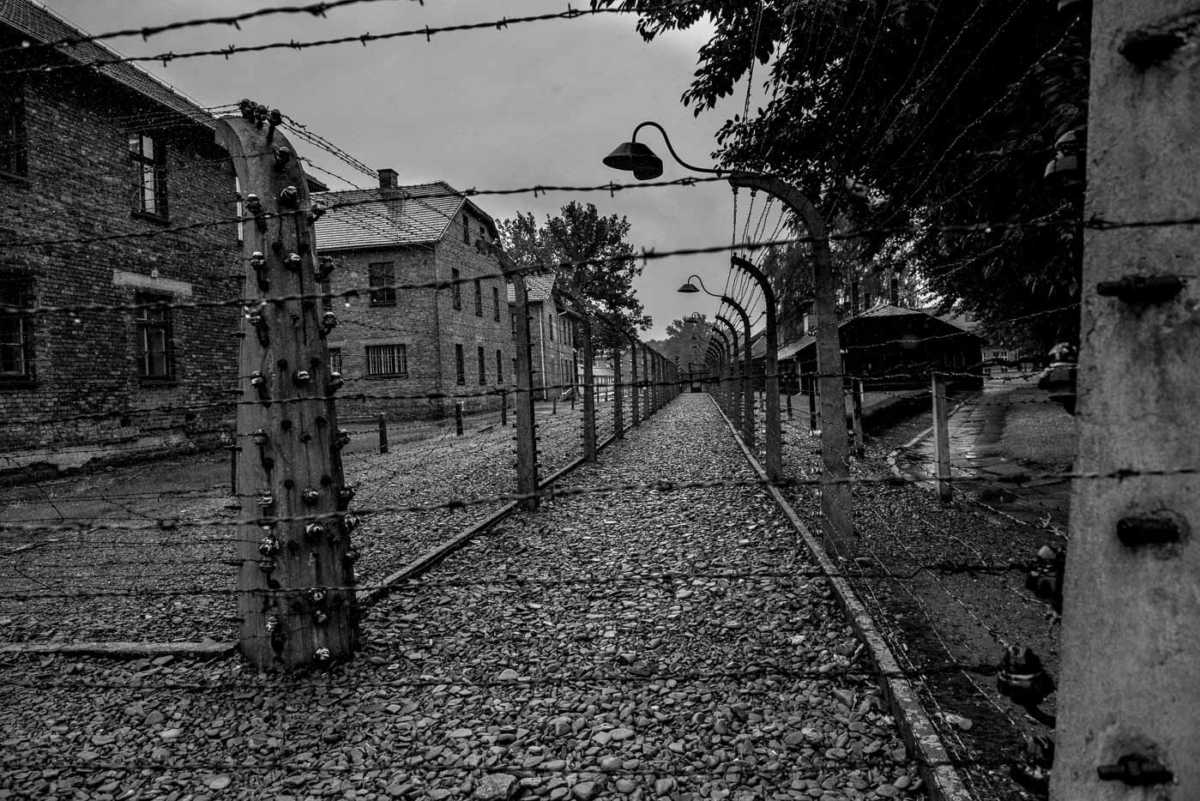 Stark ranks of arched concrete posts holding electrified barbed wire still guard the grounds. Just inside that perimeter begin the blocks of red brick barracks sewn by broken stone walkways into compact and well ordered rows. The high points in the paths provide infrequent stepping places for already soaked shoes.
From the outside, the buildings are uniform, plain, and solid. They could maybe be New England school houses or small handwork factories. When you walk into them you could maintain that impression. There is a central hall, its walls painted a bland green. Classroom-size rooms flank both sides.
Seventy years ago, these rooms were like that. Some were offices, some were rooms for work. But many are still stuffed full of three-tier bunk beds. Some show nothing but pine slats for lying on. Others have thin straw mattresses. These have been put in their original sites to show how the prisoners lived. Other larger rooms are turned into "classrooms," if you will–rooms that have been converted from their original purposes to documentation of what went on here.
We are led to the second floor, which is a duplicate of the first. In the first of those rooms, are large grainy black and white photos that were taken by the Nazi SS guards. It's not known exactly why these photos were taken. As the war progressed, the practice stopped. But we have many shots of the prisoners and the guards. We see prisoners arriving on trains with their suitcases. We see them in their striped uniforms digging ditches. We see them standing in rows being counted. And we see them looking apprehensive, perhaps. But not terrified. Those pictures were probably not saved.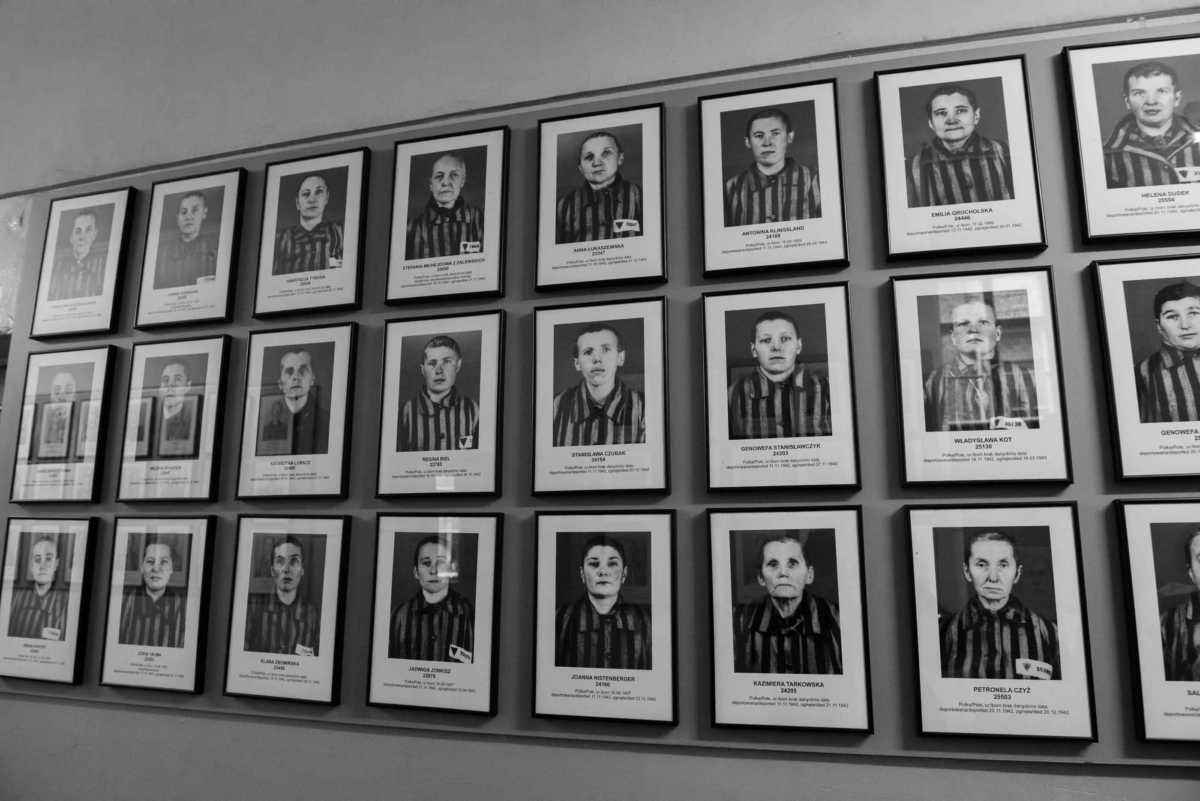 In another building, rows of face shots of prisoners, along with their serial number and date of birth and death, line the first floor hall. These were taken soon after the prisoners arrived at Auschwitz. The prisoners seem relatively robust. The cheeks are not yet hollow with hunger. However, every face is decidedly expressionless, as though recent imprisonment has already robbed them of any personality. These photos were part of the original camp record keeping procedure–which was later abandoned for reasons of cost and efficiency. For so many, the large group photos which might, by chance, show a face, are all the proof that remain that an individual was here.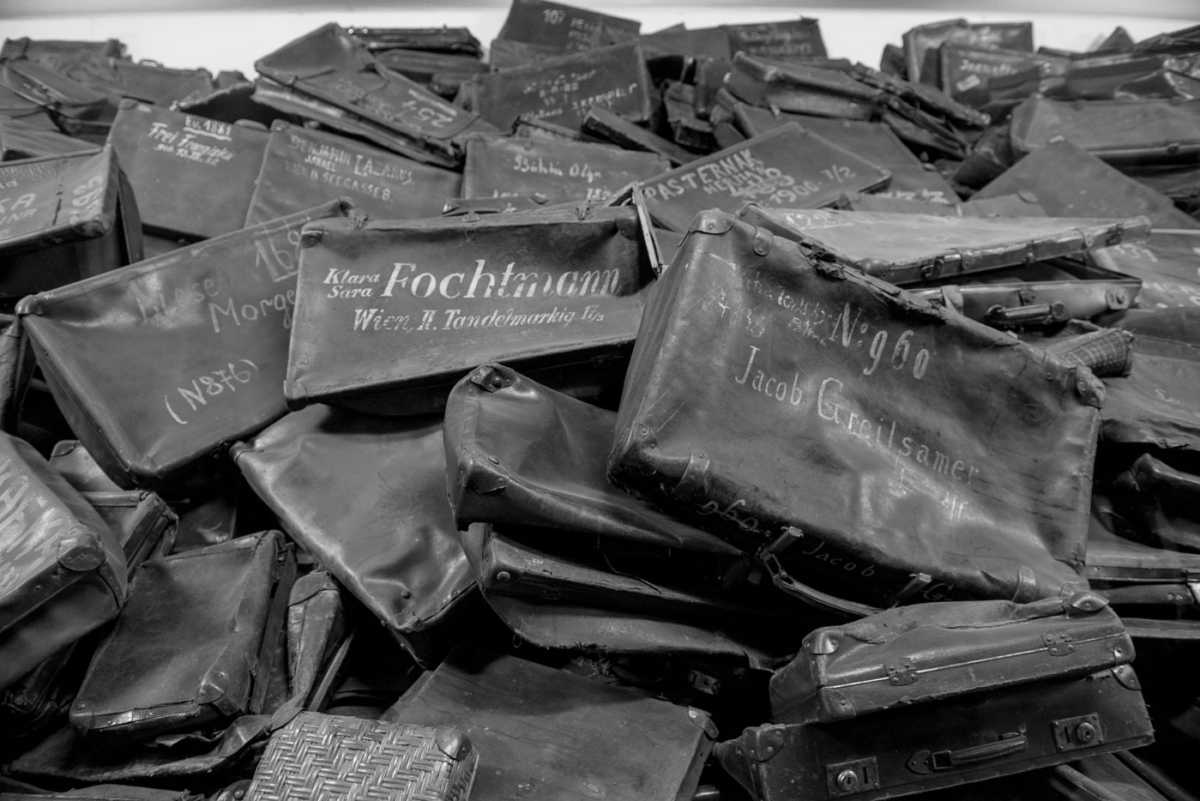 If anyone has a question of why so many were brought to Auschwitz in the beginning, you should know that it wasn't only to kill them. The determined slaughter came later. The main purpose we can glean from the evidence of Auschwitz I, as the camp we're at was called, was not to kill prisoners outright. It was first to steal all their possessions, and then to rent them out to German corporations as slave laborers. And, of course, to terrorize.
Unlike the pure extermination camps which came later, the concentration camps had a political purpose. The Germans never kept them secret. They wanted their occupied peoples to know that they could be deported if they caused any trouble. At a concentration camp, death was almost a side effect, and, in the early years, usually didn't come so quickly.
We saw more photos of the day to day operations of the camp, and accompanying didactic maps of German occupied Europe with train routes and numbers of deported political prisoners. The records distinguish among Jews, Roma, political prisoners, Soviet prisoners of war, and other categories of undesirables. Eventually, you come to more personal evidence of Auschwitz I's purpose.
Several of the buildings were warehouses or sorting areas of things taken from the arriving prisoners. These buildings were cynically called "Canada," because Canada was reputed to be a country where you could get anything you needed. Canada was the best place for an inmate to work, because, if you were careful, you could get anything. You could find food that was brought in by arriving prisoners. Or valuables such as jewelry or money, that if secreted long enough to get them out of Canada, could later be traded to corrupt guards for food.
There is one room in Canada that is nothing but empty suitcases, all painted with the name and address of their original owner. The Jews were told to bring suitcases with them, so they'd have clothing and household items with them during their relocation. This gave them some hope, which of course worked against them. It also gave the SS vast piles of loot. There is one room full of nothing but pots and pans, which is especially ironic given the meager, if any, food, the prisoners got after arrival. There is another room that holds only piles of children's shoes.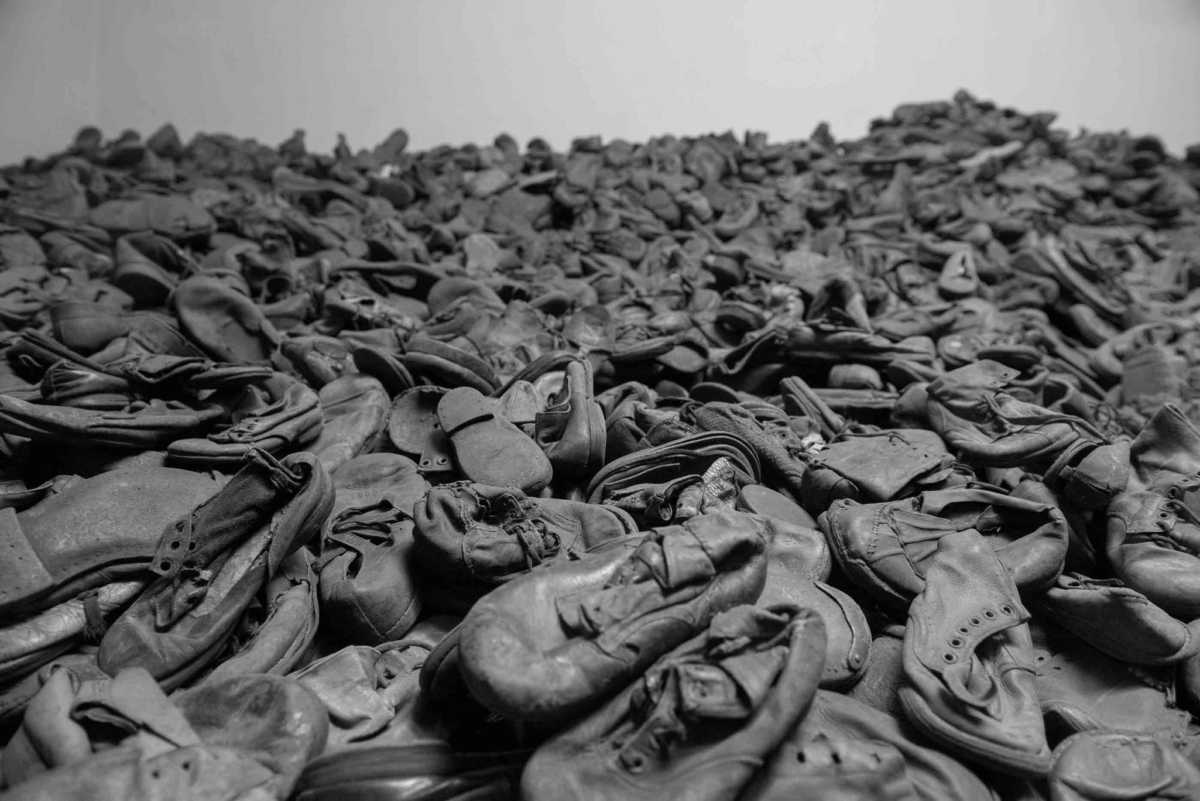 There are piles of combs and hair brushes. And there is a room full of more than a thousand kilograms of long hair shaved from the women's and girls' heads. You can still see some braids and evidence of careful curling. The hair is mostly dark, but there is some light brown and even some blond. At the end of that room is a bolt of felt cloth made from that hair. It was used to line winter coats for soldiers and to make socks for U-boat crews. No photos were permitted here.
After Canada, we arrived at the basement of the infamous Building 11. There were cells there where prisoners were punished for whatever real or imagined infraction. In particular, escapes were discouraged in Building 11. If someone did escape, ten men from the escapee's section were chosen at random to be starved to death in a basement cell.
At the end of the basement hall, there were several tiny brick cells, about the size of a box a refrigerator might be delivered in. There, four men would be put standing up and left for days, unable to move, or especially to lie down. Sometimes they would be let out to work during the day, only to be put back, unfed, at night.
Sometimes the screams of the tortured were so loud, it shattered camp tranquility. This created a disincentive to the compliance the other prisoners. The proximity of one building to the other made this difficult to deal with. So, sometimes, the SS guards would have two motorcycles revving their engines outside Building 11 to drown out the noise.
Next door, at Building 10, trials were held. These were for prisoners–mostly Germans who resisted the Nazis in their home country–who had a "right" to a show trial before being executed. They would get their trial, then be taken out behind the building where a soft metal bullet backstop had been affixed to the brick courtyard wall. They'd be shot in the back of the head with small caliber, quieter, pistols, and the bodies would be carted out only after nightfall.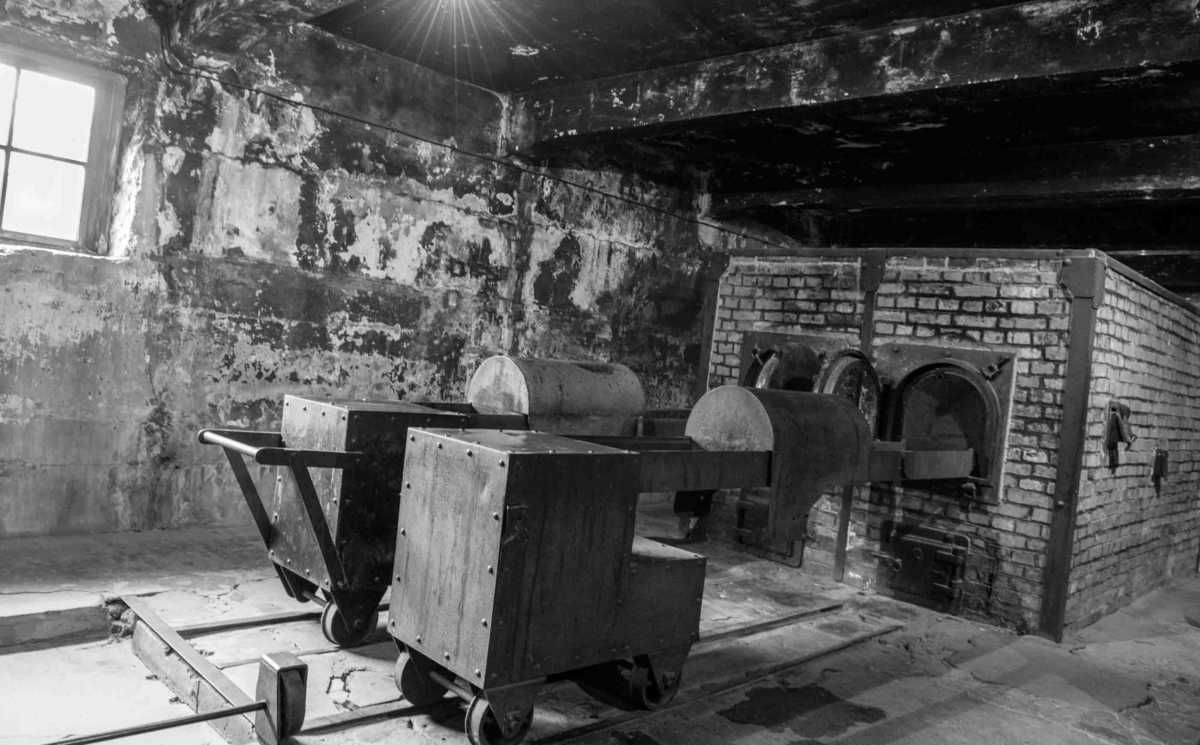 Eventually, in the basement of another building, the Nazis built gas chambers and furnaces. Auschwitz I was never designed to be a death camp. But when the orders came later to begin mass extermination, one basement space was bricked in, disguised as a shower room, and used to test mass poisoning.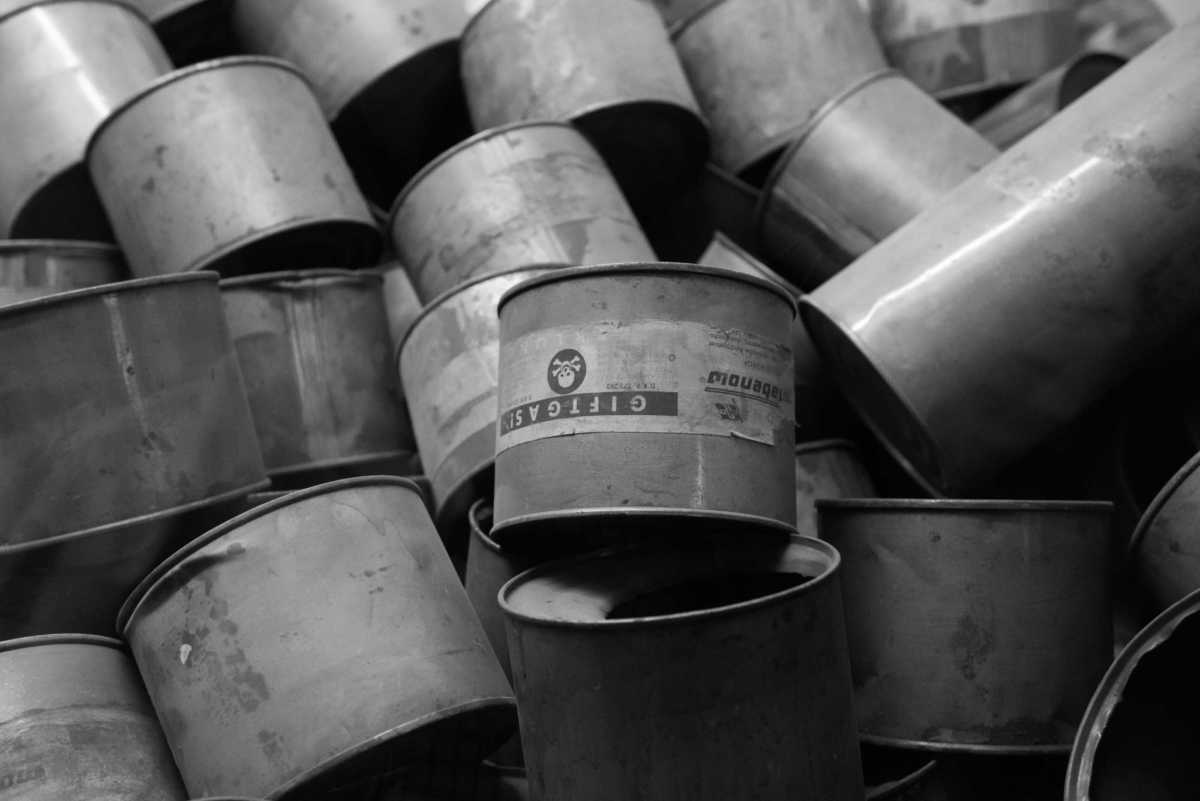 The Germans started by pumping in carbon monoxide from engines running outside the building. The cheap pesticide eventually used as the extermination gas, Zyklon B, was also tested here to determine the concentration needed to quickly do the job. The first experiments were reported to be less than satisfactory as too little gas was used, and people took hours to die a screaming painful death.
The noxious smoke from the accompanying small capacity furnaces was also too obvious. Since these experiments happened right in the middle of the camp, they were also disruptive and disheartening to the other inmates. The Germans feared this too would lead to inmate revolt, now that their fate was apparent, and imminent.
As Commandant Hoess said, "The key to committing mass murder on this scale was to conduct the whole process in an atmosphere of great calm."
As it began raining even harder, we were bused two kilometers up the road to Birkenau.
At Birkenau, there was not much illusion of a placid community, as you might infer if there were no barbed wire or guard towers at Auschwitz I. First, as you enter the gate, you notice that the site is massive, many times the size the size of the first camp. And it's in a flat, unhealthy fen, made relatively habitable–if habitable is the right word–only by drainage ditches dug all around.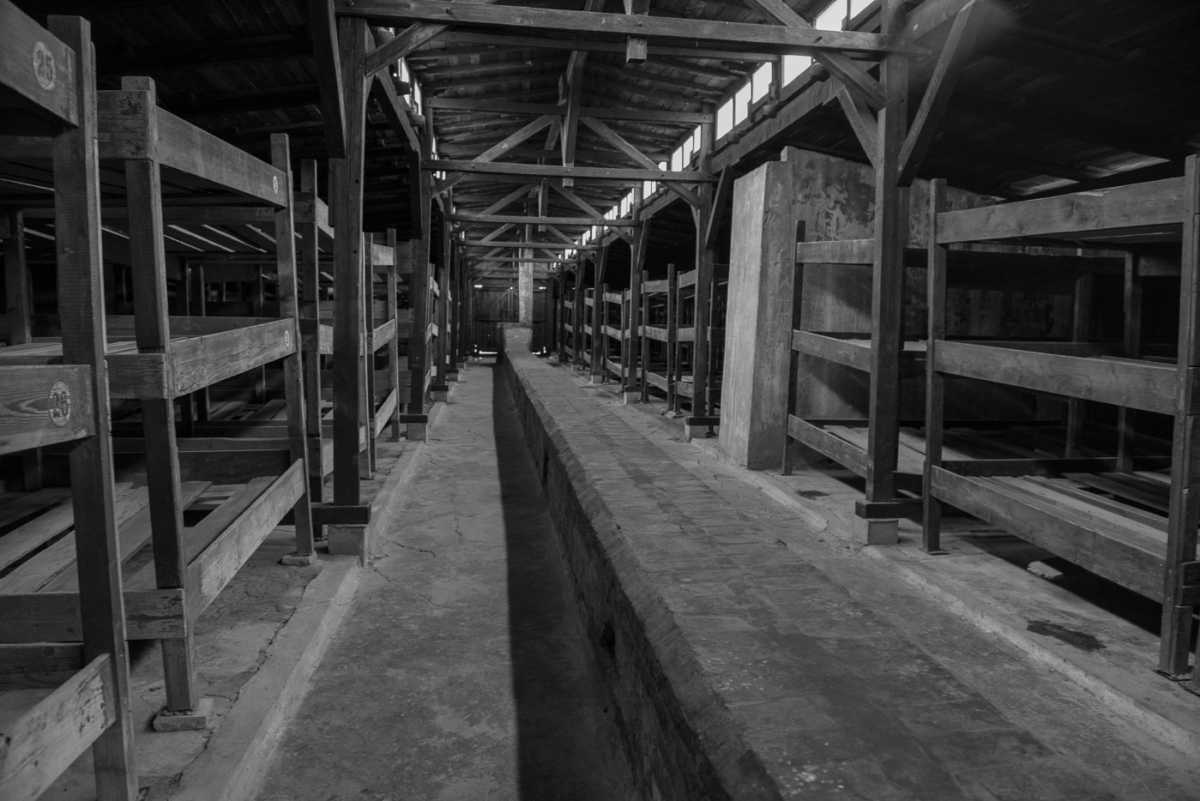 The left side as you look down the long set of railway tracks that bisect the camp are seeming hundreds of long, mostly brick, barracks. Each is probably five times the size of the buildings at Auschwitz I. Again, there's a perimeter of barbed wire, and rickety guard towers every 50 meters or so outside the wire. Women were housed on this side.
On the right side, you assume once stood a similar stand of buildings, but now all that are left of most of them are the brick chimneys of the original stoves used for heating.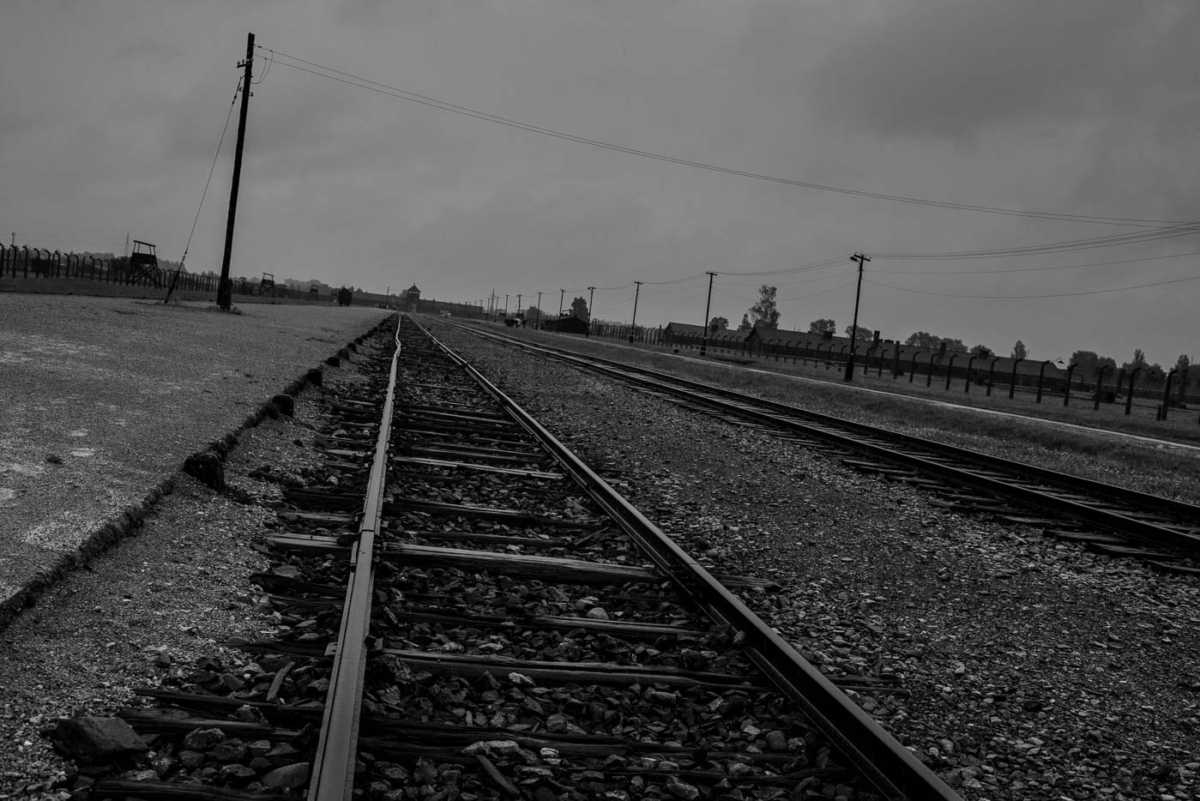 But the most ominous sight are the train tracks. They run on now-splintered wooden ties more than a kilometer straight away from you down to another barely visible gray pile of ruins of one of the gas chambers and crematoria.
We had seen pictures of this back at the main camp. Not of the gas chambers and crematoria, because no photos were made or kept of those. But the wide middle swath was the "selection" area.
The trains pulled right into the camp, and as the prisoners were unloaded, SS doctors made the spot decision who were shunted to the barracks to be worked to death, and who made straight for the four, high-capacity killing grounds at the far edge of the camp. At the edge where things could be done that didn't upset the rest. At their most efficient, the chambers and crematoria at Birkenau could kill and dispose of 4700 people per day. Of the 1.3 million who arrived at Birkenau on the trains, over 1.1 million were killed here.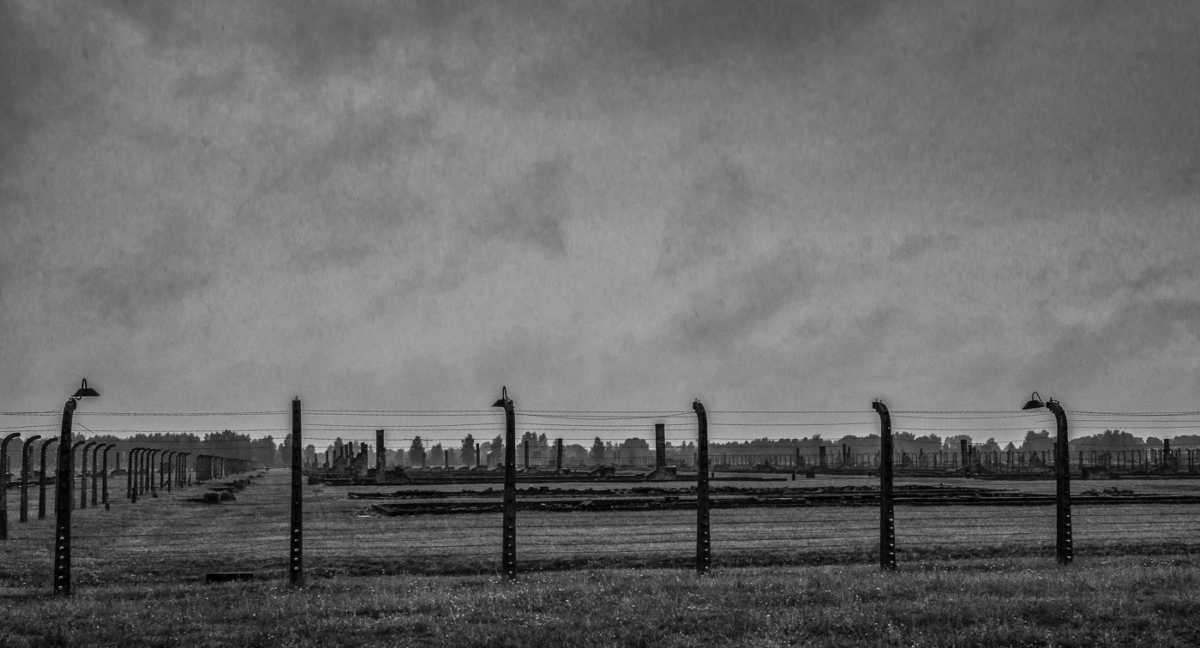 As the Germans retreated from Poland ahead of the Russian advance, they destroyed their death camps. At Treblinka and Sobibor, other camps in the northern part of Poland, they pulled down the camps, bulldozed the gas chambers and crematoria, and plowed the ground into farmland. Hardly a trace remains.
But for some reason, they didn't have enough time to do the job at Birkenau. Three of the four death factories were completely destroyed, but the fourth, right at the end of the tracks, was blown up. But the debris was left, maybe because Russian tanks were arriving sooner than anticipated. It's a pile of twisted steel and concrete, and if you didn't know what it was, it would be hard to know it from any other monument to shattered war.
The ashes of that 1.1 million people were buried in a field behind the camp. There's no particular monument over the ash burial ground.
But, there are stories of the Poles who came back to the area of the camp after the war. The Germans had destroyed their homes to build the camps, and to remove any witnesses. Some original residents walked all the way back to the area from Eastern Ukraine where they'd been exiled. When they arrived destitute to their destroyed homes, some cannibalized building materials from Birkenau to start over.
Some sifted through the ash pits to find money or jewelry that had gone into the furnace with their owners, because it hadn't been found on the naked bodies of the Jews between the time they were gassed and the time they were burned.
One said he found some gold from teeth and a bracelet. He was able to trade those for a cow, and start his life again.
Two recommendations if you want to visit the camps: although during certain hours, you can visit Auschwitz/Birkenau by yourself, take a tour. The guides are very good. Our guide was an American, David Kennedy, who is a graduate student who takes his job seriously and knows an enormous amount about what went on here. Undoubtedly, your hotel in Krakow can arrange a tour, which makes it both easy to get the 65 kilometers from Krakow to Auschwitz and also to get between the two camps. Our tour cost 125 Polish Zloty each, about $41 USD or about €30. It's well worth it. You probably can't do it any cheaper on your own.

Second: visit the Ksiegarnia Bookshop at Jozefa Street number 38 in Krakow's Jewish Quarter. There's an incredible wealth of information on the Jews of Krakow and the Holocaust there, including some monographs of Auschwitz survivors and some books of photos that are hard to find elsewhere. Most of course, are in Polish, but there are plenty of books in all languages, including English. I bought English historian Lawrence Rees's book, Auschwitz: A New History.It's a brilliant, readable history of awful importance.
Here is a post about our visit to the Rumbula Massacre site in Latvia. Another monument of the Holocaust.
And this is a post about our visit to the Memorial to the Murdered Jews of Europe in Berlin.