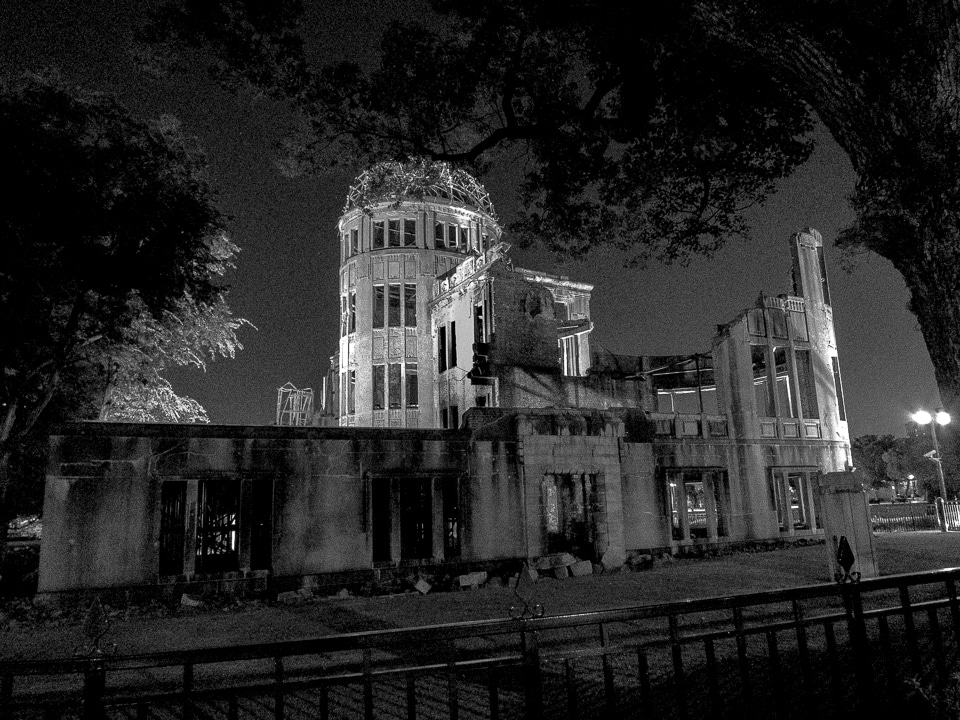 The so called A-Bomb Dome was originally a cultural center in the middle of the business district of Hiroshima. It stood approximately 160 meters from where the atomic bomb exploded at an altitude of 600 meters over the city on August 6, 1945 and was the only building near the epicenter of the explosion left standing after the blast. It has been reinforced since then and was left standing as a memorial to the 70,000 people who were killed instantly in the explosion, and the subsequent 70,000 who died later of injuries and radiation poisoning. Today, the dome is the key structure in the Hiroshima Peace Memorial Park. It was named a Unesco World Heritage site in 1996.
We arrived at the dome soon after dark. It is lit by floodlights positioned within the fenced area. This was shot with my Canon S110 and was manipulated a little in Lightroom to deal with the contrast issues (I upped the exposure half a stop and pulled the contrast back a bit. I also burned in the brightest face of the building a bit because it was over lit by the floods to the point of being entirely washed out. Then, obviously, I pulled the color saturation back to zero to make it black and white.) ISO 3200, hand held at 1/4 sec at f/2.8, 5.2 mm zoomed all the way wide.
If you're interested in my photo equipment, get more info on this page.