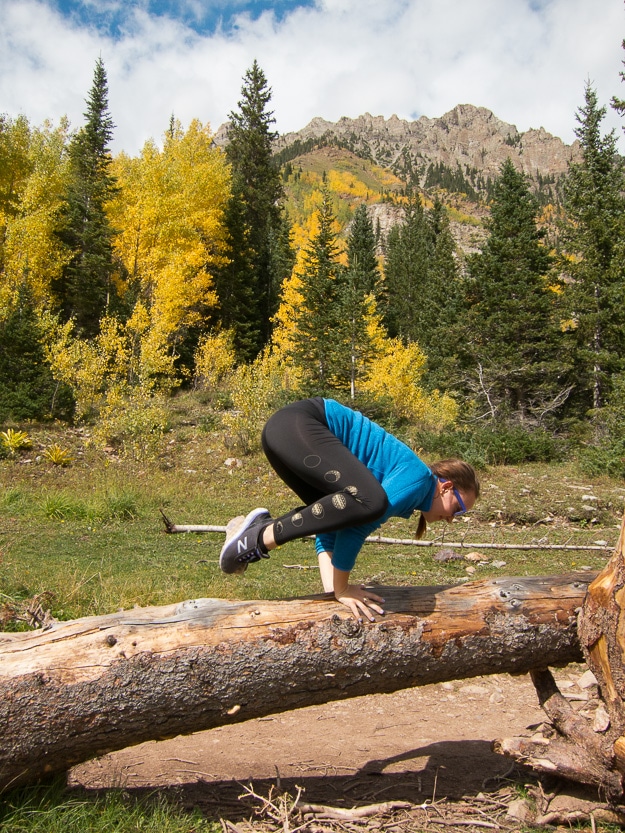 It came on suddenly, the idea of going to Aspen, Colorado, then just as quickly fell into place. I was going to be hanging out alone in Denver for almost a week. Although I never mind being on my own–at home or on the road–it occurred to me some play time with my kid would be lots of fun, especially since we hadn't had much time together over my last visit home. The four-day retreat with my adult daughter would be a well-timed lark.
Why Aspen? Even the name seems to whisper an invitation. I'd never been there, it's driving distance from Denver, and I had a car. It's also the home of The Aspen Institute, the progressive facilitator of ideas, discussion, and innovation. And the clincher: when I browsed for accommodations, I ran across a yoga package at Aspen Meadows Resort.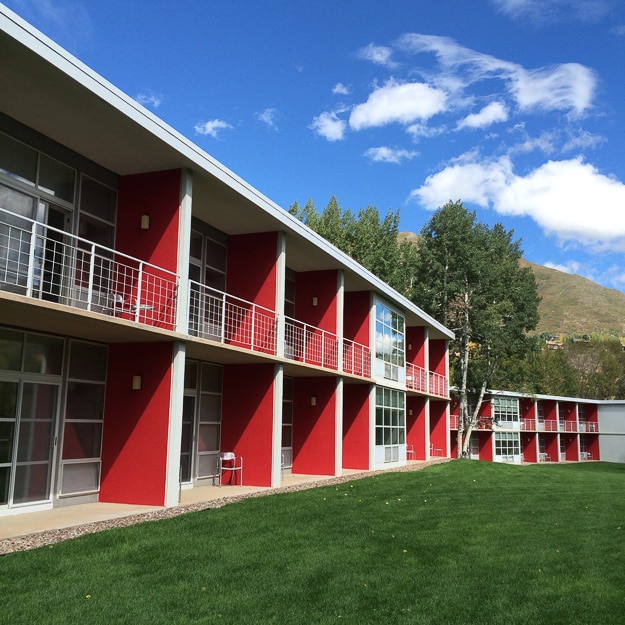 Aspen Meadows, "Home of the Aspen Institute" is in fact housed in residence halls built in the 1960s, designed by Bauhaus artist and architect Herbert Bayer.  These buildings were completely renovated in the 1990s to preserve their historic design, and the guest room interiors were again renovated in 2008. The property is now managed by Dolce Hotels and Resorts. (It's a safe bet I'll seek out Dolce hotels in the future. Sitges, here I come!)
As it turns out, our timing wasn't right for the yoga package (which requires a minimum of four people), but the luxury resort was more than helpful in providing a bargain rate and upgrade based on availability, and a long list of recommendations to suit our interests. We worked hard to fit in all that we wanted to do and still meet our Rest and Relaxation Quota.
Here's a summary of what we were hoping for and how Aspen Meadows Resort and the town of Aspen welcomed us.
Accommodations
It's just plain inspiring to be in quarters designed for intellectual and aesthetic activity, as is Aspen Institute. Our room was a two-bedroom suite with living room, kitchenette, balcony, and picture windows every bit as interesting as the artwork hanging on the walls. Even though we managed to enjoy coffee, night skies, elbow room, and some cozy-up time in our suite, we left wanting even more time at in our space at Aspen Meadows, lounging and learning.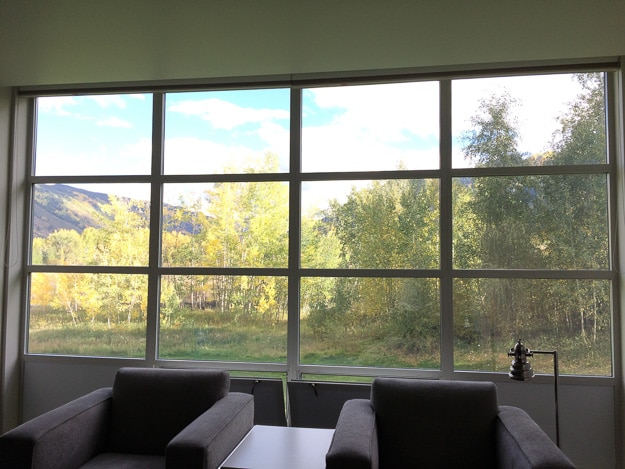 Wintertime is high season, of course, for skiing and snowboarding (in Aspen and nearby Snowmass). Annually, though, over half of Aspen Meadows' bookings come from Institute events. During our midweek September visit, with no conferences in session, our fellow guests included young families, elderly return guests, and a few wayfarers like us.  We could imagine vibrant leadership events, weddings, and other significant gatherings in the place. It has the essential ingredients: natural beauty, plenty to do, great spaces to gather, and good places to rest alone. Design geeks love it, and the international crowd is happy to find this bright modern alternative to the traditional ski lodge.
Food
We couldn't resist visiting Matsuhisa, Aspen's own Nobu restaurant, the very first evening. We were early birds, which gave us time to sample specials and regular menu items–and, yes, to make a repeat visit a couple days later. That's how much we liked it. Memorable dishes include Toro Rosa, vegetable tempura, Wild Red King Salmon New Style; and Big Eye Tuna Jalapeño. Even the lowly mackerel was exceptionally good.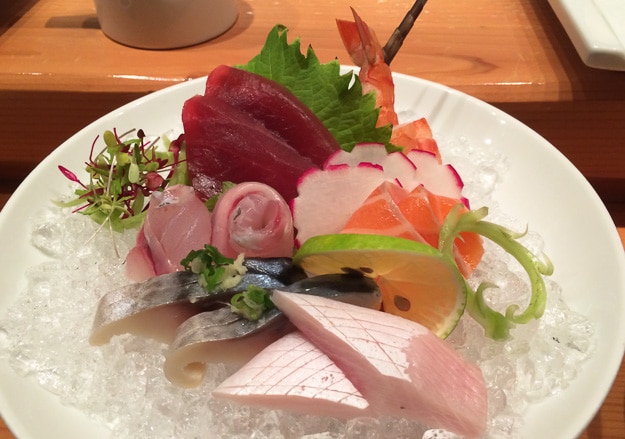 Trying for a more local experience, we dined another night at the bar in L'Hostaria. A very reasonable bar menu is available there, as is the full menu. We ordered delectable osso buco and lamb chops, as opposite of our sushi dinner as we could get. Plus, we had the advantage of sitting next to Charlie, a long-time resident who was willing to share his opinions on the town, the tourists, the new Aspen Art Museum (no permanent collection?!), and the food at L'Hostaria. He's a regular and a fun conversationalist.
Based on recommendations from my Adult Child's connections in the Adult Beverage business, we stopped into Justice Snow's Restaurant and Bar for a nightcap. It's true, their book of cocktails is more than an inch thick, and the bartenders are ready and willing to mix or shake up concoctions with a personal twist. The excellent atmosphere is inspired by the beautiful surroundings in the Wheeler Opera House. Find time to visit. They're open daily in season from 7:30 a.m. and 2 a.m., so you should be able to squeeze it in.  I'm pretty sure we'd have returned for a second visit if we'd had another day.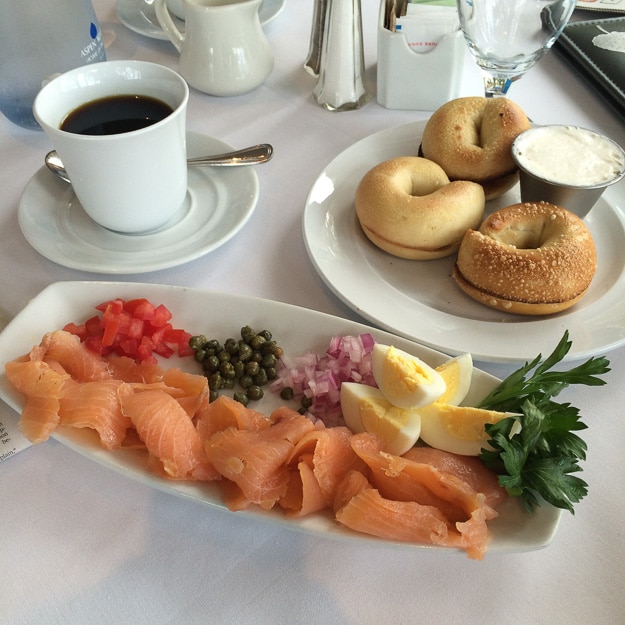 Although we didn't have a chance to visit Plato's, the restaurant at Aspen Meadows, we loved the breakfasts there, not to mention our daily dinner appetizers. The buffet with made-to-order omelettes and homemade granola is exceptional, as are several items off the menu, including lox and bagel, Huevos Rancheros, and the fresh blueberry buttermilk pancakes.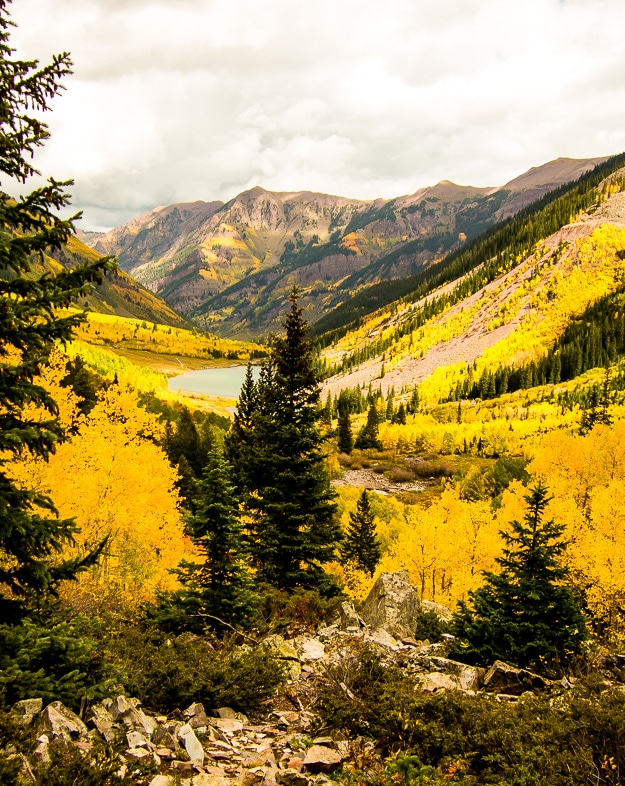 Hiking
Between eating, carousing, and yoga, we made sure to get in one nature hike. Just 20 minutes out of Aspen, Maroon Bells-Snowmass Wilderness  is a U.S. Wilderness Area managed by the Forestry service. It accepts National Park passes, we discovered, and we were greeted by helpful staff directing traffic and parking on a busy day. At the peak of the fall colors, we climbed from vista to vista through Aspen and pine trees to Crater Lake. The rocky trail system extends over 100 miles, over nine different passes over 12,000 feet, between six peaks over 14,000. Despite notices of bear and moose activity in the area, we spotted neither. But plenty of happy dogs, allowed on leash, brightened the path. Our hike was about 3 hours return, with stops for photos and some fresh air yoga.
Aspen Institute
The final item on our Aspen list was to tour the grounds of Aspen Institute, conveniently located outside our door. Any architecture and design fans will be thrilled to reside in these pure Bauhaus environs. Thoughtful landscaping and outdoor sculptures are incorporated into the property, and visiting Buckminster Fuller's original prototype geodesic dome conveys some history of the place. The property exudes creativity, invention, risk-taking, practicality, and inclusiveness.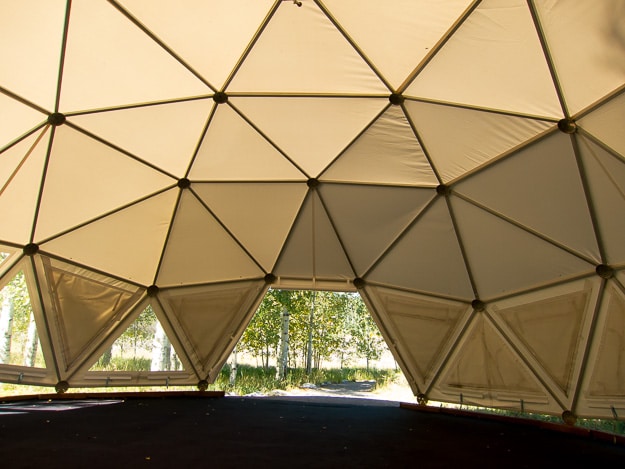 The institute's mission, "to foster leadership based on enduring values and provide a nonpartisan venue for dealing with critical issues," is manifest in the buildings, exhibits, publications, and natural setting. The "nonpartisan" element is evident in the names of buildings and list of speakers and founders: The David H. Koch Seminar Building is named for one of those Koch brothers; Bill Clinton graces the cover of the current issue of The Aspen Idea magazine (along with Kobe Bryant); supreme court justices; writers and artists; philosophers; scientists; statesmen and women; the Dalai Lama; all sorts of people have crossed this threshold. Over the years, the topics have expanded as world issues change. Other campuses and offices have opened (Maryland, Berlin, New York). And now many events are available online. My calendar is filling up with must-tune-in dates.
Virtually every facet of the The Aspen Institute elicits the mind-body-spirit inspiration for the Institute, and the nature-individual-community essence of its programs.  Brochures for self-guided tours are available. Don't be afraid to move in and out of buildings to appreciate their site-specific design, and to check out special exhibits.  A permanent (but occasionally shifting) installation of art by Herbert Bayer (paintings, sculptures, textiles, photographs, ceramics) is open to public in the Doerr-Hosier Center.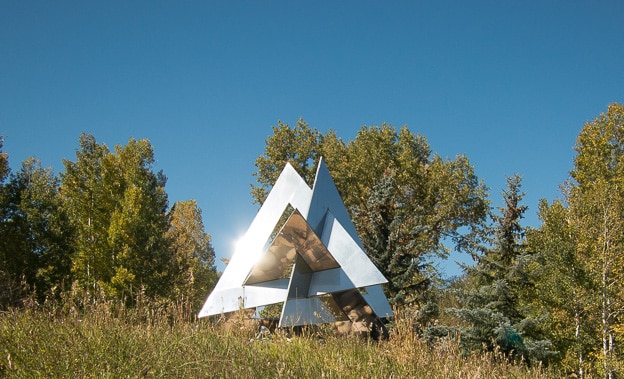 The stimulating Aspen environment is just what we wanted in our Aspen retreat.
For more ideas of what to do in Colorado, check out this list of day trips from Denver.
When you're thinking of traveling, your first stop should be our Travel Resources page, where we list all the essentials you need to make your travels easier, cheaper, safer, and more fun.
You can also help yourself get ready for your travels by reading our Get Started Planning Your Trip Now page.
We love traveling–with the right gear. We've gathered a lot of the stuff we use to make travel more pleasant and efficient all on one page. Shop our Travel Past 50 Amazon page to find our favorite gear. If you purchase something from the store, Travel Past 50, as an Amazon affiliate, may receive a small commission at no extra charge to you. Thanks.
We never leave home without our travel insurance. Nor should you. Search for the travel insurance from Allianz that best meets your needs, whether it be an annual plan or a single trip.
You can see (and buy prints) of most of our travel photos in one place on this page.
Note: This post and other posts on TravelPast50.com may contain paid or affiliate advertising links. As an Amazon Associate we earn from qualifying purchases.