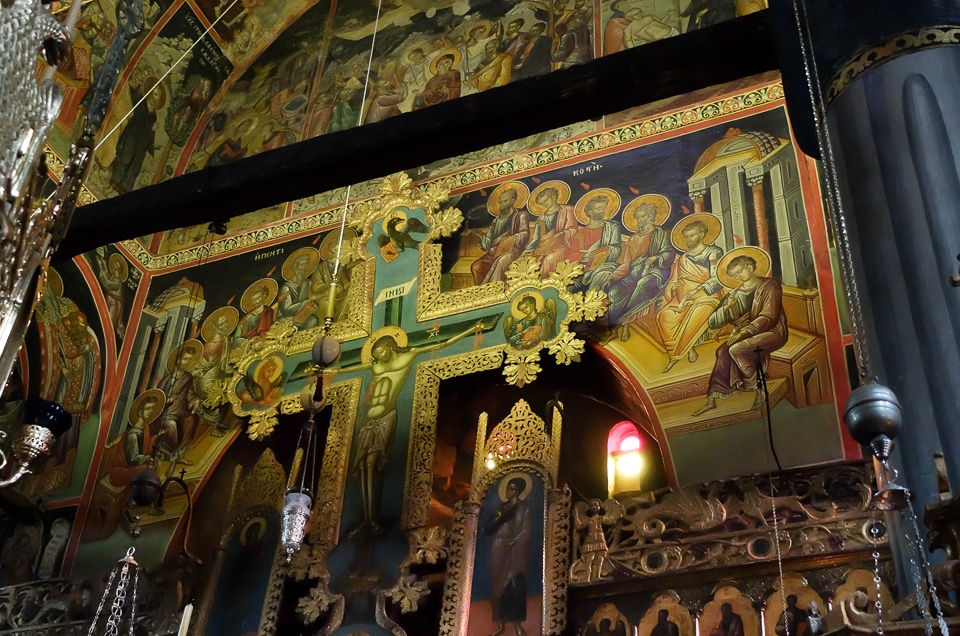 Meteora, Greece was once the home of 24 monasteries perched on top of or in caves on the spectacular mountains. The landscapes are amazing in themselves, but perhaps even more impressive are the fantastically detailed frescoes that decorate the centuries-old interiors of the churches. We toured two on the day we took the bus ride. For some unfathomable reason, they don't allow photos within the churches, and in each there was a stern Greek fellow who intoned repeatedly "No photos, no photos" to anyone who was carrying a camera. Which was everyone on the tour.
But, I'm slightly hard of hearing, and I also have a very small and absolutely silent little camera. So, sometimes when it's set to automatic exposure and focusing and I'm standing there looking at the altar, it goes off by accident. The result is imperfect composition and exposure. Often there's a bit of a tilt, and you need to do some work in Lightroom to make the light work out so you can get an idea of what you're looking at. But, at least you end up with a photo, and sometimes it looks a lot like this one.
Of all the places we've been in the past four years, one we can absolutely recommend is Meteora. Everything about it is remarkable: the natural beauty, the history, and the art. It's well worth it to contact the folks at Visit Meteora and arrange a tour by one of their experienced guides who can explain what you are looking at. Otherwise, it can be a bit overwhelming. They also do a walking tour that leads you on back roads to see things you won't see from the bus.
Go. You wont be sorry.
Get all our travel tips delivered to your inbox
Subscribe to our email newsletter