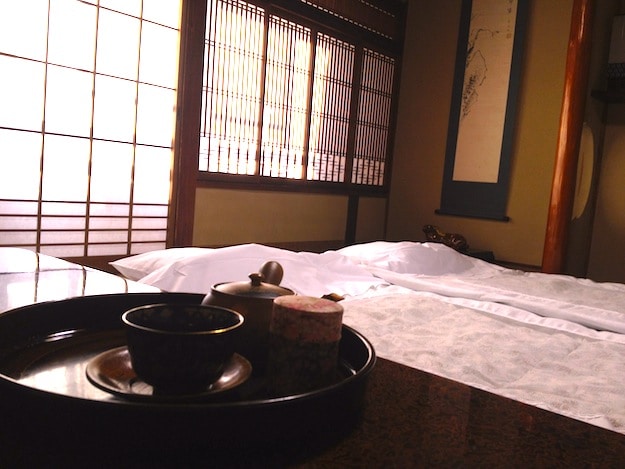 We're not backpackers, but we've been on the move constantly during our six weeks in Japan. We've experienced a range of accommodations, but none for longer than five nights–at the Washington Hotel in Shinjuku, Tokyo. We normally select our lodging just the day before arrival. Our only criteria are that we're in walking distance to the center of town, if not the train station, and that we'll have a Wi-Fi connection. We budget under $100 a night, and find options between $60-90 more often than we do places costing upwards of a hundred. Here's how the stays seem to be shaking out.
Hotels
Our introduction to hotels in Japan began in Tokyo, but continues to describe a wide range of places. For the most part, the service amenities are as you'd expect: small rooms, fancy toilets, hot water for tea, small fridge, TV (useless to us), toiletries, hair dryer, robes, and towels. We share these hotels with businessmen mostly, but also with tourists (Japanese and otherwise), and sporting or convention groups.
A standard Japanese hotel is distinct from the American version in a few ways: trouser presses on every floor (but no iron in the room); vending machines offering hot and cold drinks, plus beer and whiskey highballs; and laundry facilities for guest use at about two to three dollars per load (including automatic soap dispensing).
The rooms are, of course, lots smaller than in the USA, and probably smaller than the tiny old rooms in some central New York or Paris hotels. We learned that a room can be so small that the tub and sink use the same faucet, that Tom has to enter the bathroom sideways, and it isn't practical for both of us to be out of bed at the same time.
Shinjuku Washington Hotel, Tokyo (giant well-respected hotel near the Hilton, but at half the price)
APA Hotel Kodenmacho-Ekimae, Tokyo (for businessmen all the way)
Kanazawa Manten Hotel, Kanazawa (special shout-out for calling the taxi to take me to urgent care)
Comfort Hotel, Nara (breakfast included)
Hotel Green Selec, Sendai (any port in a storm)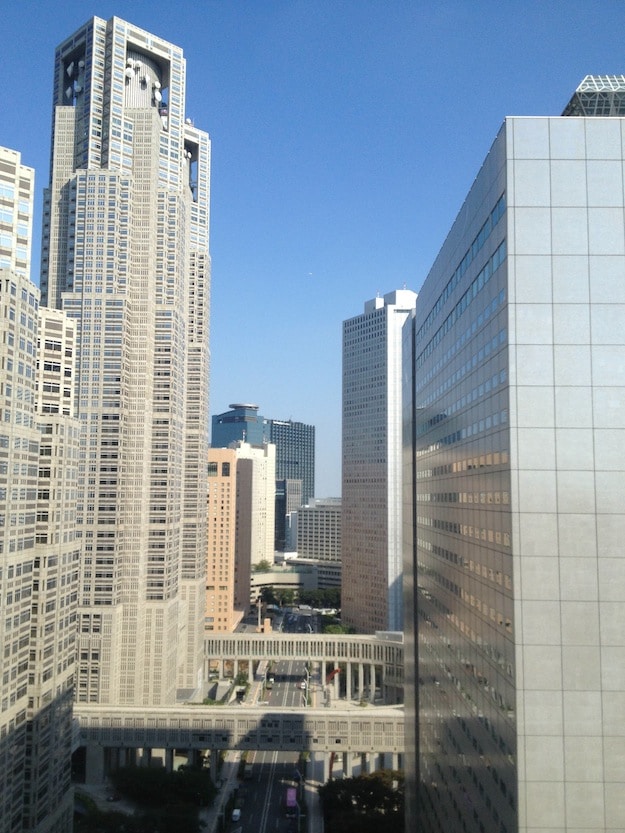 Hostels
Hostels are marketed to 'backpackers,' but their price and location attract many others. In most hostels, bathrooms are right in the room, and like the hotels, the toilet spaces appear to be inserted pods, requiring you to step over a riser to the throne. Rooms might be smaller than at the average hotels, and the toilets are regular devices with no butt washing or bidet buttons. Toiletries are provided in bulk and towels are provided, but no robes, slippers, or public bath. And don't expect your room to be made up daily. Whatever few amenities you might give up at such hostels, though, is more than made up for with friendly staff, a kitchen and lounge, and easy Wi-Fi. Most hostels have their recommendations for nearby restaurants already written out, and tend to be staffed by young, well-traveled people.
K's House Takayama, Takayama
K's House Hiroshima, Hiroshima (Discounts for staying at multiple K's Houses across Japan begin on your third city stay.)
JR Hotels
These may not always be named the "JR" (Japan Rail) hotel, but the gist of these hotels is that they are directly in or extremely close to the main train station in town. Most are quite posh, with prices to match, but some are a real bargain and a godsend. The advantages, besides location, include on-premise restaurants and easy access to the convenience stores and shopping in the station's mall of shops. (I found dinner and socks.) Supposedly they offer a discount to JR Rail Pass users, but we booked ahead and forgot to ask.
JR Kyushu Hotel, Nagasaki
JR Kyushu Hotel, Kagoshima
Ryokans
We've stayed at four so far, and I hope we find some others in our last couple weeks here. These are more traditional Japanese style guest houses, generally operated by a family that lives elsewhere on the property. Breakfasts and dinners may be included or offered separately. Rooms consist of tatami (grass mats) floors, a tea table where tea is offered upon arrival and again refreshed before your return in the evening. Futon mattresses may be rolled up in a closet or already placed on the floor, and a few hooks are provided to hang your clothes. Towels and robes and slippers are provided, and if you've worn shoes or slippers that far into the house, they will definitely come off when you enter your room. You might consider having the toilet down the hall a disadvantage, but with that comes the advantage of a Japanese bath at your disposal. After a thorough cleaning with a hand-held shower (or bucket) you may enter the hot water (onsen, or hot spring) bath for some bedtime relaxation. Most often there are separate baths for men and women, and women, at least, may use the bath privately. A few facilities have joined baths, so you can clean and relax at the same time as your mate. A few have private toilet and bath in the room, and the most traditional have a sitting area in front of the windows, with a table and a couple chairs.
Chuokan Shimizuya Ryokan, Nagano (First rate. Our highest recommendations.)
Ryokan Matsukaze, Matsumoto (Very nice. The walk from station involves going up and down stairs over the tracks, so arrange a lift from the ryokan.)
Oyado Chikara Sou, Takayama (Sweetest hostess, but a bit of a walk into town.)
Kajiyabekkan Ramakkoro Yamaneko Yado, Higashiyama (I mistook this for being in Ichinoseki. I was only 15 KM off, and on the wrong side of the mountains from our ultimate destination, Hiraizumi. But is you want to float the Geibikei Gorge, short for gorgeous, stay here.)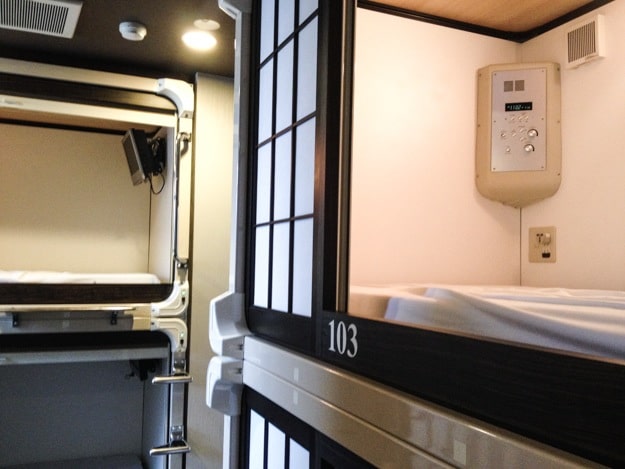 Capsule Hotels
More like booking a sleeping berth on a train, many of the capsule hotels offer both the capsule compartments and a more standard hostel style room. I admit, we skipped the capsule, but I did take a look and found them to be wired for private light, clock, etc., and accompanied by good size lockers for storing your bag. Because each capsule has a sliding door, they provide lots more privacy than, say, the bunkrooms on the Camino de Santiago. Our room was a cross between a hostel and a ryokan, with tatami floor, fold out mattresses, storage beneath the bed platform, a super fancy toilet that opened and closed its lid as you entered and left the bathroom, and a corner shower with adjustable shower heads and sufficient ledge space. In Kyoto, our only capsule hotel experience to date, all the staff were extremely friendly and helpful. Like a hostel, we could help ourselves to coffee or tea, use the common refrigerator, and hang out on in the lounge area to read or eat our breakfast.
Capsule Ryokan Kyoto, Kyoto
With only one exception, no matter where we were or what type of property we stayed in, we found our temporary homes to be clean, safe, and highly accommodating. (The one exception, in Nikko, was evidently not Japanese-owned or operated. In fact we were never sure if management was there at all, since we couldn't find them to arrange an additional night.)
We've had hosts walk us to the bus stop, drive us to the train station, turn to a neighbor if they need assistance communicating with us, and gracefully demonstrate proper etiquette for various situations. Despite the fact that a couple local restaurant establishments have turned us away when they have plenty of seating available (they may as well post a sign that says 'no gai-jin'), the tradition of impeccable hospitality is alive in all sorts of Japan's accommodations.
Footnote
We used a bunch of online search engines for booking. Please comment if you have other booking suggestions.
Booking.com
Hotels.com
Japan National Tourism Organization
Japanican: Online Booking via Japan tourism
Read more about the hospitality of Kanazawa, Japan here.
You can help yourself get ready for your own travels by reading our Get Started Planning Your Trip Now page.
We love traveling–with the right gear. We've gathered a lot of the stuff we use to make travel more pleasant and efficient all on one page. Shop our Travel Past 50 Amazon page to find our favorite gear. If you purchase something from the store, Travel Past 50, as an Amazon affiliate, may receive a small commission at no extra charge to you. Thanks.
We never leave home without our travel insurance. Nor should you. Search for the travel insurance from Allianz that best meets your needs, whether it be an annual plan or a single trip.
Note: This post and other posts on TravelPast50.com may contain paid or affiliate advertising links.