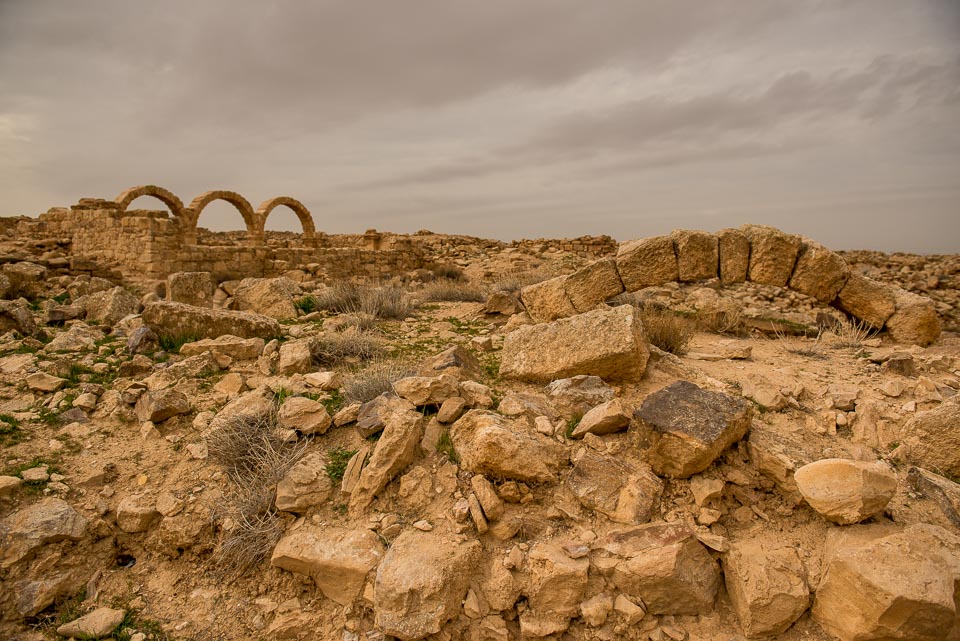 As we plan our visits to any new country, usually the first bit of research we do is to map out the Unesco World Heritage sites. Absent any other information about a country, the list of World Heritage sites will at least give a bare outline of what the rest of the world thinks is worth seeing.
For Jordan, that was relatively easy. There are four Unesco sites in the country (and many others pending.) Two were "gimmies"–Petra and Wadi Rum. Both are fantastic and varied sites, and oddly, both became famous in scenes from films. The Treasury at Petra was the climactic backdrop for Indiana Jones and the Last Crusade, and Wadi Rum was the real and cinematic setting for Lawrence of Arabia.
We loved visiting both of those sites, and, honestly, could have spent days investigating both. We were especially disappointed that we hadn't bought multi-day passes to Petra. Don't make the same mistake. A one day pass is a very expensive 50 Jordan Dinars ($70 USD) but each extra day is only an additional 5 Jordan Dinars ($7.) An adequate hotel in Petra village can be had for 40 Dinars, including breakfast, so it's worth the stay.
And, as for Wadi Rum, you could spend months and not see it all. If you sleep in the Bedouin camps, you don't have to pay the entrance fee (10 Jordan Dinars, $14 USD) again. A 3-hour jeep tour, and a stay overnight in the camp, including dinner and breakfast is about 75 Dinars per person, ($105 USD.) However, $210 USD will buy you a pretty nice lush hotel room anywhere in Jordan, so weigh your priorities. The Bedouin camps have private double tents, but the "facilities" are pretty rudimentary. There are toilets and a water hose if you want a shower. We were loath to use water that far from any source, though.
All that said, we were really looking forward to the Um er Rasas World Heritage site, which promised some cool stuff to look at, and much less touristy development. We were both delighted and disappointed.
First, the delight. You have to understand the large Um er Rasas site has barely been excavated. It started as a Roman military camp around the time of the Emperor Hadrian in the early 2nd Century, and developed into a large town that had 16 Byzantine churches of various sizes. So, what you are able to see is severely limited. But what is there is great.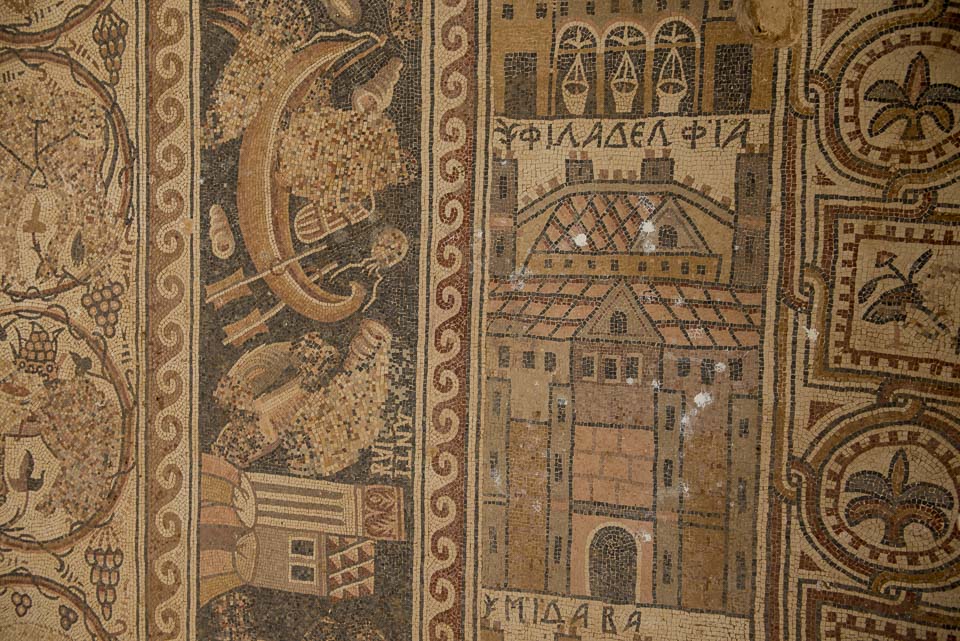 The large Saint Stephen's Church is the highlight. It is the most developed part of the archeological park, and the only part that seems to enjoy any effective protection. Over the large nave and apse, they've built a steel roof to protect the fantastic mosaic floor from at least some of the elements. The floor is amazingly well preserved, with the vast majority of the original 6th Century mosaics mostly intact. I say "mostly" because the damage to the mosaics was not done by the elements or earthquakes, but by Muslim iconoclasts who, literally, defaced some of the illustrations. It looks, in some spots, that faces were removed both from human and animal figures and the mosaic pieces were rearranged in those areas to make pixelated nonsense out of the facial figures.
Of course, knowing what damage Christians did over the years to pagan icons, one can hardly fail to at least understand when Muslims did the same to the Christian figures.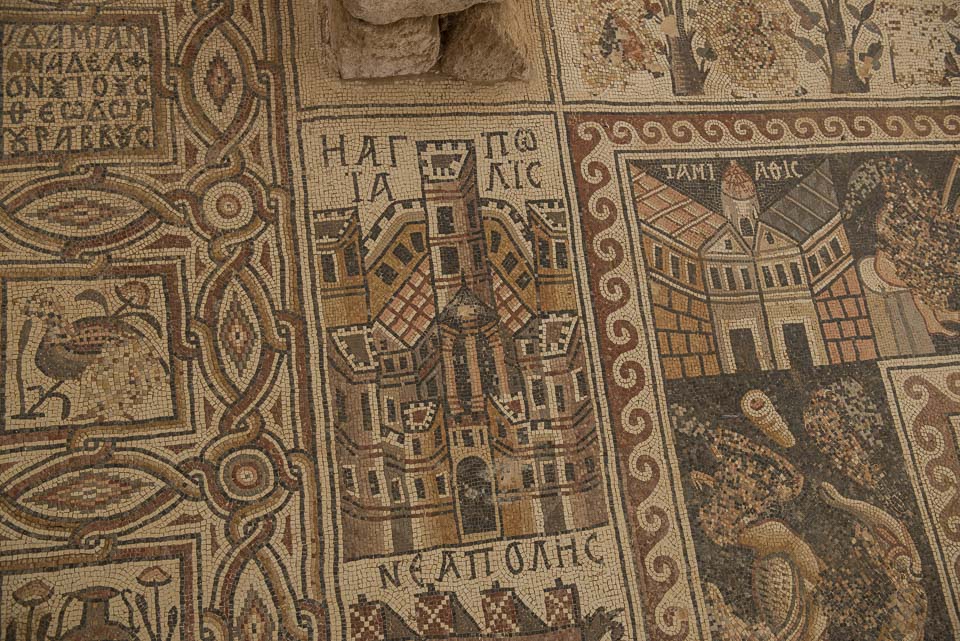 What remains, particularly of the Saint Stephen mosaic is remarkable though. My favorite elements of the design was a graphic depiction of all the cities of the surrounding area. Philadelphia, the ancient name of Amman, is there, as is Jerusalem, called simply the Hagia Polis, or Holy City. Ashkelon, the city on the Mediterranean coast of Israel is there, as are several other recognizable names–if you can read Greek.
Ironically, the only human damage (other than the above mentioned decapitations) I saw to the Saint Stephen's mosaics was done by one of the careless workmen who erected the protective roof. While the interior of the roof was being painted, it seems part of the mosaic was left uncovered. There are drips of white paint on the Philadelphia tableau. I looked up at the ceiling above, and yes, you could see the runs of white on the metal truss. It's hard to get good help.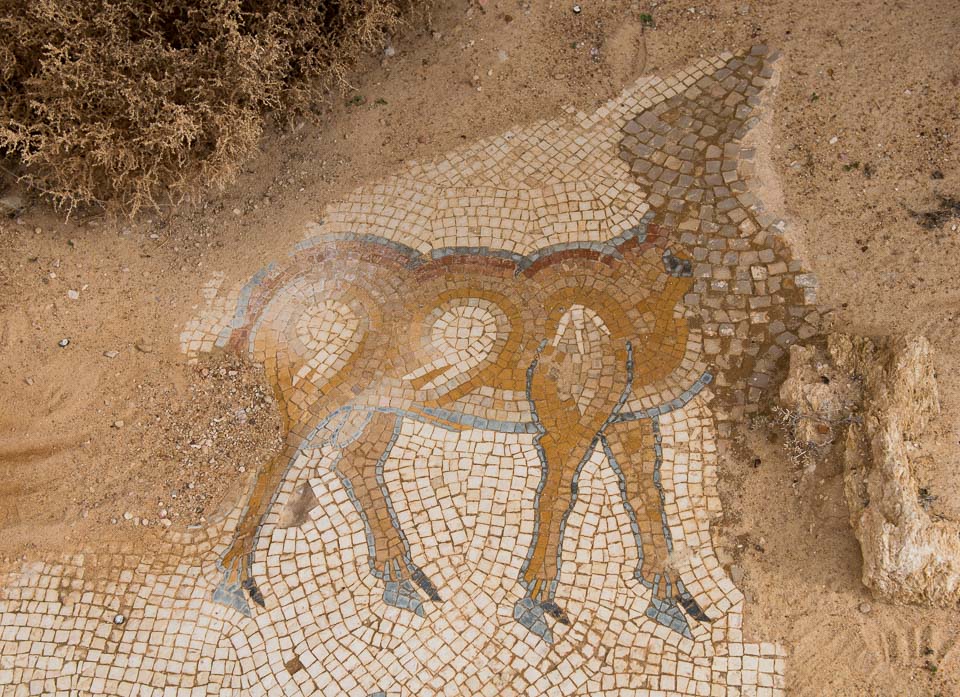 As you wander the huge site, climbing among the toppled stones, you run into many of the other churches and see bits of more lovely mosaics that decorated their floors as well. Unfortunately, there is no protection for them other than the sand which has blown and settled into the church wall enclosures. You can walk into those churches and kick sand aside to uncover the art beneath. But you have to wonder how long these treasures will last if nothing is done to preserve them.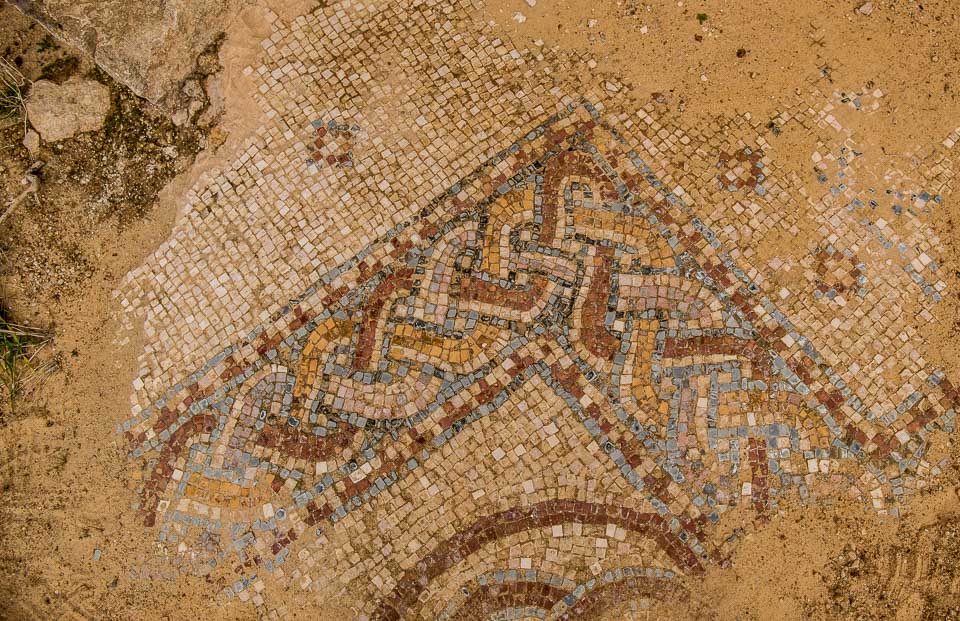 And, nothing is being done to either protect or preserve them. When we arrived at Um er Rasas, there was a nice visitors center–or at least something that once had been built as a visitors center. There was only one man working there. He was doing a survey of visitors and asked us two questions: where did you come from (Wadi Rum) and where are you going next (Quseir Amra.) He told us entry was free, because nobody was working to sell us a ticket. After the cost of Petra, I figured we deserved a discount anyway. Although we arrived in early afternoon, I surmised we were the first visitors of the day, because our answers were written on the first line of his form. We were completely alone on the site.
I suppose one can understand what is happening to sites like this in Jordan. It is a relatively remote site in the north of the country. Both Petra and Wadi Rum are in the south, and both are easily accessible by car from Eilat, Israel. And many tourists do visit one or both sites and return to Eilat the same day.
The Arab countries have a tourism problem. And, it's pretty understandable–or at least the reasons are obvious. When we visited the other Jordan World Heritage site, Quseir Amra, which is east of Amman, we got within a fairly short distance of the Iraqi and Syrian borders. On the way there from Amman, we passed the Jordanian Military College. As we walked around Quseir Amra, we could hear the thumps of their artillery practice.
See our post on another significant archeological site in Jerash, Jordan.
You can help yourself get ready for your own travels by reading our
Get Started Planning Your Trip Now
page.
We love traveling–with the right gear. We've gathered a lot of the stuff we use to make travel more pleasant and efficient all on one page. Shop our Travel Past 50 Amazon page to find our favorite gear. If you purchase something from the store, Travel Past 50, as an Amazon affiliate, may receive a small commission at no extra charge to you. Thanks.
We never leave home without our travel insurance. Nor should you. Search for the travel insurance from Allianz that best meets your needs, whether it be an annual plan or a single trip.
You can see (and buy prints) of most of our travel photos in one place on this page.
Note: This post and other posts on TravelPast50.com may contain paid or affiliate advertising links.