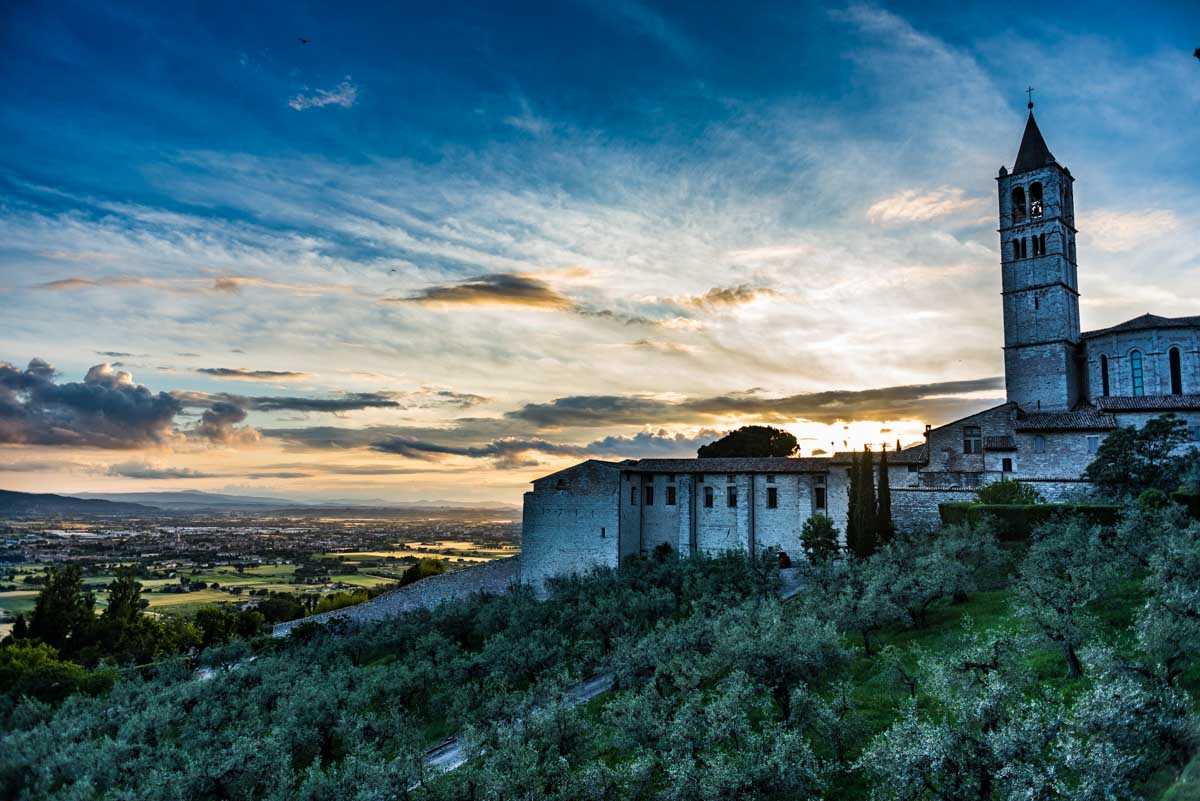 Before you start ticking off your list of things to see and do on your tour of Assisi, it would serve you well to at least take the time to learn just a little about the two saints, Francis and Clare, that make this Umbrian town the attraction that it is.
First, of course, is Saint Francis, the patron saint of Italy, and known here by his Italian name, San Francesco. He was, of course, the founder of the Franciscan order. To say he changed the Church, and with it the history of Western philosophy, is probably not overstating his influence. I'm only going to go into a short biographical sketch here because this is a travelogue, not a religious treatise, and I don't want to bore you.
But, it's critical to the understanding of what you would be seeing in Assisi to know a little about the man who inspired what you're looking at. If you want a bit more, there's a very short biography of Saint Francis by the English novelist and lay theologian G.K. Chesterton that's worth a read. It's more of a discussion of his ideas than his life. But that, after all, is Francis's real legacy. If you don't want to tackle a hundred-page book, there's always the Wikipedia entry.
Some posts on Travel Past 50 may contain affiliate links. If you buy something through one of those links, we may earn a small commission. As an Amazon associate, we earn from qualifying purchases.
Francis lived from the late 12th to the early 13th Centuries. He was the son of a prosperous silk merchant who renounced his wealthy family and took a vow of poverty. His first task, as a result of a vision he had, was to restore and rebuild ruined chapels in the vicinity of Assisi. Among them was the so-called Portiuncula ("a small part" in Latin) which became the home of the Friars Minor, the first religious order founded by Francis. According to the story, he actually begged people for stones, or found and squared stones himself.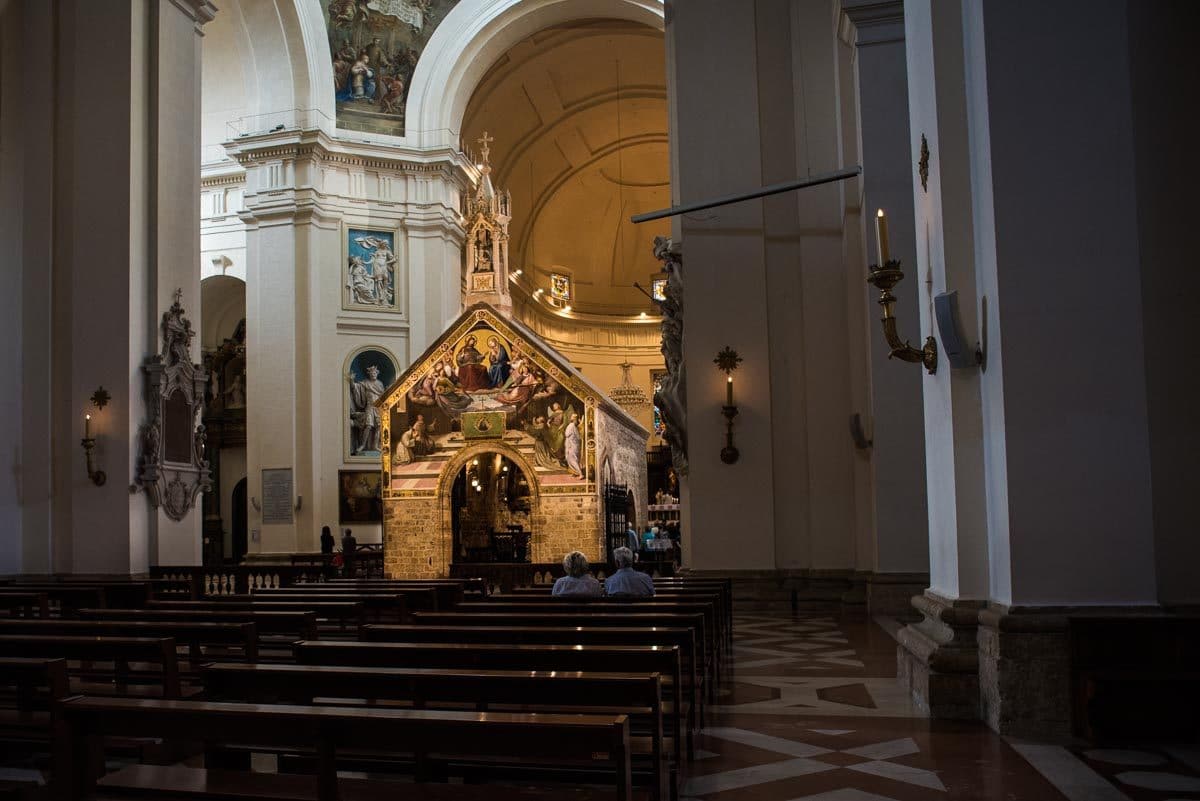 The traditional chronology of the life of St. Francis has him moving on from amateur mason to nurse to the lepers in a colony near Assisi. Eventually, he became convinced that he should assemble a following so as to spread his message of adoption of poverty to the larger world. In a short time, he had eleven followers and traveled to Rome to seek permission from the Pope to form a holy order. The request was granted, and the Franciscan Order, or the Minor Friars, was founded.
It should be noted here that the Franciscans differed substantially from other orders in that they had no permanent monastery. The friars, or brothers, were itinerant, and lived by begging. There were no lands to be cultivated, no libraries to be maintained, and no parishes to be manned. The Franciscans were charged to be as the disciples of Jesus–eschewing all material goods and spreading the teachings of Jesus. Francis himself chose to never be ordained as a priest.
Soon after forming his order, he was approached by a noblewoman, Clare of Assisi, who wished to follow him. She was prohibited by her father from doing so, but she escaped his castle one night and came to Francis, who gave her a simple habit like his own and stashed her in a Benedictine convent. She, too, took up the simple life of poverty, and a female complement to the Franciscan Minor Friars was established and eventually took the name the Poor Clares.
There is much more to the story of Francis, particularly his mission to the Muslims and the appearance of the stigmata late in his life, but I'll leave it to you to study up if you're so inclined.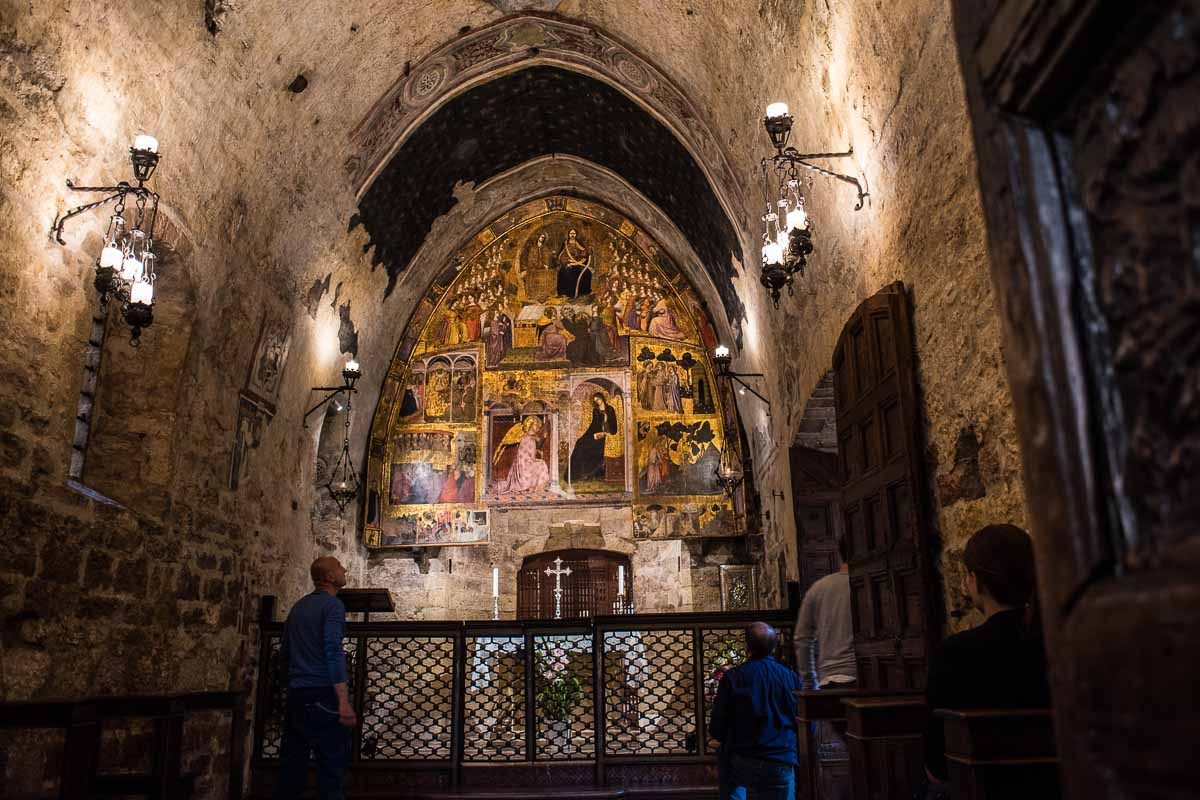 It's difficult to put an exact finger on what it is about the town of Assisi that is so distinctly impressive. First, it's a beautiful hill town built into the side of Monte Subasio, with stunning vistas of the valley below. But if I had to say, it seems that the spirits of St. Francis and St. Clare are beautifully served by the tranquility of the small mountain town, as well as the stunning, yet simple, churches that bear their names.
Now, on to what to do in Assisi.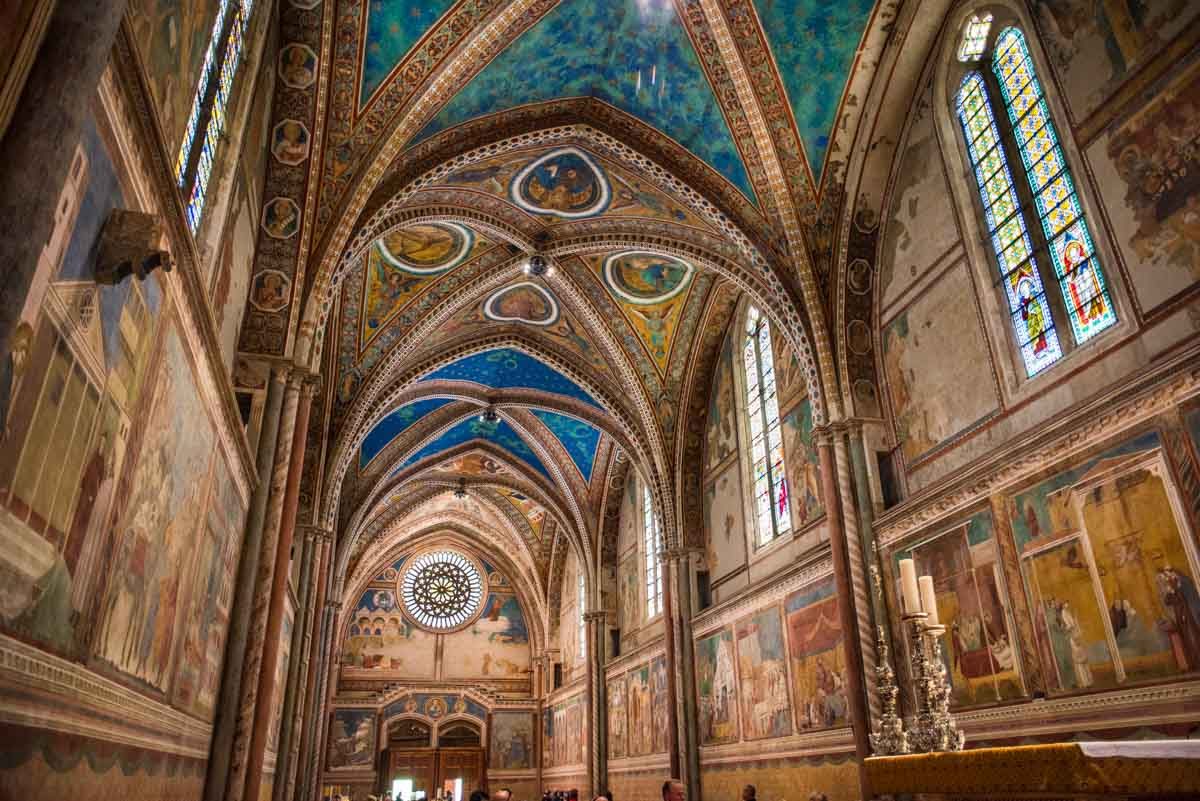 The Basilica of St. Francis
There are two Basilicas of Saint Francis, (Basilica di San Francesco ) an upper church and lower church. Both churches were started at the same time, immediately after the canonization of Francis only two years after his death in 1226. Such was the immediate recognition of his importance for the Church.
The nave of the upper church, basilica superiore, is lined with scenes from the life of Francis and were, until fairly recently, attributed to Cimabue and Giotto, the two most famous and accomplished Florentine artists of the late 13th and early 14th Centuries. There's some dispute now about Giotto's contribution to the Upper Basilica. Unfortunately, the records of the Franciscans were destroyed in the Napoleonic Wars, so there's no way to be sure.
However no such doubt exists about his frescoes in the Lower Basilica, where he painted the transept area, and one can see his frescoes right next to those of Cimabue.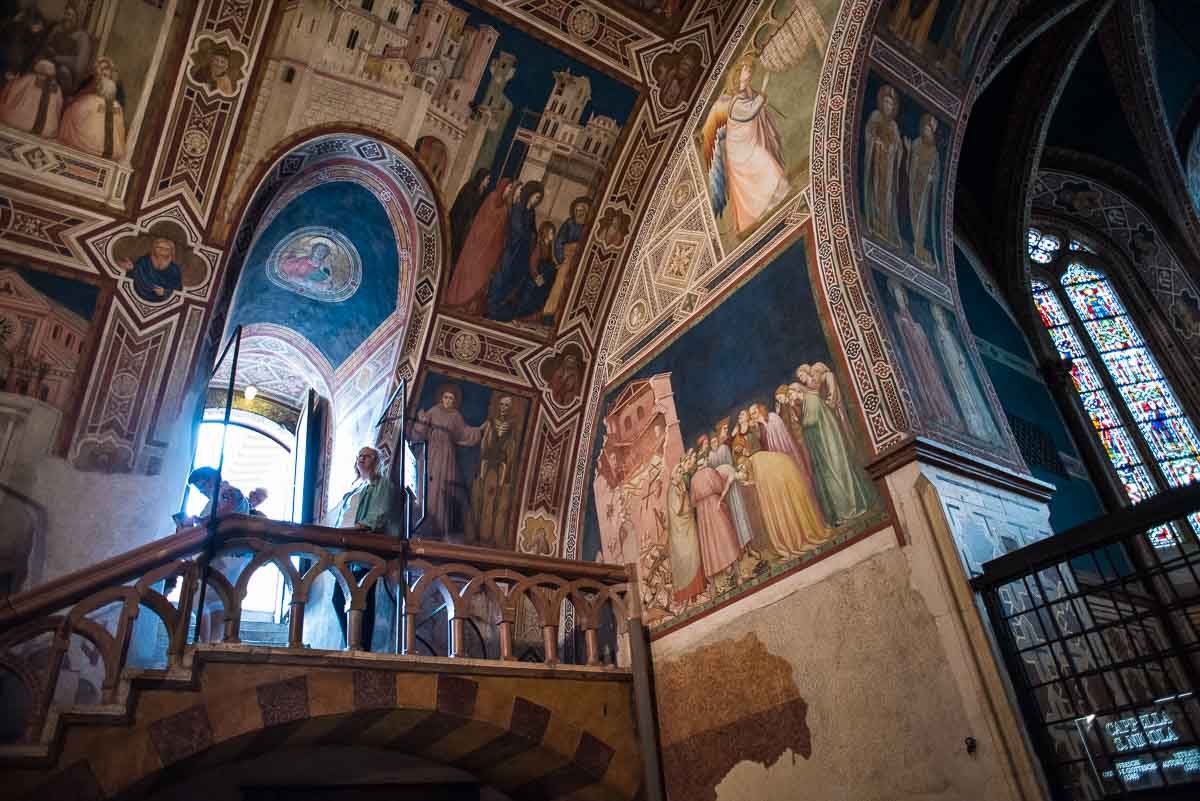 Perhaps the best evidence of the power of the life of Saint Francis is that he inspired a young Giotto to illustrate his life with such passion and skill. Giotto is generally recognized as the greatest artist of the early Renaissance. In fact, many credit him with "starting" Renaissance painting. Giotto's main contribution was his break from the Byzantine elongation of the human form as practiced by his predecessor (and perhaps teacher) Cimabue, in favor of a more naturalistic presentation. Not to give short shrift to Cimabue, however, who was certainly a transitional figure between the old and new styles, as you can see in this fresco in the Lower Basilica.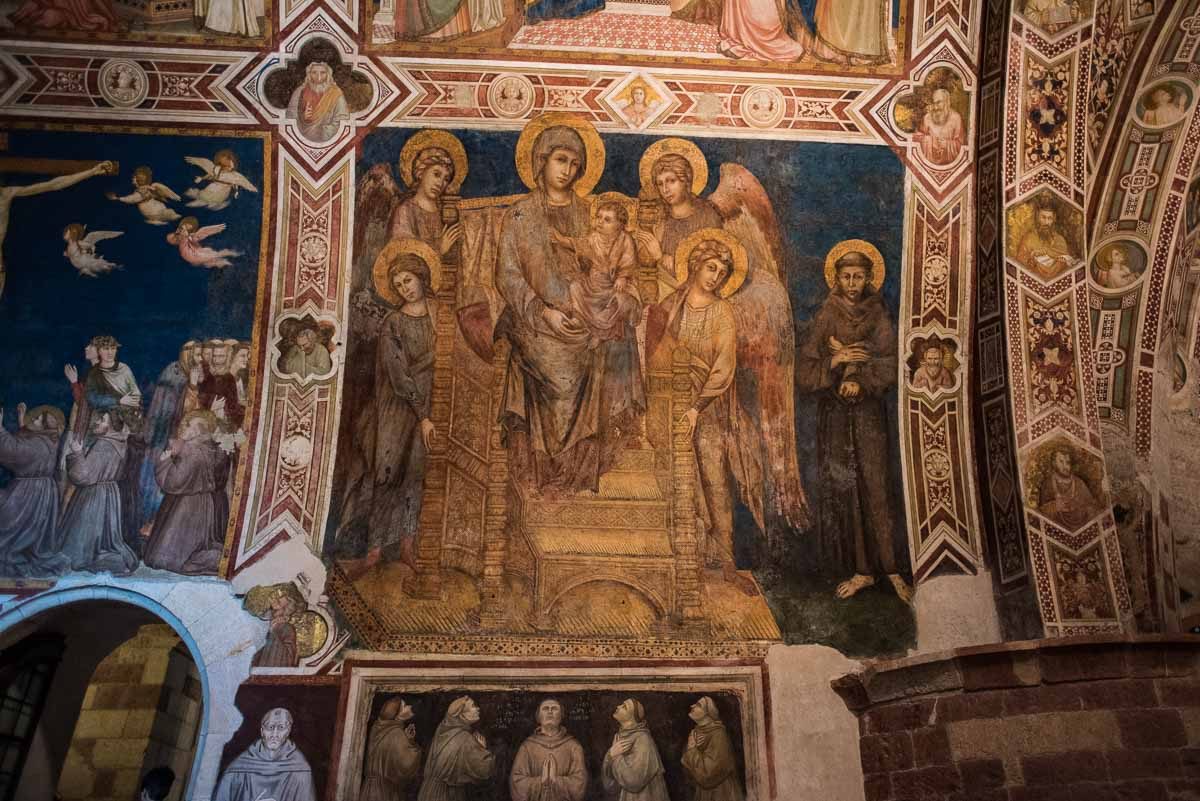 The lower basilica was decorated over a period of hundreds of years and its chapels and other features display a wide variety of styles. I particularly like the Mannerist Last Judgement by Cesare Sermei di Orvieto behind the altar, painted more than 300 years after the nearby Giotto frescoes.
The tomb of Saint Francis is a simple affair in the crypt under the altar of the lower Basilica. The saint's remains had been hidden because his original followers had feared that invaders would desecrate his tomb, or that his relics would be sold all over Europe. The exact location of the crypt of St. Francis remained unknown until Pope Pius VII allowed the main basilica floor to be excavated to look for the saint. After the remains were found in a tunnel under the floor, the Pope ordered a crypt to be built built behind an altar in the lower basilica. The tomb was originally designed with precious marble in neo-classical style. But it was redesigned in bare stone in neo-Romanesque style between 1925 and 1932.
The ancient stone coffin with iron ties is enshrined in an open space above the altar. In 1934 Saint Francis's closest followers brothers were entombed in the corners of the wall around the altar.
Basilica of Saint Clare (Basilica di Santa Chiara)
The Basilica of Saint Clare was begun in 1257, only four years after her death and two years after her canonization. The basilica is distinguished mostly by paintings over the altar and a huge Byzantine crucifix. No photos are allowed, so I only managed to grab this one before I saw the no photos sign, and before a demure young nun gave me an admonishing smile, but didn't say a word. The crucifix alone is worth a few minutes to completely appreciate. It is mindful of a similar crucifix by Cimabue in Santa Croce in Florence.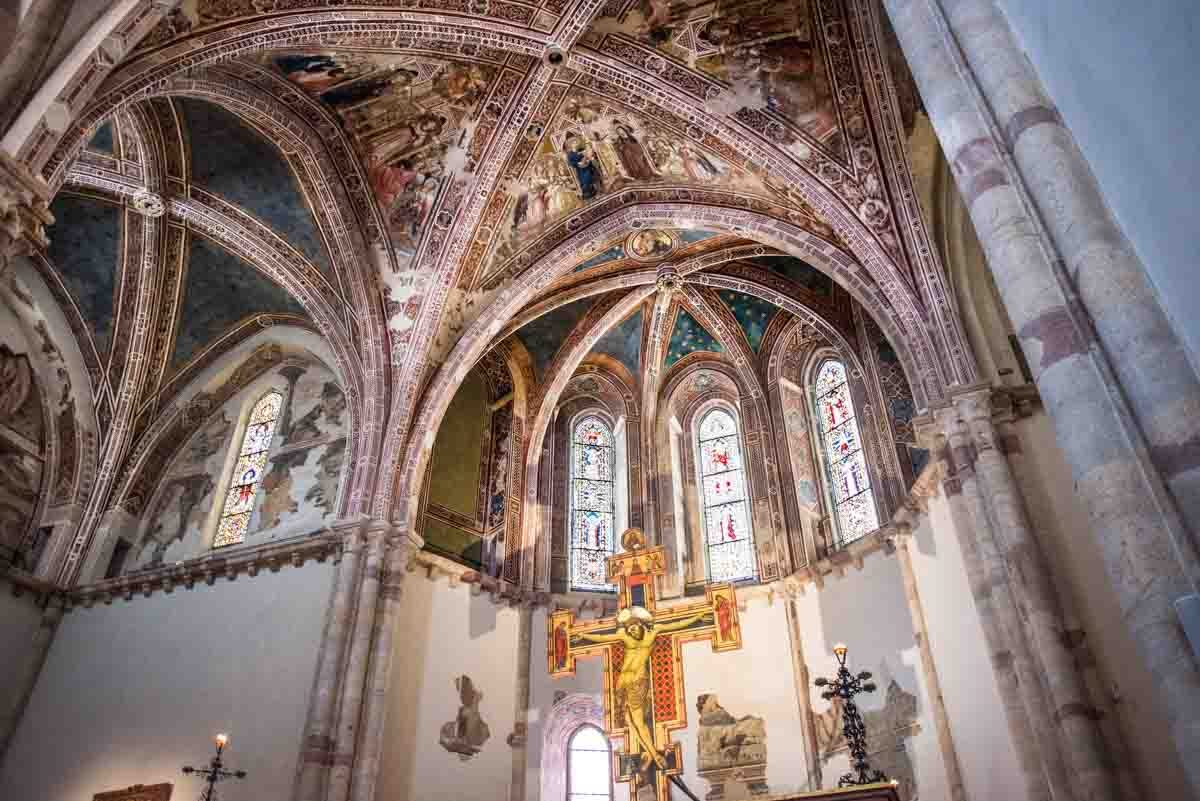 Santa Maria degli Angeli
This huge church is important because it was built around the small chapel of the Portiuncula of Saint Francis (see the photos above) and because it also encloses the site of the Saint's death, the Chapel of the Transit (Capella del Transito.) The tiny chapel is behind bars, and the frescos on its walls are crumbling, so it's a bit hard to get the original sense of the place.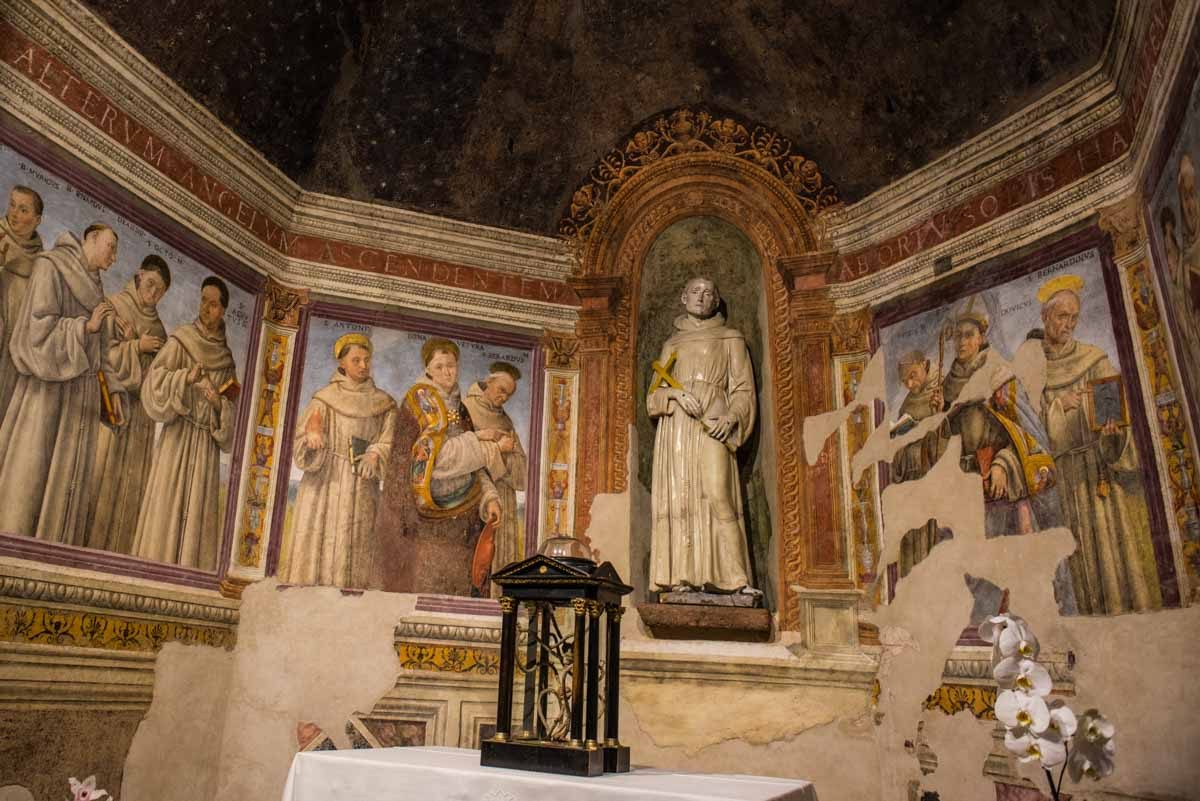 The other distinguishing site in the Basilica of Santa Maria degli Angeli is the Thornless Rose Garden, which is reached down a hallway at the back of the church. The story goes that Francis, when he felt temptation one day, decided to roll around among the rose bushes to remind himself of the passion and sacrifice of Jesus. But when he did so, all the thorns magically vanished. Again, you're only allowed to view the rose garden through glass, but it's true. The roses have no thorns.
Finally, at the end of the passage past the rose garden is a small group of semi buried rooms which were built long before the basilica. These include the so-called Rose Chapel, a cell where Saint Francis slept. In these rooms are some 13th Century frescoes, including a portrait of Francis.
Santa Maria degli Angeli is at the foot of the mountain on which the walled city of Assisi sits. It is reached by taking a bus from Piazza Unità d'Italia, just at the edge of the walls of the old city. The bus costs €1.30 if you buy your ticket in advance at your hotel or a kiosk. If you buy it on the bus, it's €2. It's a short ride of about 10 minutes, and the bus drops you right in front of the basilica. After your visit, you catch the bus back up the hill at a stop by the side of the church.
Other churches in Assisi
Saint Damian's just outside the walls is the church in which the crucifix supposedly spoke to Francis and told him to rebuild the ruined churches. The crucifix itself is now in the Basilica of Saint Clare, and has been replaced by a replica at Saint Damian.
The Temple of Minerva, which now houses the Santa Maria Sopra Minerva church, stands on the main square. The new Baroque church embodies all that is excessive about the Catholic church and can be absorbed in just a view minutes of wonder at how such a monstrosity could be erected between the two basilicas of the Saints. But, as someone once said, if you wonder what God thinks of money, look at whom he gave it to.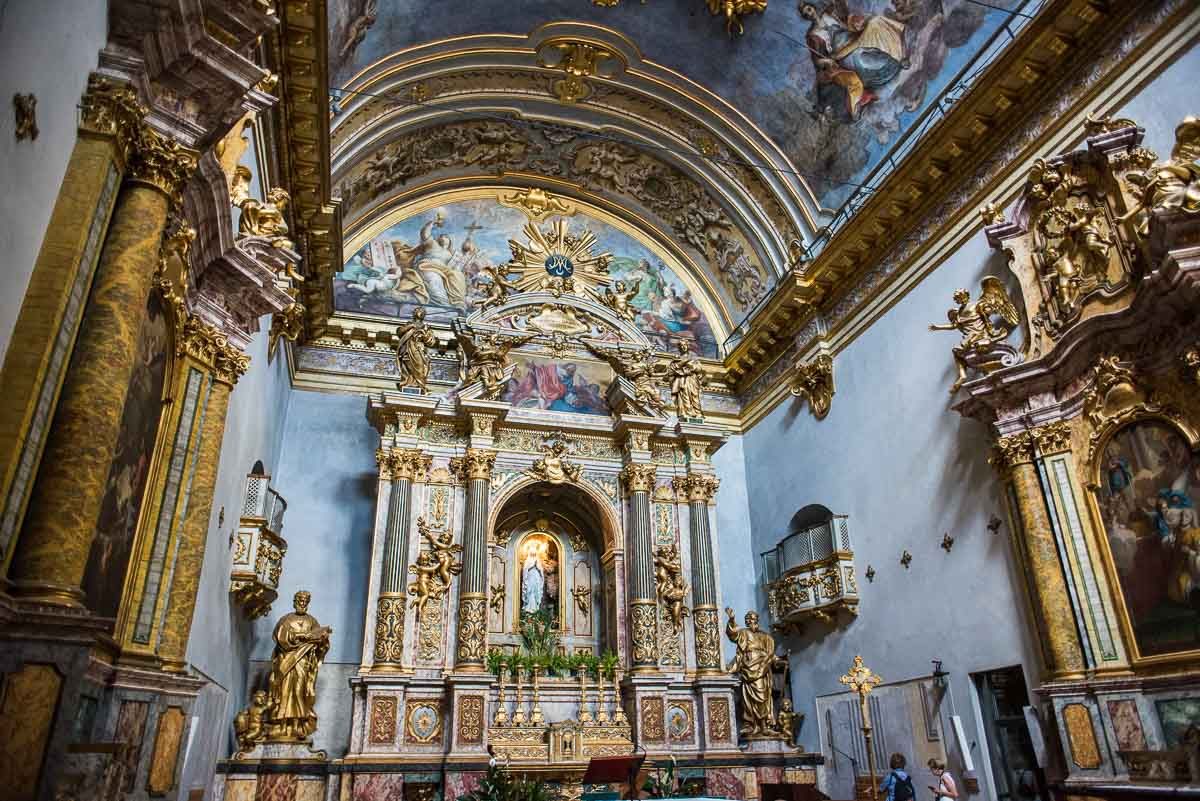 The Assisi Civic Museum and Roman Forum
The best thing about Santa Maria Sopra Minerva is that it sits atop the old Roman Empire era forum, which has been excavated and turned into the Civic Museum of Roman Artifacts. Among the Roman ruins housed there, you can actually see the old pavement of the city center from Roman times, and several statues that once stood there. In addition, there are several grave stones and other civic remnants of the ancient city. There's even an entire cenotaph down there with the original inscriptions. The museum costs €3 for seniors, which we are.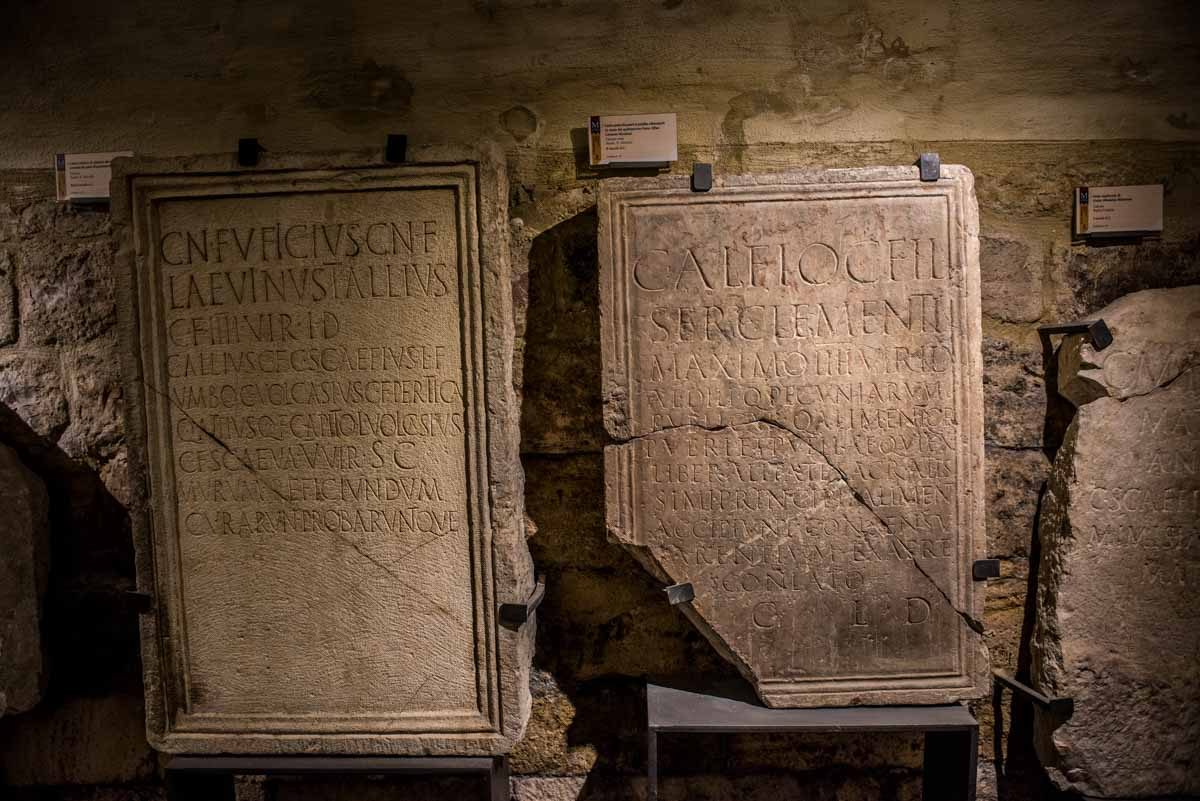 There's also a Roman Amphitheater in Assisi, but only a bit of it is visible, and the area around it was long ago built up so it's impossible to get any sense of what it was like. About all you can do is walk around it, which is ok to do since you're walking the city anyway.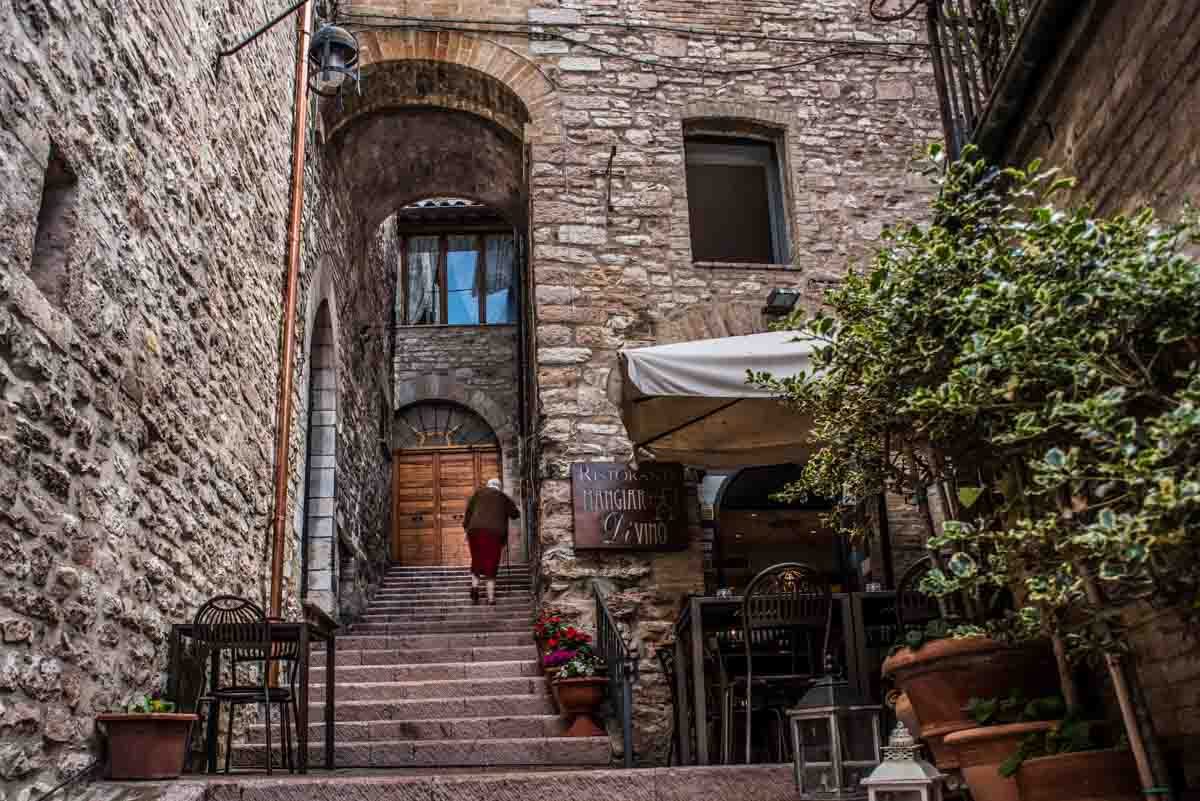 The Rocca Maggiore
The Rocca Maggiore is the big fortification that stands atop the Assisi mountain. It's a hike up to the top of the hill – a good half hour walk on a sunny day – but you're rewarded with spectacular views of the town walls of city of Assisi and the surrounding countryside of the Umbrian valley below. I recommend taking a picnic and a nice bottle of wine and enjoying the vistas over lunch. Sometimes, there will be children playing in the yard in front of the castle. They were running relay races and kicking a soccer ball around the day we were there. You can go into the castle if you like, but we didn't. We preferred the views over the hillside and the basilicas of Clare to one side and Francis to the other, framed by the valley and olive trees below.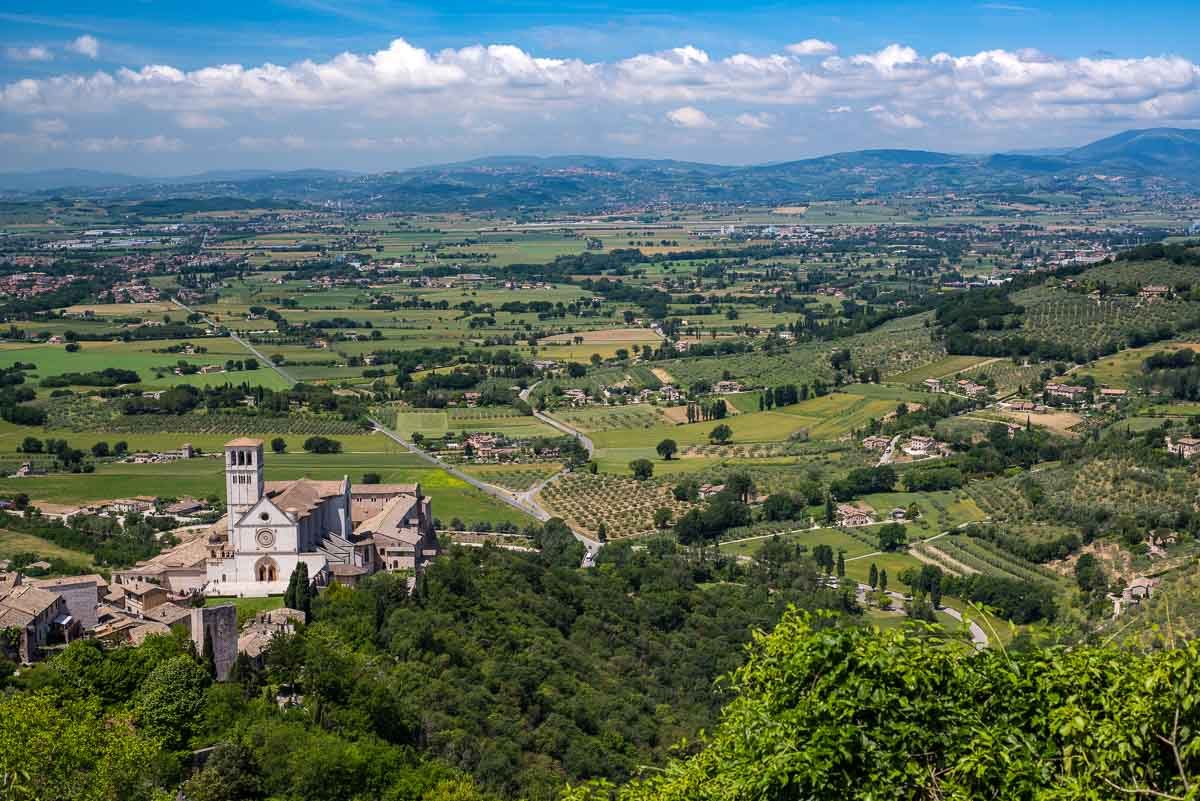 Assisi Restaurants
We certainly didn't try them all, but there were several in the historic center that smacked of tourism that we avoided. Most of those were right on the main Piazza del Comune and were crowded anyway.
The exception to that rule that we liked enough to go back twice was the Ristorante Il Tempio di Minerva, right across the Plaza del Comune from the temple. This lovely place was welcoming late one evening and stayed open just to serve us some absolutely delicious salads, which were a very welcome break for two people who had been in Italy for more than a month and had had their fill of pasta. As I said, we went back the next day for a light lunch of caprese, a starter sized pasta, grilled vegetables, and a nice bottle of white wine from Umbria.
Other restaurants we'd put on our list of where to eat in Assisi were Le Cantine di Oddo, where we had lunch after our visit to the Basilica of San Francesco. Because we'd spent so long in the church, we'd sort of missed the lunch hour, but again they were kind enough to stay open a little longer to feed us. Cheap local prices, and good.
And finally, our last supper in Assisi was at the Enoteca Mazzini, which, as the name suggests, is a wine store with an attached restaurant nestled into a lovely outdoor terrace. This is where we splurged on something other than the house wine – a nice Barolo, if memory serves – and then just a simple bruschetta and salad to go with. A supper made even more pleasant by the trio of young women at the table next to us, one of whom had a new baby. A lovely, if broken conversation in our meager Italian and their slightly better English. Babies are such conversation starters.
Where to stay in Assisi
When we choose hotels, we have several interchangeable criteria: location, quiet, cost, amenities. Assisi was a little busy when we went, so many of the more central hotels were booked. And that was fine with us because we don't mind walking, and certainly don't mind trading a most convenient location for peace and isolation from the ravaging hordes of tourists. That's how we ended up at the Hotel La Terrazza, which was a pleasant and scenic 20 minute (just over a mile) walk from the center of old Assisi. (There was also a frequent bus into the center of town from just outside the hotel driveway.) Modern rooms, an excellent helpful staff, a very nice restaurant with a good breakfast. It was about a €12 taxi ride from the train station.
Of course, there are many hotels in Assisi. It is, after all, a tourist attraction. We like to use Booking.com for our hotels, and that's how we found the Hotel La Terrazza, but there are plenty of choices, and we suggest you check them out.
Find an Assisi hotel at Booking.com
How to get from Rome to Assisi
There are several trains to Assisi daily, including at least four from Roma Termini train station. Most of them require a change in Foligno, and take about 2 hours and 40 minutes. There is also at least one direct train, with no changes from Rome to Assisi. That train takes 2 hours and leaves middle of the afternoon. The time difference isn't that great, so take the one that's most convenient for your start time. If you're going to be in Rome for any time, check out this list of 28 Things to do in Rome.
How to get from Florence to Assisi
There's an early morning direct train from Florence Santa Maria Novella station to Assisi that takes about 2 hours and 45 minutes, and several later regional trains with a change that average around four hours. I recommend the direct train. It leaves around 8 a.m., which isn't too early for veteran intrepid travelers.
A good idea for all European train travel, especially if you're going to be in Europe for a while is look into Eurail. It takes a little bit of research to figure out which of their packages is best for your trip, but the elimination of the hassle is well worth the time. We use them every time we're visiting Europe for any extended period. It makes everything so easy. They also have an app for your smart phone called, simply, Rail Planner. Whether you use Eurail for your tickets or not, the Rail Planner app is the best way to get train schedules. You can buy a one country Eurail pass that is just good for the trains in Italy.
Arriving in Assisi
If you get to Assisi by train, you should know that the train station is down the mountain, about four kilometers from the center of the historic city. There is a bus that runs every half hour that will drop you at the Piazza Unità d'Italia, and from there you can walk into the city (still uphill a bit) or transfer to a local bus that will probably run near your hotel. Just ask any bus driver at the piazza, and he'll tell you which bus to catch from there. Bus fare, if you buy on the bus is €2, and you can transfer to another bus for 60 minutes. There are also taxis that will cost about €10-15 that will take you right to your hotel.
Assisi is a UNESCO World Heritage site in Italy. For a complete list of all UNESCO World Heritage sites in Italy, with links to the ones we've visited, click the link.
Assisi Tours
When you're confronted with the breadth and depth of a site like Assisi and characters such as Saint Francis and Saint Clare, you'd do well to take a guided tour of some of the things that will help put their lives and city in context. Here are some tours of Assisi. Check these out, and know if you book a tour using one of these links, Travel Past 50 will receive a small commission at no extra cost to you.
Travel Planning Resources
Looking to book your next trip? Use these resources that are tried and tested by us. Flights: Start finding the very best flight deals by subscribing to
Thrifty Traveler
. Book your Hotel: Find the best prices on hotels with
Booking.com
. Find Apartment Rentals: Find the cheapest prices on apartment rentals with
VRBO
. Travel Insurance: Don't leave home without it. We recommend
Allianz Travel Insurance
. Need more help planning your trip? Make sure to check out our
Resources Page
where we highlight all the great travel companies and products that we trust. See all of the gear and books we like in one place on our
Amazon shop
.