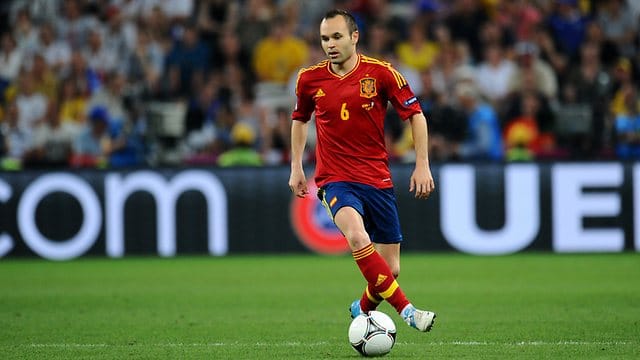 It was an odd choice for us to leave Spain where we'd spent the past two and a half months to spend ten days in Portugal just when Spain was entering the semifinals of the quadrennial European Cup. We felt we were going to miss a big Spanish football party, but sometimes we're stupid that way.
Kris and I have been big fans of Spanish and international football (soccer to you Americans) ever since we first lived in Barcelona in 1978. Back then, the rules were such that Spanish clubs could have at most two foreign players. And Barcelona had the greatest player in the world at that time, Johan Cruyff of the Netherlands, and his marvelously talented countryman Johan Neeskens. Then, the Dutch were the best national squad in the world, and were the main proponents of the "beautiful game," a constantly attacking passing style that looked even more beautiful when contrasted with the organized defensive thuggery of the English and Italian clubs and national squads.
We had the special pleasure that Spring of going to the Nou Camp for Cruyff's last game for Barcelona. There was one goal in that game, set up by Cruyff streaking down the right side with the ball, making a crossover move which is now called the "Cruyff" by football players at all levels, and crossing a pass to a teammate running into the goal area who had only to nod the perfect ball past the keeper. I think it was that moment which made me a lifelong football fan and a lifelong Barcelona fan–not just of the football club, but also the city whose football club was the only permissible stand-in for Catalan national pride during the 40 years that Franco ruled Spain.
OK, I admit I wandered off for a bit and became an interested party when Real Madrid was flourishing with Zinedine Zidane, Luis Figo, Raúl, and Roberto Carlos. They were just so much fun to watch. But Barça ascended again with a marvelous procession of lovely strikers such as Ronaldinho, Samuel Eto'o, Ibrahimovich, and now, of course, perhaps the most brilliant scorer in history, the Argentine Lionel Messi.
But what makes Barça great is not just Messi. They have a great defense and great defensive midfielders. But what makes them one of the best clubs ever is their pair of midfielders Andrés Iniesta and Xavi Hernández. They make the passes that free Messi for his goals. As even Messi said as he was receiving his third straight "Golden Ball" as the best player in the world, "Football is an easy game when you play with Iniesta and Xavi."
So how does this translate to Spanish national football? First, six of the eleven starters in the Euro Cup final were from Barcelona, and four others are from Real Madrid. (The 11th, David Silva, plays for English champion Manchester City.) What is remarkable about this is that these players can drop their often very bitter regular season rivalry and play together as a national team. And by play together, I mean really play together. It's a wonder to watch as they move the ball with short accurate passes one to the other. They make runs, confident in the fact that if they do make a run, the pass will be coming their way, and that Xavi and Iniesta and compatriots are such marvelous threaders of the ball, the ball will arrive untouched by a lunging defender more often that not.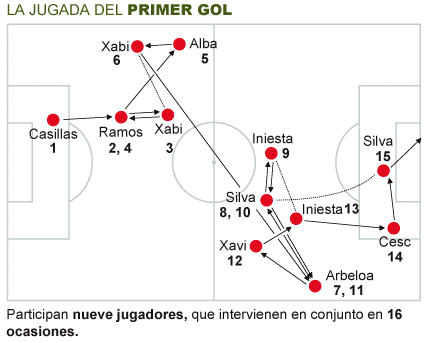 A perfect example of this was a diagram in yesterday's El Pais, the Madrid newspaper. It showed a passing strategy that involved fifteen passes, among nine different players, which moved the ball from the keeper out to the left, then out to the right, then back to the center, then from Xavi to Iniesta to Cesc Fabregas making a run down the right side of the goal area. Finally Cesc put the ball back to Silva at the penalty spot, who, like Cruyff's teammate those many years ago, had but to nod to put the ball past the frustrated Italian keeper.
When Spain beat Portugal on penalties in the semifinal game three days earlier–admittedly a crappy way to win a major football match–a Portuguese man we were watching in the hotel bar with said the referees had robbed Portugal. I said that Portugal had robbed itself by their selfish style of play–epitomized of course by the constantly preening Cristiano Ronaldo.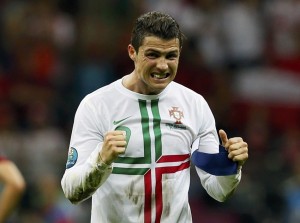 Ronaldo, as all football fans know, is a great goal scorer for Real Madrid during the regular season. His main goal in life is to be acknowledged as the greatest football player in the world, but his fate is to lose to Messi every year. He openly opines that he deserves it. (Messi, on the other hand, feels that Iniesta deserves it and is genuinely surprised and humbled at the banquet when his name is called instead of his teammate's.)
Three of the Portuguese starters play for Real. And Real relieved several years of frustration to beat Barcelona for the Spanish League championship this year. But the Portuguese team looks to me as if it's Ronaldo and the ten dwarfs. When Ronaldo gets the ball, the chance of him making a pass is about the same as that of a black hole giving up some star it has swallowed. He shoots, period. And in the semi, he shot repeatedly and hard…and wildly. Didn't matter if it was a free kick from 35 yards out, or an impossible angle from the touch line, Ronaldo's message is, "It's all about me."
Ronaldo, playing much like this went scoreless in the first two matches of the tournament. When he did score, finally, in Portugal's third match, his celebration said it all. He pulled out his own shirt by his thumbs to show his expanded chest to the fans.
Contrast this to Silva's celebration when he scored what turned out to be the only goal Spain needed in the final. Instead of running to the sideline to glorify himself, he ran straight at Cesc Fábregas, who had made the pass to him. Cesc, while he embraced Silva quickly disengaged from the hug and raised his own hand to point to Iniesta, who had really made the pass that set the goal in motion.
That's why Spain wins. And that's why they are such a joy to watch.