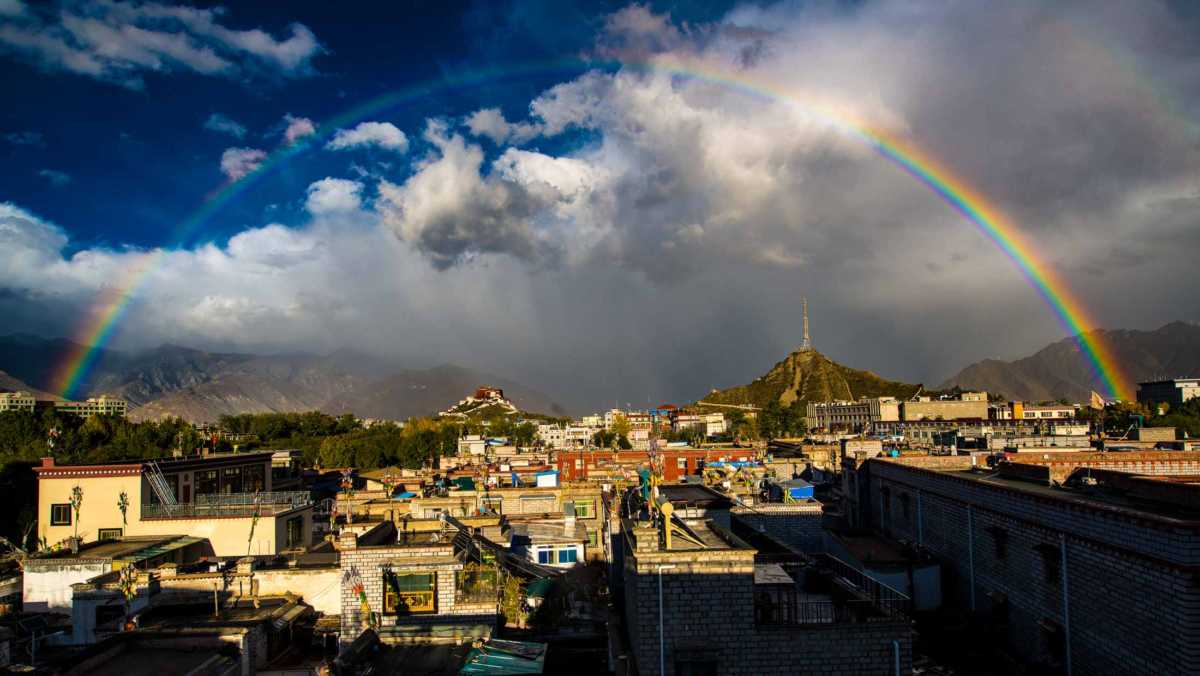 Note: This post from November 2016 was updated May 2023.
Among our group of more than two dozen, we could feel the heightened attention as we landed at LXA, Lhasa Gonggar Airport in Tibet. This side trip to visit Tibet, the middle section of our China tour with Viking River Cruises was, for most us, the deciding factor in selecting this particular itinerary.
The anticipation was fed by our having separate visas to enter Tibet, by our knowing something of the clashes between Tibet and China, by desire to see the (former) home of the Dalai Lama, and the wish to gaze at the tremendous mountain range that also claims Mount Everest. Not coincidentally it was also stoked by our preparation for the high altitude. Most in the group were taking pills or drinking lots of water, or both, to combat the effects of altitude sickness.
Some posts on Travel Past 50 may contain affiliate links. If you buy something through one of those links, we may earn a small commission. As an Amazon associate, we earn from qualifying purchases.
Brief History of Tibet
Tibet is one of China's four Special Administrative Regions (SAR), though not exactly in the same boat as Hong Kong or Macau. The Tibet Administrative Region is defined by its Tibetan ethnic group, distinct language, and its vast, sparsely-populated area–nearly 475,000 square miles.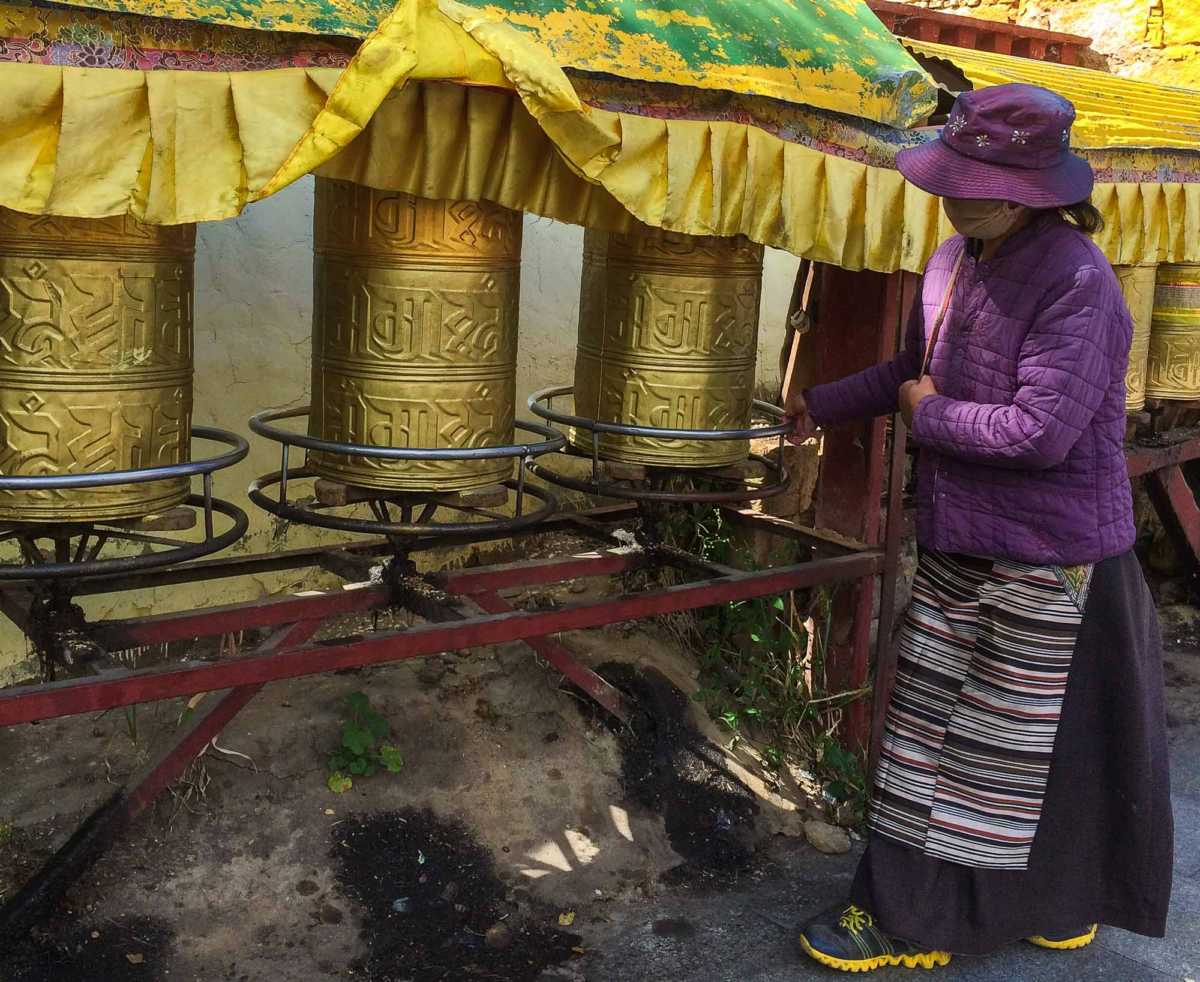 Tibet's deep historic connections with its neighbor India stem from the Buddha Siddha (thought to be Indian) and the subsequent study of Sanskrit by generations of monks. (A mantra is Sanskrit and a Sutra a translation into Tibetan.) Today, local officials ultimately answer to the one party that is the People's Republic of China.
We spent three nights in the capital city of Llasa (elevation 12,000 feet) and managed to digest a world of new sights and sensations. We were not in China any more, and yet we were.
Around the airport, the high, wide valley is laced with a web of rivers and rivulets wrapped around grassy islands. It seems impossible that water, which I'd always thought flows downhill, could be so abundant here at the top of the world, sometimes called The Roof of the World. The airport is at 11,500 feet, and is surrounded by mountains that range from 17,000-20,000 feet. Nonetheless, this river water ends up in the Indian Ocean.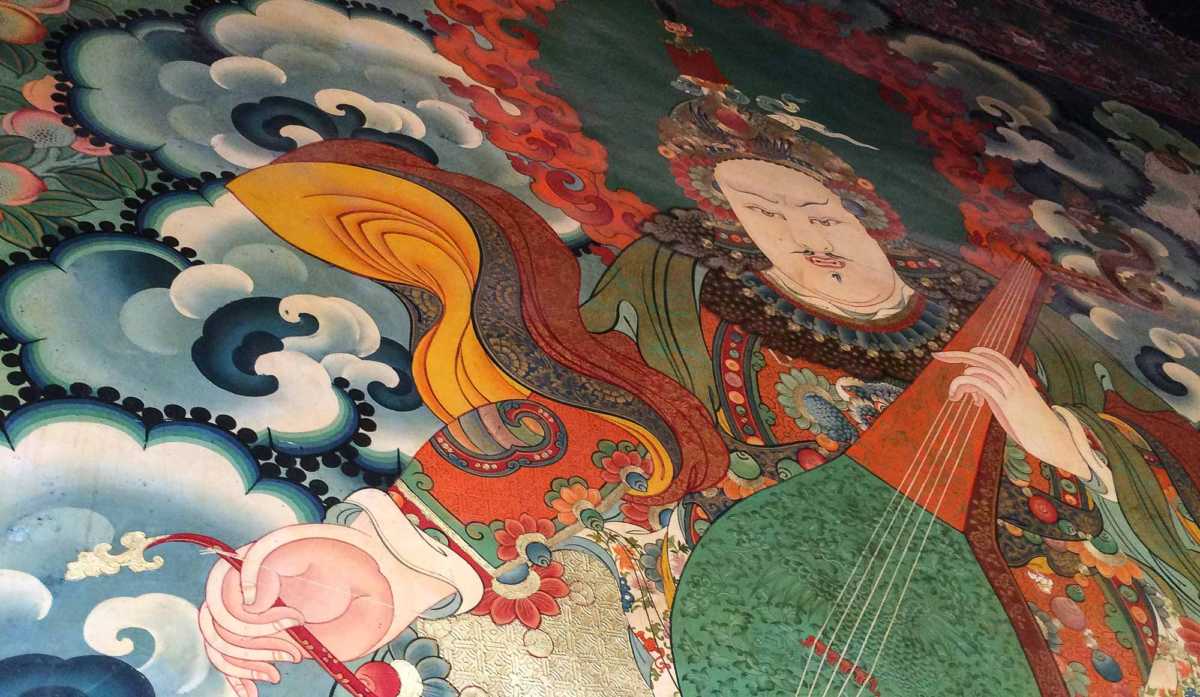 The first thing we saw as we touched down were dozens of military aircraft lined up on either side the runway. The second thing we saw, after stopping to visit a tiny family farm in the valley, was a military convoy more or less sharing the airport expressway drive to Lhasa, the capital city of Tibet. The 40-mile drive, through the Gala Mountain Tunnel, gave us plenty of views of the troops. We knew instinctively not to take pictures, not to stare or interfere. Over the course of our stay in Lhasa, we were rarely out of sight of a police station; Chinese flags crowd the prayer flags on most buildings.
The family home we visited and the suburbs of Lhasa are in sharp contrast with each other. In the village, three generations of our hosting family share their home with three working cows, tied in a pen alongside the house. A section of the courtyard and roof were being used to dry grains and root vegetables. Around the courtyard, the various rooms were plain, a bedroom appearing no different from a storeroom. Only the family's temple was covered in colorful fabrics and set aside for special occasions.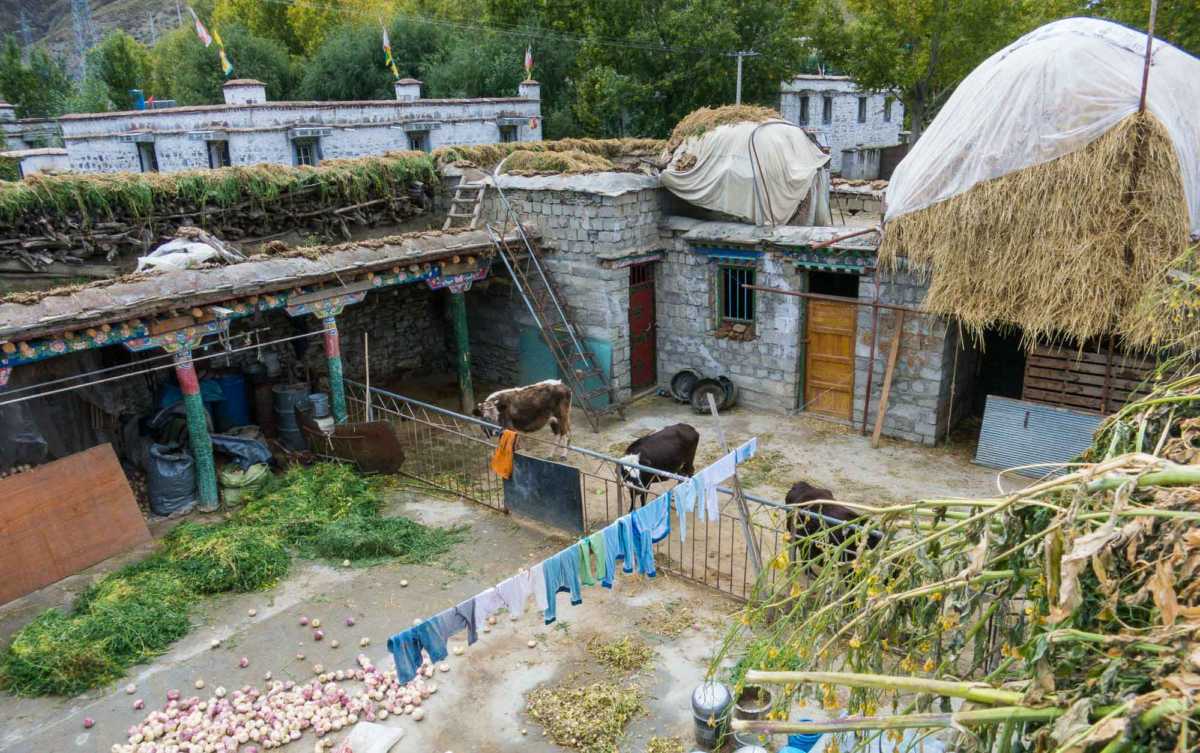 In the outskirts of Lhasa, new condo buildings are similar to those in any other Chinese city, only newer and incorporating attractions like carnival rides and water features. It started to dawn on us that all this was designed to build tourism to Tibet and encourage Chinese to move to Tibet.
Banners of welcome and propaganda are everywhere. "China's Tibet" welcomes you. (The possessive is widely used.) "Heavenly place, sacred city of China." References to ethnic unity drive home the overall plan: to populate Tibet with Chinese in order to diminish the ethnic Tibet population.
Best Time to Visit Tibet
For memorable Tibet travel, the best time to visit is from May to October. During this period, the weather is warm and the skies are clear, making it
ideal for sightseeing and outdoor activities. Winter months are good for budget travel in Tibet, but be aware there could be snowfall.
Tours in Lhasa Tibet
Our tours in Lhasa were, without exception, wonderful. Per usual practice with Viking River tours, we were led by a local guide, a native Tibetan named Basang. Without speaking to current politics, he was a wealth of information on all things cultural and historic. He explained that Tibet is "sensitive to foreigners," a wariness that currently means no visitors are allowed except in tour groups. Sorry, no backpacking. Even so, we were doubly lucky to visit the various monuments and temples without being pressed by crowds.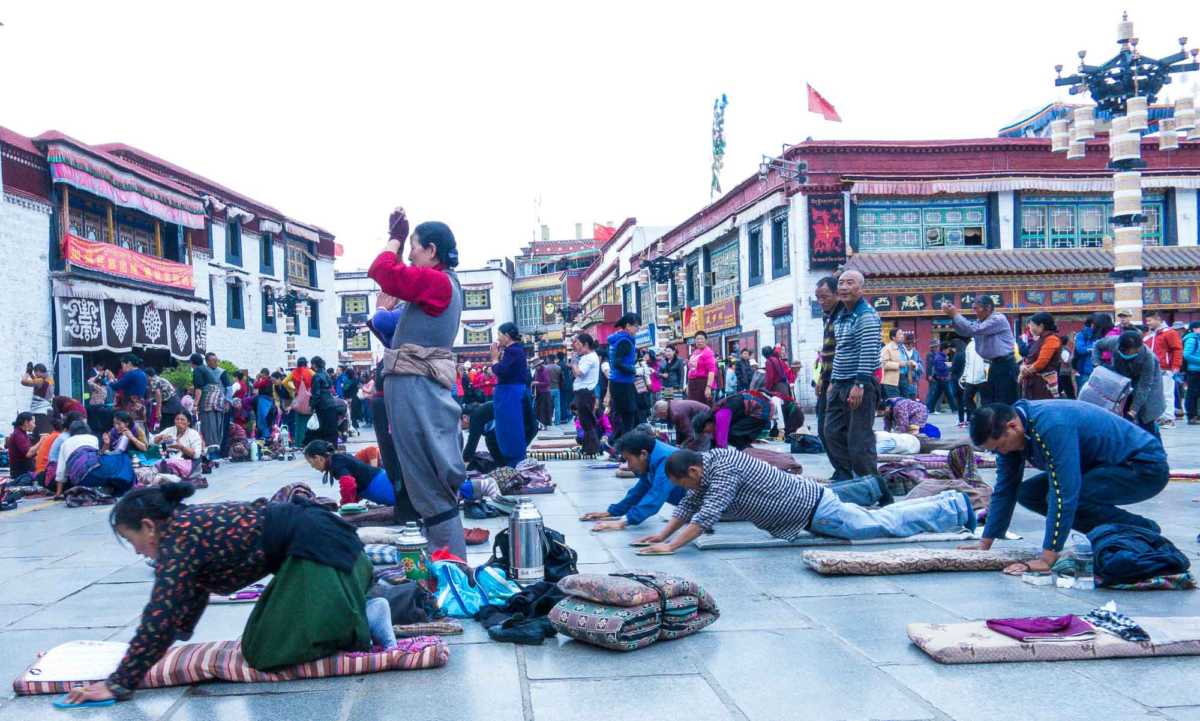 Our visits included these sites:
Jokhang Temple
A great place to start, as this is the spiritual center of Tibet, centrally located on Lhasa's Barkhor Square and surrounded by busy market streets. Buddhist pilgrims walk great distances to come here, often fingering their beads or twirling their prayer sticks as they circle the temple. Many approach with a series of prostrating prayers, the knees and toes of their clothing worn thin. The temple itself is sprawling, including Indian, Chinese and Nepalese influence. Inside, we were lucky to see priests gathered for chanting, and were able to walk around the temple (always clockwise) to see many precious Thangka paintings and shrines with large, classic Buddha figures.
Sera Monastery
The 600-year-old monastery of the Yellow Hats Order of Buddhism, the Dalai Lama's order, is tucked in the hills above Lhasa. In the steep cliffs behind it, precarious paths connect to the upper edges, where sky burials take place. In this animistic practice of Buddhism, bodies of the deceased are returned to the vultures. These days the monastery is limited to 400 monks, a number controlled by government.

Potala Palace
Former home of the Dalai Lama, this giant iconic building dominates Lhasa. Tours are timed, and again we were fortunate: our time slot came on the second full day in Lhasa, so we were more acclimated to the altitude. This matters, because visiting the apartments in the palace requires climbing 700 steps. The good news is that this effort filters out some visitors, so we were again a small group and unrushed. Parts of the palace are over a thousand years old. Its two buildings and 13 stories include space for religious education as well as the residential wings.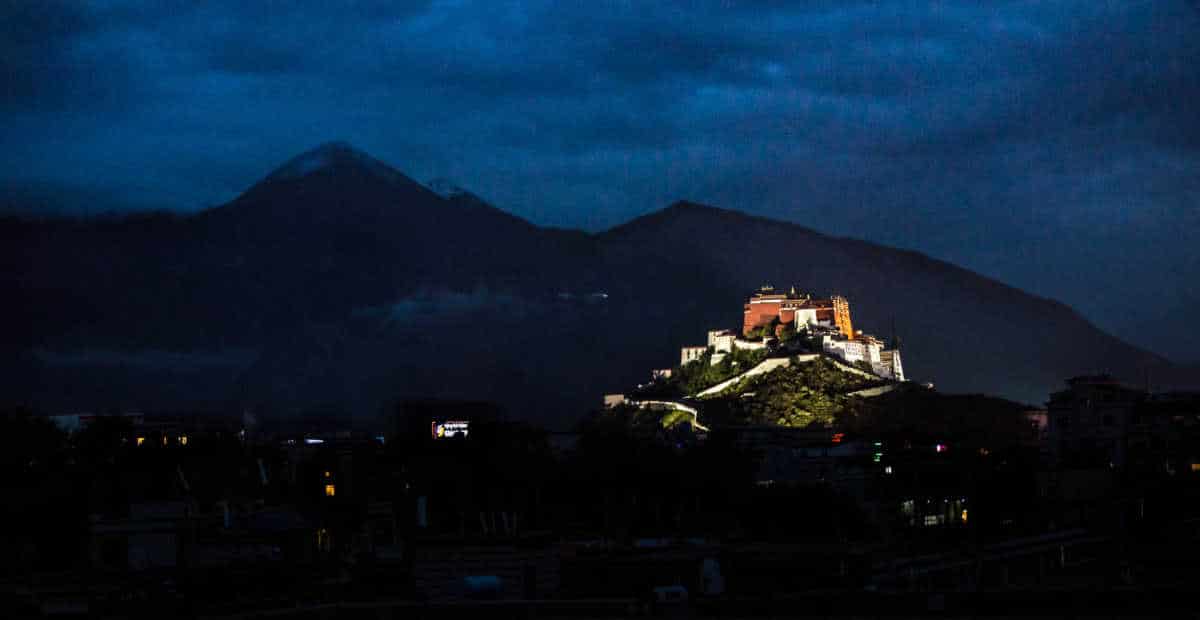 Tibet Museum
Skip the audio guide, which will only drive you nuts trying to match up commentary with unnumbered exhibits. Also skip the first half of the first floor, a yawning history of Tibet retold with the utmost credit to China. Worthwhile: the sand mandala on the second floor and the lovely series of the goddess Tara–green, blue, white, red. See also the collection of buddhas and sculptural icons in the upper floor gallery.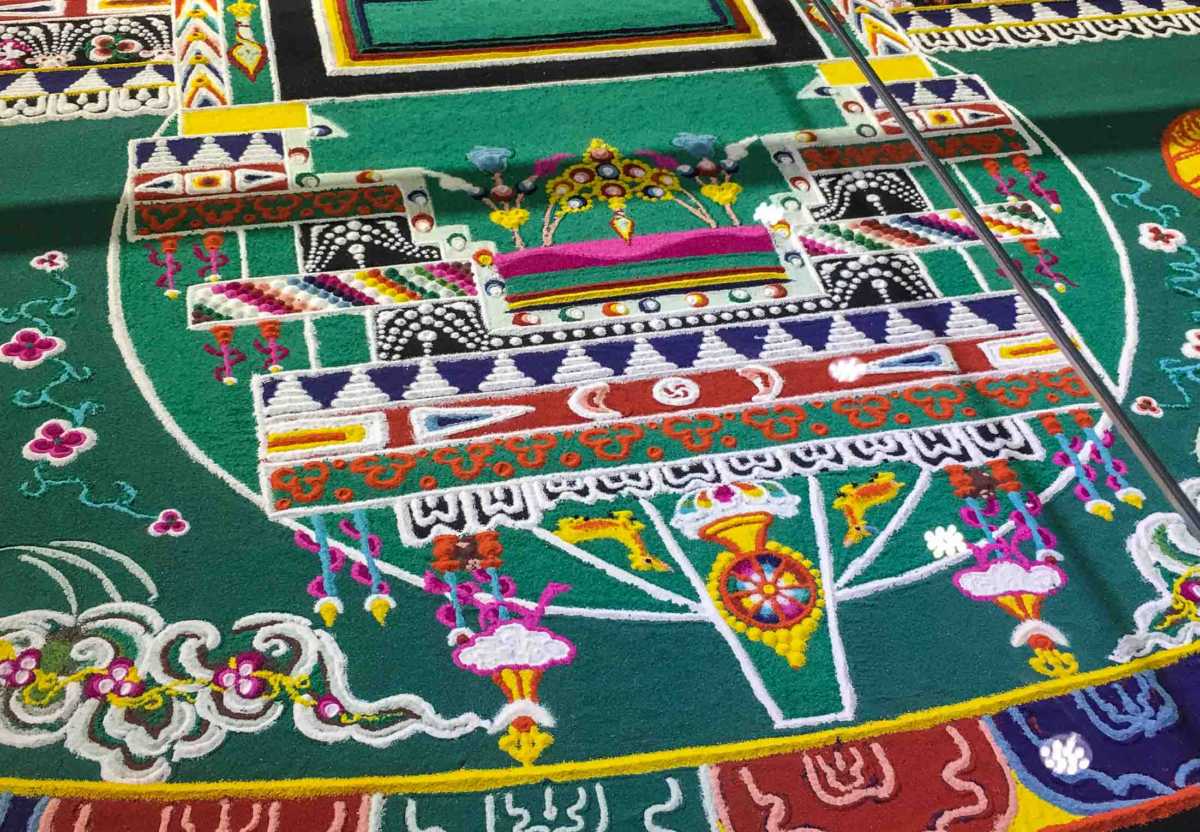 We left Tibet wanting to return, wanting to learn more. Despite our short stay, we were bathed in sensations and factoids. Prayer flags, incense, yak butter candles, prayer wheels, and fantastic religious art surrounded us. We were treated to an enormous, long-lasting rainbow in the 'sunlit city' of Lhasa. And we were told that every mineral known to man is available in Tibet. We haven't managed to fact-check that, but readily assume it to be true.
Our travel to Tibet and other destinations in China was hosted by Viking River Cruises. (See the first story about our China tour with Viking here.)  A separate visa is required of all non-Chinese visitors to Tibet, and this was arranged by Viking. In fact, Viking will take care of your China visa, too, if you like. China visas are generally valid for ten years and multiple entries. Next up: Traveling down the Yangtze River.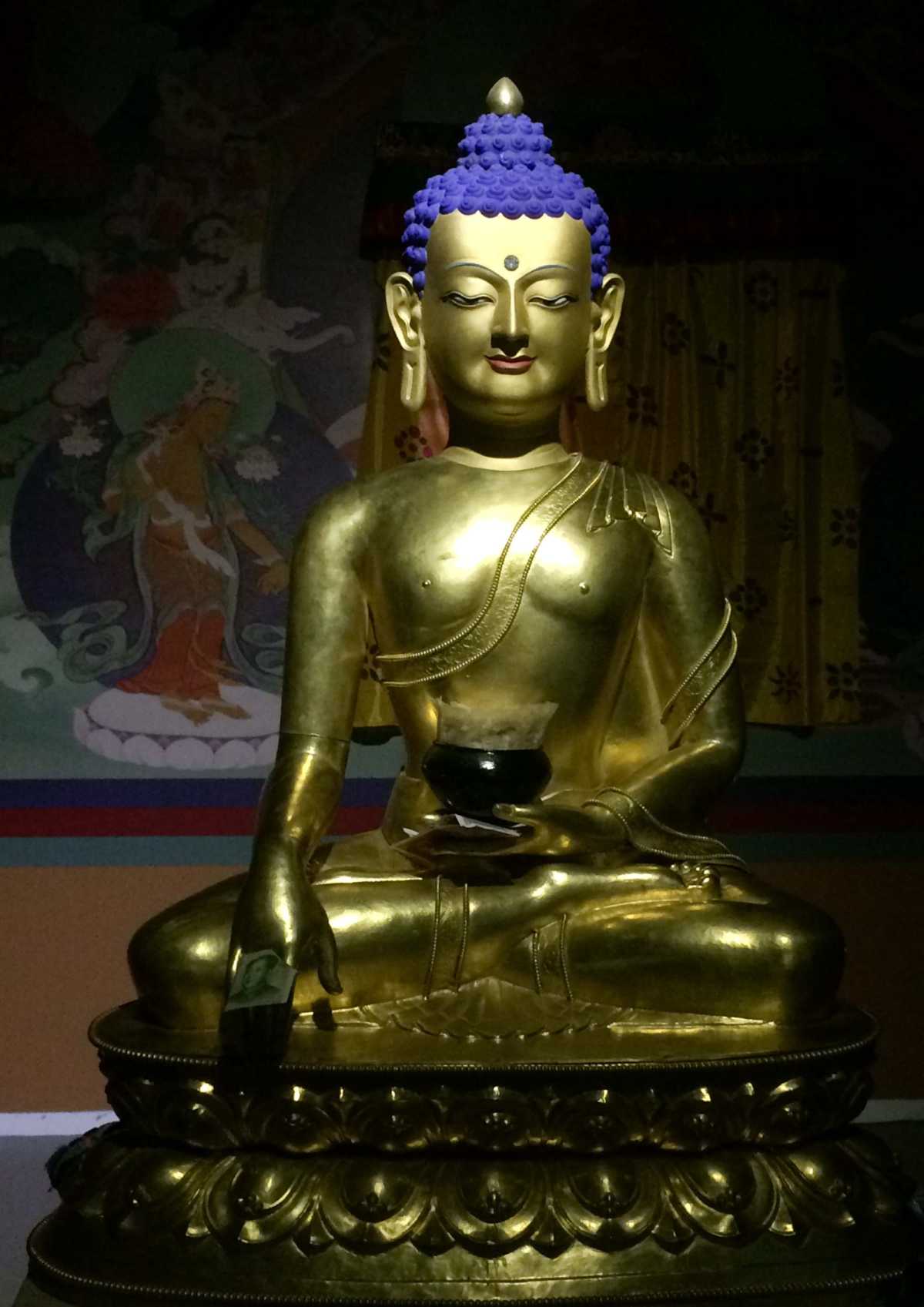 Travel Planning Resources
Looking to book your next trip? Use these resources that are tried and tested by us. Flights: Start finding the very best flight deals by subscribing to
Thrifty Traveler
. Book your Hotel: Find the best prices on hotels with
Booking.com
. Find Apartment Rentals: Find the cheapest prices on apartment rentals with
VRBO
. Travel Insurance: Don't leave home without it. We recommend
Allianz Travel Insurance
. Need more help planning your trip? Make sure to check out our
Resources Page
where we highlight all the great travel companies and products that we trust. See all of the gear and books we like in one place on our
Amazon shop
.