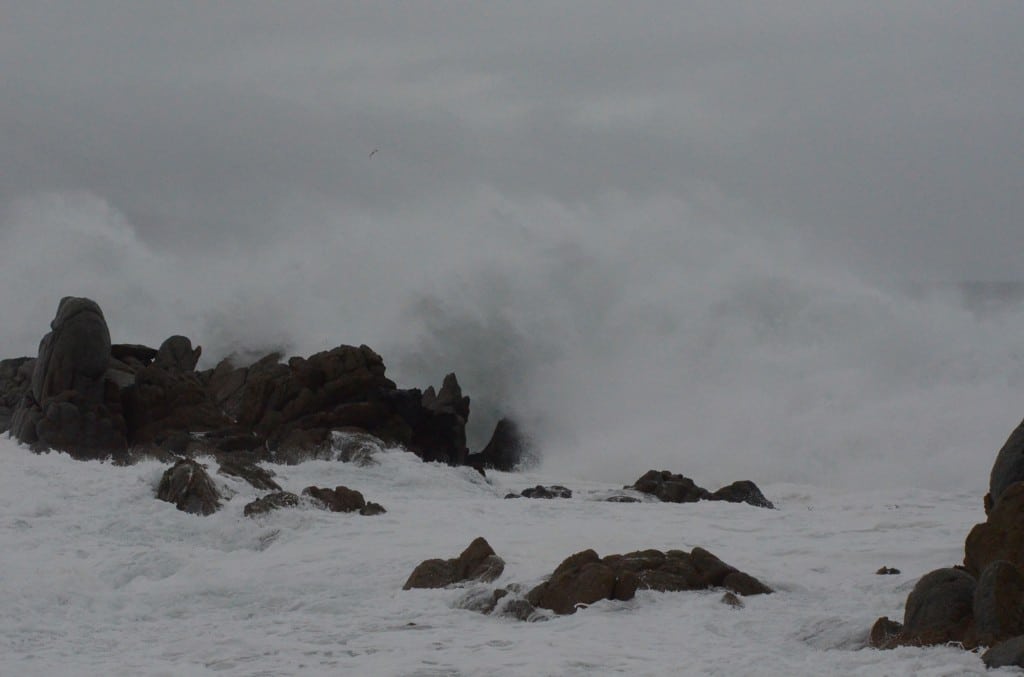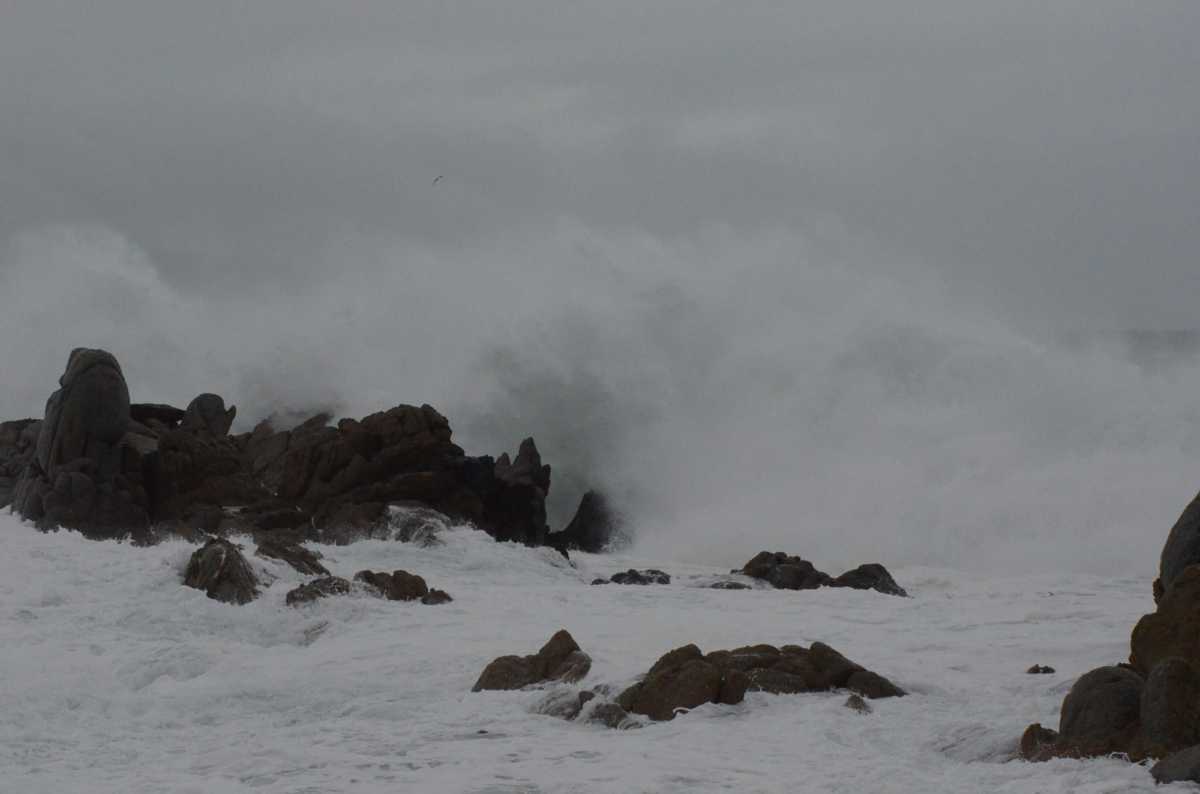 Kris and I went for the weekend in Valparaíso and stayed for the rain.
The three month long drought in Chile broke all over us last weekend. We took a two-hour bus trip to Valpo on Friday even though we'd been warned that the weather wasn't going to cooperate. I don't know why we didn't just postpone until the week. It's not like we have jobs or anything that makes us note the difference between weekends and weekdays, but, at least one of us is really stubborn.
The predictions were accurate. It rained pretty constantly, and hard, for all three days we were there. Actually, it wasn't like a constant downpour. It only rained constantly when we were out walking. While we were inside, it would stop and start, and stop and start. And when it started, it was hard and made a lot of noise on the hotel roof, which we didn't really mind since we were usually sitting by a nice wood fire reading and the rain seemed all poetic and stuff.
Some posts on Travel Past 50 may contain affiliate links. If you buy something through one of those links, we may earn a small commission. As an Amazon associate, we earn from qualifying purchases.
Nevertheless, it impeded our enjoyment of Valparaíso sufficiently. For Valpo (as the locals call it) is a town for walking, and a town full of hills, and a town that pretty much turns all the hilly streets and stairways into fast flowing rivers when it's raining hard. Nevertheless, aside from our rain jackets being more "rain resistant" than "rain proof," and high winds quickly making umbrellas into inside-out cones, and our feet being soaked almost immediately, it was kind fun to take short tours of the immediate neighborhood of the hotel.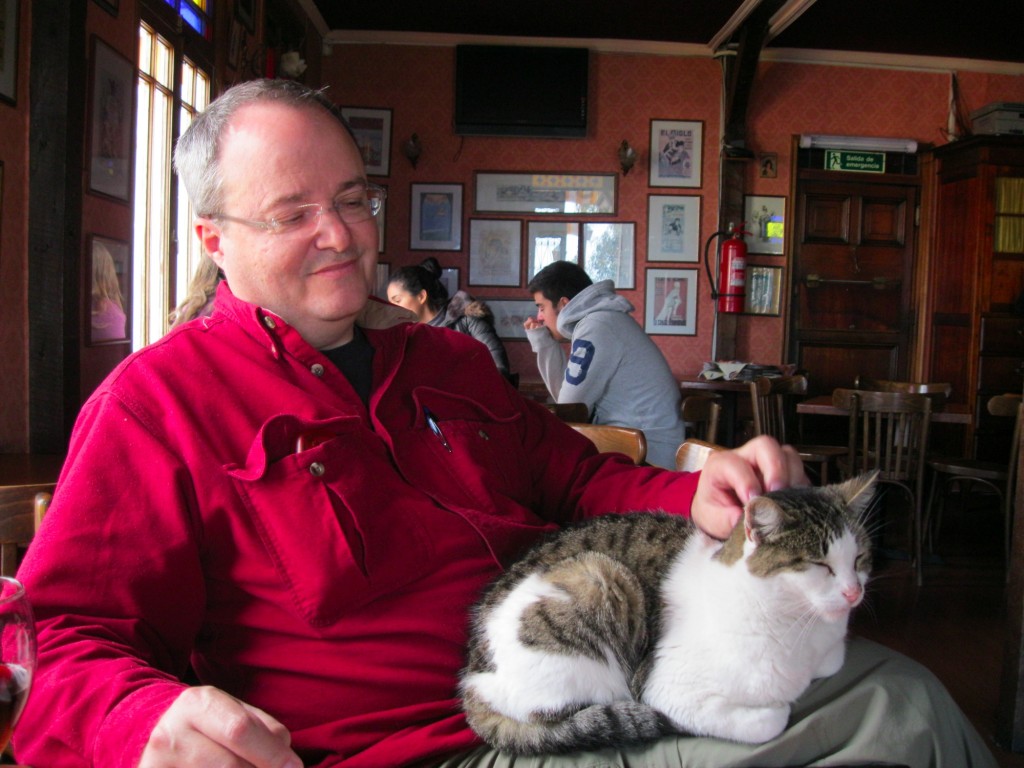 Actually, tour is probably a pretty strong word. The actual operation involved jogging for a bar with a nice view of the port and settling in there for a couple of hours with a plate of grilled meats and cheese, a bottle of nice Cabernet Sauvignon,  and a couple of cats to sit on our laps.
That killed one afternoon.
The next day, frustrated by the weather in Valpo, we rented a car and drove north up the coast to a town that had been recommended to us called Zapallar. It's a real town, not just one of the resort towns that have sprung up along the coast within easy driving distance of Santiago. However, by real town, I mean it's still mostly a summer town for Santiago residents–but for those with old money instead of new. There are houses there, and they're arranged on streets, and the only condos of the type that litter the Chilean coast were kept out of town up on the hill above. If you want to get close to the beach here, you're going to need lots of money, or your grandparents will have had to have been born here.
We drove the winding roads down to the shore, and by chance ran into what was clearly the local seafood mecca, a restaurant called Chiringo. The place was all windows to the rocky coast–which was only about ten meters away–and the windows rattled with the wind that was smashing the waves on the rocks. Luckily, there was a stone fireplace about the size of a Buick in the middle of the room that was throwing off enough heat to keep about 20 tables of diners happy. Or, it could have been the wine and hot seafood soups, too.
As we waited for a table, we watched what the locals were eating. The appetizer of choice seemed to be machas (which I think translates as razor clams) steamed in their own broth with a thin covering of Parmesan cheese. We went with the inference and ordered some ourselves, even though I'd initially expressed skepticism and covering those delicious pink mouthfuls of simplicity with cheese. I was proved wrong. They were excellent.
We then moved on to the main course, which was a seafood soup–the perfect antidote (along with a bottle of Leyda Reserva Sauvignon Blanc) to a winter's day. Aside from a few slivers of carrots and celery which added nicely to the flavor, it was enormous helpings of more machas, mussels, squid, scallops, and–the most typical seafood of Chile–congrío. Congrío is conger eel, but don't worry. It's not the sort of eel that creeps you out. It's basically a firm white fish and tastes much like you'd expect a firm white fish to taste.
We basked in the fire for a while and stared at and listened to the waves and wind and remarked that if this is what winter in Chile is like, we could do a lot worse. Like winter in Minnesota.
Since the car rental place wasn't open on Sunday, it meant we had to keep the car for another day. Not exactly a hardship, since we used it for another drive, this time south to Isla Negra to see another home of the Chilean poet Pablo Neruda. (He had a home in Santiago, too, which is about three blocks from our home.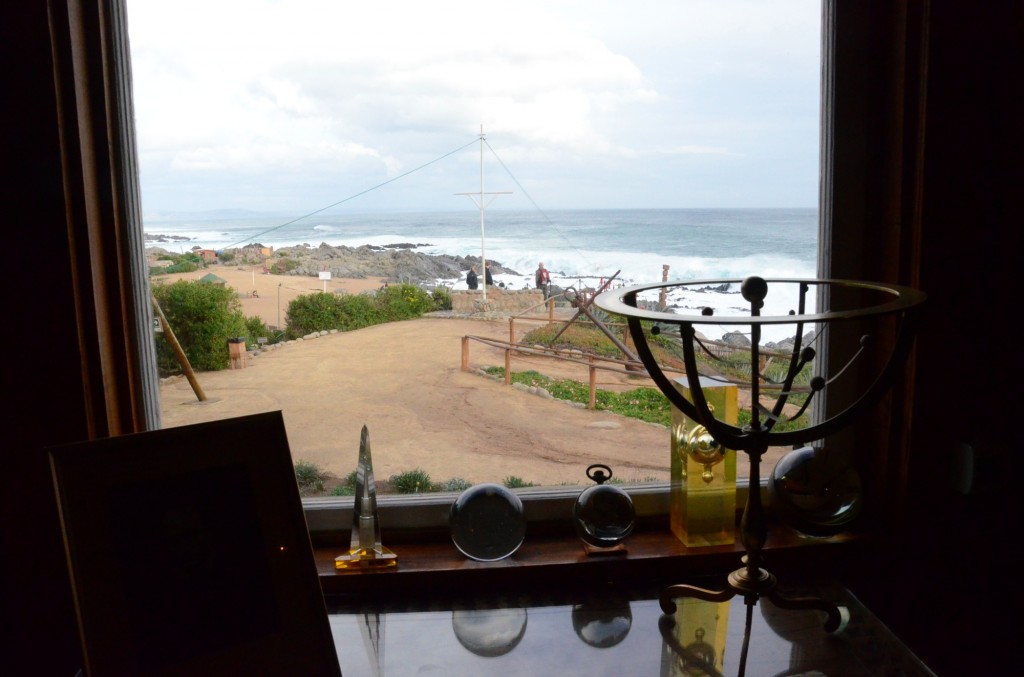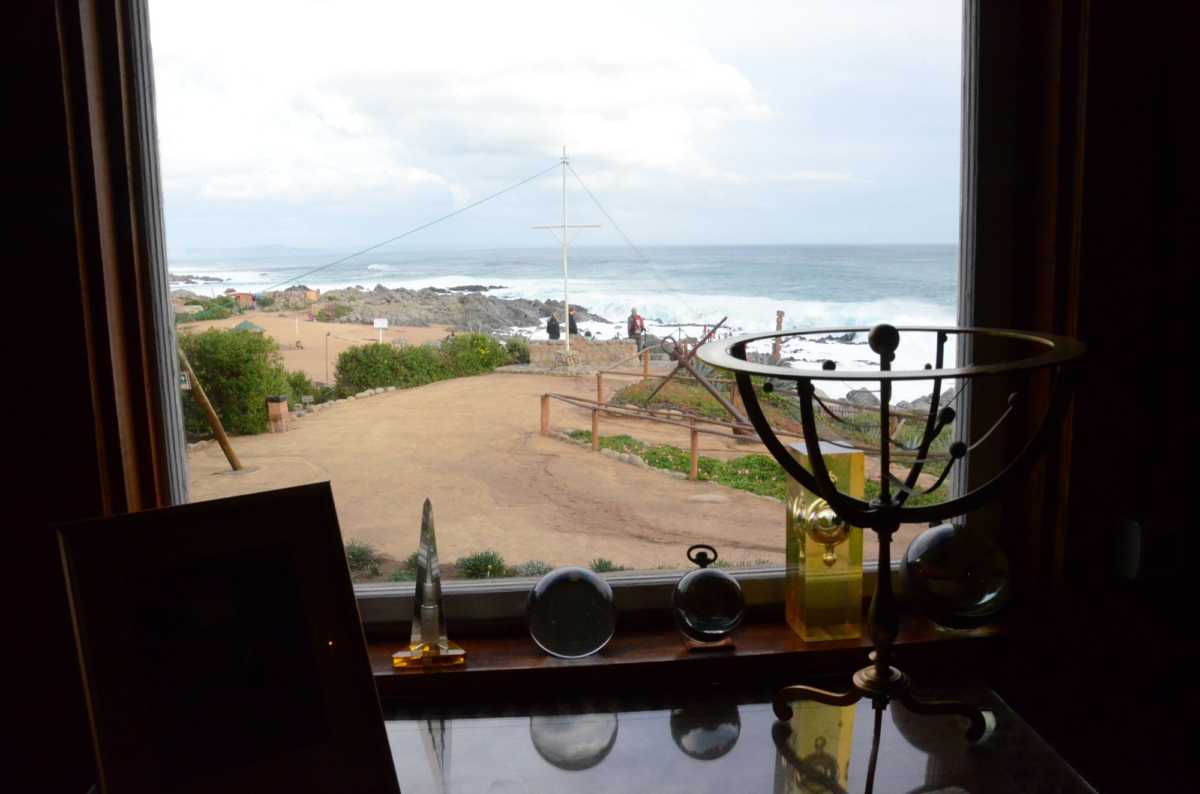 The Santiago home is fantastic–in the true sense of the word–but the Isla Negra home was a large part of his inspiration. La Chascona, as the Santiago home is called, is crowded with knick knacks and art of all sorts. Neruda, when accused of being a "collector" responded that he was not a collector, but that he just "liked things." The Isla Negra home also reflects his infatuation with "things." There is one room, for example, which is full of the figures from prows of ships, and has a table full of colored glass bowls, which look like ashtrays, but are actually things you put under the feet of pianos to protect the floor. I can't imagine anyone but Neruda collecting such a thing. One wall is full of masks from all cultures, including North and South American Indian, Polynesian, Chinese and African. Another room has display cases full of mollusk shells of all sizes and shapes. Another wall is full of portraits of his favorite poets of all languages. He put an ancient locomotive in the yard, which he said reminded him of the power of Walt Whitman.
But, at the same time, Isla Negra somehow is simpler and emphasizes the views to the sea above all.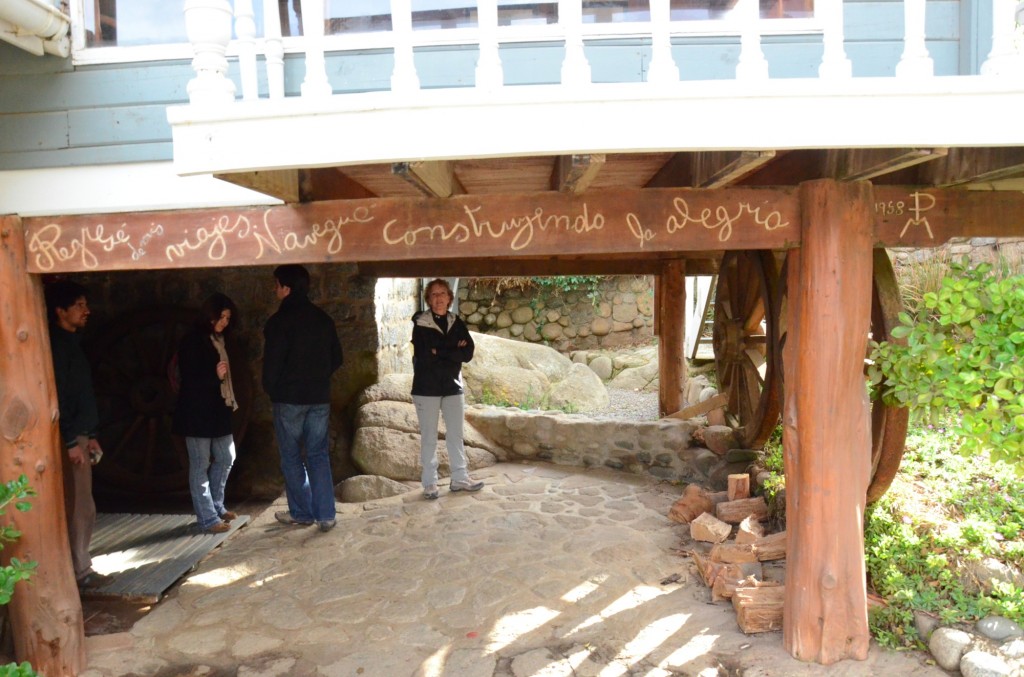 Of all the things I've seen in South America, even including Machu Picchu, Neruda's homes are my favorites. They provide an window into a mind that would accumulate such things that even his spectacular poetry strains to match.
Unfortunately, one is prohibited from shooting photos in Neruda's homes, but you can get some idea of La Chascona here and Isla Negra here.
In case you go, here's the hotel information: It was Hotel DaVinci, which is I guess what you'd call a "boutique" hotel. Only nine rooms, interesting layout, and funky decor. The service was great–from arranging a rental car, providing driving and walking maps, calling taxis, breakfast made to order and lots of verbal tourist information. By the way, the owner's name is Enrico and he'll give you a discount if you call the hotel directly for booking rather than using hotels.com or the like. (56 32 317 4494 or www.hoteldavincivalparaiso.cl.)
Travel Planning Resources
Looking to book your next trip? Use these resources that are tried and tested by us. Flights: Start finding the very best flight deals by subscribing to
Thrifty Traveler
. Book your Hotel: Find the best prices on hotels with
Booking.com
. Find Apartment Rentals: Find the cheapest prices on apartment rentals with
VRBO
. Travel Insurance: Don't leave home without it. We recommend
Allianz Travel Insurance
. Need more help planning your trip? Make sure to check out our
Resources Page
where we highlight all the great travel companies and products that we trust. See all of the gear and books we like in one place on our
Amazon shop
.