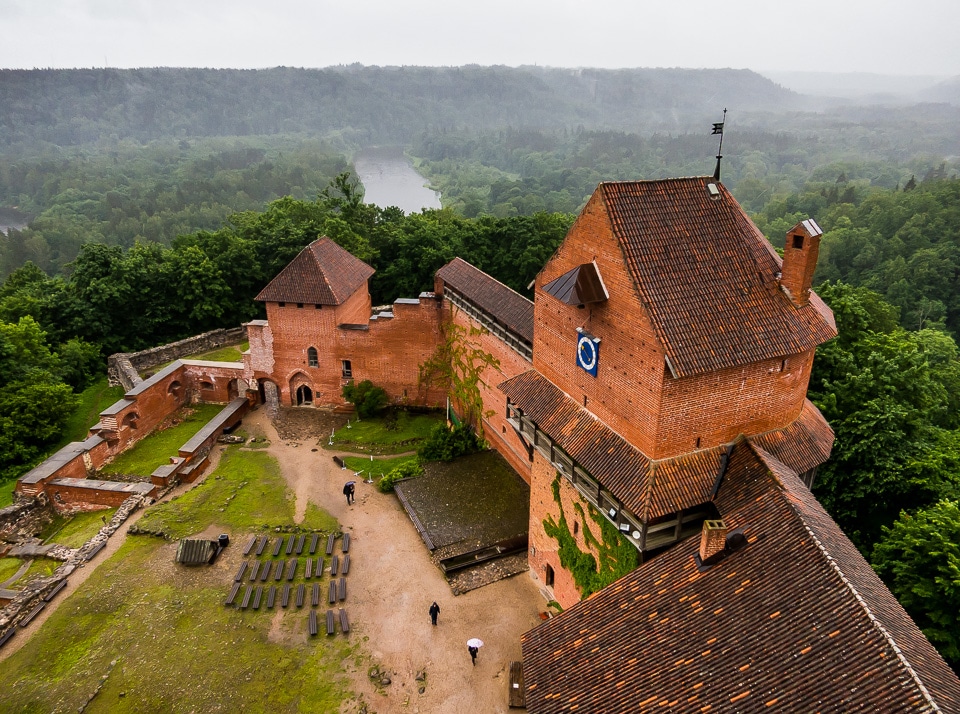 Turaida Castle in Sigulda is a remnant of the old days, when bishops were, in some parts of the world, richer and more powerful than the nobility. Such was the case in Turaida, Latvia, where a succession of bishops had their own castle in a choice spot. And it lasted until a combination of a careless fire and the Reformation did them in. The first bits of the Turaida Castle were built in the 13th Century, and it was inhabited until the 19th. One of the interesting bits was an ingenious system of furnaces which channelled heat throughout the castle complex via vents under the floors. This meant the various rooms didn't have the huge fireplaces you see in most ancient manors.
Taken from the castle tower with the Canon S110. Not much manipulation in Lightroom, because I remembered the old adage to underexpose by about a stop when shooting on a foggy day. So the far off foggy river and hill maintained some definition, which I enhanced just a bit by raising the contrast and clarity sliders in Lightroom. ISO 200, 1/250 sec at f/4.5.
For more info about the equipment and software I use, see this page.
You can buy prints of my photos on my Smugmug page.