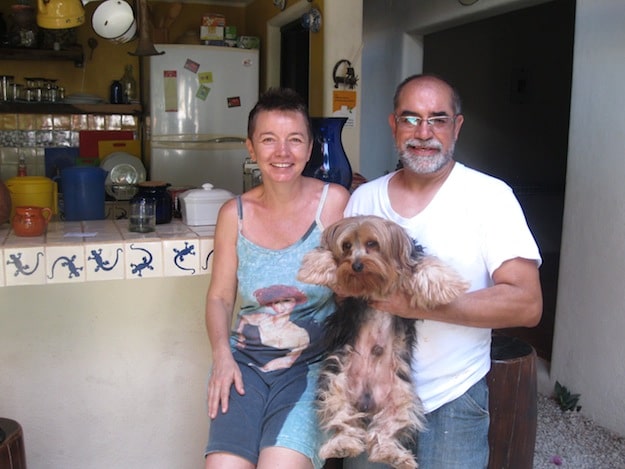 Tulum is known for its Mayan ruins, the only ruins found on the coast of Mexico. It is true these ruins are worthwhile, but they are also crowded by tourists from the Riviera Maya–resorts to the north including Playa del Carmen and Cancún. Or maybe we'd seen our quota of ruins for the week.  What we enjoyed was the town of Tulum, the hospitality we received at our hotel, and the spot-on recommendations we took to heart.
The highlight was meeting the owners of our hotel, Lo Nuestro Petit Hotel, and their little dog, Poncho, too. Our room was big, the mattress comfortable, and the hammock ready out on the balcony. Breakfast is offered (extra) and it's worth the time to chat with the owners in the lovely courtyard. (We liked the personal touches in the décor, and learned many were from San Miguel de Allende and Guanajuato.) Miroslava (Polish, French), and Jorge (former accountant from Mexico City) are the hosts. This is in the town of Tulum – not on the beach – but Miroslava, in particular, offers passionate recommendations on what to visit (and stay away from) in the area. We took her advice and rented a car to visit Cobá ruins and a cenote. It was a great day trip. We ended up keeping the car to facilitate our trip to Playa del Carmen, and returned it there for only $20 more.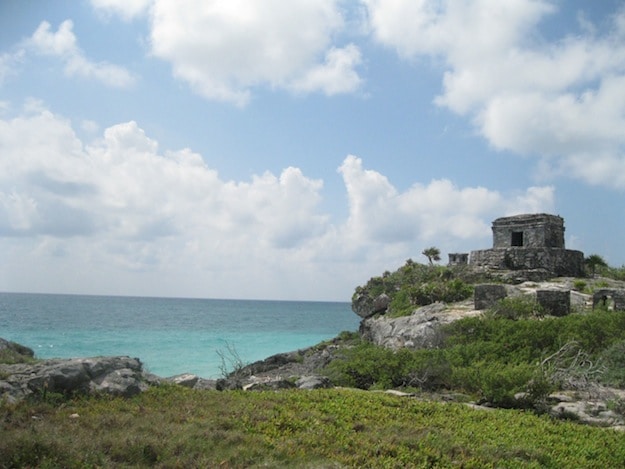 Of course we visited the Tulum ruins, too, and with more good advice from the hotel we entered from the ocean avenue, by taxi plus a short walk.
After a tour of the ruins, we simply taxied back to the Playa Pescaderos (a short walk, but we were hot and tired and wanted beer NOW), a sparsely populated beach with miscellaneous fishing boats, wide white sand, great ceviche, and cold, cold beers.  Our friend from Spain, Eloy, wondered why all the beaches in Spain weren't like this, instead of overdeveloped. This southern region of the Riviera Maya is devoid of high rise buildings.
Visit Lo Nuestro Petit Hotel and make your plans around Tulum from there.
Besides great breakfasts of papaya and yogurt at the hotel, we enjoyed a dinner at El Asadero, a popular place that is worth the wait. (Or get there early, as we did.) We also had some really good food from a street place on the same road as our Hotel Lo Nuestro: on Calle Osiris Sur (right across from the "Casa de la Cultura," in case your taxi isn't familiar with it).  The various open street restaurants offer sodas and juices, no beer or liquor. But you can load up on condiments to your heart's content.
As we plan our next moves through Mexico, we are thinking of retracing our steps back down the coast through Tulum. There is plenty more to see.