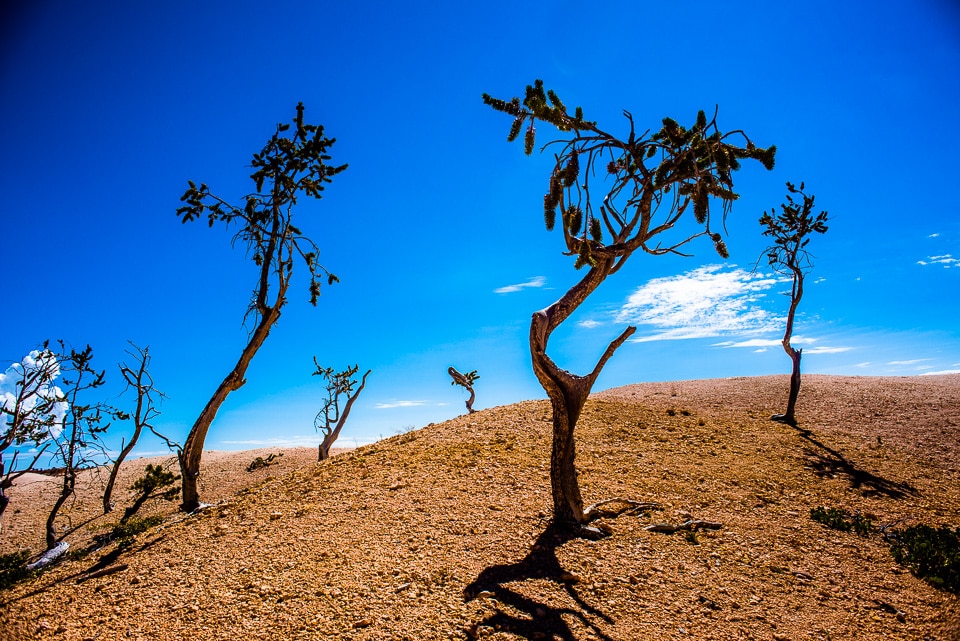 On our second day at Bryce Canyon National Park, after getting up before dawn to photograph the sunrise over the canyon, we hiked down to the base of the canyon on the Queens Garden and Navajo Trail loops. The Queens Garden path is classified as "easy" and it is, especially if you're only going down, as we were. I guess it would also be "easy" if you took the same path back up, which we didn't. We took the Navajo Trail back up. There are choices on the Navajo Trail, the more inclined Wall Street and the still steep but not as bad Two Bridges side. The Two Bridges side was still plenty steep and gives you a good workout climbing out.
For some reason the Park Service brochure recommends doing the loop by starting down the Queens Garden loop then going back up either on the Wall Street or Two Bridges path. If we had it to do over again, we'd probably do it in the opposite direction, as Queens Garden is much less steep, albeit longer than either of the Navajo Loop paths. Suit yourself.
At any rate, while descending into the canyon on the Queens Garden path I deviated off the foot path onto a path marked as a horse path. Indeed the path sported many hoof prints and led off into a steeper descent into another branch of the canyon. I went this way because just off the path was a ridge of loose rock on which just a few of these pinyon trees struggled to make a living in the sere and windy landscape.
Some posts on Travel Past 50 may contain affiliate links. If you buy something through one of those links, we may earn a small commission. As an Amazon associate, we earn from qualifying purchases.
It was treacherous footing as I backed down the ridge to frame the shot. At all times while I was composing, I was about one step from sliding down the hill, which steepened precipitously as I got further from the ridge top. Not the most dangerous shot I've ever attempted, but it was just enough so that my nerves added just a bit of edge to the high contrast shot I was making. At least I think so.
Travel Planning Resources
Looking to book your next trip? Use these resources that are tried and tested by us. Flights: Start finding the very best flight deals by subscribing to
Thrifty Traveler
. Book your Hotel: Find the best prices on hotels with
Booking.com
. Find Apartment Rentals: Find the cheapest prices on apartment rentals with
VRBO
. Travel Insurance: Don't leave home without it. We recommend
Allianz Travel Insurance
. Need more help planning your trip? Make sure to check out our
Resources Page
where we highlight all the great travel companies and products that we trust. See all of the gear and books we like in one place on our
Amazon shop
.