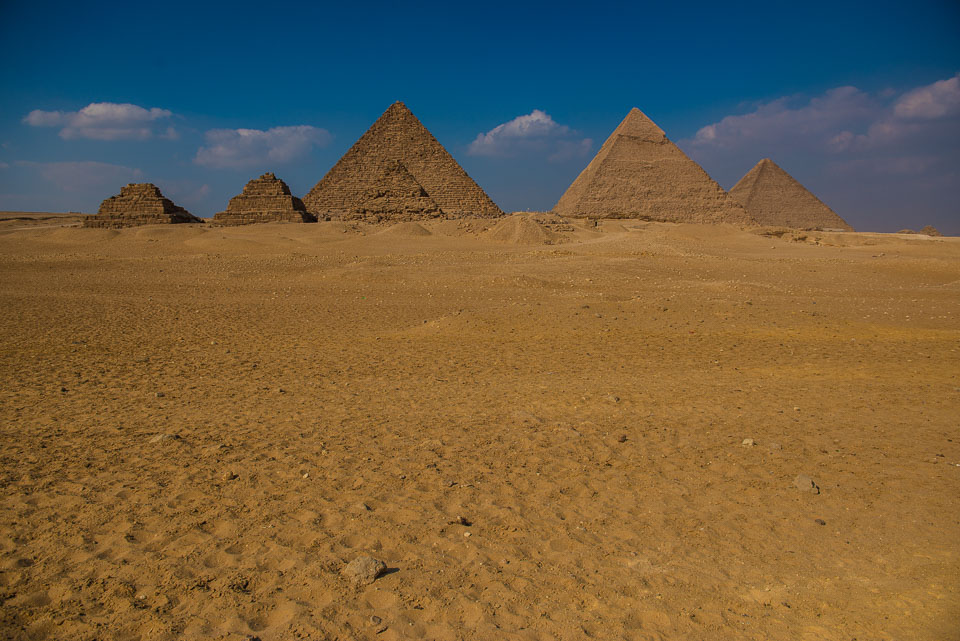 Everyone has seen a million pictures of the pyramids at Giza, but you can't really do them justice until you see them up close. Or from a distance so you can take them in together.
They are bigger than you imagine from the photos. In fact, you can see them from the Citadel in Cairo, about 30 kilometers away. In other words, they are the size of mountains.
According to my Fitbit, Kris and I walked more than ten kilometers (six miles) all around the pyramids, including way out into the desert more than a kilometer away from the roads and tourists in order to get this shot. These are the three large pyramids, including the "Great Pyramid" on the right. It's quite a bit further away than the darker granite one on the left, which is actually much smaller. The three small ones in the foreground were built for the wife and children of the Pharaoh buried in the one just behind it.
A visa is necessary for Americans to travel to Egypt. We use iVisa whenever we need a visa for any country. Great service, and a small price to pay for them to navigate the visa process for you.

You can click the link above, or use this widget below to start the process of getting a visa for any country.
When you're thinking of traveling, your first stop should be our Travel Resources page, where we list all the essentials you need to make your travels easier, cheaper, safer, and more fun.
You can also help yourself get ready for your travels by reading our Get Started Planning Your Trip Now page.
We love traveling–with the right gear. We've gathered a lot of the stuff we use to make travel more pleasant and efficient all on one page. Shop our Travel Past 50 Amazon page to find our favorite gear. If you purchase something from the store, Travel Past 50, as an Amazon affiliate, may receive a small commission at no extra charge to you. Thanks.
We never leave home without our travel insurance. Nor should you. Search for the travel insurance from Allianz that best meets your needs, whether it be an annual plan or a single trip.
You can see (and buy prints) of most of our travel photos in one place on this page.
Note: This post and other posts on TravelPast50.com may contain paid or affiliate advertising links. As an Amazon Associate we earn from qualifying purchases.