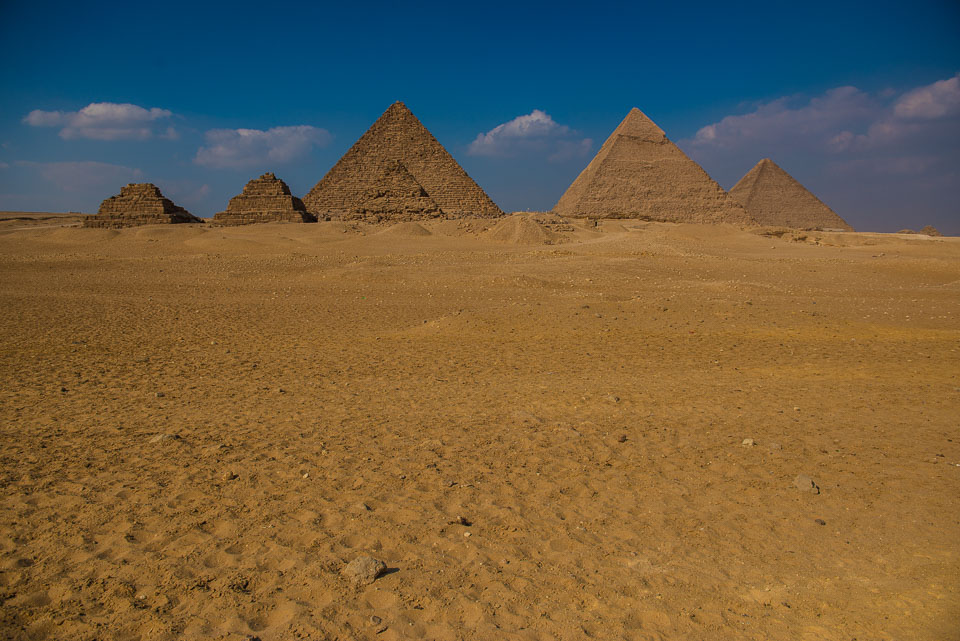 Everyone has seen a million pictures of the pyramids at Giza, but you can't really do them justice until you see them up close. Or from a distance so you can take them in together.
They are bigger than you imagine from the photos. In fact, you can see them from the Citadel in Cairo, about 30 kilometers away. In other words, they are the size of mountains.
According to my Fitbit, Kris and I walked more than ten kilometers (six miles) all around the pyramids, including way out into the desert more than a kilometer away from the roads and tourists in order to get this shot. These are the three large pyramids, including the "Great Pyramid" on the right. It's quite a bit further away than the darker granite one on the left, which is actually much smaller. The three small ones in the foreground were built for the wife and children of the Pharaoh buried in the one just behind it.
As I said, we viewed the pyramids from most angles, and I made over 200 exposures. But this one I like for a couple of reasons: the small pyramid just in front of its "father" is kind of nice, as is the pyramid-shaped cloud between the two big ones in the middle.
Shot with the Nikon D800E, mostly sunny day, so very little Lightroom manipulation. Not much necessary. ISO 100, f/4.5, 1/3200 second exposure.
I've recently updated my photo equipment page to account for a lot of recent purchases to enhance my kit, So please click here for more information.
You can buy prints of my photos–or just look at past photos–on my Travel Photos page.
By the way, you can help support Travel Past 50 by clicking on the link below to check out the great selection of camera gear at B&H Photo. It's where we've bought 99 percent of our stuff. Great prices and free shipping.
Get all our travel tips delivered to your inbox
Subscribe to our email newsletter