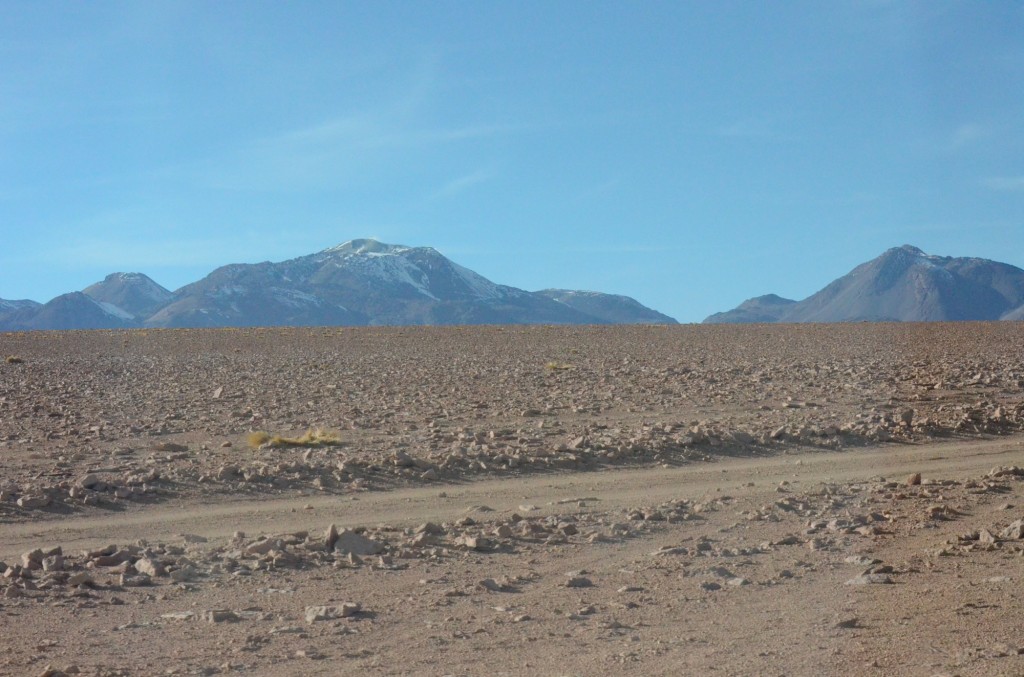 Our weekend trip to San Pedro de Atacama was a little anti-climactic for me. Evidently, I had eaten something which didn't agree with me sometime during the previous week and it sort of came on all of a sudden–and I do mean all of a sudden–on our second day of a three day trip. So, I did manage to see the geysers on day one, and the archeological sites on day three, but missed the Moon and Death Valleys on day two. Hell, I like geysers and ruins as much as the next guy, but abject desolation is really fascinating. And that's what I missed.
I will be going back someday, though.
So, I'll just point you to some of Kris's pictures on her Facebook account for what the Valle de la Muerte and Valle de la Luna look like, and you'll have to hope she'll add some more captions to her pics. She's getting to be a good photographer, and right after we got back, I showed her how to get the annoying date stamp off the pics, so now she'll be even better.
A few basic facts on the Atacama Desert of northern Chile: first, it's the driest place on Earth. Second, it's very volcanically active. And, third, there are a lot of minerals there. The first two essentially mean that not many people can live there. The third means that Chile,  and the mining companies that have lots of influence here, bring people in to dig for copper. So, there's an airport in Calama (the only thing that might pass for a city in the region) and that's where you have to fly if you want to get in there. It's two hours from Santiago by plane. You can also take a bus, but that's a long ride.
From the Calama airport, you can easily arrange transport to San Pedro de Atacama, about 70 minutes away by van. There are about 20 tour company kiosks right next to baggage claim in case you haven't arranged transport in advance. (LAN Airlines pretty much will help you arrange your van when you buy your plane ticket, if you want.) And, you do want to go to San Pedro, because Calama is the modern day equivalent of Deadwood

–full of miners and the prostitutes brought in to service them. (Really, there was civil unrest there recently that had to be taken care of. It seems there were ten men to every one woman in Calama, and you can imagine how that can lead to problems.)
At any rate, you should skip Calama, unless you are a member of one of the aforementioned professions, and take that van for San Pedro. But, as you pull out of the city, you should try to sit on the left side of the van, so you can catch a glimpse of the Chuquicamata mine, which is the largest open pit copper mine in the world. You won't actually see the mine itself, because it's on the other side of a mountain ridge, between that ridge and a higher one behind it. But you will know it's there because there is a yellow cloud of foul smelling smoke that is several kilometers long that just sits above the valley. As you pass a little further along the side of that valley, you'll eventually see a big smokestack at its end spewing out what must be the byproduct of whatever it is they're doing to the ore before they ship it. It dwarfs any big power plant smokestack I've ever seen. Luckily, it's probably only killing the miners and the whores, because not even insects could live in most of the Atacama landscape. (Santiago is damn near that smoggy, too. But that's a story for another day. If we don't get some rain to clear this air soon, we're going to have to go subterranean.)
San Pedro de Atacama is in an oasis of about 1800 people along the river that leaks out of the nearby Andes. (The river peters out just past San Pedro in the Atacama salt flats, which, unfortunately, is the part of the tour I missed.) The town exists for one purpose only: tourism. Ok, there are a couple of goat herders and the occasional tiny American backyard-sized corn garden, but you get the picture. There are only three kinds of store fronts along the rutted clay main streets: tourism companies, hotels and restaurants. Some have all three under the same roof. The hotels range from the cheapest youth hostels to five star gourmet outposts. We stayed in the Hotel Kimal, probably of about the three star variety. Nice place, great staff, and a superior attached restaurant where we got both a great lunch on the first day, and one of the best breakfast buffets we've had in South America.
But, you're not here for the town. You're here for the tours. There are three main ones: the geysers at Tatio, the Moon Valley, and the archeological. As I said, I missed the Moon Valley, but the other two are certainly worth remark.
It's a bit of work touring in the Atacama. First, if you want to do it on your own, you can rent a four wheel vehicle at the airport in Calama. (If you think you can get around on the roads around here in an Asian subcompact, you're nuts.) But the best way is just to take a tour. The tour companies all have these nice, heavy duty, mostly Mercedes, 15 passenger vans that they drive all over hell. Even though they're nicely appointed, don't count on a smooth ride. The roads are rudimentary and not even Mercedes suspension can make up for that.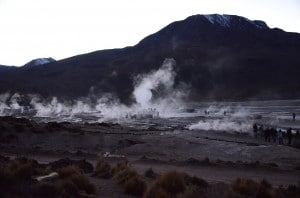 The geyser tour is probably the most popular. The way it works is the bus picks you up at 4 a.m. (yes, 4 a.m.) at your hotel and then bounces your coccyx for two hours pretty much straight uphill to the valley at Tatio. Just before dawn, you get to a plain that is dotted with hundreds of small geysers. There will probably be about 200 more people up there with you at the same time, as every tour operator runs on pretty much the same schedule. They say they do this so you can arrive at the geyser field at the best time to see them. I also suspect that they want to have you back to San Pedro by midday so they can haul you somewhere else in the afternoon, but I'm a cynic.
When you read anything about the Atacama, you will always see admonitions to carry a hat, sunglasses, sunscreen and water wherever you go. Good advice. For the geyser tour, I'd also recommend serious cold weather gear. The altitude at the town of San Pedro is about 2400 meters (7900 feet.) The geyser valley is about 4400 meters (14,500 feet.) That's higher that all but the tallest Rocky Mountains. And, as I said, it's a valley. You are surrounded by the Andes, which make the Rockies sort of insignificant in comparison.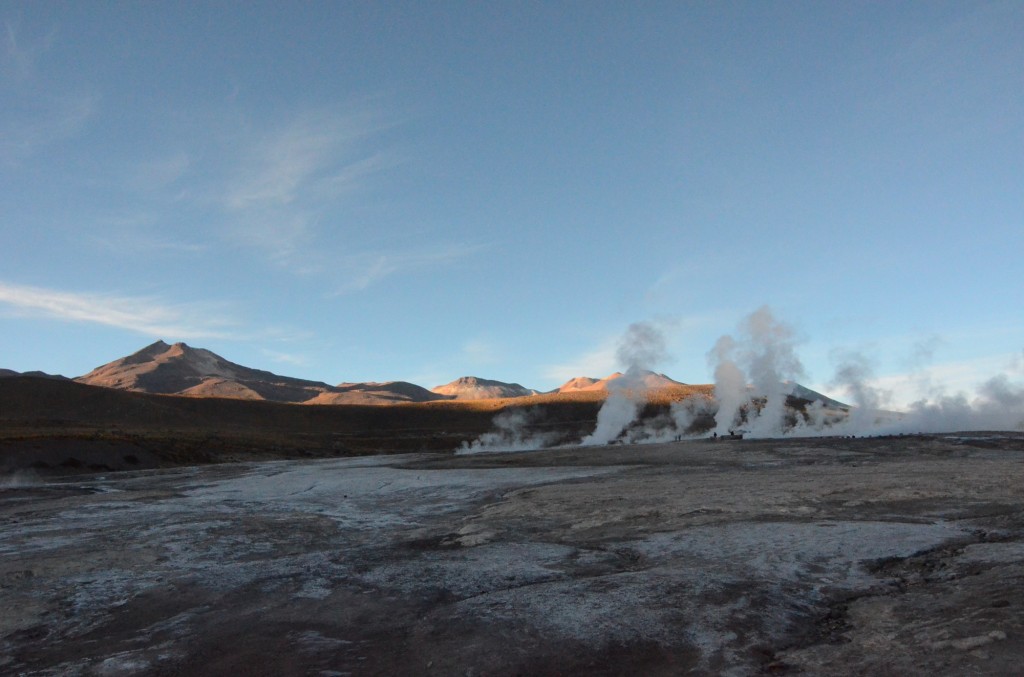 And, it's before dawn. And it's the desert. And, for all of you who've been in the desert during the day and heard of how cold it gets at night but have never experienced the change in temperature, let me assure you that it's real. The day before in San Pedro, it was 30 degrees Celsius (86 F.) That morning at Tatio the guide told us it was -10 degrees C (14 degrees F.) She was full of crap. I've lived in Minnesota long enough to recognize below zero Fahrenheit when I feel it. I think she was hedging so she didn't scare the shit out the the Chileans who were with us and had never been colder than about 5 degrees C. Anyway, bring your Under Armour and your choppers and your hat with ear flaps. One of the Chilean women with us put on four (no, I'm not exaggerating) coats, and two heavy scarf/hood contraptions and she was crying with the cold.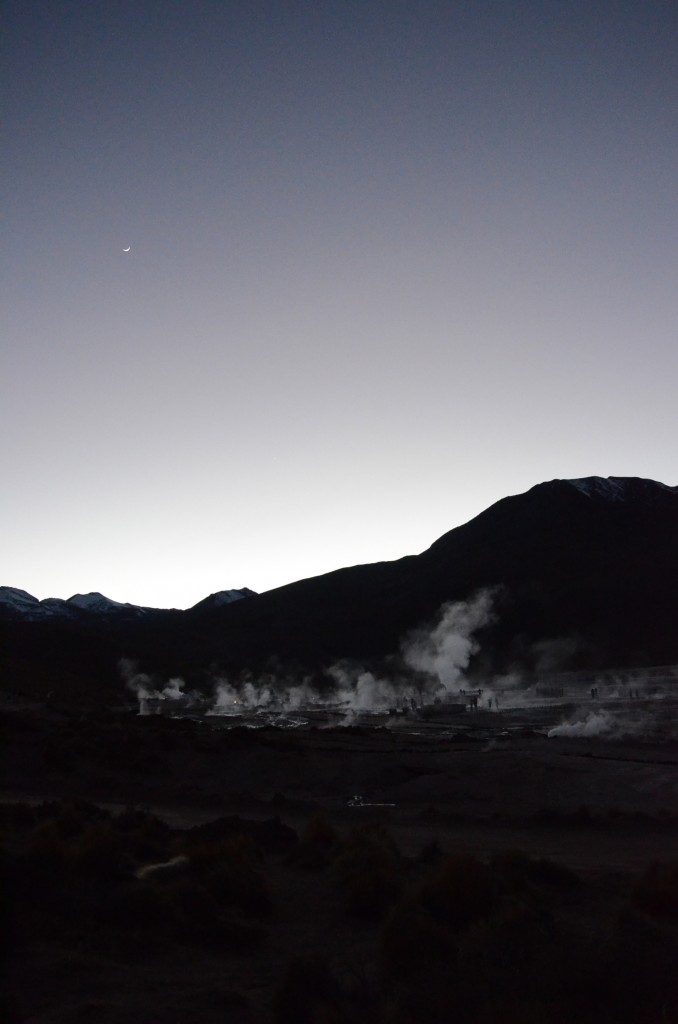 At any rate, here are the pictures, and it did look kind of cool. But for someone who has been to Yellowstone, it was a bit disappointing in an absolute sense. Their version of Old Faithful went off every three minutes and 12 seconds, but only shot water about two feet high. I was actually more interested in the moon rising over the mountains than I was the geysers. The sky views in the Atacama are incredible. You see, there's no humidity or artificial light to impede your enjoyment of the heavens. Probably one reason there are serious observatories down here. (You can tour those, too, btw, but we didn't have time. There's also a Frenchman in San Pedro who will take you out in the desert to where he's got multiple telescopes set up, but we missed that, too. Next time for both.)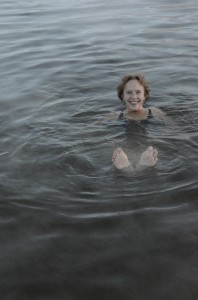 We had a rudimentary breakfast at Tatio. Bread and cheese and meats, stale donuts, and hot coffee and chocolate. The milk for the drinks, by the way, was heated by the guide putting the cartons into one of the geyser holes for a minute. It doesn't take long.
After breakfast, we vanned down the valley for about five minutes to some hot springs. The sun was up by now, and it was warming a bit. Hell, it was probably up to only a few degrees below freezing. As the rest of our van mates stood around stomping their feet, Kris stripped to her bathing suit and walked right in and paddled around for a while. Eventually, we all had to wait for Kris so we could get going back to San Pedro. Getting her out of the water has always been a problem.