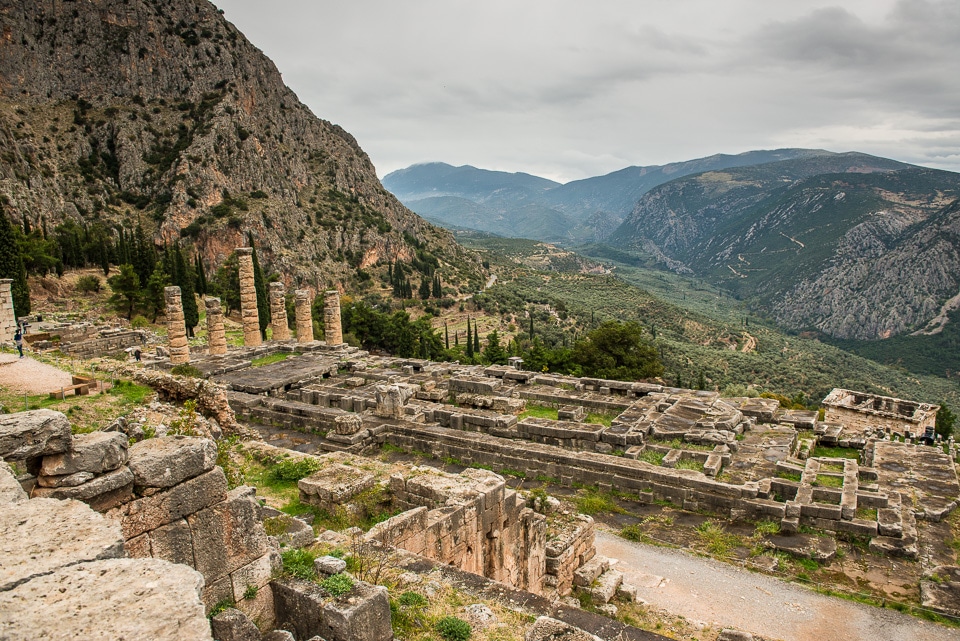 It's quite amazing how much of the shrine of Delphi remains, given 2500 years of looting, earthquakes, harsh weather and general indifference. What you can see of the Temple of Apollo, where the famous oracle of Delphi resided, is mostly the foundation stones, and a few column erected from the rubble by archeologists and restoration experts who want to give you an idea of what it might have looked like in 400 BCE. A five minute walk up the road to the Delphi Museum will also give you a look at some of the artifacts that escaped the looters, mainly because they were buried underground by people who wanted to preserve them.
The main looter, if you want to call him that, was the Roman Emperor Nero, who allegedly carried off over 500 statues of Delphi to decorate his home, the Domus Aurea, in Rome. Unfortunately, they didn't survive there either.
A cloudy day, so completely flat light, which you can't do much with other than to increase the contrast and clarity and vibrance in Lightroom, which I did. ISO 400, f/6.3, 1/500 sec exposure.
I've recently updated my photo equipment page to account for a lot of recent purchases to enhance my kit, So please click here for more information.
You can buy prints of my photos on my Smugmug page.
Get all our travel tips delivered to your inbox
Subscribe to our email newsletter