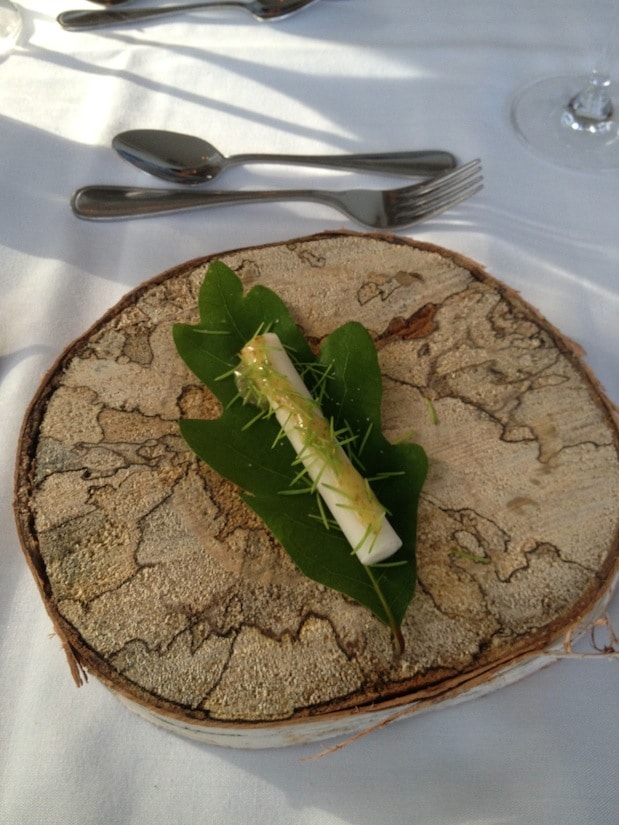 On a recent press trip to Peterborough and the Kawarthas, in Ontario, Canada, we were treated to this tasting menu at Viamede, a classic old resort on Stoney Lake. Viamede has been under new ownership for the past couple years, and it appears young Ben Sämaan has great vision for updating the lodging, and for catering to families, business groups, and gourmets. He and Chef Matt Cowan share a love of using fresh local resources in innovative ways.
Sämann ate with us, swearing that he'd never sampled the chef's tasting menu before. True, Chef Matt had just started a couple weeks ago. Here's what he came up with. A delicious surprise!
1. (Pictured above.) Young cattail hearts dressed in a pickled spruce tip vinaigrette. No, we did not eat the oak leaf, nor the slab of birch, but we were mightily amused.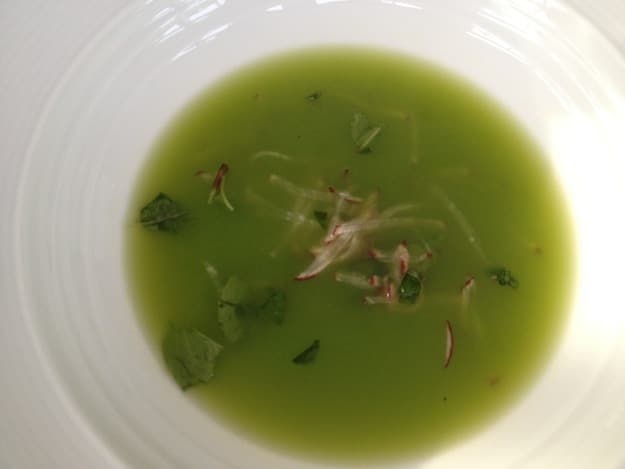 2. Chilled cucumber consommé with radish and wild mint salad. This will be my new alternative to gazpacho. Served with 2009 "Terres du Menhir" Pouilly-Fouisé (France)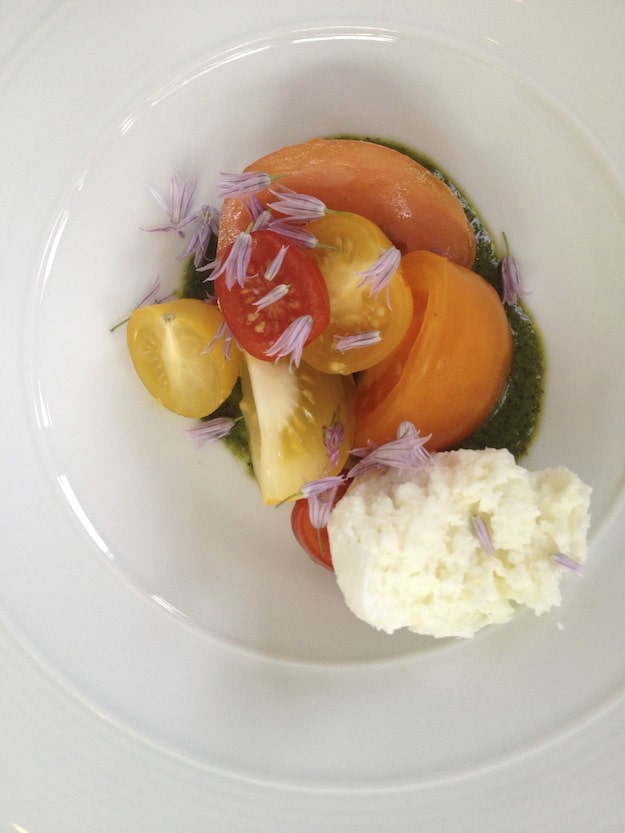 3. Heirloom tomato salad with garden herb pistou and bufala mozzarella; Served with 2011 Bon Courage Sauvignon Blanc (South Africa). Aren't those little chive blossoms great?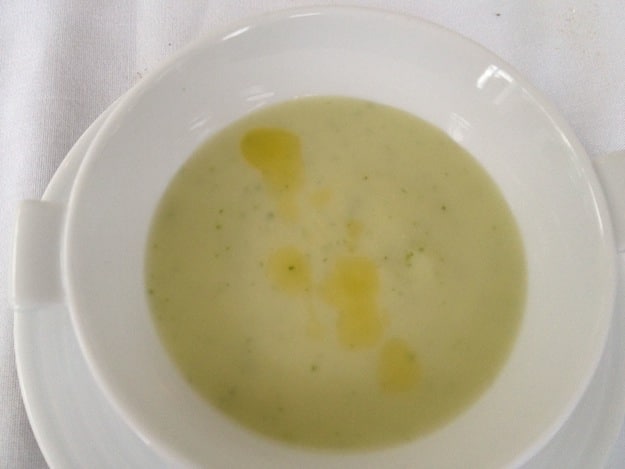 4. Wild leek vichyssoise; Served with 2009 Seven Hills Pinot Gris (Oregon)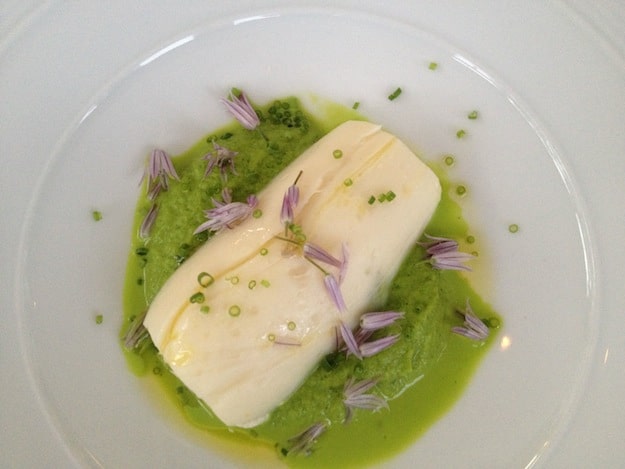 5. Scallop boudin on courgette puree with chive flowers/chive ricotta gnudi; Served with 2011 McManis Chardonnay (California)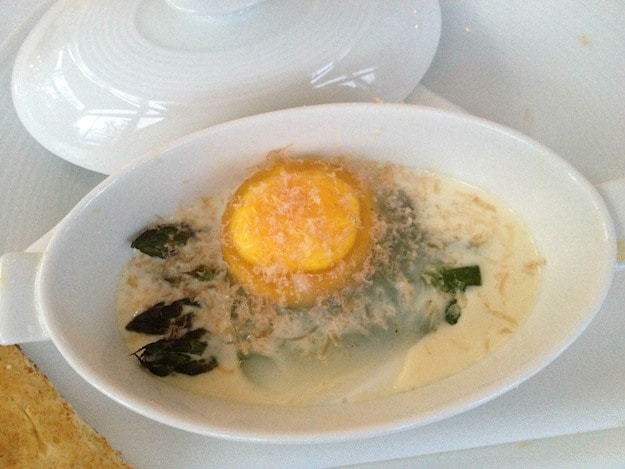 6. Poached duck egg with Ontario asparagus and shaved cured pork loin. Do NOT underestimate the contribution of the shaved, salty, cured pork flakes.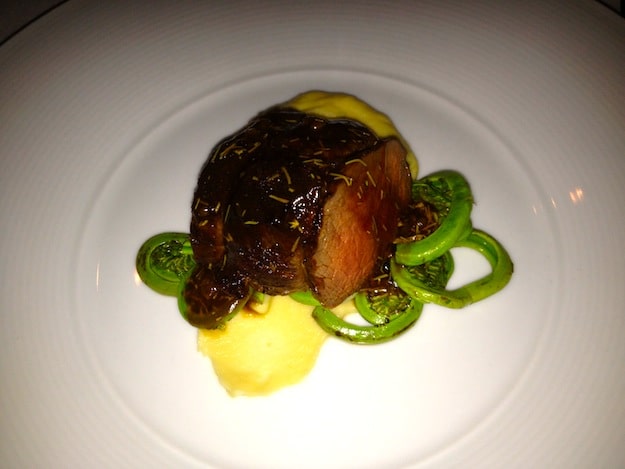 7. Venison loin with fiddle heads and parsnip puree, and thyme scented jus/mushroom strudel;  Best venison ever. Served with 2005 Paolo Scavino Barolo (Italy)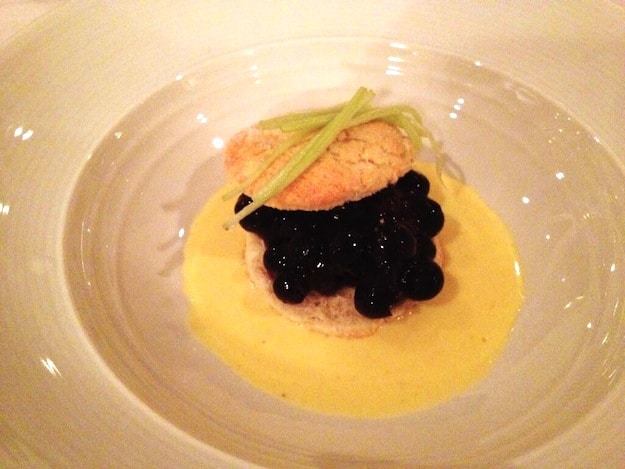 8. Blueberry and wild rhubarb trifle/lemon sorbet with blueberry compote; Served with 2010 Huff Estates Medium Dry Riesling (Ontario). The rhubarb made this dessert perfectly balanced, not too sweet. Thanks for the photo, Gay Travel Herald. Four hours after the Amuse-Bouche, I failed to document the final course. I had not overindulged, but was in a blissful state, satisfied.